Learn how to make soft wholemeal/whole wheat bread using the sponge dough method. It yields soft fluffy bread and has a great flavor.

A while ago I made this very easy no-knead wholemeal bread and Soft Wholemeal /Whole Wheat Pullman Loaf (Pain De Mie) which were not made with 100% wholemeal/whole wheat flour. So this time around I wanted to try to make it with all whole wheat flour. I have been wanting to try the sponge and dough method for a while and I thought the 100% whole wheat bread can take advantage of this to yield soft buns.
What is sponge and dough (or sponge dough method) for bread making?
This method is also known as pre-ferment. It's a two-step process. The first process is to make a small portion of the dough and then allowed it to ferment for a period of time. This is called the sponge. The second step is to take this sponge to prepare with the rest of the ingredients to make the main dough.
Advantages of sponge dough method
Why bother you would ask? By allowing a portion of the dough to ferment, it allows the flavor to develop further. This process also yields a soft and lighter finished bread/buns
The disadvantage of the sponge dough method
Time! It's not a bread you can make on the instant. The sponge needs time to slowly ferment and to develop flavor. It's a lot of passive time, however, but just not a quick process.

How to make 100% whole wheat green onion buns with sponge dough method
1. Mix all ingredients for the sponge dough. Cover and keep in the fridge for 12-16 hours. The dough won't rise much if at all


2. Tear the sponge dough into little pieces. Put whole wheat flour, pieces of sponge dough, all the ingredients for the main dough. I use a stand mixer with a dough hook attachment


3. Mix on low speed for a minute and then increase to speed 1 and mix into a rough dough. If it's too dry, add water until a rough dough comes together


4. Add the softened butter


5. Continue to knead until you get a window pane stage, meaning when you pull and stretch the dough thin, it won't tear easily


6. Put the dough in lightly-oiled bowl and cover. Let it proof until it doubles in size. This may take somewhere from 1-2 hours depending on how warm it is. I put the dough in the oven using the "breadproofing" function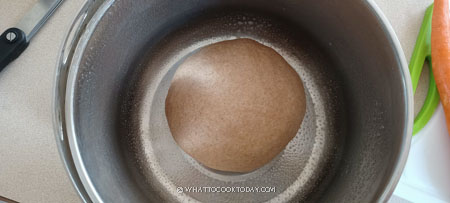 7. When it has doubled in size, press the dough with your finger. If the indentation stays, the dough is done proofing


8. Punch out all the air and give the dough a few kneads. Cover and let the dough rest for 15 minutes. This is not to proof the dough. It's to relax the gluten so we can shape the dough without much resistance


9. Mix all the ingredients for the filling


10. Divide the dough into 8 equal pieces. Cover with plastic wrap to prevent them from drying.


11. Take one dough and flatten with your palm and roll it out into round, about 4-5 inches in diameter.


12. Scoop 1/8 of the filling and put on half of the dough


13. Fold over


14. Pick up both ends and fold into a U shape


15. Place on a round baking pan lined with a parchment paper on the bottom. Continue to shape the rest and place them on the baking pan


16. Cover with a damp towel and let the shaped buns proof at a warm place until double in size. It took about 1 hour for me at a warm place. When you gently push on the dough, it will spring back slowly. If it springs back immediately, you need to proof the dough a bit longer


17. 10 minutes before the end of the proofing, preheat the oven at 350 F (180 C). Brush with some egg wash, sprinkle with some white sesame seeds and bake in the oven at the middle rack for 25 minutes or until golden brown


18. Let the buns cool on the pan for 5 minutes and then transfer to a cooling rack to cool down. They can be served warm or at room temperature

How to store
1. Let the buns cool down completely
2. Wrap with a plastic wrap or a foil and put this into a zipper bag, push all the air out and seal. This will seal the moisture in
3. The bread can be kept this way at room temperature for 2-3 days. Keep them at a dark place away from sunlight. If you have a bread box, keep them in there
4. For longer storage, portion out the buns and wrap each portion in plastic wrap tightly and then put them inside the zipper bak, push all the air out and seal it. Freeze them in the freezer for up to one month
5. When you want to serve them, simply thaw at room temperature or reheat in the microwave or toaster oven until heated through
Did you make this recipe?
I love it when you guys snap a photo and tag to show me what you've made 🙂 Simply tag me @WhatToCookToday #WhatToCookToday on Instagram and I'll be sure to stop by and take a peek for real!

*The recipe is adapted from Phil Vie's and the technique is from oladybakes*

100% Wholemeal/Whole Wheat Green Onion Buns (Sponge Dough Method)
Ingredients
Main dough:
200

gr

whole wheat flour

4

gr

instant yeast

20

gr

granulated sugar

3

gr

salt

1

large

egg

from 50 grams egg with the shell

80

ml

whole milk

start with this amount
To add last:
30

gr

unsalted butter

softened
Green onion filling:
1

Tbsp

cooking oil

80

gr

green onion

finely chopped

½

tsp

salt

¼

tsp

freshly ground white pepper

you can use black pepper too
Egg wash:
1

large

egg

beaten

1

tsp

water
Instructions
Prepare the sponge dough:
Mix all ingredients for the sponge dough. Cover and keep in the fridge for 12-16 hours. The dough won't rise much if at all
Prepare the main dough:
Tear the sponge dough into little pieces. Put whole wheat flour, pieces of sponge dough, all the ingredients for the main dough. I use a standmixer with a dough hook attachment. Mix on low speed for a minute and then increase to speed 1 and mix into a rough dough. If it's too dry, add water until a rough dough comes together. Add the softened butter and continue to knead until you get a window pane stage, meaning when you pull and stretch the dough thin, it won't tear easily
1st proofing:
Put the dough in lightly-oiled bowl and cover. Let it proof until it doubles in size. This may take somewhere from 1-2 hours depending on how warm it is. I put the dough in the oven using the "breadproofing" function. When it has doubled in size, press the dough with your finger. If the indentation stays, the dough is done proofing
Rest the dough for 15 minutes:
Punch out all the air and give the dough a few kneads. Cover and let the dough rest for 15 minutes. This is not to proof the dough. It's to relax the gluten so we can shape the dough without much resistance
Shape the dough:
Mix all the ingredients for the filling. Divide the dough into 8 equal pieces. Cover with plastic wrap to prevent them from drying. Take one dough and flatten with your palm and roll it out into round, about 4-5 inches in diameter. Scoop 1/8 of the filling and put on half of the dough and then fold over. Pick up both ends and fold into a U shape. Place on a round baking pan lined with a parchment paper on the bottom. Continue to shape the rest and place them on the baking pan
2nd proof the dough:
Cover with a damp towel and let the shaped buns proof at a warm place until double in size. It took about 1 hour for me at a warm place. When you gently push on the dough, it will spring back slowly. If it springs back immediately, you need to proof the dough a bit longer
Baking:
10 minutes before the end of the proofing, preheat the oven at 350 F (180 C). Brush with some egg wash, sprinkle with some white sesame seeds and bake in the oven at the middle rack for 25 minutes or until golden brown

Let the buns cool on the pan for 5 minutes and then transfer to a cooling rack to cool down. They can be served warm or at room temperature
Recommended products:
Nutrition
Serving:
1
bun
|
Calories:
200
kcal
|
Carbohydrates:
32
g
|
Protein:
6
g
|
Fat:
7
g
|
Saturated Fat:
3
g
|
Trans Fat:
1
g
|
Cholesterol:
29
mg
|
Sodium:
332
mg
|
Potassium:
191
mg
|
Fiber:
5
g
|
Sugar:
4
g
|
Vitamin A:
239
IU
|
Vitamin C:
2
mg
|
Calcium:
33
mg
|
Iron:
2
mg