Noodles are tossed in spicy and umami chili paste along with ground meat topping is a popular noodle dish in Malaysia, especially in Kuala Lumpur.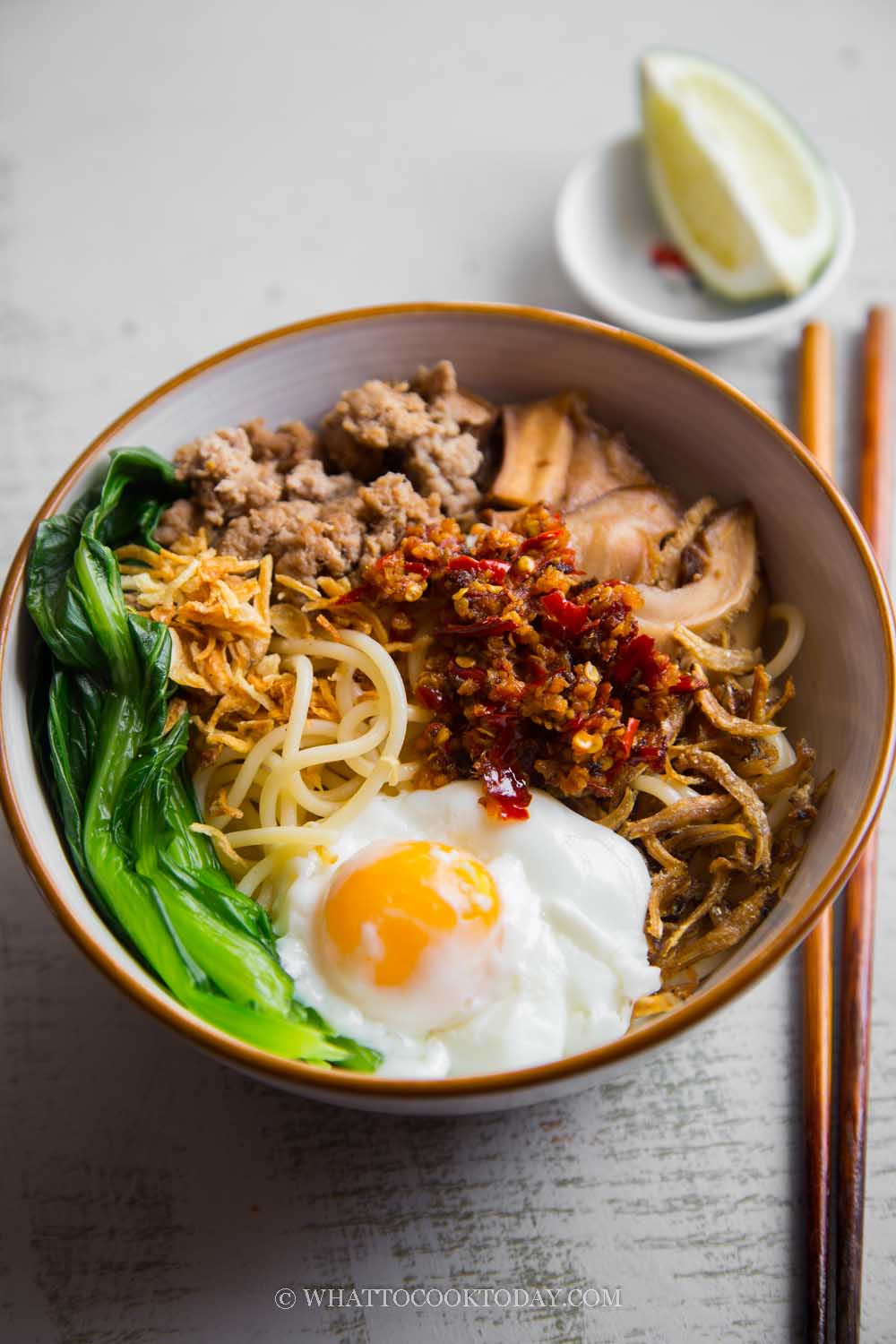 Pan mee (ban mian) or literally translated to flat noodles is one of my favorite noodles. I love the soup version of ban mian. Many years ago when I visited my friend at Kuala Lumpur (KL), she brought me to eat this chili pan mee and there's no turning back for me. I love spicy food, I love noodles, and well, I love chili pan mee.
What is KL Chili pan mee
Pan mee/ban mian is of Hakka origin. KL chili pan mee is a twist from the traditional Chinese ban mian served with soup. Chili pan mee was "invented" by Kin Kin restaurant. The queue is always long and you can top up with the fiery chili paste as much as you want. The flat noodles are tossed in spicy umami sauce made with tons of dried chili, garlic, dried shrimp, and seasonings and then topped with ground meat, poached eggs, and crispy anchovies. If you love spicy food, this is it!!!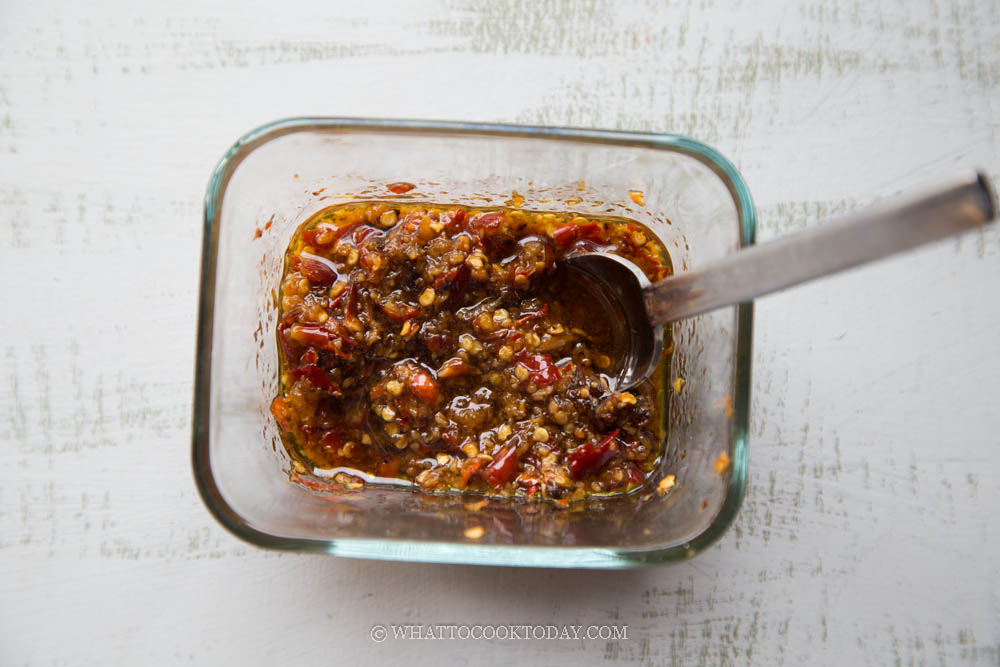 The recipe rundown
Taste: The spicy noodles are served dried but the creamy poached egg really binds everything together. The umami bomb chili paste is the star in this dish if you ask me
Texture: The contrast of texture is what I love a lot in this dish. Creamy egg yolks, custardy egg whites, crispy anchovies, soft and chewy ban mian noodles..enough said!
Level: Intermediate
Pros: It's really quite a treat. Will I make again? You betcha!
Cons: It's not a quick meal to prepare that's for sure 🙂
What kind of noodles to use
Pan mee uses flat noodles. When I made ban mian noodle soup a while ago, I made some homemade ban mian noodles. In this photo as you can see that I didn't use flat noodles. Honestly, I'm a bit lazy to make ban mian noodles from scratch that day lol! But, I'm not at a place where I can easily go and get ban mian. So, I just use spaghetti pasta, which worked out great too IMHO. I hope the chili pan mee aficionado out there won't slaughter me for this. LOL.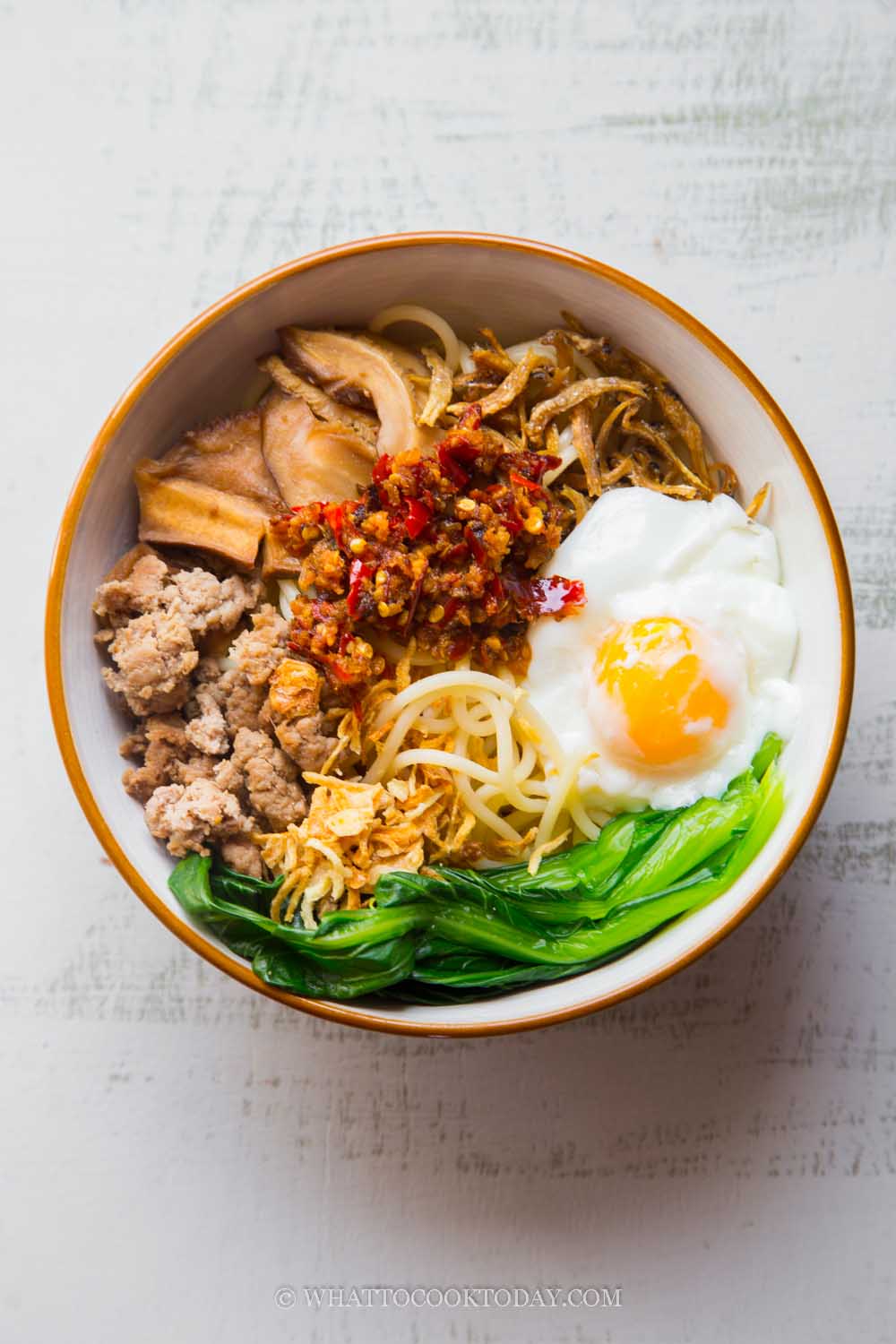 How to make KL chili pan mee
1. Soak the dried chilies, dried shrimp, and mushrooms separately in warm water until they are soft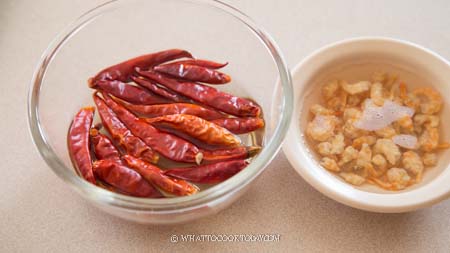 2. Put the chili, dried shrimp, and garlic in a food processor and chop it finely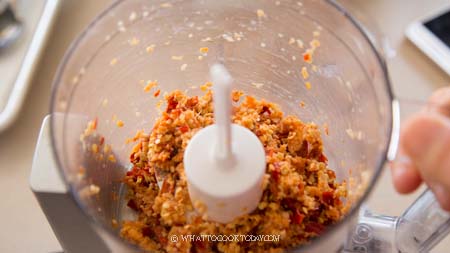 3. Add oil to a preheat pan. Transfer the chili mixture to the pan and stir fry over medium heat until they are dry and the color turns dark, but not burnt, this may take 20-30 minutes. Remove from the heat and set aside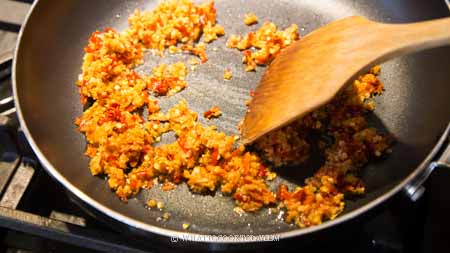 4. Preheat the oil over medium heat and fry the anchovies until they are crispy. Remove the anchovies and place on absorbent paper towel.


5. Keep the oil to cook the meat topping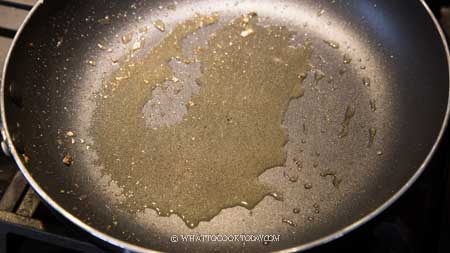 6. Bring the oil back to hot over medium heat. Stir fry the pork until they turn opaque in color.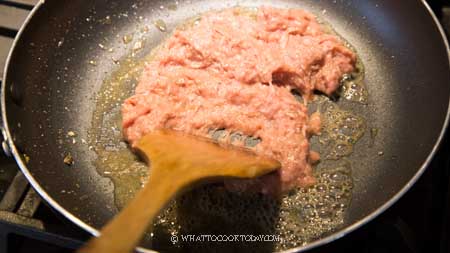 7. Add the mushrooms and let it gently simmer until the meat is cooked through and the liquid reduces a bit. Adjust seasonings to your taste


8. I use yu choy here. Bring a pot of water to a boil. Add yu choy and blanch for about 2-3 minutes or until they are soft but still maintain nice green color. Remove from water and refresh with cold water to stop the cooking process. Step aside


9. Portion out noodles into the serving bowl. Add chili paste and some of the oil, ground meat and mushrooms topping and some of its sauce, some yu choy, poached eggs, and crispy anchovies. Squeeze some lime juice if you like. Not typically serve with chili pan mee, but I kinda like it

Did you make this KL chili pan mee recipe?
I love it when you guys snap a photo and tag to show me what you've made 🙂 Simply tag me @WhatToCookToday #WhatToCookToday on Instagram and I'll be sure to stop by and take a peek for real!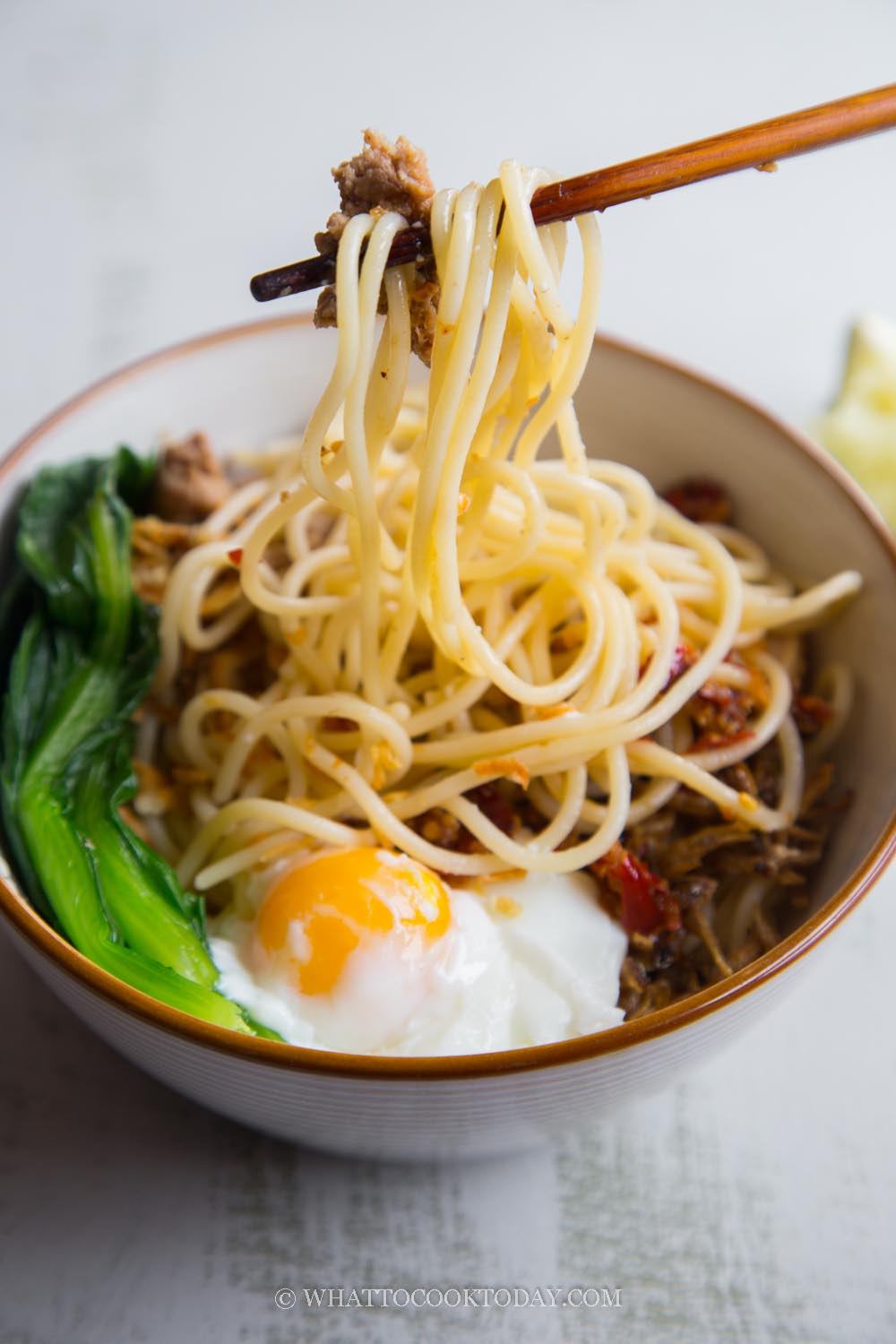 You may like these too
Homemade KL Dry Chili Pan Mee (Chili Ban Mian)
Ingredients
Chili paste:
50

gr

dried red chilies

4

bird's eye chilies

more if you like it spicier

25

gr

dried shrimp

40

gr

garlic

½

tsp

salt

or more to taste

¼

tsp

sugar

100

ml

cooking oil
Ground meat and mushroom topping:
Ban mian noodles:
1

recipe

ban mian noodles
Serve with:
Poached egg

Blanched yu choy

Limes

optional
Instructions
Soak the dried chilies, dried shrimp, and mushrooms separately in warm water until they are soft

Marinate the meat in the seasonings
Prepare the chili paste:
Put the chili, dried shrimp, and garlic in a food processor and chop it finely

Add oil to a preheat pan. Transfer the chili mixture to the pan and stir fry over medium heat until they are dry and the color turns dark, but not burnt, this may take 20-30 minutes. Remove from the heat and set aside
Prepared crispy anchovies:
Preheat the oil over medium heat and fry the ikan bilis until they are crispy. Remove the anchovies and place on an absorbent paper towel. Keep the oil to cook the meat topping
Prepare the meat topping:
Bring the oil from frying ikan bilis back to hot over medium heat. Stir fry the pork until they turn opaque in color. Add the mushrooms and let it gently simmer until the meat is cooked through and the liquid reduces a bit. Adjust seasonings to your taste
Blanch the veggies:
I use yu choy here. Bring a pot of water to a boil. Add yu choy and blanch for about 2-3 minutes or until they are soft but still maintain nice green color. Remove from water and refresh with cold water to stop the cooking process. Step aside
Poach the eggs:
Fill a wide pan with water, about half-full. Bring to a gentle simmer and add a small pinch of salt. Crack one egg in a bowl and gently slide it into the simmering water. Repeat with the rest of the eggs

This will take somewhere from 2 to 4 minutes to cook. If you like it really soft, 2 minutes will do. 4 minutes will give a firmer poached eggs. If your eggs are cold from the fridge, you may want to cook a bit longer until you are happy with it. Remove from the water onto a plate
Cook the noodles:
Cook the ban mian noodles according to the recipe
Putting everything together:
Portion out noodles into serving bowl. Add chili paste and some of the oil, ground meat and mushrooms topping and some of its sauce, some yu choy, poached eggs, and crispy anchovies. Squeeze some lime juice if you like. Not typically serve with chili pan mee, but I kinda like it 🙂
Recommended products:
Nutrition
Serving:
1
serving
|
Calories:
644
kcal
|
Carbohydrates:
23
g
|
Protein:
25
g
|
Fat:
51
g
|
Saturated Fat:
9
g
|
Polyunsaturated Fat:
11
g
|
Monounsaturated Fat:
28
g
|
Trans Fat:
1
g
|
Cholesterol:
172
mg
|
Sodium:
2318
mg
|
Potassium:
843
mg
|
Fiber:
3
g
|
Sugar:
5
g
|
Vitamin A:
2965
IU
|
Vitamin C:
94
mg
|
Calcium:
99
mg
|
Iron:
3
mg