Fried egg noodles in a spicy, savory, and umami sauce along with slices of potatoes and veggies are popular street food in Singapore and Malaysia.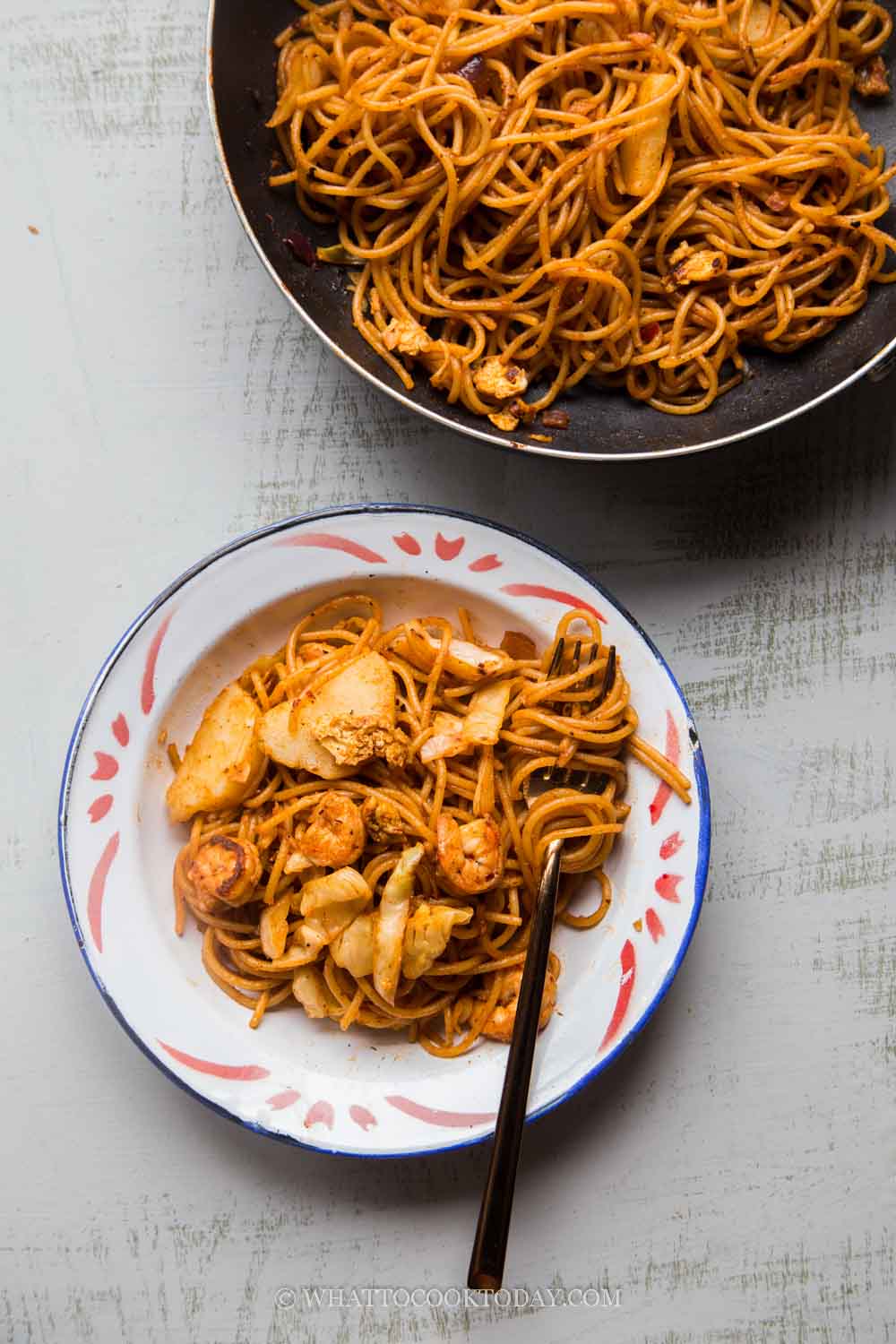 What is mee goreng mamak?
Mee goreng/ mie goreng is a stir-fried noodle popular in Southeast Asia. Of course, there are so many different kinds of mee goreng out there. Mamak refers to the Indian Muslim who lives in Malaysia/Singapore. So mee goreng mamak is the Indian Muslim style of cooking mee goreng. They are popular roadside or street food. This type of roadside eateries usually is busy at night. People come out looking for supper or a late-night snack.
The recipe rundown
1. Taste: The noodles are spicy, umami, savory, and aromatic
2. Texture: The noodles are slightly "wet" (a bit saucy) in a good way
3. Level: Easy
4. Pros: The ingredients can be substituted or changed to your preference
5. Cons: Some ingredients maybe hard to find, but this can be easily substituted or omitted. There's no fixed rule when it comes to making mee goreng IMHO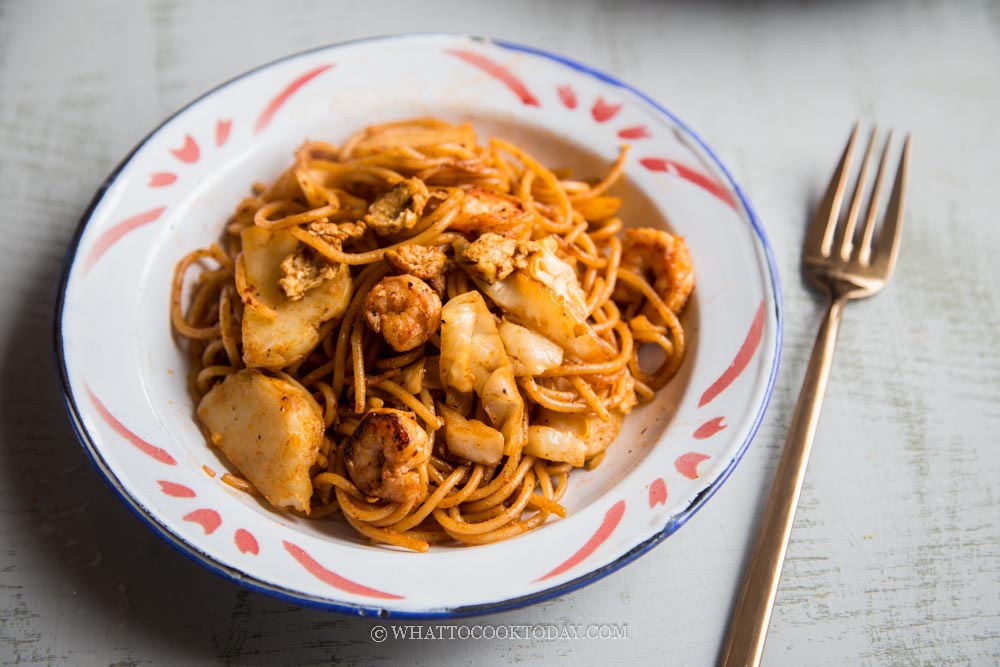 Let's talk Ingredients
1. Noodles
sually, yellow egg noodles are used. But you can also use instant ramen noodles (which is very common in Indonesia for making mee goreng), pasta such as spaghetti, which is what I'm using when I don't have egg noodles on hand.
2. Potatoes
I use Russet potatoes, but you can use any kind of potatoes you like
3. Protein choices
Fried tofu is commonly used, but since I don't have any, I used shrimp and eggs. You can also use chicken or beef
4. Peanuts
I use store-bought dry-roasted unsalted peanuts
5. Dried shrimp
This can be found in Asian store. You can omit if you can't find any. They do add some umami to the overall dish
6. Dried red chili
I used small dried red chilis. You can also just use store-bought sambal oelek for convenience
7. Split mung beans
This can be omitted if you don't have any. It adds a hint of nutty aroma, but not a big deal if you omit this
8. Tamarind paste
Tamarind paste is sour in taste but also has that sweet aroma. If you can't find any, you can use apple cider vinegar or regular vinegar
9. Vegetable choices
I used cabbage. Commonly used veggies are beansprouts, yu choy (sawi)
10. Kecap manis
Kecap manis (sweet soy sauce) can be found in Asian store too. You can also use dark soy sauce with some brown sugar for sweetness
11. Ketchup
I used regular ketchup (tomato sauce)
12. Curry powder
I used Madras curry powder. You can use your favorite curry powder
How to make mee goreng mamak
1. Preheat the skillet, add 3 Tbsp of oil. Add peanuts, pre-soaked dried shrimp, soaked dried chili, split mung beans and fry over medium heat until they are golden brown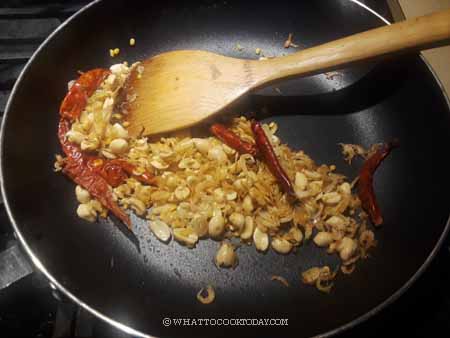 2. Remove and transfer to a blender or food processor along with the oil. Blend into a fine paste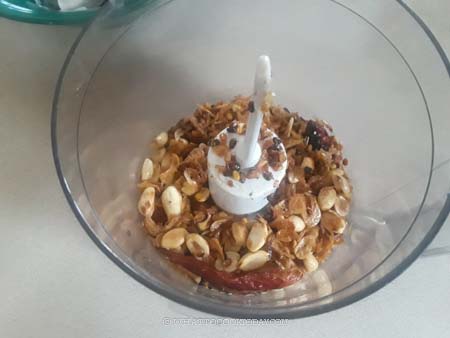 3. Return this back to the skillet, add salt, sugar, and tamarind paste


4. Stir fry until the oil separates from the chili mixture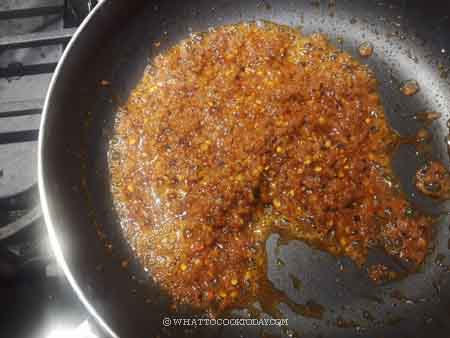 4. Remove and transfer to a bowl or a jar. This can be kept for one week in the fridge and use it whenever you want to make mee goreng mamak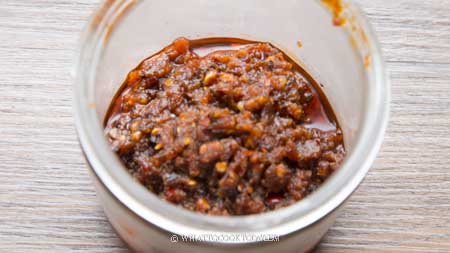 5. I recommend cooking 2 servings at a time for the best result. Mix all ingredients for seasonings and set aside.
Preheat a large skillet or wok. Add 1 Tbsp of oil. Add half of the garlic and shallots and stir fry for about 2 minutes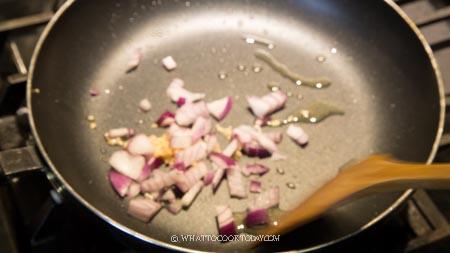 6. Push the garlic and shallots to the side of the wok/skillet. Crack in 2 eggs and let them cook undisturbed for about 20 seconds, then scramble them into large chunks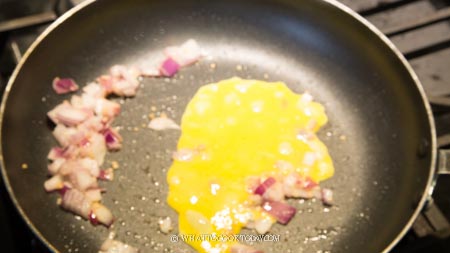 7. Push to the side and add shrimp. Cook until they just started to turn pink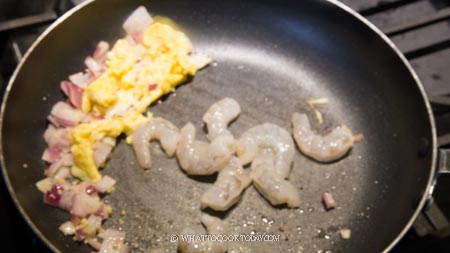 8. Add the cabbage and about 1/4 cup of water or chicken broth, the 2-3 Tbsp of the chili paste you prepared earlier and let the cabbage cook for another minute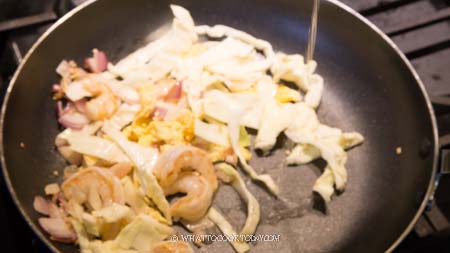 9. Add half of the noodles, half of the potatoes, followed by half of the seasonings. Splash with another 1-2 Tbsp of water or chicken broth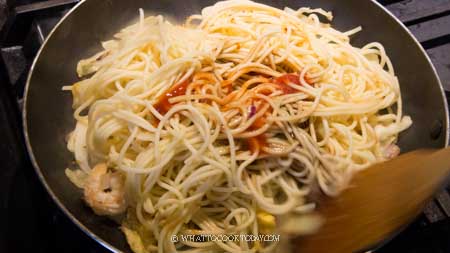 10. Stir to combine everything. Have a taste and adjust by adding more salt and/or sugar as needed. If you use beansprouts, add them in now and cook for another 10 seconds. Turn off the heat. Squeeze some lime juice from 1 lime over the noodles. Garnish with some bawang goreng and serve immediately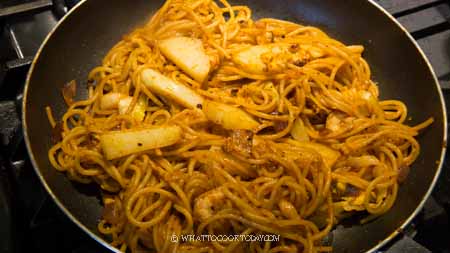 And voila, mee goreng mamak is ready to serve you 😉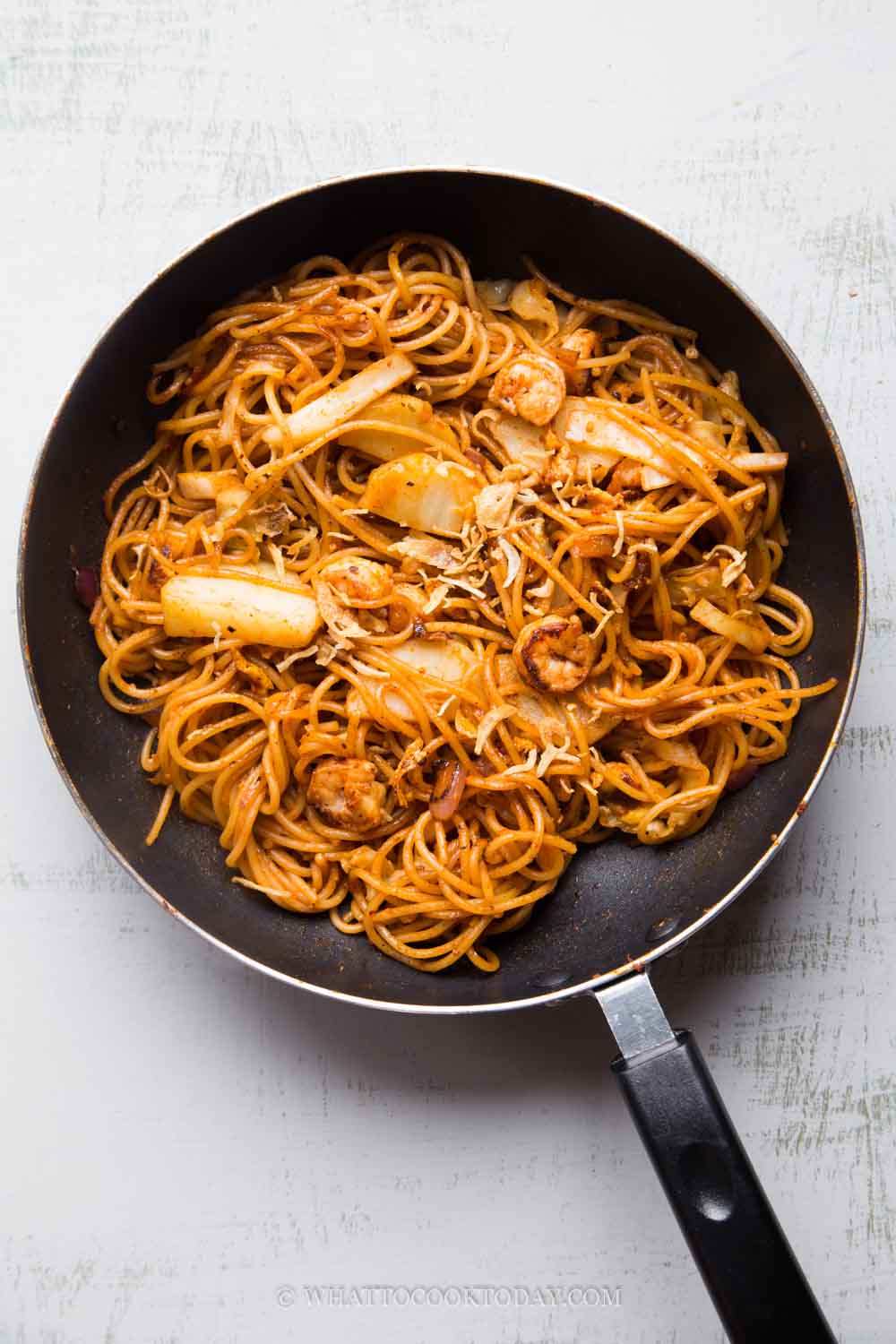 Tips for making good mee goreng
1. Get your wok or skillet really hot
2. Stir-frying happens quickly. So get all the ingredients you need within your reach
3. Combine all the seasonings together in a bowl so they are ready to go when you need them
4. If you plan to use dried noodles/pasta that you need to cook before stir-frying, make sure to "undercook" them a little bit so they won't turn mushy when it's time for us to stir fry them. For example, the pasta I used called for 11 minutes of cooking time and I cook them for 8 minutes
5. Cook no more than 2 servings at a time. When you try to cook a huge portion at one go, the wok/skillet won't be hot enough and you won't get a really good result. Seasonings are not even and some things may get overcooked, etc.
Did you make this mee goreng mamak recipe?
I love it when you guys snap a photo and tag to show me what you've made 🙂 Simply tag me @WhatToCookToday #WhatToCookToday on Instagram and I'll be sure to stop by and take a peek for real!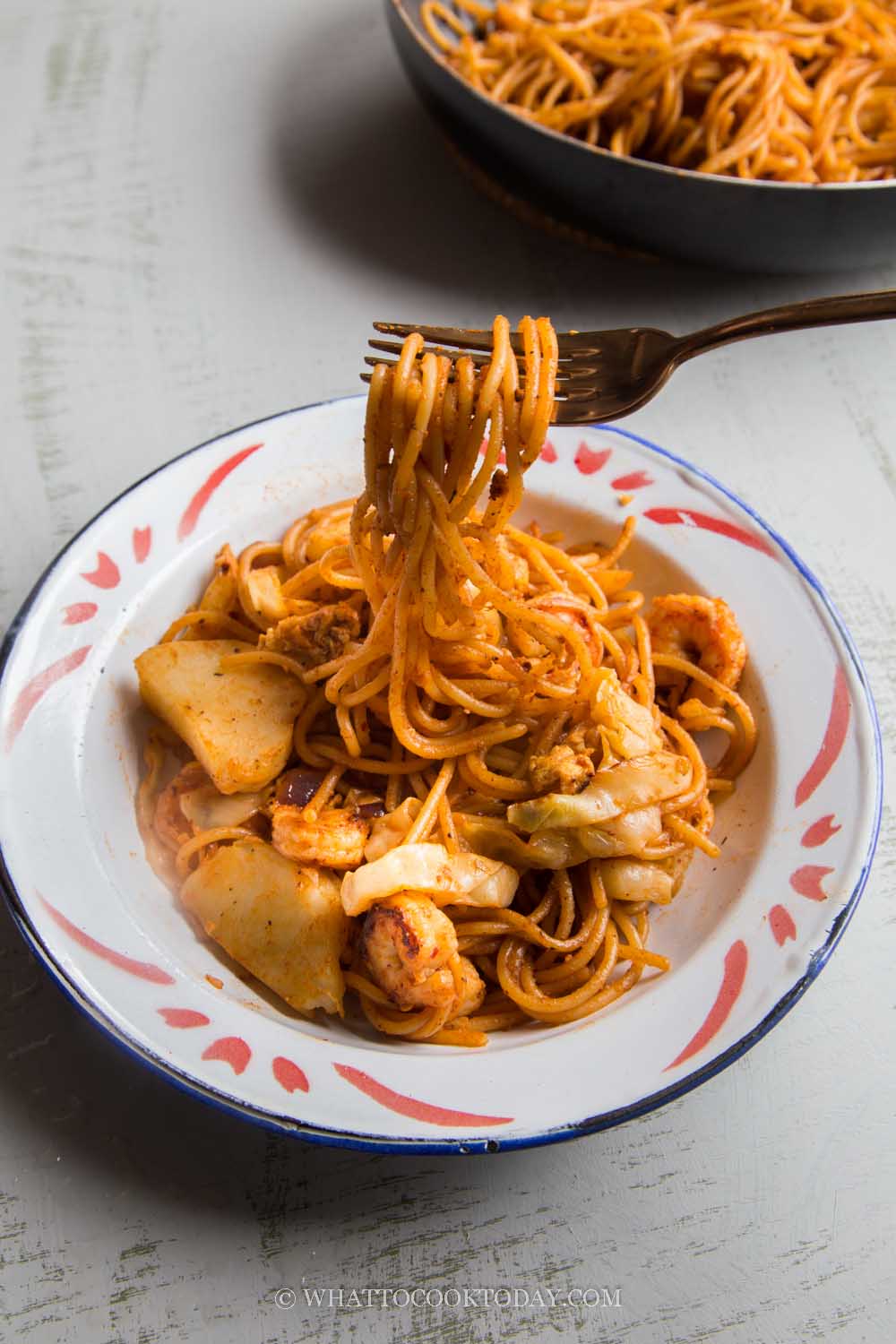 You may also like these
Mee Goreng Mamak (Indian Fried Noodles)
Ingredients
500

gr

yellow noodles (mee kuning)

or about 250 grams dried yellow noodles

1

large

potato

2

Tbsp

cooking oil

divided

½

cup

water or chicken broth
Protein:
200

gr

large shrimp

peeled and deveined

4

large

eggs

1 egg per serving
Spice paste (enough for 4 servings):
Aromatics:
4

shallots

diced

2

cloves

garlic

minced
Vegetables (you can use whatever you like):
150

gr

cabbage

shredded

150

gr

beansprouts
Seasonings (these are just for reference, adjust to your own taste):
Garnishes:
Optional sides:
Instructions
Boil a large potato until it's soft but not mushy. Peel off the skin, halved, and cut into 1/4-inch slices

If you use dried noodles, cook them according to instruction on the package
Prepare the spice paste:
Preheat the skillet, add 3 Tbsp of oil. Add peanuts, pre-soaked dried shrimp, soaked dried chili, split mung beans and fry over medium heat until they are golden brown. Remove and transfer to a blender or food processor along with the oil. Blend into a fine paste

Return this back to the skillet, add salt, sugar, and tamarind paste and stir fry until the oil separates from the chili mixture. Remove and transfer to a bowl or a jar. This can be kept for one week in the fridge and use it whenever you want to make mee goreng mamak
To make mee goreng mamak (I recommend making 2 servings at a time for the best result):
Mix all ingredients for seasonings and set aside

Preheat a large skillet or wok. Add 1 Tbsp of oil. Add half of the garlic and shallots and stir fry for about 2 minutes. Push the garlic and shallots to the side of the Crack in 2 eggs and let them cook undisturbed for about 20 seconds, then scramble them into large chunks. Push to the side and add shrimp. Cook until they just turn pink

Add the cabbage and about 1/4 cup of water or chicken broth, the 2-3 Tbsp of the chili paste you prepared earlier and let the cabbage cook for another minute

Add half of the noodles, half of the potatoes, followed by half of the seasonings. Splash with another 1-2 Tbsp of water or chicken broth. Stir to combine everything. Have a taste and adjust by adding more salt and/or sugar as needed. If you use beansprouts, add them in now and cook for another 10 seconds. Turn off the heat
To serve:
Squeeze some lime juice from 1 lime over the noodles. Garnish with some bawang goreng and serve immediately
Recommended products:
Nutrition
Serving:
1
serving
Calories:
1169
kcal
Carbohydrates:
147
g
Protein:
56
g
Fat:
42
g
Saturated Fat:
7
g
Trans Fat:
1
g
Cholesterol:
531
mg
Sodium:
1376
mg
Potassium:
1476
mg
Fiber:
15
g
Sugar:
28
g
Vitamin A:
3106
IU
Vitamin C:
45
mg
Calcium:
271
mg
Iron:
9
mg