I'm sharing the easy Sabah kuih batang buruk made with store-bought spring roll wrappers (popiah skin) dusted in sweet and milky/malty powder mixture. It's hard to stop munching this popular snack. They are cooked in an air fryer for a healthier version.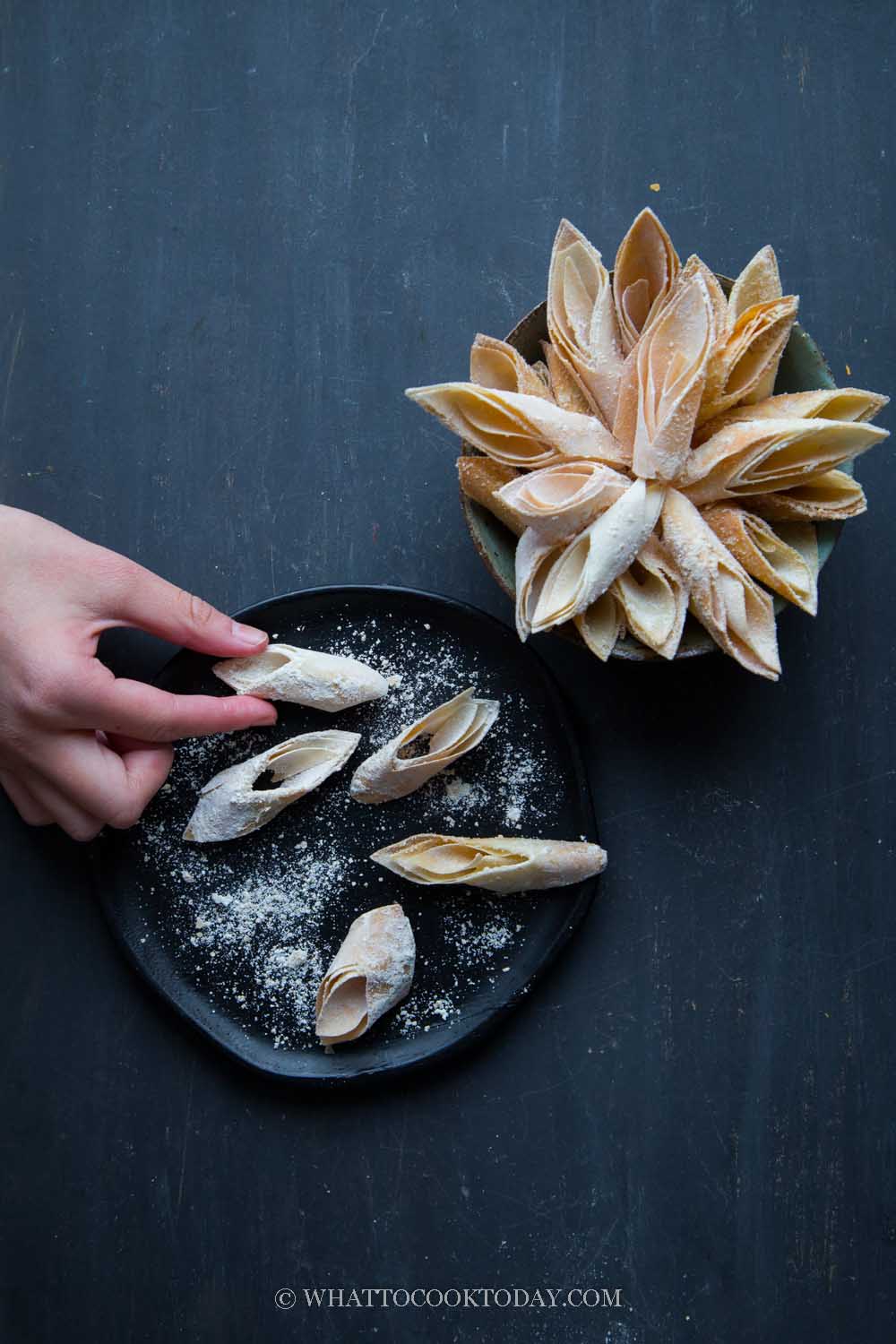 Batang buruk is a popular Malay sweet snack often seen during Hari Raya and Chinese New Year. I don't think I have ever seen batang buruk before in Indonesia, or they could be called a different name? When I saw the recipe from Table for 2 and more and see how easy it was to make (and I also had leftover spring roll wrappers), I decided to roll up my sleeves and got into business 🙂 No regrets!
What is Batang Buruk?
Batang means log or stick in Malay language. Buruk means ugly. So, if you do the direct translation it would be an ugly stick/log. Some even call it moldy log. If you ask me, I don't think they are ugly LOL. They are not the most attractive looking, but I can tell you it's hard to stop eating this popular kuih raya. From what I was told, there are two different kinds of batang buruk. Sabah version, which is the one I'm sharing here is an easier and no-fuss version to make. They are made from store-bought spring roll wrappers shaped into logs and then deep-fried and dusted in the sweet and milky powder mixture. Another one is Johor version. The log is made with dough, made from scratch, and then deep-fried. The fried logs are then dusted and filled with toasted mung bean flour and icing sugar mixture. This latter version is said to be the authentic original version. But you will see more and more of the easy version using the spring roll wrapper these days.

How to easily make kuih batang buruk using spring roll wrappers (kulit popiah)
1. Mix all the ingredients used for dusting


2. If you use nestum cereal instead of mung bean powder, blend them into a fine powder in a food processor


3. Get one spring roll wrapper. Roll it up loosely so you will still see the layers.


4. Brush the end with a bit of egg white wash to seal


5. Cut each roll into about 5-6 pieces at a diagonal


6. If using an air fryer, spray or brush the spring rolls lightly with some oil. Spray the air fryer basket with non-stick spray to prevent sticking. Place the spring rolls in one layer in the basket


7. Air fry at 375 F for 2-3 minutes or less until they are golden


8. Roll the warm fried spring rolls into the milk powder mixture immediately. Make sure they are well coated. Let them cool down completely on a cooling rack and then store in an air-tight container. They stay crispy for about a week or so. They didn't last more than 2 days here LOL

How easy is that 🙂 They are so simple but so good! So hard to not finish the whole batch on my own!

Substitute for mung bean powder
Mung bean powder is available at most Asian grocery stores. If you can't get any, you can also use Nestum cereal or malt powder
Did you make this easy batang buruk recipe?
I love it when you guys snap a photo and tag to show me what you've made 🙂 Simply tag me @WhatToCookToday #WhatToCookToday on Instagram and I'll be sure to stop by and take a peek for real!

The recipe is adapted from Table for 2 or more

Easy Kuih Batang Buruk Sabah (Crispy Sweet Spring Roll Snack)
Ingredients
10

sheets

spring roll wrappers

1

egg white

beaten
Instructions
If you use mung bean powder, toast them on a dry pan over medium-low heat for about 8-10 minutes and then set aside to let it cool down

Mix all the ingredients used for dusting. Set aside
Prepare the log:
Get one spring roll wrapper. Roll it up loosely so you will still see the layers. Brush the end with a bit of egg white wash to seal. Cut each roll into about 5-6 pieces at a diagonal
Cooking:
If using an air fryer, spray or brush the spring rolls lightly with some oil. Spray the air fryer basket with non-stick spray to prevent sticking. Place the spring rolls in one layer in the basket. Air fry at 375 F for 2-3 minutes or less until they are golden brown and crispy, this depends on your air fryer. Check on a minute mark

If you choose to deep fry, preheat about 1 inch of oil. The oil is ready if you put a skewer or chopstick into the oil, there are steady bubbles around it. If it bubbles vigorously, turns down the heat a bit, the oil is too hot. Once the oil is ready, fry the spring rolls until golden brown and crispy, which take about 1 minute or less. Remove from the oil onto an absorbent paper towel
Assembling:
Roll the warm fried spring rolls into the milk powder mixture immediately. Make sure they are well coated. Let them cool down completely on a cooling rack and then store in an air-tight container. They stay crispy for about a week or so. They didn't last more than 2 days here LOL