Soft, creamy, and rich Vietnamese baked banana cake is an amazing way to use up some bananas and this is not your typical banana cake. You will love the creamy pudding-like texture.
One can never have too many banana bread or banana cake recipes! don't you think? There are always extra bananas waiting to be utilized in our house 🙂 I know we all probably have our own "best" banana cakes or banana bread recipes. If you have room for one more, make it this banh chuoi nuong then! you won't be disappointed
What is banh chuoi nuong?
Banh chuoi nuong means baked banana cake. Banana slices are soaked/cooked in rum. Bread slices are soaked in sweet coconut milk and egg mixture. The banana and bread are then combined and tapioca starch and melted butter are added and combined into a thick batter-like consistency. The cake is then baked. What you get is an amazing cake with aromatic banana flavor and slices of banana and a creamy pudding-like texture on the inside.
What kind of bananas to use
Traditionally, banh chuoi nuong is made using Thai/Siamese banana, or also known as pisang awak. It's not easy for me to find those bananas here and if I do, they are not cheap. So I use cavendish banana. You want to use ripe bananas, but not overripe to the point of mushy. The skin of bananas have some black dots, indicating that they are quite ripe, but the banana itself should be in good shape and no black or overripened spots.
How to bake banh chuoi nuong
1. Preheat the oven to 300 F (180 C) for conventional oven, 280 F(140 C) for convection oven. Line the baking pan with parchment paper at the bottom
2. It is important to choose ripe bananas but not overripe ones because we need the bananas to hold their shapes. Combine salt and water in a large mixing bowl. Peel the bananas and leave them whole. Let them soak in the salt water for at least 15 minutes and up to 30 minutes. Soaking the bananas helps to prevent the bananas from turning brown and it also gives the bananas nice reddish color after being baked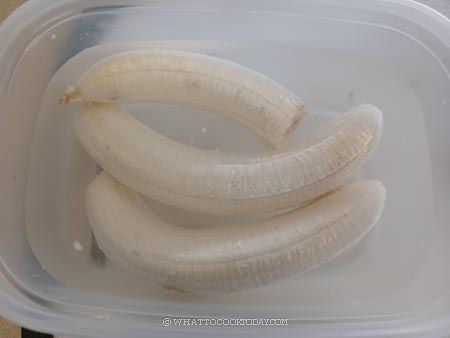 3. After soaking the banana, cut them into about 3/4 inch thick. Do not cut too thin.


4. Pour rum and salt into a large skillet. Arrange the banana slices on top and cook over medium-low heat for about 5-7 minutes. Reserve about 15-20 slices to decorate the cake later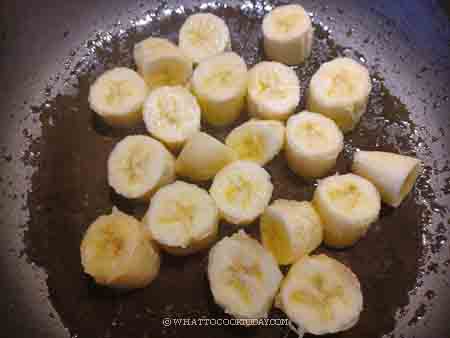 5. Cut the bread slices into 1/2-inch cubes or thin slices. Combine all ingredients for the coconut milk mixture.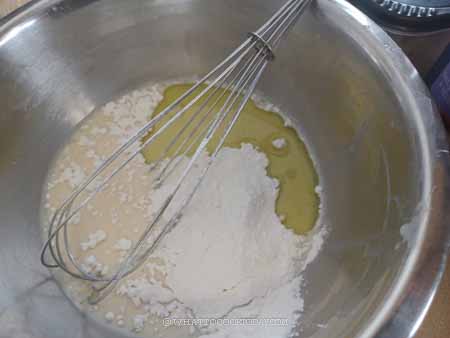 6. Add the bread and the cooked bananas and stir to combine everything.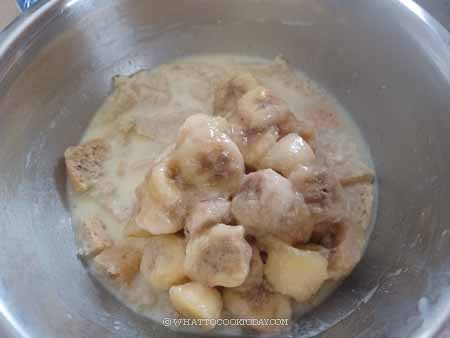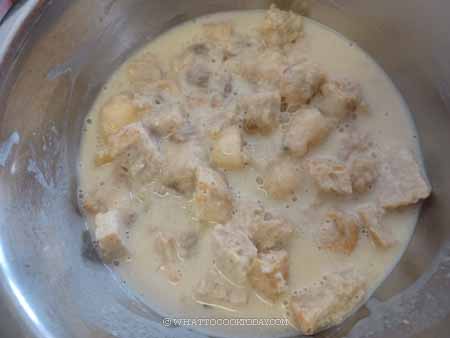 7. Pour into the prepared baking pan. Arrange the banana slices you reserve earlier on top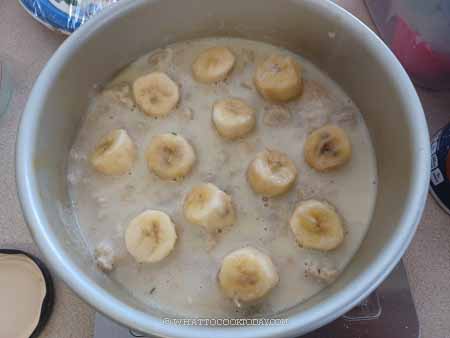 8. Cover the pan with a foil and put the pan on the middle rack and bake for 90 minutes.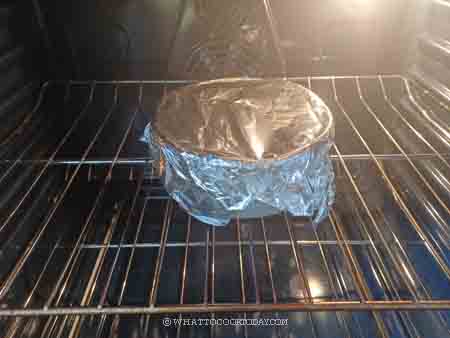 9. Remove from the cake from the oven and remove the foil. Increase oven temperature to 350 F (180 C). Brush the surface of the cake with honey and melted butter mixture.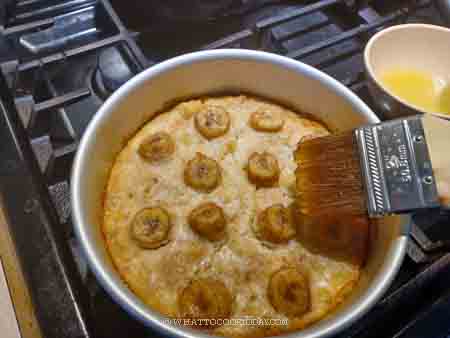 10. Put it back into the oven and bake for another 15 minutes or until you get a nice golden brown on top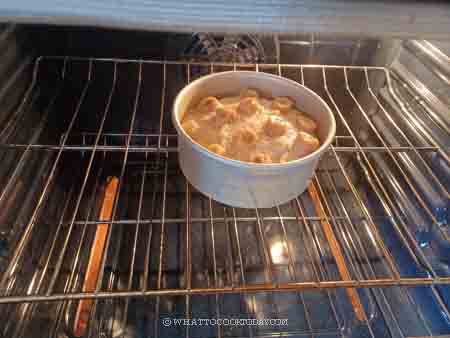 11. Place the pan on a cooling rack and let the cake cool in the pan completely before unmolding and serving. Loosen the edge of the cake, put a plate on top and then carefully invert the cake upside down, peel off the parchment paper and invert it back on to a serving plate. Cut into serving size. The cake can be served at room temperature or after being chilled in the fridge. It will have a firmer texture when it's cold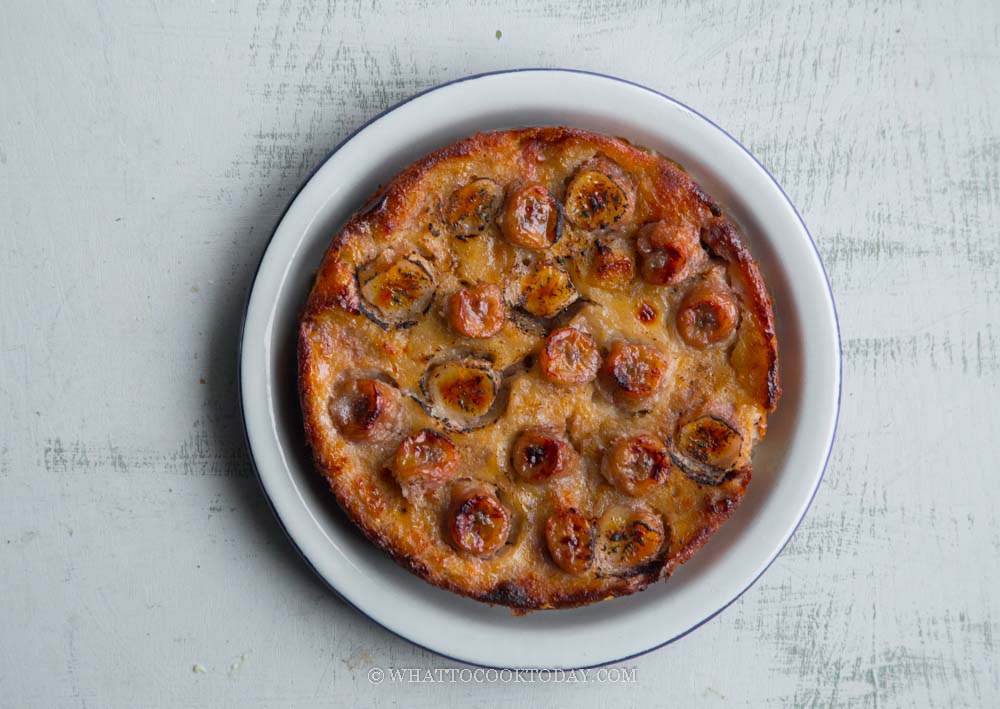 How to store leftovers
If you have leftover Banh Chuoi Nuong, it is important to store it properly to keep it fresh and safe to eat. Here are some tips for storing Banh Chuoi Nuong:
1. Let the cake cool down completely to prevent condensation from forming. Store it in an airtight container. You can also wrap it in plastic wrap. The only thing about wrapping is that the banana slice tends to get "wet" when you do that. So, I prefer to store it in a container instead. It can be kept at room temperature for 2-3 days.
2. You can also store it in the fridge for 3-4 days. Some people like to eat it cold. Just keep in mind that the cake will be firm after refrigeration because coconut milk tends to harden when cold. So the texture will be chewier. You can reheat in the microwave in a 10-15 seconds increment until just warm
3. For longer storage, you can freeze it. Keep them in a freezer-friendly container. I suggest to keep it frozen for up to one month for the best result. Simply thaw in the fridge overnight or at room temperature before serving. You can then warm it up in the microwave if you want it warm
Did you make this banh chuoi nuong recipe?
I love it when you guys snap a photo and tag it to show me what you've made. Simply tag me @WhatToCookToday #WhatToCookToday on Instagram and I'll be sure to stop by and take a peek for real!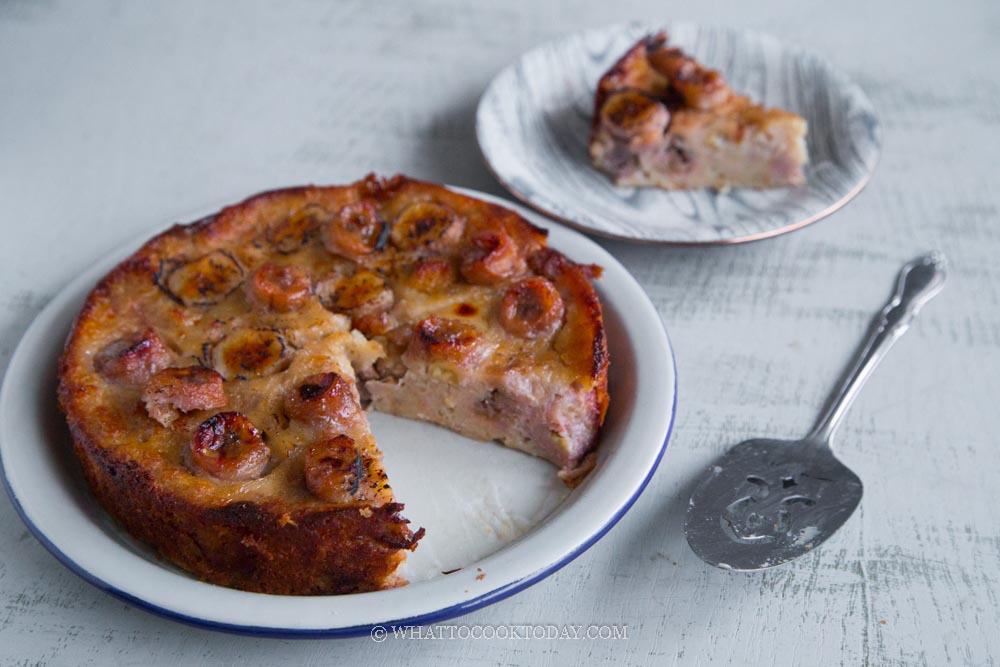 Recipe is adapted from here. I love her recipes!
Banh Chuoi Nuong (Vietnamese Baked Banana Cake)
Ingredients
To soak bananas:
800

g

bananas

see notes 1

4

g

salt

480

g

water
Bread slices:
150

g

stale bread slices

see notes 2
To brush on the cake:
15

g

honey

10

g

melted butter
Instructions
Preheat the oven to 300 F (180 C) for conventional oven, 280 F(140 C) for convection oven. Line the baking pan with parchment paper at the bottom
Soak the bananas:
It is important to choose ripe bananas but not overripe ones because we need the bananas to hold their shapes. Combine salt and water in a large mixing bowl. Peel the bananas and leave them whole. Let them soak in the salt water for at least 15 minutes and up to 30 minutes. Soaking the bananas helps to prevent the bananas from turning brown and it also gives the bananas nice reddish color after being baked
Cook the banana slices:
After soaking the banana, cut them into about 3/4 inch thick. Do not cut too thin. Pour rum and salt in a large skillet. Arrange the banana slices on top and cook over medium-low heat for about 5-7 minutes. Reserve about 20 slices to decorate the cake later
Prepare the coconut milk mixture:
Cut the bread slices into 1/2-inch cubes or thin slices. Combine all ingredients for coconut milk mixture. Add the bread and the cooked bananas and stir to combine everything. Pour into the prepared baking pan. Arrange the banana slices you reserve earlier on top
Bake the cake:
Cover the pan with a foil. Put the pan on the middle rack and bake for 90 minutes. Remove from the cake from the oven and remove the foil. Increase oven temperature to 350 F (180 C). Brush the surface of the cake with honey and melted butter mixture. Put it back into the oven and bake for another 15 minutes or until you get a nice golden brown on top
Cool the cake:
Place the pan on a cooling rack and let the cake cool in the pan completely before unmolding and serving
To serve:
Loosen the edge of the cake, put a plate on top and then carefully invert the cake upside down, peel off the parchment paper and invert it back on to a serving plate. Cut into serving size. The cake can be served room temperature or after being chilled in the fridge. It will have a firmer texture when it's cold
Notes
I use cavendish bananas. If you can get pisang awak or Thai/Siamese bananas, use them
You can use stale milk bread, Italian bread, brioche, challah, or similar bread
Recommended products:
Nutrition
Serving:
1
serving
|
Calories:
373
kcal
|
Carbohydrates:
41
g
|
Protein:
6
g
|
Fat:
21
g
|
Saturated Fat:
16
g
|
Polyunsaturated Fat:
1
g
|
Monounsaturated Fat:
2
g
|
Trans Fat:
0.2
g
|
Cholesterol:
35
mg
|
Sodium:
407
mg
|
Potassium:
487
mg
|
Fiber:
4
g
|
Sugar:
20
g
|
Vitamin A:
255
IU
|
Vitamin C:
8
mg
|
Calcium:
62
mg
|
Iron:
2
mg