Soft, fluffy, lightly sweetened with great aromatic spices hot cross buns made with sourdough stiff starter you will enjoy eating.
A while ago I made really soft and fluffy hot cross buns using tangzhong method. I really love that recipe. If you don't have a sourdough starter, definitely use that tangzhong hot cross buns recipe.
Why I love sourdough hot cross buns
1. Depth of flavor
Honestly, I love sourdough bread of any kind. It has an amazing depth of flavor that you don't really get with regular yeasted bread. It's hard to explain that taste!
2. Not sour sourdough hot cross buns
My kids don't like the sour taste of sourdough bread. That is why I like to use sweet stiff starter (SSS) to prepare enriched bread like this because it doesn't make the bread taste sour. There's that slight tang that is barely there, but overall, my kids can't really tell
3. The bread stays soft for days
That's what I notice with sourdough bread. The texture stays soft and it has that nice shreddy fluffy texture
How to make sourdough hot cross buns
1. Mix all ingredients for sweet stiff starter. Cover loosely with plastic wrap or a lid. It takes about 10-12 hours to triple at a warm place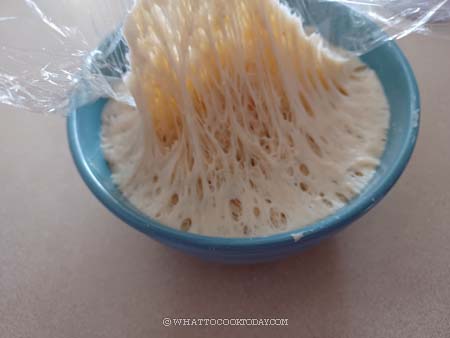 2. Soak the raisins and sultanas in warm water for 30 minutes to 1 hour. Drain off the soaking water and pat the raisins and sultanas dry with an absorbent paper towel
3. Combine all the ingredients and spices for the dough. Add all of the stiff starter. I like to use a scissor to cut it into smaller pieces. Stir the mixture with the dough hook to combine roughly so the dry ingredients won't start flying when you turn on the machine


4. Knead on the lowest speed for 2-3 minutes and then increase to speed 2 and knead for 3 minutes and then speed 4 for another 3 minutes or until it forms a dough that clears the side of the bowl, but not smooth yet


5. Add the softened butter in 3 batches. Once all the butter is in, increase speed to to 4 and knead for 5-8 minutes or until the dough is elastic and smooth. When you gently stretch a small amount of the dough, it won't tear easily. We call this a windowpane stage


6. Add the pre-soaked raisins and sultanas and mix on the lowest speed until just combined. They won't be entirely combined and that's okay, they will even out later when you shape the dough. We don't want to overwork the dough anymore as the gluten may break and turn into a sticky mess


7. I like to use a straight-sided container with a lid to proof the dough so I can keep track on the volume when it rises. Transfer the dough to the container and flatten it to fill up the bowl and mark the outside of the container where the dough is and let it bulk ferment at a warm place (about 80-86 F / 27-30 C) for 2 hour.


8. The dough may not double in 2 hours. That's okay.


9. Line a 8 x 8 or 9 x 9 square pan with parchment paper, overlapping like a cross. Transfer the dough to a lightly floured work surface. Knock out all the gas. I like to weigh the entire dough and then divide by 12 to get the weight of each dough. That way I get buns that are the same size. Otherwise, if you are not picky about it, you can just eyeball. Divide the dough into 12 equal pieces. Keep them covered


10. Work with one dough at a time. Take one dough. Flatten slightly with your palm and then gather the edge towards the center to form a tight dough ball.


11. Flip over so the seam side is facing down. Roll it into a round ball with your palm.


12. Place it in a prepared pan. You can do 3 x 4 arrangements in the pan. Repeat with the rest of the dough ball


13. Cover the pan with plastic wrap and let them proof until puffy. They may not double but they should fill up the pan. This may take about 3- 3 1/2 hours , depending on the temperature and the strength of your starter. Preheat the oven to 375 F (190 C) for a conventional oven, 15 minutes before the end of final proofing. Lower the temperature by 20 F or 15 C if you have a convection oven


14. Combine the ingredients for the hot cross paste and transfer them into a small plastic bag. When ready to use, snip the pointy end with scissors to squeeze out the paste. Pipe the hot cross paste on top of the dough, following the curves of the dough


15. Place the pan in the middle rack and bake for 20-22 minutes or until they are golden brown or the internal temperature is 190 F (88 C). Do not overbake. While the buns are baking, prepare the apricot glaze by combining apricot jam with water
16. Remove from the oven and brush with apricot jam while they are still warm. The surface of the buns will be shiny and sticky
Did you make this sourdough hot cross buns recipe?
I love it when you guys snap a photo and tag it to show me what you've made. Simply tag me @WhatToCookToday #WhatToCookToday on Instagram and I'll be sure to stop by and take a peek for real!
Sourdough Hot Cross Buns
Ingredients
Sweet stiff starter (SSS):
Final dough:
50

g

milk

30

g

brown sugar

5

g

salt

Zest of one large orange

50

g

egg

40

g

unsalted butter (softened)
Spices:
1

tsp

ground cinnamon

½

tsp

all-spice

¼

tsp

ground nutmeg
Glaze:
1

Tbsp

apricot jam

2

tsp

water
Instructions
Prepare SSS:
Mix all ingredients for sweet stiff starter. Cover loosely with plastic wrap or a lid. It takes about 10-12 hours to triple at a warm place

Soak the raisins and sultanas in warm water for 30 minutes to 1 hour. Drain off the soaking water and pat the raisins and sultanas dry with absorbent paper towel
Prepare the dough:
Combine all the ingredients and spices for the dough. Add all of the stiff starter. I like to use a scissor to cut it into smaller pieces. Stir the mixture with the dough hook to combine roughly so the dry ingredients won't start flying when you turn on the machine

Knead on the lowest speed for 2-3 minutes and then increase to speed 2 and knead for 3 minutes and then speed 4 for another 3 minutes or until it forms a dough that clears the side of the bowl, but not smooth yet

Add the softened butter in 3 batches. Once all the butter is in, increase speed to to 4 and knead for 5-8 minutes or until the dough is elastic and smooth. When you gently stretch a small amount of the dough, it won't tear easily. We call this a windowpane stage

Add the pre-soaked raisins and sultanas and mix on the lowest speed until just combined. They won't be entirely combined and that's okay, they will even out later when you shape the dough. We don't want to overwork the dough anymore as the gluten may break and turn into a sticky mess
First proofing:
I like to use a straight-sided container with a lid to proof the dough so I can keep track on the volume when it rises. Transfer the dough to the container and flatten it to fill up the bowl and mark the outside of the container where the dough is and let it bulk ferment at a warm place (about 80-86 F / 27-30 C). The dough may not double and it's okay
Shaping:
Line a 8 x 8 or 9 x 9 square pan with parchment paper, overlapping like a cross

Transfer the dough to a lightly floured work surface. Knock out all the gas. I like to weigh the entire dough and then divide by 12 to get the weight of each dough. That way I get buns that are the same size. Otherwise, if you are not picky about it, you can just eyeball. Divide the dough into 12 equal pieces. Keep them covered

Work with one dough at a time. Take one dough. Flatten slightly with your palm and then gather the edge towards center to form a tight dough ball. flip over so the seam side is facing down. Roll it into a round ball with your palm. Place it in a prepared pan. You can do 3 x 4 arrangements in the pan. Repeat with the rest of the dough ball
Final proofing:
Cover the pan with a plastic wrap and let them proof until puffy. They may not double but they should fill up the pan. This may take about 3- 3 1/2 hours , depending on temperature and the strength of your starter. Preheat the oven to 375 F (190 C) for a conventional oven, 15 minutes before the end of final proofing. Lower the temperature by 20 F or 15 C if you have a convection oven
Prepare the hot cross paste:
Combine the ingredients for hot cross paste and transfer into a small plastic bag. When ready to use, snip the pointy end with scissor to squeeze out the paste

Prepare an egg wash by whisking the egg really well with water. Brush this on the surface of the dough.

Pipe the hot cross paste on top of the dough, following the curves of the dough
Baking:
Place the pan in the middle rack and bake for 20-22 minutes or until they are golden brown or the internal temperature is 190 F (88 C). Do not overbake

While the buns are baking, prepare the apricot glaze by combining apricot jam with water
Cool down:
Remove from the oven and brush with apricot jam while they are still warm. The surface of the buns will be shiny and sticky

Remove from the pan and put on top of a cooling rack. Serve warm or at room temperature
Storage:
They can be kept at room tempreature for 2-3 days. For longer storage, I recommend the freezer for storage. Let them cool down completely before storing. Put them in freezer bag, push all the air out and seal. I recommend storing for no more than one month for the best result

When ready to serve, thaw at room temperature and reheat in the microwave by putting a damp paper towel over the buns and reheat in a 10 seconds increment. You can also warm them up in the oven by wrapping them in foil and bake at 350 F (180 C) for 8-10 minutes or until warm through. If they are frozen, you may need another 5-10 minutes extra
Recommended products:
Nutrition
Serving:
1
bun
|
Calories:
213
kcal
|
Carbohydrates:
37
g
|
Protein:
5
g
|
Fat:
5
g
|
Saturated Fat:
2
g
|
Polyunsaturated Fat:
1
g
|
Monounsaturated Fat:
1
g
|
Trans Fat:
0.1
g
|
Cholesterol:
39
mg
|
Sodium:
201
mg
|
Potassium:
128
mg
|
Fiber:
1
g
|
Sugar:
9
g
|
Vitamin A:
144
IU
|
Vitamin C:
1
mg
|
Calcium:
27
mg
|
Iron:
1
mg