Soft and chewy glutinous rice balls filled with gooey and melty brown sugar filling served in thick brown sugar broth are so delicious you have to try it if you haven't already! It's one of our family's favorite tang yuan.
This brown sugar tang yuan has become our family's favorite. The first bite into this and my daughter immediately said "omg, mom! I love how the sugar bursts out and just melts inside your mouth!"
What's so special about this brown sugar tang yuan
Unlike typical tang yuan served in ginger broth, brown sugar tang yuan is served in brown sugar broth (without ginger) which has a thicker consistency compared to the regular ginger broth. The starch from boiling the tang yuan and also boiling the tang yuan in the brown sugar broth thicken the broth slightly. The addition of roasted sesame seeds is a great one too! I encourage you to try it!
How to make brown sugar glutinous rice balls
1. Mix the brown sugar with oil and salt and set aside

2. Mix glutinous rice flour and icing sugar in a mixing bowl. Add the boiling hot water (make sure it's REALLY hot!). Stir to mix with a spatula at first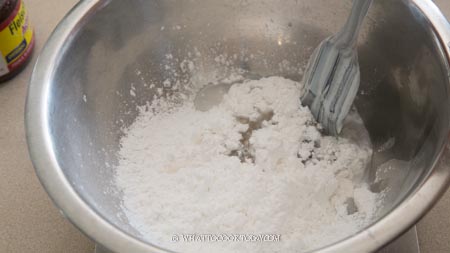 3. When it's not too hot anymore, use a clean hand to mix and knead into a non-sticky dough. Add a bit of water as needed to form a dough. The dough will be soft and pliable because of the hot water. Cover them with plastic wrap to prevent it from drying out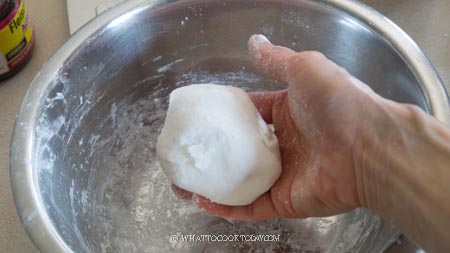 4. Bring about 4 cups of water to a boil in a saucepan to cook the tang yuan. Divide the dough into 10 portions and the rest of the dough for small tang yuan without filling. If you prefer to make all with filling, you can divide into 14 portions instead. Work with 1 dough at a time and keeping the rest covered with plastic wrap or a damp cloth.
5. Take one dough and make an indentation in the middle and stretch to form a bowl.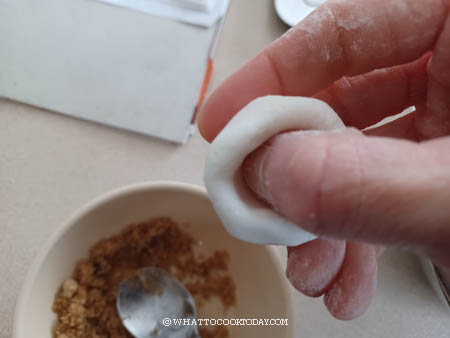 6. Fill the dough with about 1/2 tsp of brown sugar filling or more as you see fit. Try not to fill too much as you may have trouble wrapping it. Gather the side of the dough and enclose it and roll them in between your palms to make it round. Make sure you seal the tang yuan nicely or the filling will leak out when you cook them. If the dough gets dry, dab with some water and then gently roll it smooth. Make sure it's smooth without any cracks or the sugar filling will leak out when you boil them. Cover with plastic wrap tightly and continue with the rest

7. When water comes to a rolling boil, if you have a mixture of small and large tang yuan, cook the small ones first until they float to the top and then quickly remove. Add the large tang yuan with filling and cook until they float to the top. Remove them from the pot. Do not rinse them. They aren't fully cooked yet, but we will cook them further in brown sugar syrup.

8. Leave about 150 gr of the water from boiling tang yuan in the saucepan. Add the dark brown sugar and bring to simmer again. Add the partially cooked tang yuan back into the saucepan and cook over medium heat. Cook until the broth starts to thicken because of the starch in the broth and the tang yuan. Let them cook for another minute

9. Sprinkle some white toasted sesame seeds on top and serve while they are warm

Did you make this brown sugar tang yuan recipe?
I love it when you guys snap a photo and tag it to show me what you've made 🙂 Simply tag me @WhatToCookToday #WhatToCookToday on Instagram and I'll be sure to stop by and take a peek for real!
Brown Sugar Glutinous Rice Balls/Tang yuan
Ingredients
Brown sugar filling for tang yuan:
50

gr

dark brown sugar

coconut sugar works very well too

1

Tbsp

cooking oil

Small pinch of salt
Brown sugar broth:
150

gr

water from boiling tang yuan

25

gr

dark brown sugar

coconut sugar works very well too

5

gr

white sesame seeds
Instructions
Prepare the filling:
Mix the brown sugar with oil and salt and set aside
Prepare the dough:
Mix glutinous rice flour and icing sugar in a mixing bowl. Add the boiling hot water (make sure it's REALLY hot!). Stir to mix with a spatula at first and when it's not too hot anymore, use a clean hand to mix and knead into a non-sticky dough. Add a bit of water as needed to form a dough. The dough will be soft and pliable because of the hot water. Add food coloring if you want to and knead until the color is even. Cover them with plastic wrap to prevent it from drying out

Bring about 4 cups of water to a boil in a saucepan to cook the tang yuan. Divide the dough into 10 portions and the rest of the dough for small tang yuan without filling. If you prefer to make all with filling, you can divide into 14 portions instead. Work with 1 dough at a time and keeping the rest covered with plastic wrap or a damp cloth.

Take one dough and make an indentation in the middle and stretch to form a bowl. Fill the dough with about 1/2 tsp of brown sugar filling or more as you see fit. Try not to fill too much as you may have trouble wrapping it. Gather the side of the dough and enclose it and roll them in between your palms to make it round. Make sure you seal the tang yuan nicely or the filling will leak out when you cook them. If the dough gets dry, dab with some water and then gently roll it smooth. Make sure it's smooth without any cracks or the sugar filling will leak out when you boil them. Cover with plastic wrap tightly and continue with the rest
Cook the tang yuan:
When water comes to a rolling boil, if you have a mixture of small and large tang yuan, cook the small ones first until they float to the top and then quickly remove. Add the large tang yuan with filling and cook until they float to the top. Remove them from the pot. Do not rinse them. They aren't fully cooked yet, but we will cook them further in brown sugar syrup.

Leave about 150 gr of the water from boiling tang yuan in the saucepan. Add the dark brown sugar and bring to simmer again. Add the partially cooked tang yuan back into the saucepan and cook over medium heat. Cook until the broth starts to thicken because of the starch in the broth and the tang yuan. Let them cook for another minute
Serve:
Sprinkle some white toasted sesame seeds on top and serve while they are warm
How to store:
These are best served on the same day. If you do have leftovers, simply keep them in the fridge. The tang yuan will harden and this is normal. Simply reheat on the stove until they are soft again
Nutrition
Serving:
1
serving
|
Calories:
294
kcal
|
Carbohydrates:
58
g
|
Protein:
2
g
|
Fat:
6
g
|
Saturated Fat:
1
g
|
Polyunsaturated Fat:
2
g
|
Monounsaturated Fat:
3
g
|
Trans Fat:
0.02
g
|
Sodium:
86
mg
|
Potassium:
67
mg
|
Fiber:
1
g
|
Sugar:
31
g
|
Vitamin A:
0.1
IU
|
Calcium:
40
mg
|
Iron:
1
mg