Soft and chewy glutinous rice balls/tang yuan served in sweet and fragrant osmanthus ginger broth.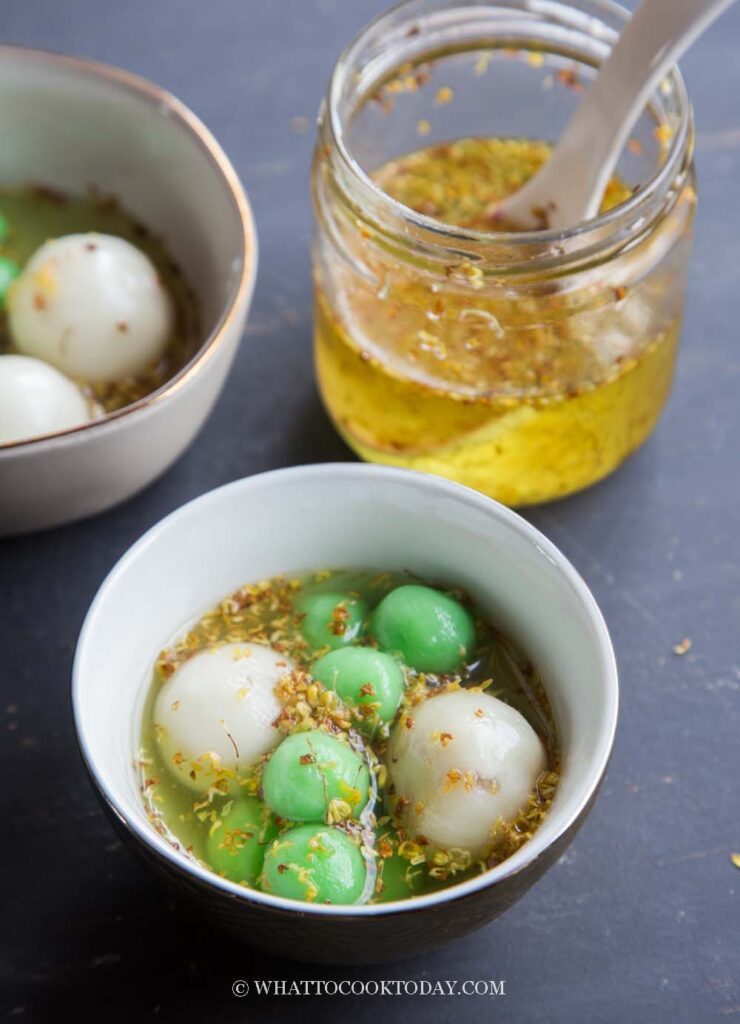 My mom has always served tang yuan in ginger broth. Where I grew up, tang yuan doesn't have any filling. They are usually colorful little glutinous rice balls served in ginger broth. The broth is usually sweetened with dark brown sugar or palm sugar. It's not until I live in Singapore for a few years that I tasted tang yuan with filling such as black sesame tang yuan, peanut tang yuan and many other different kinds of tang yuan with a modern twist.
Osmanthus tang yuan is my new favorite! I love how fragrant the osmanthus flower is. Adding the dried osmanthus to the ginger broth is a great idea! My kids love them a lot!
How to prepare osmanthus tang yuan
1. Put water, ginger, and sugar in a saucepan. Bring to a boil and then lower the heat, cover with a lid and let it gently simmer for 15 minutes. Turn off the heat. Remove the ginger. Add osmanthus flower and simmer for another 5 minutes and then turn off the heat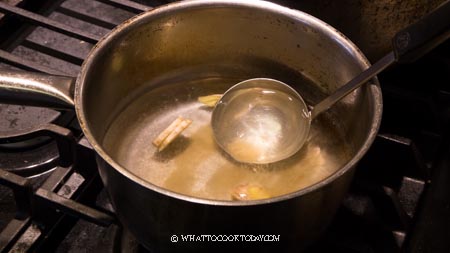 Mix glutinous rice flour and icing sugar in a mixing bowl. Add the boiling hot water. Stir to mix with a spatula at first and when it's not too hot anymore, use a clean hand to mix and knead into a non-sticky dough. Add a bit of water as needed to form a dough.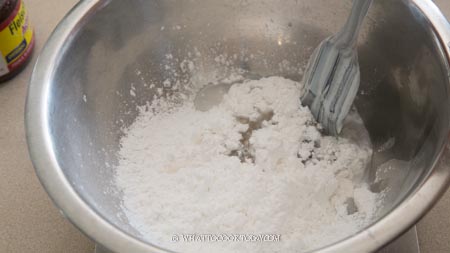 2. The dough will be soft and pliable because of the hot water. Add food coloring if you want to and knead until the color is even. Cover them with plastic wrap to prevent it from drying out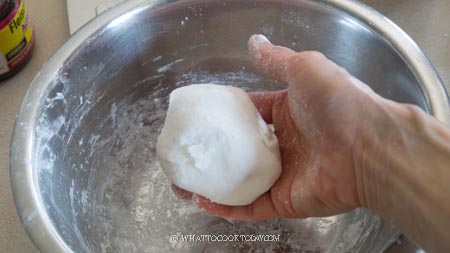 3. Pinch off a small amount of dough, about 8-10 grams (it's up to you how big or small you want them to be) and then roll into small balls. You should have no problem with the dough breaking because the dough is so soft and pliable. Keep the small balls covered with plastic wrap too. Continue with the rest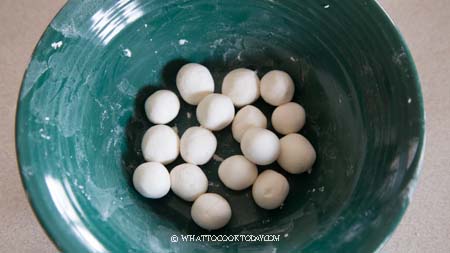 4. Bring a small pot of water to a boil. When they are rolling boil, add the tang yuan balls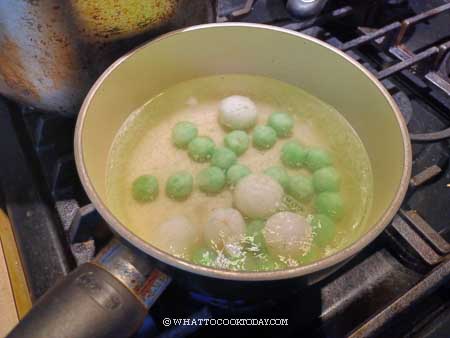 5. Cook until they float to the top. Once they float to the top, cook for another 1 minute.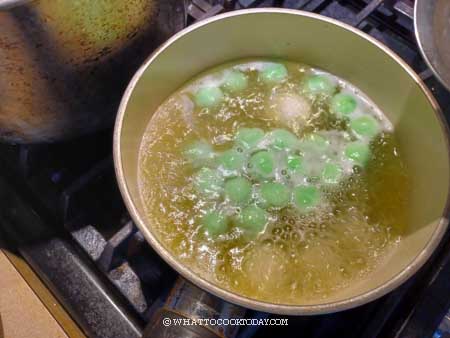 6. Use a slotted spoon to remove them from the pot and submerge them in a fresh water briefly to stop the cooking process and prevent them from sticking to each other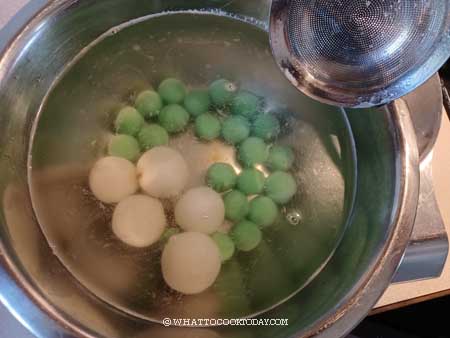 7. Portion out tang yuan into bowls and ladle the osmanthus broth over and serve immediately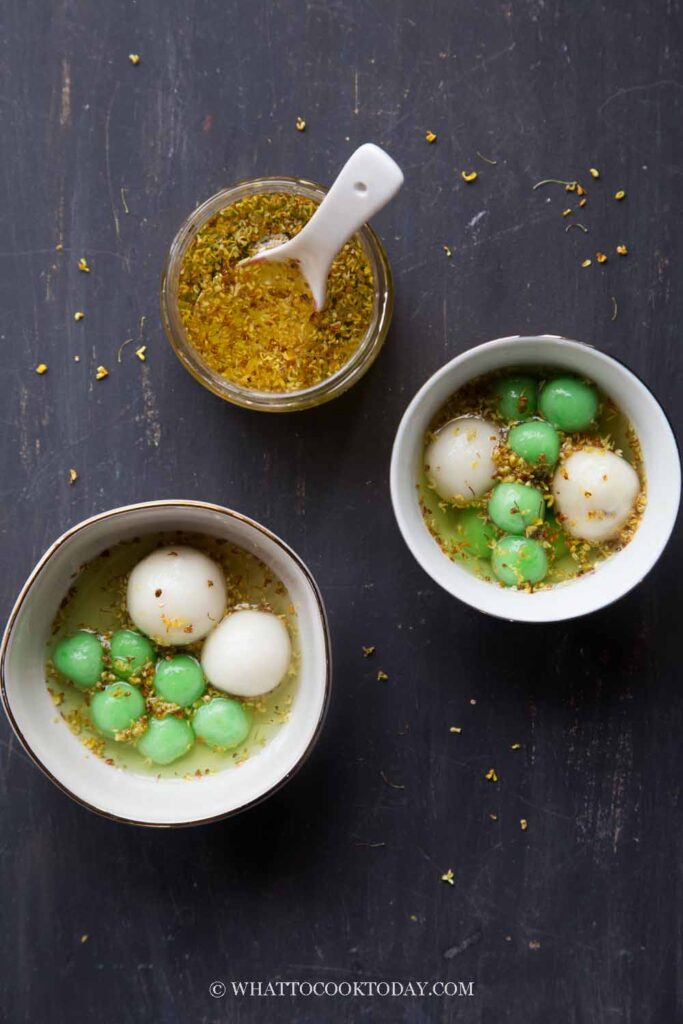 Variations
Filling: If you want some filling in the tang yuan, you can try out these peanut tang yuan and black sesame tang yuan
Different flavor: you can also make pumpkin tang yuan, crystal tang yuan
Did you make this osmanthus tang yuan recipe?
I love it when you guys snap a photo and tag it to show me what you've made 🙂 Simply tag me @WhatToCookToday #WhatToCookToday on Instagram and I'll be sure to stop by and take a peek for real!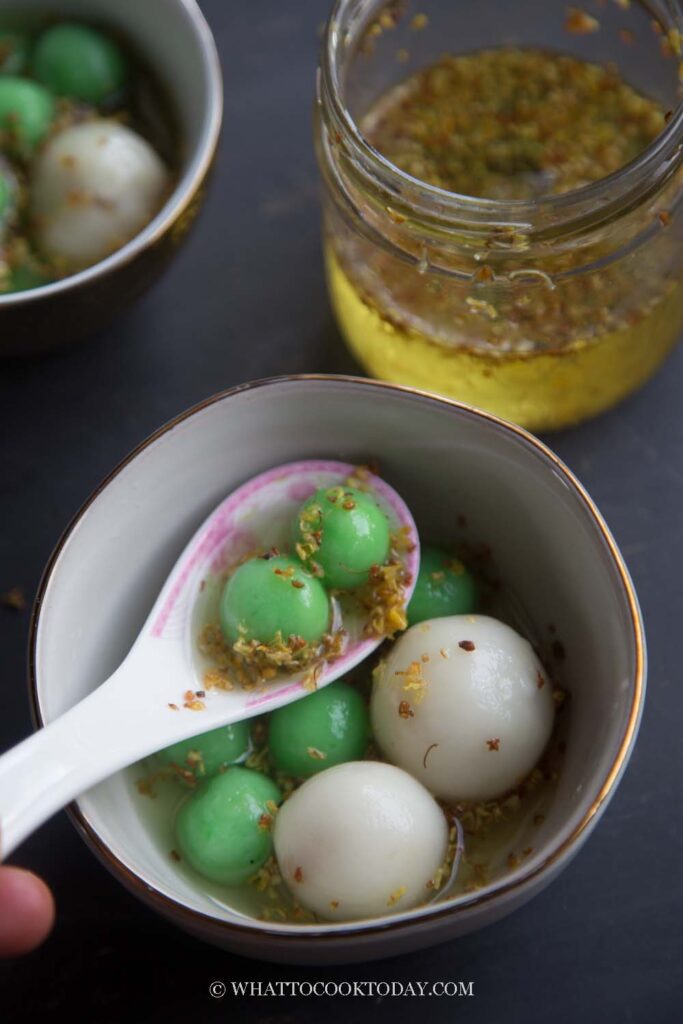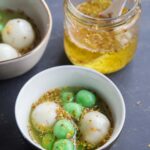 Osmanthus Tang Yuan
Ingredients
Optional (if you want to add color):
¼

tsp

pandan essence

or a small drop of food coloring of your choice
If serving with osmanthus sugar syrup:
Instructions
Prepare osmanthus ginger broth:
Put water, ginger and sugar in a saucepan. Bring to a boil and then lower the heat, cover with a lid and let it gently simmer for 15 minutes. Turn off the heat. Remove the ginger. Add osmanthus flower and simmer for another 5 minutes and then turn off the heat
Prepare tang yuan:
Mix glutinous rice flour and icing sugar in a mixing bowl. Add the boiling hot water (make sure it's REALLY hot!). Stir to mix with a spatula at first and when it's not too hot anymore, use a clean hand to mix and knead into a non-sticky dough. Add a bit of water as needed to form a dough. The dough will be soft and pliable because of the hot water. Add food coloring if you want to and knead until the color is even. Cover them with plastic wrap to prevent it from drying out

Pinch off a small amount of dough, about 8-10 grams (it's up to you how big or small you want them to be) and then roll into small balls. You should have no problem with the dough breaking because the dough is so soft and pliable. Keep the small balls covered with plastic wrap too. Continue with the rest
Cook the tang yuan:
Bring a small pot of water to a boil. When they are rolling boil, add the tang yuan balls and cook until they float to the top. Once they float to the top, cook for another 1 minute. Use a slotted spoon to remove them from the pot and submerge them in a fresh water briefly to stop the cooking process and to prevent them from sticking to each other
To serve:
Portion out tang yuan into bowls and ladle the osmanthus broth over and serve immediately
If serving with osmanthus syrup:
If you don't want to prepare the osmanthus ginger broth and you have store-bought osmanthus syrup (or osmanthus honey), you can serve the tang yuan with osmanthus syrup/honey instead
Nutrition
Serving:
1
serving
|
Calories:
231
kcal
|
Carbohydrates:
55
g
|
Protein:
2
g
|
Fat:
1
g
|
Saturated Fat:
0.1
g
|
Polyunsaturated Fat:
0.1
g
|
Monounsaturated Fat:
0.2
g
|
Sodium:
18
mg
|
Potassium:
60
mg
|
Fiber:
1
g
|
Sugar:
27
g
|
Vitamin C:
0.4
mg
|
Calcium:
15
mg
|
Iron:
0.2
mg