Learn how to make a comforting bowl of Jakarta-style chicken porridge (bubur ayam) served with aromatic yellow chicken broth (kuah kuning) and arrays of toppings.
Savory rice porridge is a popular breakfast food across Asia. The varieties are countless. Bubur ayam betawi is one of the popular breakfast foods in Indonesia. Honestly, we don't eat it just for breakfast though. I can cook a big pot of rice porridge to be consumed three meals a day 🙂 It's comfort food for many Asians.
WHAT IS BUBUR AYAM BETAWI (BUBUR AYAM JAKARTA) ?
Bubur ayam betawi is also referred to as bubur ayam Jakarta. Betawi refers to an ethnic group that lives in Jakarta and its surrounding area. The chicken porridge has been adapted and cooked by using local spices and herbs and usually served by drenching the yellow-turmeric chicken broth (kuah kuning) over the rice porridge. Though there is also a version served without the kuah kuning. There are also lots of toppings you can add to the porridge such as tapioca crackers, fried soy nuts, fried cakwe (Chinese fried dough – you tiau), fried shallots (bawang goreng), chopped green onion, chopped celery leaves, chopped Thai chili and drizzle of kecap manis. These are just to mention a few. Of course you don't have to include all those. You can just pick a few toppings you like.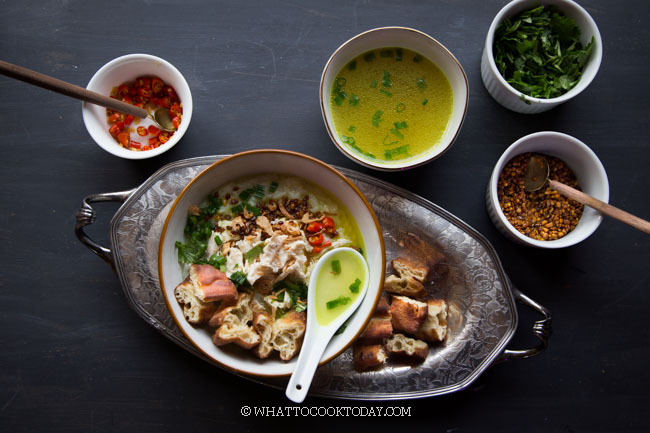 HOW TO MAKE BUBUR AYAM BETAWI
PREPARE THE KUAH KUNING (ON THE STOVE OR INSTANT POT)
1. Preheat oil in a large pot. Add cooking oil. Stir fry the grind ingredients until fragrant, about 3 minutes.


2. Add the herbs and spices and continue to stir fry for another minute.


3. Add the chicken and chicken stock. Bring to a boil and then lower the heat to let it simmer until the chicken is cooked through


4. Remove the chicken from the stock. You can briefly pan fry the chicken until golden brown if you like. I didn't fry the chicken. While cool enough to handle, shred the chicken meat
COOK THE RICE PORRIDGE
1. Rinse the rice briefly in a clean water. Drain off water.
2. Bring chicken stock to a boil.


3. Add in the rice, bay leaves and salt.


4. Cook until the rice is soft and thicken to the consistency you like, about 20-30 minutes. If it's too thick, you can always thin the porridge with more stock or water.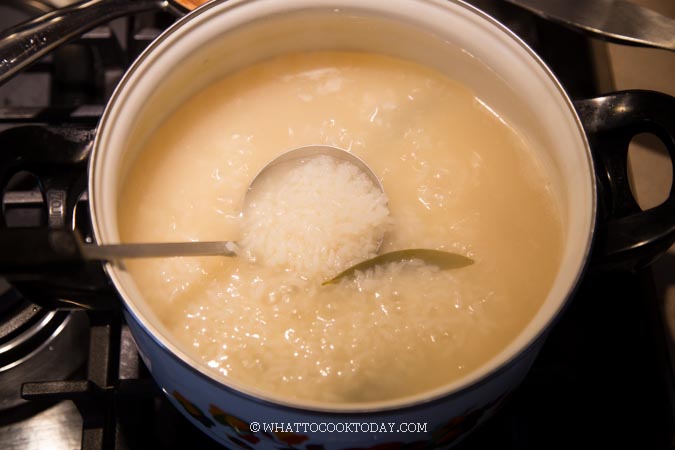 CAN I SERVE BUBUR AYAM BETAWI WITHOUT THE KUAH KUNING?
You certainly can. Some people find it troublesome having to prepare the soup (kuah). You can just serve the rice porridge with the shredded chicken and the toppings.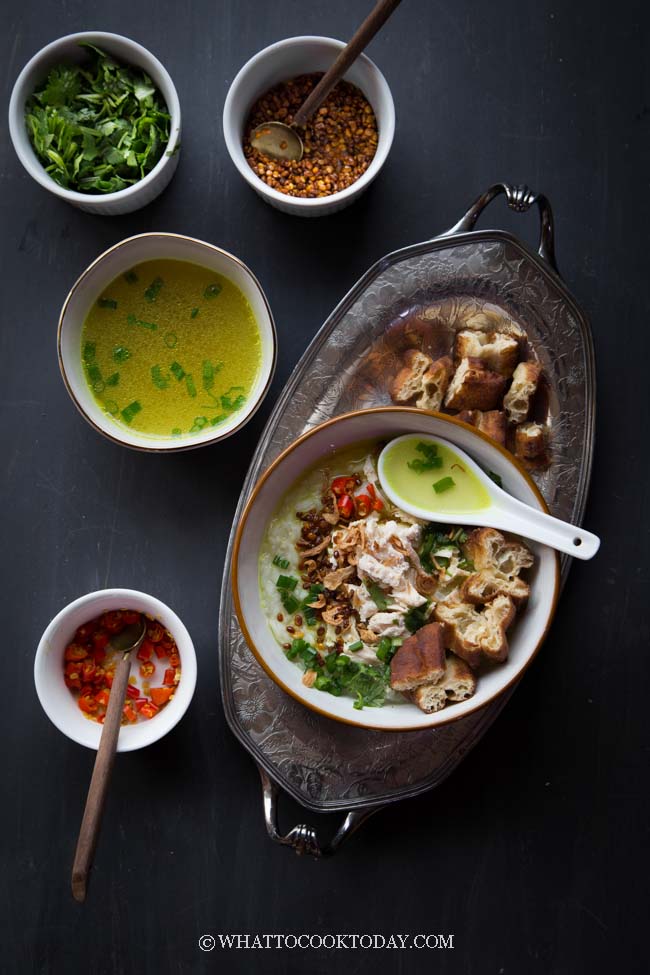 HOW TO STORE LEFTOVER BUBUR AYAM BETAWI
Storing: They can be kept in the refrigerator for up to 5 days. I don't recommend freezing rice porridge.
Reheating: Simply reheat on the stove and you will need to add more water or stock to thin it out. The longer the rice porridge sits, the thicker it gets. You can also reheat in a microwave by adding more liquid to thin out the porridge.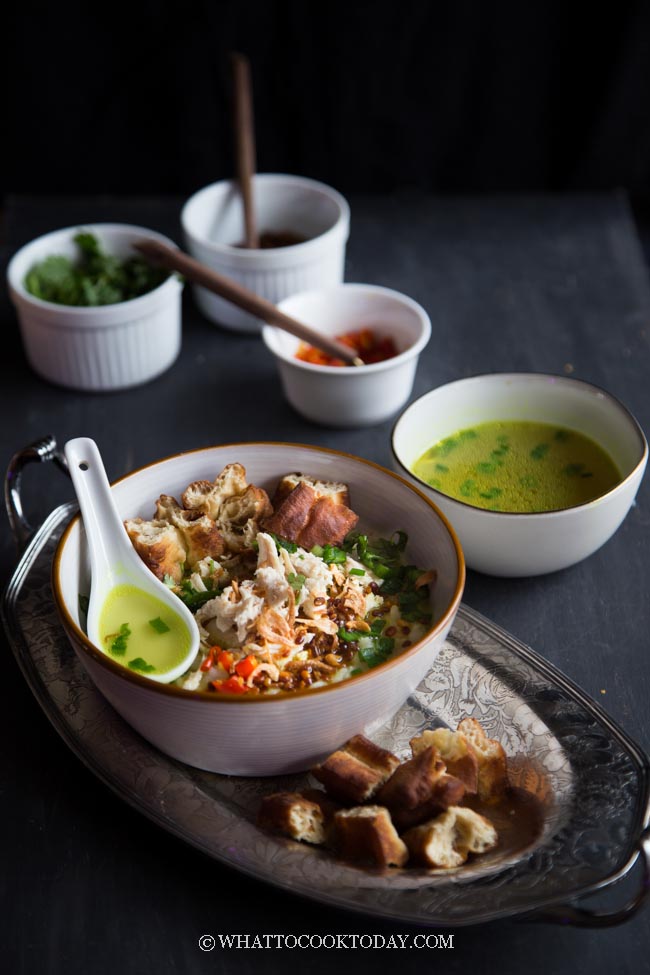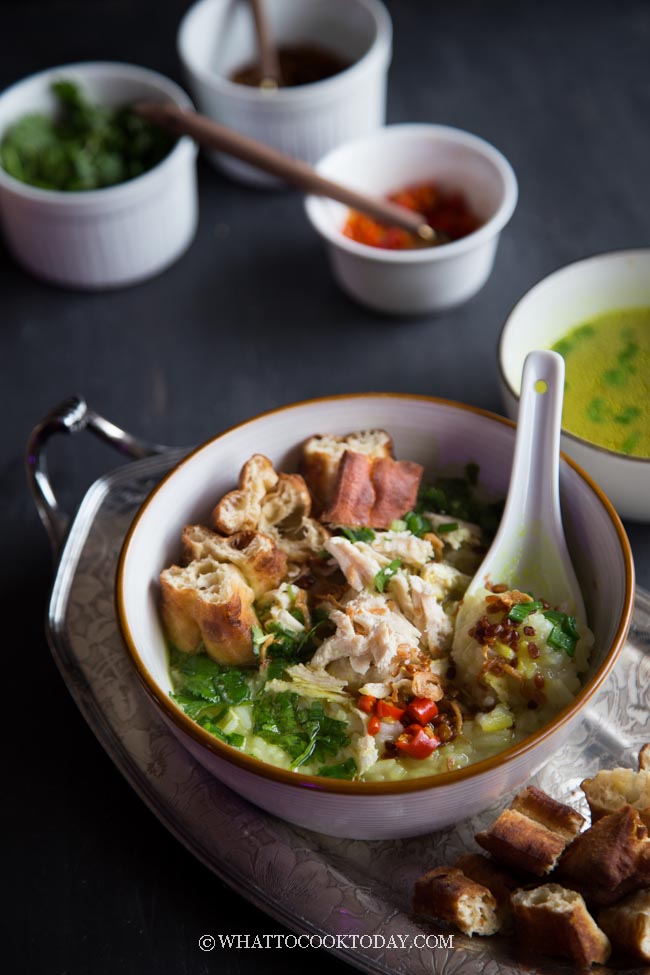 There is also an easy version of bubur ayam (Easy Chicken Rice Congee). That is more of a basic Chinese-style congee.
*Recipe is written for 6-quart Instant Pot. Cooking time should remain the same for 8-quart size but will take longer to pressurize. For mini duo (3-quart), I recommend to half the recipe and use the same amount of time to cook. Cooking time doesn't change because the time is based on the size of your pot not the quantity of the food*

Bubur Ayam Betawi Kuah Kuning (Jakarta Chicken Rice Porridge)
Ingredients
Instructions
Prepare the kuah kuning (on the stove):
Preheat oil in a large pot. Add cooking oil. Stir fry the grind ingredients until fragrant, about 3 minutes. Add the herbs and spices and continue to stir fry for another minute. Add the chicken and chicken stock. Bring to a boil and then lower the heat to let it simmer until the chicken is cooked through
Prepare kuah kuning with Instant Pot pressure cooker:
Press saute on instant pot. When it's hot, add cooking oil. Stir fry the grind ingredients until fragrant, about 3 minutes. Add the herbs and spices and continue to stir fry for another minute. Add the chicken and chicken stock. Close the lid and turn the steam release valve to sealing. Press pressure cooker and pressure cook on high for 10 minutes. Release pressure immediately after
Shred the chicken and strain the stock:
Remove the chicken from the stock. You can briefly pan fry the chicken until golden brown if you like. I didn't fry the chicken. While cool enough to handle, shred the chicken meat

Have a taste on the kuah kuning. Add more salt to your taste. Strain the chicken stock (kuah kuning) and discard the solid. To be served on the side with the bubur ayam later
Cook the rice porridge:
Rinse the rice briefly in a clean water. Drain off water

Bring chicken stock to a boil. Add in the rice, bay leaves and salt. Cook until the rice is soft and thicken to the consistency you like, about 20-30 minutes. If it's too thick, you can always thin the porridge with more stock or water
Serving suggestion:
Ladle the rice porridge into a serving bowl. Topped with shredded chicken, kuah kuning on the side and the rest of the toppings on the side

When ready to eat, pour the kuah kuning over the rice porridge