Learn how to make zongzi made with Sago tapioca pearls and filled with sweet red bean paste and served with palm sugar syrup. They can be made without wrapping too.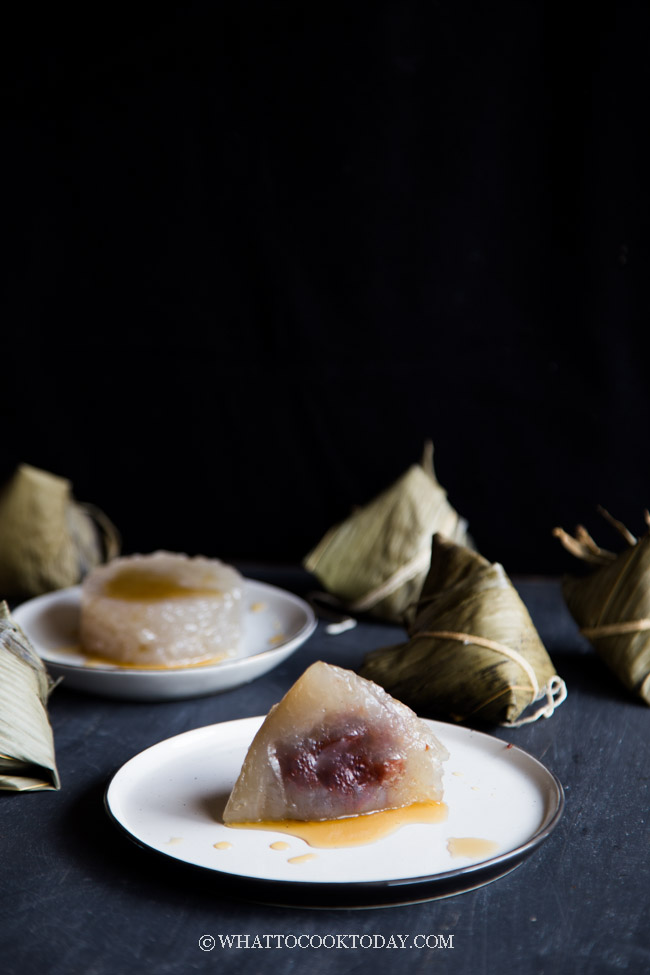 SAGO ZONGZI
So this is my first year of making zongzi using sago tapioca pearls. I really like how they turned out actually. They are almost crystally transparent and has that soft and bouncy texture similar to kee chang but without using alkaline. So sago crystal dumplings are new to us but the kids have grown to like them too.
WHAT ARE SAGO TAPIOCA PEARLS?
These little pearls can be called tapioca pearls, sago cassava pearls, sago pearls but they are the same things. If you know or have Asian bubble tea before, you know what this is. It's the same thing being used to make this sago zongzi.
They come in different size and colors. There are white, black, green, red, etc. They usually sold in dried forms and you have to boil them until they turn translucent and have a texture of bouncy and chewy.
WHY YOU'LL LIKE THIS RECIPE
1. YOU CAN USE CUPS OR RAMEKINS INSTEAD OF BAMBOO LEAVES
If you don't want to to use bamboo leaves or just can't be bothered to use them, you can use ramekins or individual cups. They turn out great too
2. CAN BE PRESSURE COOKED OR STEAMED
I'm a pressure cooker fan and so I pressure cook these dumplings for 15 minutes. Steaming takes about 30 minutes, which is way shorter than cooking other traditional dumplings by boiling on the stove like Hokkien Bak Chang, Nyonya Zongzi, or Alkaline Dumplings.

COOK'S TIPS YOU NEED TO KNOW
1. Make sure you drain off as much liquid as possible as this will affect the texture of the dumplings
2. Make sure you pack the soaked sago in when you wrap it or they will not have a nice pyramid shape after cooked
3. Unwrap the dumplings after they have cooled down completely or they can be quite sticky
SAGO CRYSTAL ZONGZI STEP-BY-STEP GUIDE
1. SOAK THE SAGO PEARLS IN WATER
Pour enough water to cover the sago pearls and soak for 30 minutes


They will soften and plump up


Drain the water off completely using a strainer. Squeeze out excess liquid


2. MIX SOAKED SAGO WITH SUGAR AND OIL


3. WRAP THE DUMPLINGS WITH BAMBOO LEAVES
I used mixture of photos from how I wrapped kee chang to show you how to wrap sago crystal dumplings.
Stack 2 bamboo leaves on top of each other


Fold at the middle into a cone


Fill up with some soaked sago pearls. Kinda spreading it towards the side too


Put the red bean paste filling in


Cover with more soaked sago pearls. Use the back of the spoon to pack them in


Fold both sides of the leaves


Fold the top down


Fold both wings together. Now you have that extra piece


Fold the extra piece to either side


Secure with a kitchen twine


4. PRESSURE COOK OR STEAMING ON THE STOVE
IF YOU USE PRESSURE COOKER: Fill up the inner pot with 1 cup of water. Place the trivet in and arrange the wrapped dumplings on top of the trivet. You may stack on top of other dumplings. Try to pressure cook about 10-12 at one go


STEAMING ON THE STOVE: Bring the water in the steamer to a rolling boil. Arrange the dumplings in the steamer and steam over high heat for 30 minutes
5. IF YOU CHOOSE NOT TO WRAP THE ZONGZI
You can use ramekins if you don't want to wrap the dumplings with bamboo leaves. Brush the ramekins with some oil and fill it up about 3/4 full


5. LET THE DUMPLINGS COOL DOWN COMPLETELY
The dumplings will still be super soft after steaming or pressure cooking. Let them cool down for about 10 minutes and then remove from the pressure cooker to a rack to let them cool down completely
Once the dumplings have cooled down completely, you can carefully unwrap one and eat it on its own of serve with drizzle of palm sugar syrup.

Recipe is adapted from Christine's
Sago Crystal Dumplings (Sago Zongzi) with Red Bean Paste
Ingredients
You'll need:
20

bamboo leaves

Water - enough to soak the sago pearls
Instructions
Prepare palm sugar syrup:
Place the palm sugar and water in a small saucepan and cook over medium heat until sugar has melted. Remove from the heat and can be kept in the refrigerator for up to 1 month
Soak the bamboo leaves (the day before):
Soak the bamboo leaves in water the day before until they are soft. Drai off the water the next day and wipe them dry ready for wrapping
Soaking the sago pearls:
Place the sago pearls in a large mixing bowl

Pour enough water to cover the sago pearls for 30 minutes

They will plump up and double in volume. Pour into a strainer to drain off water. Squeeze out any excess water. Too much water will affect the texture of the zongzi

This is after the water is drained off
Mix sago pearls with other ingredients:
Mix the soaked sago pearls with sugar and water

Stir to mix everything. If you want to add food coloring, you will add it here
Wrap the sago pearls with bamboo leaves:
Stack 2 bamboo leaves on top of each other

Fill up with some soaked sago pearls. Kinda spreading it towards the side too

Place the red bean paste balls in

Cover with more soaked sago pearls. Use the back of a spoon to really pack them in tight

Fold the two sides in and you have that extra piece

Fold the extra piece to either side

Secure with a kitchen twine
No wrap sago pearls:
You can use ramekins if you don't want to wrap the dumplings with bamboo leaves. Brush the ramekins with some oil and fill it up about 3/4 full
Instant Pot pressure cooker method:
Fill up the inner pot with 1 cup of water. Place the trivet in and arrange the wrapped dumplings on top of the trivet. You may stack on top of other dumplings. Try to pressure cook about 10-12 at one go

Close the lid and turn the steam release valve to sealing and press pressure cooker and make sure it's on high pressure. Set the timer to 15 minutes and release pressure immediately
Steaming on the stove method:
Bring the water in the steamer to a rolling boil. Arrange the dumplings in the steamer and steam over high heat for 30 minutes
Cooling down:
The dumplings will still be super soft after steaming or pressure cooking. Let them cool down for about 10 minutes and then remove from the pressure cooker to a rack to let them cool down completely. If you are using ramekin to steam the zongzi, you can run a knife around the edge and then unmould

They are best served the next day. The dumplings will remain soft at room temperature. Once you refrigerate, they will turn opaque and harden, this is normal. Once you reheat, they will be soft again
Serving:
Serve with palm sugar syrup on the side