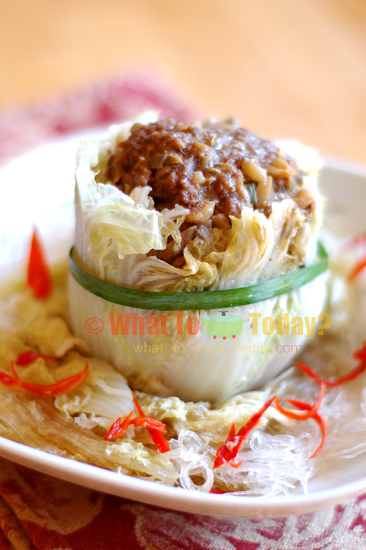 Asian cooking incorporates quite a fair bit of steaming in the process. From vegetables to cooking meat. Steaming is obviously a healthier way of cooking. But just because it is healthy, it doesn't mean it taste like cardboard. This is a healthy yet tasty recipe for meatballs. The steamed giant meatballs nestled in napa cabbage and serve on portobella mushroom caps and bean thread noodles. This is a complete meals on its own.
A great recipe from Martin Yan's Asian Favorite.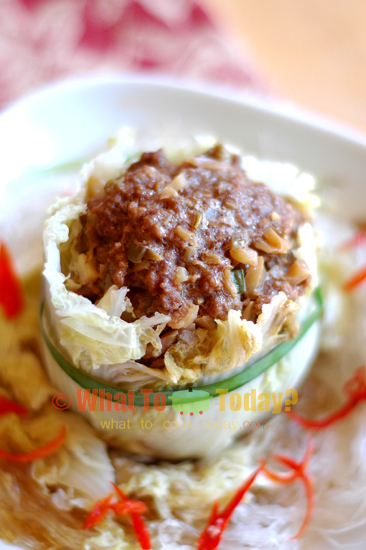 I highly encourage to weigh ingredients with a digital kitchen scale instead of using measuring cups as they are not very accurate especially when it comes to recipe that requires precision.
GRAMS TO CUPS CONVERSION (UNSIFTED)
INGREDIENTS
2

oz

dried bean thread noodles

2

small napa cabbages

4

medium portobella mushrooms

-

stems discarded

Blanched chives

-

for garnish

Thinly sliced red bell pepper

-

for garnish

Kitchen twine

MEATBALLS:

1/2

cup

dried shrimp

1/2

lb

ground pork or chicken

1/3

cup

chicken stock

1

Tbsp

chopped water chestnuts

1

Tbsp

chopped green onion

1

Tbsp

coarsely chopped Sichuan preserved vegetables

1

Tbsp

cornstarch

1

Tbsp

dark soy sauce

1

Tbsp

oyster sauce

2

tsp

sesame oil
INSTRUCTIONS
Soak dried shrimp in warm water to cover until softened, about 20 minutes; drain. Coarsely chopped

To make meatballs, combine shrimp, pork, stock, water chestnuts, green onion, preserve vegetables, cornstarch, soy sauce, oyster sauce, and sesame oil in a large bowl; mix well. Cover and refrigerate for at least 30 minutes

Soak bean thread noodles in warm water to cover until softened, about 5 minutes; drain. Cut in half

Remove outer leaves of cabbages until their diameters are 2 1/2 to 3 inches. Trim bases to flatten. Cut top leaves off to make cases 2 1/2 to 3 inches high. Remove inner leaves to create an area for stuffing (save trimmings for another use if you want). Spoon half of meatball filling into each cabbage case. Tie kitchen twine around case to secure

Prepare a wok for steaming. Place noodles in a heatproof dish. Place mushrooms, gill sides up, on noodles. Stand stuffed cabbages on dish on steaming rack. Cover and steam until cabbage is tender and filling is barely pink, about 30 minutes. Remove twine and replace with blanched chives before serving. Garnish with bell pepper