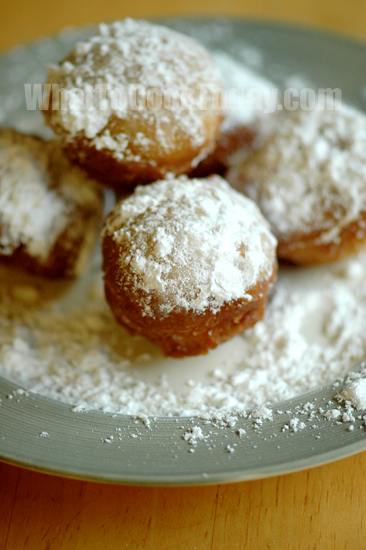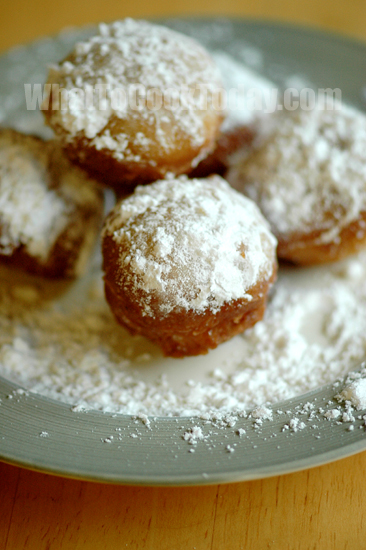 When I see the word doughnuts, Krispy Kreme always comes to my mind. I remember when the first Krispy Kreme store opened in Oklahoma City, the queue was ridiculously long. But, I have to admit that the doughnuts are so light and so good that it makes you feel like it is a healthy food lol! We all know better, don't we ?
They gave you free doughnuts when you walked in the store and you could actually see how the doughnuts was made behind the glass windows. I swear to God, the Krispy Kreme store chains grows like wild mushrooms after that. Every conference, meetings, get-together, etc I went to, Krispy Kreme doughnuts were always there.
I had never even attempted to make doughnuts before. I don't know why. Probably because I always think that I'm not so much into baking ? Not that I don't like eating bakery and sweets, but baking really requires precise measurements and I don't like to measure that much ha! It has gotten better though ever since this blog exists. I kinda started to challenge myself cooking and baking different things. So, cake doughnuts was another challenge I took up after I saw it on, who else if not Martha Stewart's Living cookbook.
I think I can give myself a pat on my back because I surely didn't expect the doughnuts to turn out amazingly good. Did I just say amazingly good ? My first bite into that doughnuts sure reminded me of Krispy Kreme. I can't say it's 100% like Krispy Kreme and it is not meant to be the same anyway, but this doughnuts is REALLY good and oh..so light! That hint of nutmeg in the doughnuts is so awesome. I can just go on and on about these doughnuts if you let me.
Since I didn't own a doughnut cutter, I actually made mini doughnuts (which is actually more dangerous, because I ended up eating way too many because they are so easy to pick up and gone in few secs lol!)
CAKE DOUGHNUTS (20 regular size doughnuts, about 40 or more mini doughnuts)
2 quarts canola oil
2 cups all-purpose flour, plus more for dusting
1/4 cup sour cream
1 1/4 cups cake flour (not self-rising)
3/4 cup granulated sugar
1 1/2 tsp baking powder
1/2 tsp baking soda
1 1/2 tsp kosher salt
1 1/2 tsp ground nutmeg
1 1/4-oz package (2 tsp) active dry yeast or 0.6 oz cake yeast
3/4 cup plus 2 Tbsp buttermilk
1 extra-large whole egg
2 extra-large egg yolks
1 tsp pure vanilla extract
1 1/4 cups nonmelting or confectioners' sugar
COOKING METHOD:
1. Heat the oil in a low-sided 6 quart saucepan over medium-high heat until a deep-frying thermometer registers 375 F. Lightly dust a baking pan with flour; line a second with paper towels, set aside
2. Meanwhile, place the sour cream in a heat-proof bowl or in the top of a double boiler, and set over a pan of simmering water. Heat until it is warm to the touch. Remove from the heat, and set aside
3. In a large bowl, sift together the all-purpose flour, cake flour, granulated sugar, baking powder, baking soda, salt, and nutmeg. Make a large well, and place the yeast in the center. Pour the warm sour cream over the yeast, and let sit 1 minute
4. Place the buttermilk, whole egg, egg yolks, and vanilla in a medium bowl, and whisk to combine. Pour the egg mixture over the sour cream. Using a wooden spoon, gradually draw the flour mixture into the egg mixture, stirring until smooth before drawing in more flour. The dough will be very sticky and it is actually almost like a thick batter, so don't be panic and think that you did something wrong
5. Sift a heavy coat of flour onto a clean work surface. Turn out dough onto the floured surface. Sift another heavy layer of flour over dough. Using your hands, pat the dough until it is 1/2-inch thick. Using a 2 3/4-inch doughnut cutter, cut out the doughnuts as close together as possible, dipping the cutter in flour before each cut. Transfer the doughnuts to the floured pan, and let rest 10 minutes, but not more. I actually used a shot glass to cut the doughnuts to make my mini doughnuts 🙂
6. Carefully transfer 4 doughnuts to the hot oil, cook until they are golden, about 2 minutes. Turn over, and continue cooking until evenly browned on both sides, about 2 minutes more. Using a slotted spoon, transfer the doughnuts to the paper-towel lined pan. Repeat with the remaining doughnuts
7. Gather the remaining dough scraps into a ball, and allow to rest 10 minutes. Pat the dough into a 1/2-inch thick rectangle, cut into doughnuts, and fry, following the directions in step six. When cool enough to handle, sift the nonmelting sugar over the tops of the doughnuts. Serve immediately
The doughnuts tastes really light when you serve it immediately. I notice after about 2 hours, the doughnuts start to taste "heavy" as expected with most fried food.