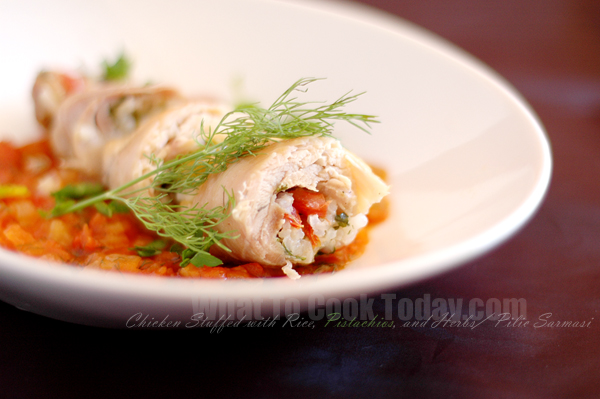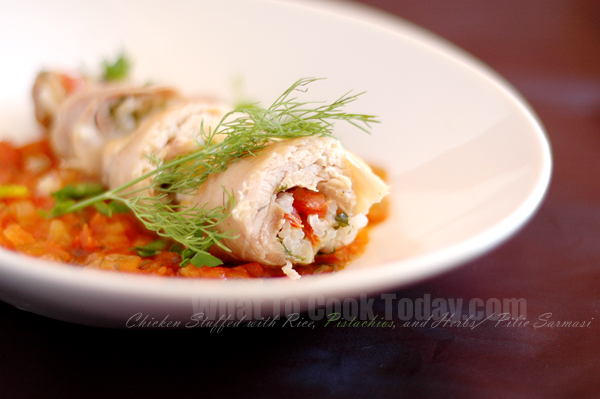 Chicken stuffed with rice, pistachios, and herbs are absolutely delicious. I really like the flavor from the fresh herbs in the rice. I seriously will make this rice everyday now. I honestly never cooked much with Dill before. It's not a common herb in Asian cooking. I've certainly missed out. However, it's better late than never right ? The dill, the parsley, the mint…what a combination. So simple yet so yummy!
The dish is a bit more complicated to prepare, however even a beginner like me could pull it out. The colorful stuffed chicken slices are quite festive. I used chicken thigh instead of chicken breast as called in this recipe. I have nothing against chicken breast. I eat every part of the chicken, exception with the head. From neck all the way to the feet. However, in Asian cooking, or perhaps I should say in our family (and shouldn't generalize by saying Asian ? lol), chicken breast is the least desirable part. People will go for drumstick and thighs, but white meat is just not popular. Dark meat is much more moist (and cheaper too). I know my husband like dark meat too, and so, I decided to use dark meat instead of breast. It's a personal preference. You make the call 🙂
Another recipe keeper from The Sultan's Kitchen by Ozcan Ozan.
CHICKEN STUFFED WITH RICE, PISTACHIOS, AND HERBS/ PILIC SARMASI (6 servings)
STUFFING
1/4 cup shelled pistachios
3 Tbsp unsalted butter
2 Tbsp finely chopped shallots
1 cup short-grain rice, washed, soaked and drained
1 1/2 cups chicken stock
1 large tomato (3/4 cup), peeled, seeded, and finely chopped
2 Tbsp finely chopped fresh mint
2 Tbsp finely chopped fresh Italian parsley
3 Tbsp finely chopped fresh dill
6 boneless and skinless split chicken breasts/thighs (about 8 oz each)
Salt and freshly ground black pepper
2 Tbsp unsalted butter
2 Tbsp finely chopped shallots
2 medium tomatoes (2 cups), peeled, seeded, and finely chopped
1 Tbsp finely chopped fresh dill
1/4 cup dry white wine
1 Tbsp finely chopped fresh Italian parsley
COOKING METHOD:
1. Blanch the pistachios by boiling them in 1 cup of water for 1 minute. Drain them and rinse them in cold water. Rub them in a dish towel to remove the brown skins. Set them aside
2. Heat the oven to 350 F. To make the stuffing, melt the butter in a heavy medium-size saucepan over medium heat. Add the shallots and rice, and cook them gently, stirring, just long enough to coat them evenly with the butter, about 1 minute. Add the stock and bring the mixture to a boil; then lower the heat, cover the saucepan, and simmer for about 15 minutes, or until all the liquid has been absorbed
3. Remove the saucepan from the heat and add the tomato, pistachios, mint, parsley, and dill. Mix well and set the stuffing aside
4. Gently flatten the chicken breasts/thighs by placing each one between moistened sheets of parchment paper of plastic wrap and pounding them with a mallet. Season with salt and pepper
5. Cut 6 pieces of parchment paper into squares large enough to completely enclose the chicken breasts. Place each chicken breast/thighs on a parchment square. Spoon 1 to 2 heaping tablespoons of the stuffing onto the center of each chicken breast. You be the judge of how much to stuff depending on the size of the breast/thighs. Gently roll up the parchment paper to enclose the chicken, securing both ends by twisting them and then tied with kitchen twine. Place the chicken side by side in an oven-proof baking dish (seam sides up). Bake them for about 25 minutes or longer, turning them over halfway through cooking. Let them rest for 10 minutes before unwrapping
6. Meanwhile, melt the butter in a small skillet. Stir in the shallots and cook for 1 minutes. Add the chopped tomatoes and dill. Season with salt and pepper. Mash this mixture with a fork of potato masher until the tomatoes form a puree. Add the wine and cook for another 2 minutes. Remove the mixture from the heat and keep it warm
7. Unwrap the chicken and cut each one into thick slices. Spoon the tomato sauce onto warmed plates and place the sliced chicken on top. Sprinkle with chopped parsley and serve warm
By the way, I love..love..love..eating the rice on its own too. So yummy!