Soft and fluffy milk buns are filled with aromatic and savory chicken and potato curry filling and baked to perfection. You don't want to miss this!

I do get a little obsessed with making baked buns and bread using tang zhong method. I literally baked every bread and buns with this method since the day I discovered how to make soft and fluffy Hokkaido milk bread. If you are interested to read more about tang zhong method or why this method makes such a soft fluffy tearable bread or buns, definitely check that post out for more details.
This chicken potato curry milk buns are my childhood favorites. Dad used to buy this and milk buns with other savory fillings like spicy sardines (Oh..so good). The chicken potato curry filling is pretty straight forward to make too. I don't have the step-by-step photos for the filling, but it's hard to fail it! I mean it!
HOW TO MAKE CHICKEN POTATO CURRY MILK BUNS FROM SCRATCH
I have a step-by-step photo on how to make the dough here, so I won't repeat the exact same thing.
1. Start with the dough that has been proofed and doubled in size after about 1 hour
If you push the dough down, the indentation should stay. If it's not, you need to proof longer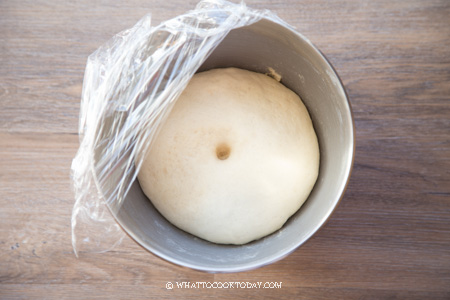 2. Separate the dough into 12 equal pieces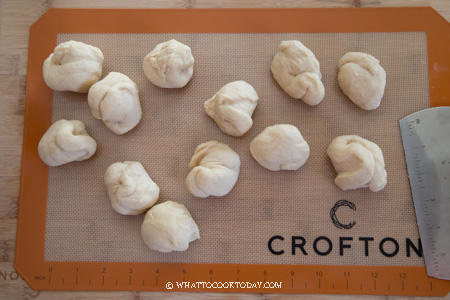 3. Flatten the dough
Work with one dough at a time. Flatten and then use a rolling pin to roll out into about 4-5 inch circle. Place filling in the center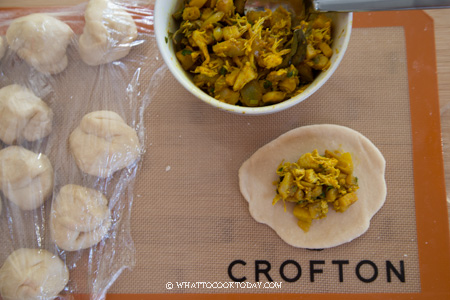 4. Gather the edge of the dough and pinch to seal to form a bun


5. Place the seam side down


6. Place the shaped dough on a baking sheet or dish
I recommend lining the baking sheet or dish with parchment paper (I forgot). Cover with a plastic wrap and let them proof for another 40 minutes in a warm place


7. The buns will puff up again, may not double in size


8. Brush with egg wash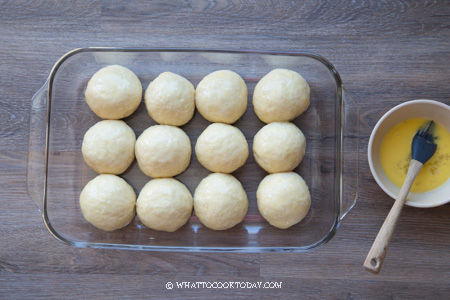 9. Sprinkle with sesame seeds if you want or skip them


10. Bake in a preheated oven at 350F for 20-30 minutes (depending on your oven) until golden brown

One of my favorite things to do is "tearing" the buns and watching those layers of soft strands, though, sadly to say, I failed to capture that dramatic part in this photo session lol!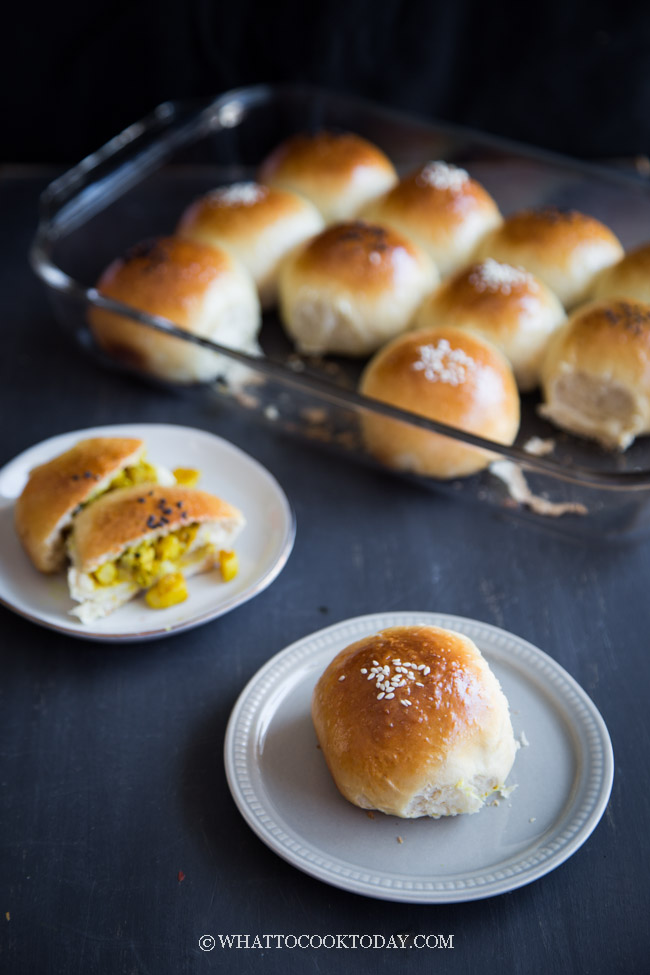 And of course eating them is the best part of all!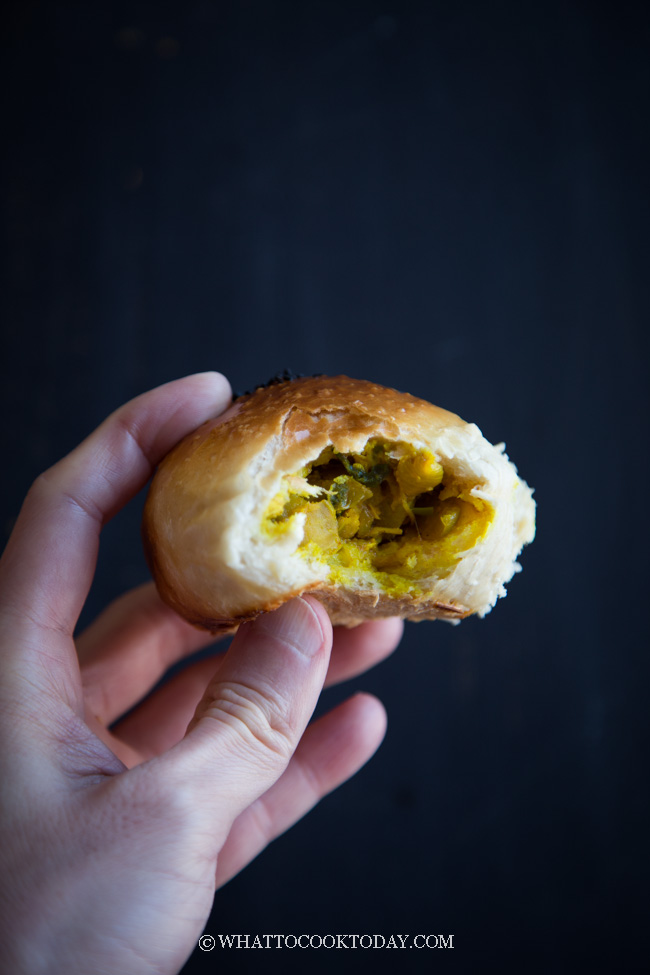 Amazingly Soft Chicken Potato Curry Milk Buns (Tang Zhong Method)
Ingredients
ROUX STARTER (TANG ZHONG):
WET INGREDIENTS:
120

ml

whole milk

1

large

egg

about 50 gr without the shell, lightly beaten
INGREDIENT TO ADD LAST TO THE DOUGH:
40

gr

butter

softened

½

tsp

salt

2

Tbsp

sugar
CHICKEN POTATO CURRY FILLING:
1

Tbsp

cooking oil

1

small

onion

peeled and diced

300

gr

boneless skinless breast/thigh

cut into small cubes

2

large

potatoes

peeled and cut into small cubes

¼

cup

chicken broth

1

stalk

green onion

finely chopped
Instructions
PREPARE THE FILLING (Can be done the day before):
Preheat a skillet or wok over medium to high heat. Add cooking oil. Add onion and stir fry for about 1 minute or until the onion is aromatic and soft. Add chicken cubes and stir fry until they turn opaque. Some liquid will ooze out too. Add the potatoes, spices, and herbs and stir to mix. Add chicken broth. Bring to a gentle simmer and then cover to cook until the chicken and potato cooks through and liquid is absorbed. Add seasonings to your taste. Sprinkle in the green onion and one last stir to mix everything

Allow filling to cool down before wrapping
PREPARE TANG ZHONG:
Place milk and the bread flour in a small saucepan. Whisk until there is no more lumps. Cook this mixture over medium heat until it is thickened, about 5 minutes or less. Remove from the heat and let it cool down completely
MAKE THE DOUGH:
Mix all the dry ingredients together in a mixing bowl. Make a well in the center and pour in the wet ingredients and the tang zhong you made earlier. Use a dough hook attachment to knead the dough at speed 2 on KA, until all the crumbly dough starts to come together into one mass, it may take about 2-3 minutes for this to happen. Don't be tempted to add any liquid. You may need to stop halfway and scrap the dough off the hook and the sides of the bowl and knead again several times

Once it comes into a dough, stop the machine. The dough will not be smooth, don't worry.Cover the dough and let it rest for 20 minutes. This is an important rest that bakers refer to as an autolyse (though in our case it's a short one. Read my post above for detail)

After the rest, turn on and knead the dough again on speed 2 and knead for 1-2 minutes until it is a bit smoother. Then add the salt and sugar into the dough and continue to knead until the dough is relatively smooth. You need to stop and scrape the dough off the hook and the bowl several times during this process. I promise it's worth the effort!

Once you have a smooth dough, turn the machine back on again and increase the speed to speed 4 and gradually add in the softened butter a bit by a bit. The dough will turn into a REAL sticky mess again because of the butter, just keep kneading and stop halfway and scrape the dough off the hook and bowl again and continue to knead until the butter is absorbed by the dough. IT WILL HAPPEN, don't worry! DO NOT be tempted to add any extra flour. You will get a shiny smooth dough that is very elastic. This may take about 10-15 minutes. The dough must pass a windowpane stage, meaning when you stretch a small portion of the dough slowly into a thin sheet, it won't break
1ST PROOFING:
Place this dough in a lightly oiled large bowl, cover it with a clean and damp tea cloth or plastic wrap and let it rise at a warm place for about 1 hour. It may not double in size, but it will puff up some for sure.
SHAPING:
Punch the dough down, divide into 12 balls. Cover these doughs loosely with a plastic wrap and let them rest for 15 minutes. Make sure you don't skip this part of resing the dough before shaping

Flatten one dough and roll into about 4-5-inch circle. Place about 1-2 Tbsp of the filling in the middle. Gather the edge of the dough to enclose and pinch to seal the bun. Place the seam side down on a baking pan lined with parchment paper and repeat with the rest of the dough. Cover with a plastic wrap or a clean kitchen towel
2ND PROOFING:
Let the buns proof again for another 40 minutes or until they puff up again to about 50% or more of their original size. Brush the top of the dough with egg wash. Sprinkle with sesame seeds if you choose to
BAKING:
Preheat oven to 350 F (180 C). My oven is conventional, bottom heat only. If your oven uses top and bottom heat, you may want to lower the temperature by about 20 degrees. Place them in the oven (3rd rack from the top) and let them bake for the next 20-30 minutes depending on the oven, mine took 20 minutes. It will be golden brown on top. Remove from the oven, brush with some melted butter and let them cool down in the pan for about 5 minutes and then let them cool completely on a cooling rack. Enjoy and once it's cooled down completely, wrap it up with plastic wrap and it's good for about 3 days or so (it didn't last that long in our house)
STORING:
Leftover buns can be kept at room temperature for max 2 days, after that they need to be refrigerated for up to one week
REHEATING:
Wrap the buns in aluminum foil and reheat in oven or toaster oven or air fryer at 350F for about 10 minutes to warm up, or simply warm it in the microwave oven for about 1 minute or so
Recommended products: