Savory mini hot dogs are wrapped in soft and fluffy milk buns and shaped like octopuses are not only delicious but also fun for little ones (the adults would love them too!). The recipe can be made using commercial yeast or natural yeast (sourdough starter)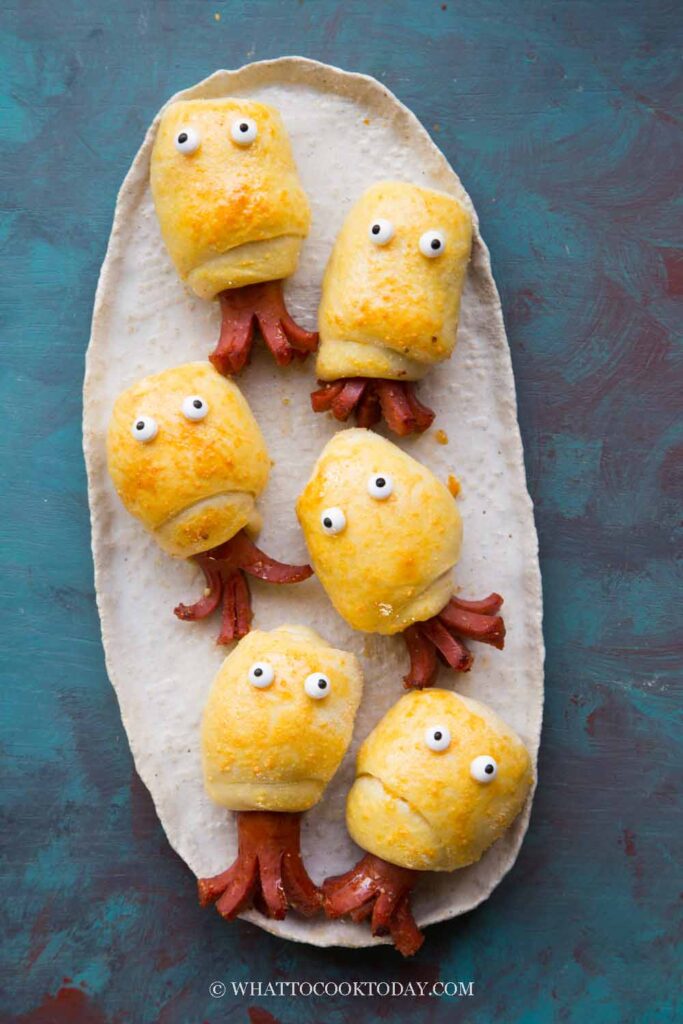 My family said that I had turned this house into a bakery lol. There's not a day that goes by without me baking some sort of bread in the kitchen. Especially ever since I have a sourdough starter. I have converted lots of bread recipes using commercial yeast to using sourdough starters. I have tried both versions and nobody can tell the difference in terms of taste. There's no sour taste to it. The reason is that I use a stiff sweet starter to make the dough. I do notice that bread made with sourdough starter stays fresh and soft longer than bread made with commercial yeast (if not made with preferment, tangzhong, or yudane).
When I saw Chiew See from Autumn Baking Diary made these octopus shape buns, I couldn't help but do the same. My boy who is into ocean creatures loves this octopus-shaped milk bun! It is so much fun! Though I didn't specifically make this for Halloween, I think this is perfect for Halloween too! I don't personally think that Halloween food needs to be all gory and scary. Some cute factor won't hurt! 😉
No Sour Sourdough Bread
This recipe will give you sourdough bread that doesn't taste sour. Why? Because we use a Sweet Stiff Levain, which is built from regular 100% hydration sourdough starter. I don't maintain stiff starter. I build it whenever I need it. I love baking enriched bread/buns and steamed buns using sweet stiff starter.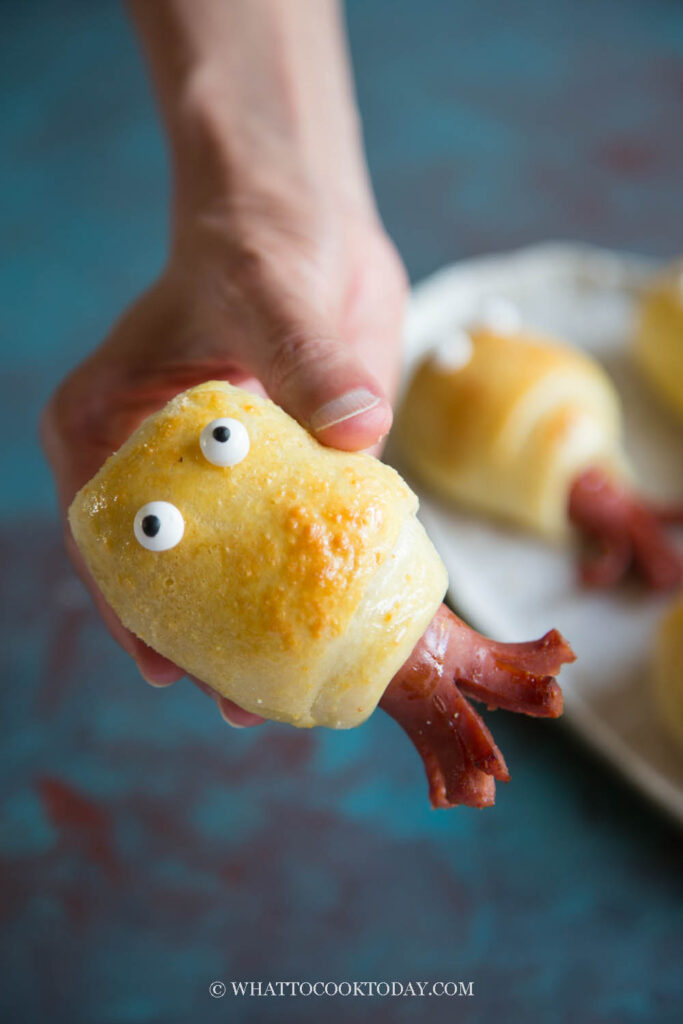 How to make octopus shape hot dog milk buns
1. If using a sourdough starter, about 8-10 hours before you plan to make the bread, combine all ingredients for the stiff starter in a bowl. Stir a bit to roughly combine and then use your clean hand to knead it. This is a stiff starter, it's like a dough. Make sure no pockets of dry flour are visible. Transfer to a large see-through container (plastic or glass is fine, preferably wide-mouth so you can get it out easier later). Loosely cover with the lid and let it ferment until triple in size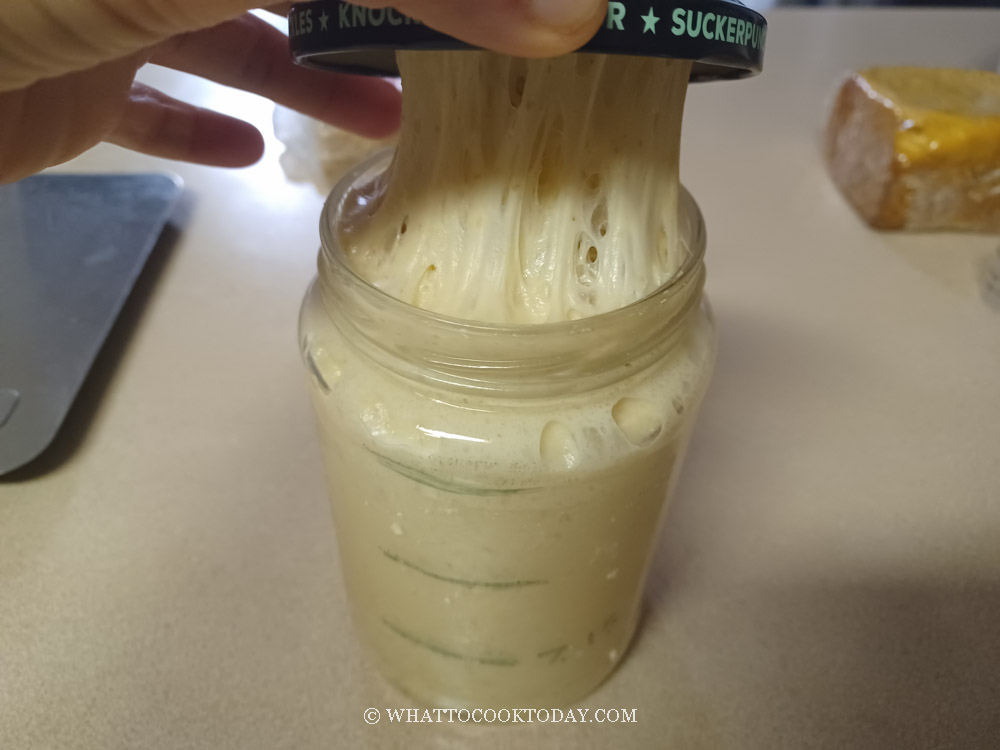 2. Place all ingredients (except for butter), including all of the stiff starter (if using), in a mixing bowl of a stand mixer fitted with a dough hook attachment. Use the hook to stir everything around a bit so when you turn the machine on, the flour won't fly around and wet ingredients won't splash (it happened to me before!). Start with the lowest speed to mix things up and then increase to speed 2 and knead for about 5 minutes or until it forms a dough. If the dough is too dry to come together, you can add a bit of milk one teaspoon at a time. Don't add too much as we haven't added butter yet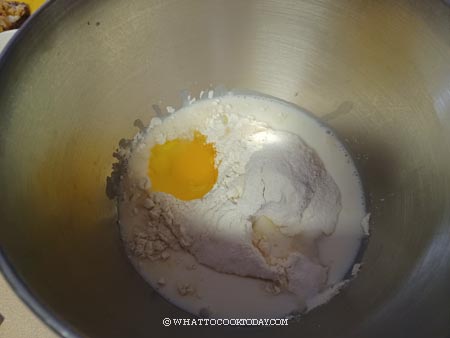 3. Then add softened butter, in 3-4 batches. The dough will turn into a complete mess again because of the butter, but don't worry, it will get absorbed by the dough as it knead. Knead at speed 4 for about 10 minutes or until dough is smooth and elastic. If you slowly stretch a small amount of dough, it will not break and light can pass through, like a window pane. Proceed to first proofing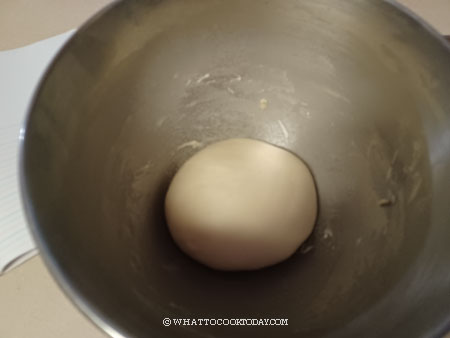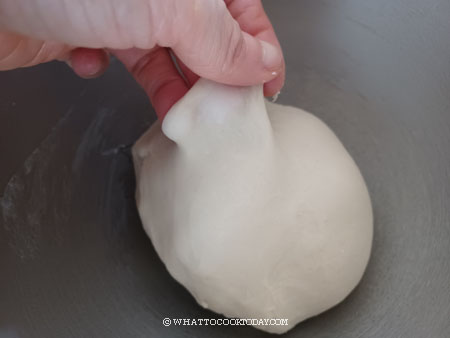 4. Transfer to a lightly oiled bowl, cover, and proof at a warm place until double in size. If you use commercial yeast, this may take about 1-2 hours. If you use a sourdough starter, this may take about 2-3 hours at 78-80 F (26-28 C), depending on the strength of your starter and temperature. When you poke the dough with your lightly-floured finger, the indentation stays and the dough has clearly almost doubled or doubled in size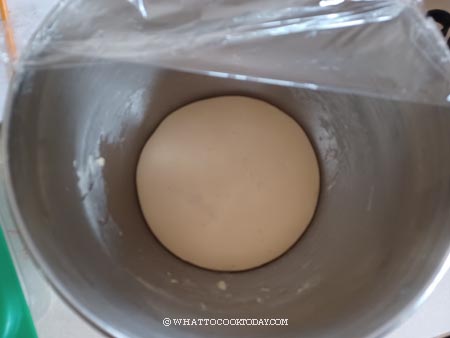 5. Cut each hot dog into half, so you get 10 pieces. Then score 5-6 lines at the bottom half of the hot dog pieces. Set aside.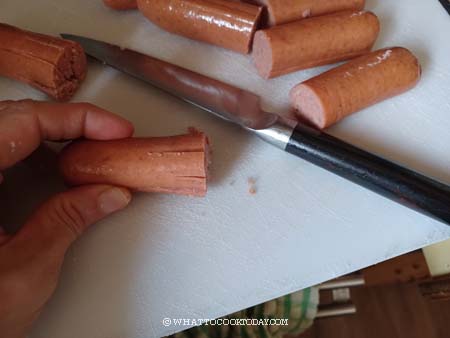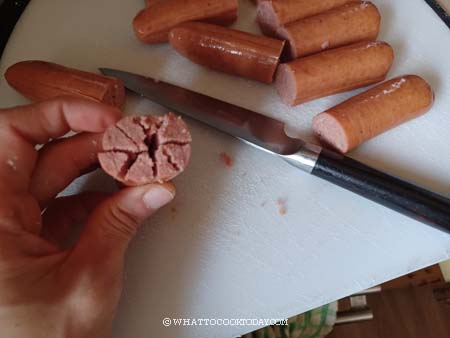 6. Punch the dough down and give it a knead for a few times. Divide into 10 equal -size smaller doughs. Round up each dough to roughly form a ball. Cover and let them rest for 15 minutes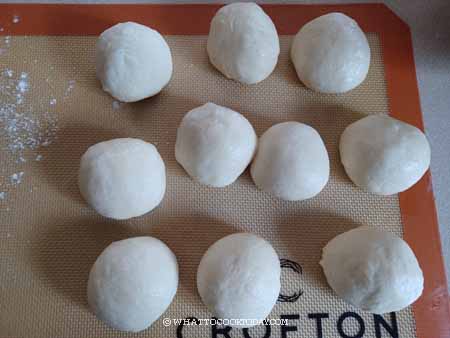 7. Then work with one dough at a time, flatten the dough with your palm and roll it into an oval shape. Place one hot dog on top of the dough, make sure it's all the way to the top and then roll the dough to cover half the length of the hot dog. Use a sharp knife to make 5-6 cuts on the bottom half of the hot dog. These cuts will curl up during baking, making them look like the octopus tentacles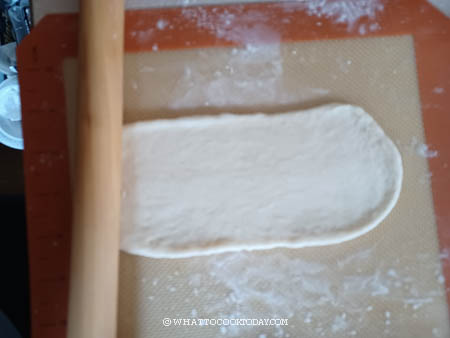 8. Then fold both sides in and place the hot dog and roll to the other end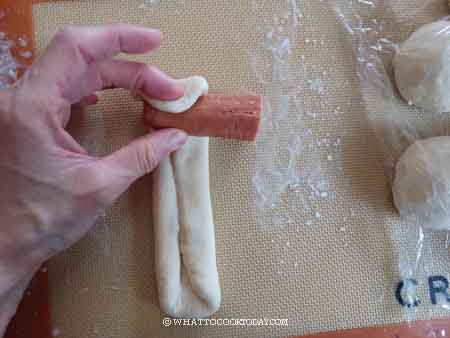 9. Pinch the seam to seal really well so it won't open up after proofing. Repeat with the rest of the dough and the hot dog pieces. Place them about 2-3 inches apart on a baking sheet lined with parchment paper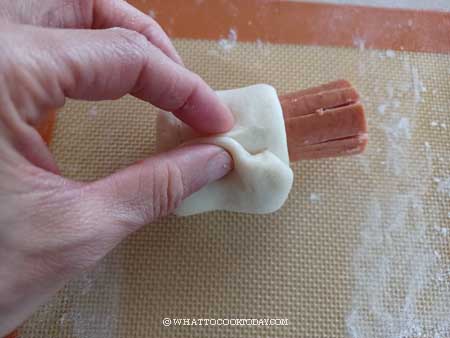 10. Cover the shaped buns with a clean cloth orplastic cover and let them proof again at a warm place until they are puffy and almost double in size. If you use commercial yeast, this may take 45 minutes to 1 hour or longer depending on the temperature. If you use sourdough starter, this may take about 3 1/2- 4 hours or longer, depending on temperature and the strength of your starter. Final proofing usually takes much longer for sourdough. Mature starter works faster compared to young starter for example
11. Brush the surface of the dough with an egg wash and then sprinkle with some parmesan cheese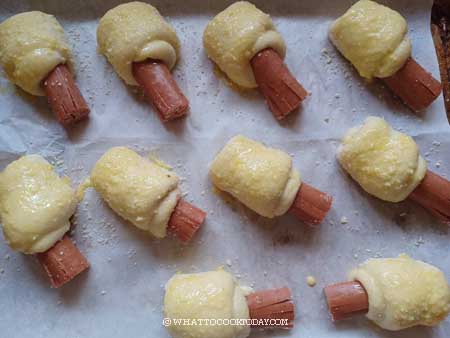 12. 10 minutes before the end of final proofing, preheat oven to 375 F (190 C). Place the baking sheet in the middle rack and bake for 15 minutes or until golden brown. Rotate the pan halfway through baking. Let the buns cool down on the cooling rack for 10-15 minutes before decorating the eyes.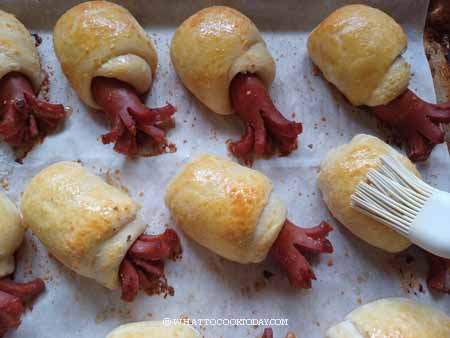 13. You can use mayonnaise and black sesame seeds to decorate the eyes. My kids like the Halloween eye-shaped candy and so that's what I used. I use mayonnaise as the "glue" for the eyes
Did you make this recipe?
I love it when you guys snap a photo and tag to show me what you've made 🙂 Simply tag me @WhatToCookToday #WhatToCookToday on Instagram and I'll be sure to stop by and take a peek for real!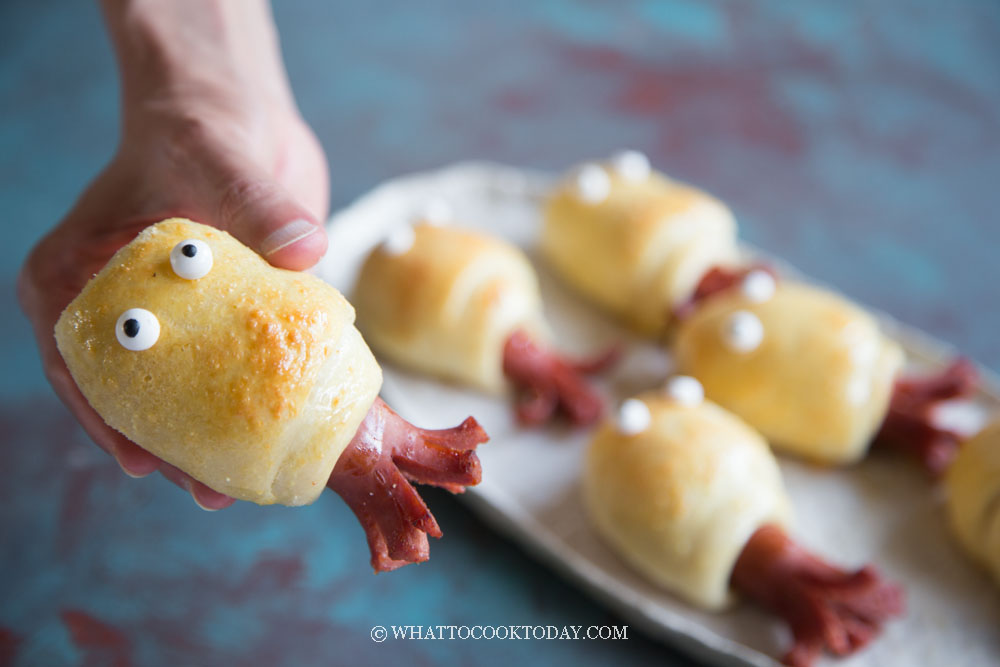 The recipe using the sourdough method is adapted from Autumn Baking Diary's.
Chinese Hot Dog Milk Buns (Octopus Shape)- with sourdough option
Ingredients
If using sourdough starter
Prepare sweet stiff starter:
Dough if using sourdough starter:
20

gr

sugar

4

gr

salt

50

gr

egg

about 1 large egg without the shell

105

gr

whole milk

20

gr

softened butter
Dough if using commercial yeast:
4

gr

instant yeast

30

gr

sugar

4

gr

salt

152

gr

whole milk

20

gr

softened butter
Topping:
5

regular-size hot dogs

cut into half

4

Tbsp

grated parmesan cheese
For eyes:
Instructions
Prepare sweet stiff starter:
This recipe will give you sourdough bread that doesn't taste sour. Why? Because we use a Sweet Stiff Levain, which is built from regular 100% hydration sourdough starter. I don't maintain stiff starter. I build it whenever I need it. I love baking enriched bread/buns and steamed buns using sweet stiff starter.

I recommend using a starter that is at least one month old and consistently doubles or triples in 4-6 hours when you feed it at 1:1:1 ratio. Young starter will not give the best result

About 8-10 hours before you plan to make the bread, combine all ingredients for the stiff starter in a bowl. Stir a bit to roughly combine and then use your clean hand to knead it. This is a stiff starter, it's like a dough. Make sure no pockets of dry flour are visible. Transfer to a large see-through container (plastic or glass is fine, preferably wide-mouth so you can get it out easier later). Loosely cover with the lid and let it ferment until triple in size
Prepare the dough (for both commercial yeast and sourdough method):
Place all ingredients (except for butter), including all of the stiff starter (if using), in a mixing bowl of a stand mixer fitted with a dough hook attachment. Use the hook to stir everything around a bit so when you turn the machine on, the flour won't fly around and wet ingredients won't splash (it happened to me before!). Start with the lowest speed to mix things up and then increase to speed 2 and knead for about 5 minutes or until it forms a dough. If the dough too dry to come together, you can add a bit of milk one teaspoon at a time. Don't add too much as we haven't added butter yet

Then add softened butter, in 3-4 batches. The dough will turn into a complete mess again because of the butter, but don't worry, it will get absorbed by the dough as it knead. Knead at speed 4 for about 10 minutes or until dough is smooth and elastic. If you slowly stretch a small amount of dough, it will not break and light can pass through, like a window pane. Proceed to first proofing
First proofing:
Transfer to a lightly oiled bowl, cover, and proof at a warm place until double in size. If you use commercial yeast, this may take about 1-2 hours. If you use a sourdough starter, this may take about 2-3 hours at 78-80 F (26-28 C), depending on the strength of your starter and temperature. When you poke the dough with your lightly-floured finger, the indentation stays and the dough has clearly almost doubled or doubled in size
Shaping:
Cut each hot dog into half, so you get 10 pieces. Then score 5-6 lines at the bottom half of the hot dog pieces. Set aside.

Punch the dough down and give it a knead for a few times. Divide into 10 equal -size smaller doughs. Round up each dough to roughly form a ball. Cover and let them rest for 15 minutes

Then work with one dough at a time, flatten the dough with your palm and roll it into an oval shape. Then fold both sides in and place the hot dog and roll to the other end. Pinch the seam to seal really well so it won't open up after proofing. Repeat with the rest of the dough and the hot dog pieces. Place them about 2-3 inches apart on a baking sheet lined with parchment paper

Repeat with the rest of the dough and the hot dog pieces. Place them about 2-3 inches apart on a baking sheet lined with parchment paper
Final proofing:
Cover the shaped buns with a clean cloth orplastic cover and let them proof again at a warm place until they are puffy and almost double in size. If you use commercial yeast, this may take 45 minutes to 1 hour or longer depending on the temperature. If you use sourdough starter, this may take about 3 1/2- 4 hours or longer, depending on temperature and the strength of your starter. Final proofing usually takes much longer for sourdough. Mature starter works faster compared to young starter for example

When you gently push on the dough, the indentation bounces back very gradually and may leave a bit of indentation. The dough also feels really light and puffy. These are signs that we are done with final proofing

Brush the surface of the dough with an egg wash and then sprinkle with some parmesan cheese
Baking:
10 minutes before the end of final proofing, preheat oven to 375 F (190 C). Place the baking sheet in the middle rack and bake for 15 minutes or until golden brown. Rotate the pan halfway through baking

Let the buns cool down on the cooling rack for 10-15 minutes before decorating the eyes. You can use mayonnaise and black sesame seeds to decorate the eyes. My kids like the Halloween eye-shaped candy and so that's what I used. I use mayonnaise as the "glue" for the eyes
Storing:
These are best served warm on the same day. I recommend only decorating as many as you want to serve. Leftovers can be stored in an air-tight container and kept in the fridge for 2-3 days or in the freezer for about 1 month.

Simply wrap them loosely in a foil and then preheat in the oven at 3 cde3X50 F for 5-8 minutes or until heated through, then decorate with the eyes. If you have already decorated the eyes before, remember to remove them before preheating as they might melt in the oven
Recommended products:
Nutrition
Serving:
1
bun
|
Calories:
174
kcal
|
Carbohydrates:
28
g
|
Protein:
6
g
|
Fat:
4
g
|
Saturated Fat:
2
g
|
Polyunsaturated Fat:
1
g
|
Monounsaturated Fat:
1
g
|
Trans Fat:
1
g
|
Cholesterol:
45
mg
|
Sodium:
222
mg
|
Potassium:
66
mg
|
Fiber:
1
g
|
Sugar:
4
g
|
Vitamin A:
139
IU
|
Calcium:
42
mg
|
Iron:
1
mg