Buttery-rich Dutch boterkoek (butter cake) is easy to make and a crowd-pleaser. It is a perfect cake for festive celebrations.
The Dutch have had a significant impact on the culinary scene in Indonesia. Dutch culinary influence in Indonesia can be traced back to the colonial era when the Dutch East India Company (VOC) established trading posts in the region. The Dutch brought with them their traditional dishes and ingredients, which were then adapted and incorporated into the local cuisine. This Dutch boterkoek is one example. It has been well-loved by the local and still is to this date. We call this as Lekker Holland.
What is Dutch boterkoek?
Boterkoek simply means butter cake in the Dutch language. It is a beloved pastry in the Netherlands and has a long history dating back centuries. It is often served during special occasions such as birthdays, holidays and other celebrations. The main ingredient in boterkoek is butter, which gives the pastry its rich, buttery flavor and dense texture. The dough is made with flour, sugar, eggs, and butter, and is often flavored with vanilla or lemon zest. The dough is then baked in a round or rectangular pan, and can be sliced and served as a dessert or a snack.
I'm not exactly sure why it's called lekker holland. Lekker Holland is a Dutch word that is often used to describe something that is nice or enjoyable. The word is commonly used to describe a variety of things, from food and drink to people and places. Perhaps because of how delicious this Dutch boterkoek is, it is called lekker Holland?
Ingredients
1. Unsalted butter
I highly recommend using European butter if it's in your budget. Since it's a butter cake, using high-quality butter makes a difference IMHO. Alternatively, you can always you regular butter. You will still end up with a delicious cake
2. Powdered sugar
Also known as icing sugar or confectioner's sugar
3. Milk powder
The addition of milk powder contributes to a great flavor, add moistness to the cake, and give a nice golden brown crust too. I use non-fat milk powder because that's what available and it's hard to find full-fat milk powder here in the U.S.
4. Egg
I use a large egg that weighs about 55 grams without the shell
5. Vanilla extract
Vanilla extract also contributes to a great flavor that compliments the cake
6. All-purpose flour
All-purpose flour has medium gluten content. It's not necessary to use cake flour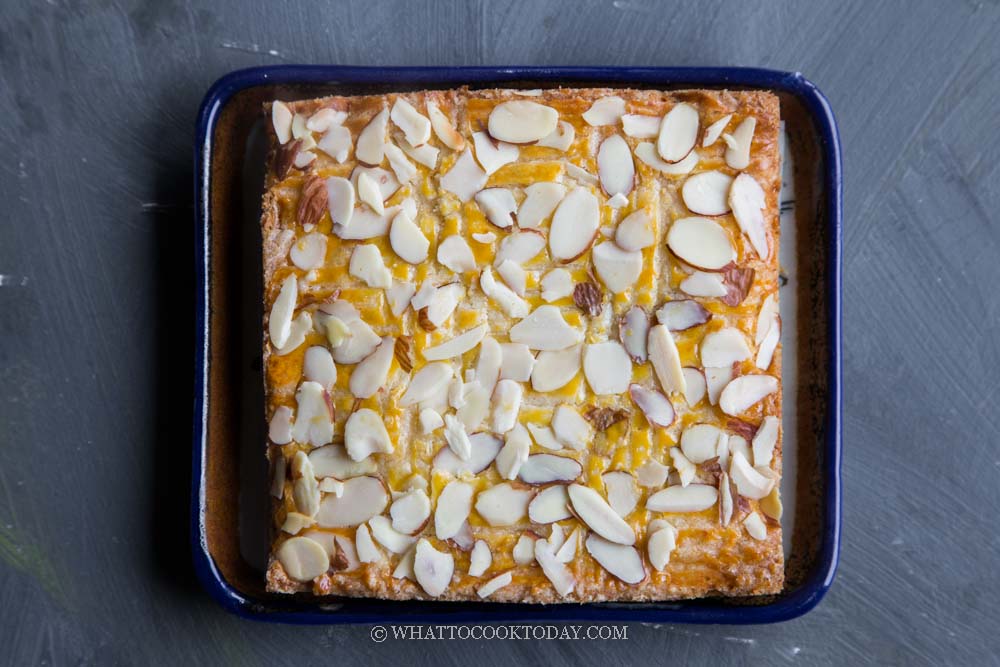 How to serve with Dutch boterkoek?
Boterkoek is a versatile pastry that can be enjoyed in many different ways. Some people like to eat it plain, while others prefer to top it with fruit or whipped cream. It can also be served with a cup of tea or coffee, or as a dessert with a scoop of ice cream.
How to store Dutch boterkoek
Dutch boterkoek can be saved by wrapping it in plastic wrap or aluminum foil and storing it in an airtight container at room temperature for 4-5 days. You can also store it in the refrigerator for no more than a week. The refrigerator tends to dry out the cake. I suggest keeping them in the freezer for longer storage. To serve, bring the boterkoek to room temperature or warm it in the oven before serving.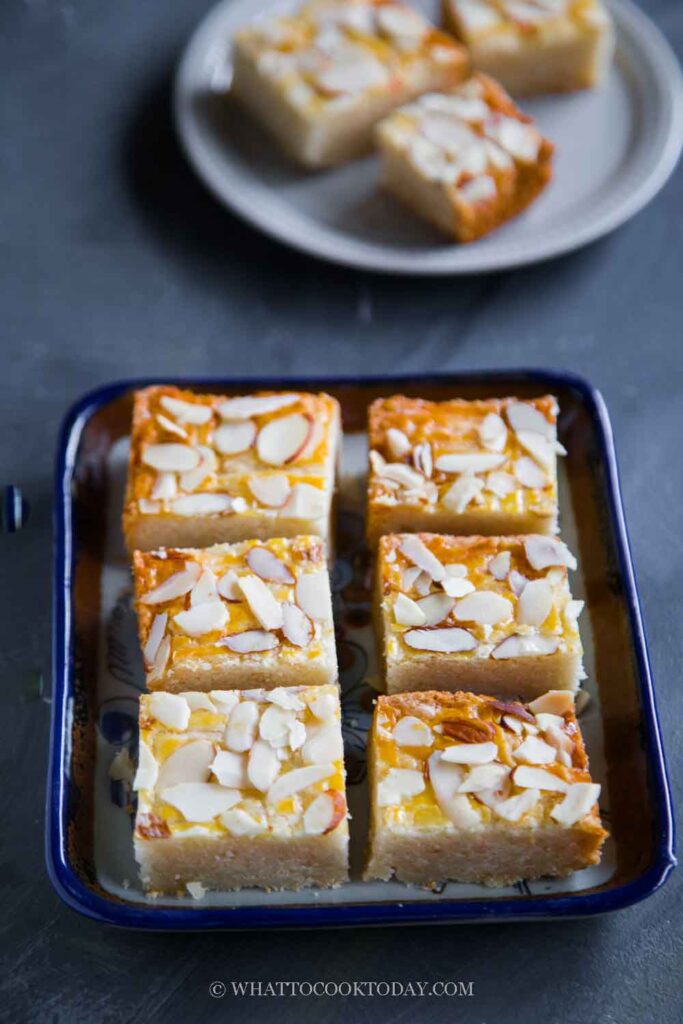 Did you make this Dutch Boterkoek recipe?
I love it when you guys snap a photo and tag it to show me what you've made. Simply tag me @WhatToCookToday #WhatToCookToday on Instagram and I'll be sure to stop by and take a peek for real!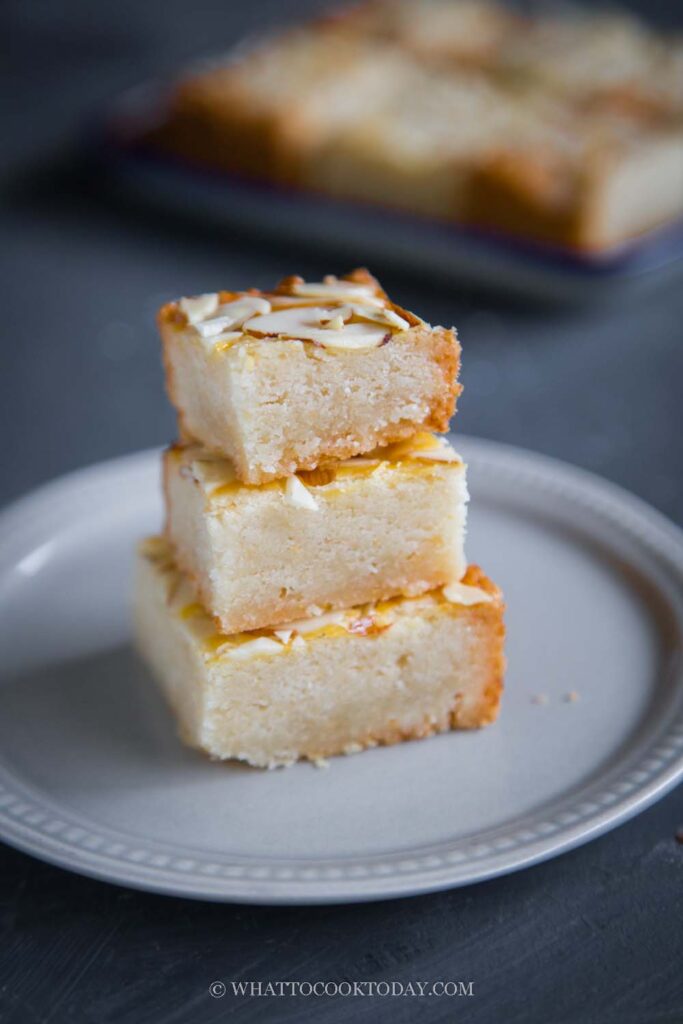 Dutch Boterkoek / Lekker Holland
Ingredients
For brushing:
1

egg yolk

or more as needed
Instructions
Prepare the cake batter:
Preheat your oven to 350°F (175°C). Grease a 8 x 8 inch square pan or 9-inch round cake pan with butter or cooking spray. Then lined with parchment paper for easier release

In a separate bowl, whisk together the flour, milk powder, and salt. Set aside

In a large mixing bowl, cream the butter and powdered sugar together until pale, light and fluffy. Beat in the eggs, and vanilla extract until well combined. Sift in the flour mixture to the butter mixture, stirring until just combined.

Pour the batter into a prepared pan. Smooth the top with a bench scraper if necessary to make sure the surface is smooth and flat

Use a pastry brush to gently and thinly brush the surface with egg yolk. Place some almond slices decoratively on top of the cake
Baking:
Bake in a preheated oven, middle rack, for 30 minutes or until a cake tester inserted into the middle comes out clean and the surface is nice golden brown
Cooling:
Let the cake cool down in the pan for 10 minutes and then gently lift it up by holding on to the parchment paper and transfer to a cooling rack to let it cool completely
Serving:
This cake is best served after 24 hours (I know you don't like to wait). If you serve it on the same day, the cake feels dry and does not have much flavor. You will be rewarded by moist buttery and dense cake if you are patient enough. The cake tastes even better as time goes IMHO
Recommended products:
Nutrition
Serving:
1
serving
|
Calories:
193
kcal
|
Carbohydrates:
21
g
|
Protein:
3
g
|
Fat:
11
g
|
Saturated Fat:
7
g
|
Polyunsaturated Fat:
1
g
|
Monounsaturated Fat:
3
g
|
Trans Fat:
0.4
g
|
Cholesterol:
53
mg
|
Sodium:
111
mg
|
Potassium:
45
mg
|
Fiber:
0.4
g
|
Sugar:
10
g
|
Vitamin A:
362
IU
|
Vitamin C:
0.1
mg
|
Calcium:
23
mg
|
Iron:
1
mg