Learn how to make this popular Vietnamese buttery and flaky pastry filled with the savory goodness of pork filling. They are perfect as snacks or appetizers.
What is Pate Chaud or Banh Pate So?
Pate chaud is a French version of meat pies/hot pies. Vietnamese cuisine has a heavy French influence and banh pate so is a Vietnamese version of pate chaud. The savory and umami pork, wood ear mushrooms, bean thread noodles, liver pate filling are encased in buttery and flaky puff pastry dough and baked to perfection. It is indeed a crowd-pleaser! They are perfect as a snack, holiday, or potluck appetizer.
Ingredients
1. All-butter puff pastry
I use store-bought high-quality all-butter puff pastry sheets
2. Pork
Ground pork with some fat is recommended here. You can also substitute with other proteins such as ground chicken and ground beef
3. Liver pate
I recommend using high-quality liver pate
4. Wood ear mushrooms
Wood ear mushrooms are usually sold in a dehydrated form. It adds a nice crunch to the filling
5. Onion
You can use yellow or white onion
6. Shallots
You can use shallots or purple onion
7. Bean thread noodles
This is also sold in most Asian grocery stores in dried form
8. Sweet peas
I like having sweet peas in savory meat filling like this. You can opt-out if you don't want or don't like the
9. Fish sauce
Fish sauce is one of the quintessential in Southeast Asian cooking, especially in Vietnamese cuisine. Fish sauce is widely available in the ethnic aisle of your local grocery most likely, if not, Asian grocery stores carry them for sure
10. Seasonings: Salt, sugar, ground white pepper
11. Egg yolk
Egg yolk is used as an egg wash to brush on the puff pastry just before baking
How to make banh pate so
1. Thaw the puff pastry sheets on the counter 2-3 hours prior to making pate chaud or overnight in the fridge
Separate egg yolk from the white. We will use them separately later
2. Preheat a skillet with one tablespoon of oil. Add chopped onion and shallots and saute over medium heat until fragrant, about 2-3 minutes. Remove from the heat and let it cool down when you prepare other things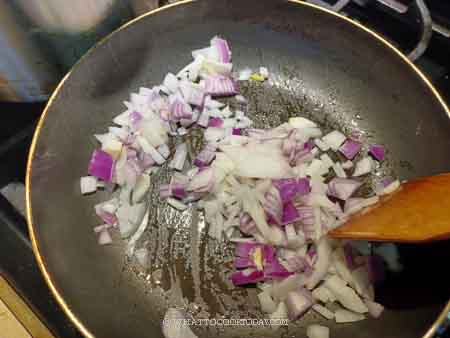 3. Soak bean thread noodles and wood ear mushrooms, separately, in warm water until softened. Use a kitchen shears to cut the noodles into shorter pieces. Cut the wood ear mushrooms into strips
4. Combine ground pork, pate, noodle pieces, mushrooms, sweet peas, sauteed shallots and onions and the seasonings in a large mixing bowl. Using your clean hand to combine is the most effective to make sure all fillings are well combined

5. Taste test: Scoop a small amount of the filling and microwave for few seconds until cook through. Have a taste to make sure the seasonings are good to go. If not, adjust by adding more salt, sugar,fish sauce, and/or pepper
6. Preheat the oven to 350 F (180 C) for a conventional oven. For a convection oven, lower by 20 F or 15 C. Carefully unfold the puff pastry sheets. If it is still too stiff, let it thaw further as you don't want to break the sheets. If certain spot breaks, you can always "patch" it back
7. Cut each sheet into 3 x 4 rectangles. So you get 12 pieces from each sheet. The pack I got comes with 2 sheets, so a total of 24 pieces

8. Scoop about 1 1/2 tablespoons of the filling onto the middle of the square. Make sure you don't overstuff it. The filling may burst out during baking

9. Brush the 4 edges with some egg white. Cover with another piece of puff pastry. Be sure to push some air out as you seal the edge. Use the tines of a fork to crimp the four edges to seal the two pieces of pastries. Place it on a baking sheet lined with parchment paper. Repeat with the rest of the pastry sheets and filling

10. Put the baking sheet inside a freezer for at least 15 minutes. This will ensure the butter is solidified and when we bake it will give you nice flaky layers. Combine egg yolk with water. Brush the top of the puff pastry with some egg yolk wash. I use the tines of a fork to prick some holes to avoid bursting during baking

11. Bake on the middle rack for 10 minutes and then rotate and bake for another 10-15 minutes or until golden brown

12. Transfer to cooling rack to cool down and serve while they are still warm or at room temperature

How to make ahead
1. Prepare the recipe accordingly up to the assembling part. Do not brush with egg wash on top yet
2. Place them on a baking sheet, not touching each other, and flash freeze in the freezer for about 30 minutes to 1 hour. Once they are hardened but not completely frozen, transfer them to a freezer bag, push all the air out and seal the bag. They can be kept frozen for 1 month
3. When it's time to serve, preheat the oven and arrange the frozen pastry on a baking sheet. You don't need to thaw them completely. Let them sit at room temperature for 10 minutes or so. Brush with egg wash and use the tines of a fork to pierce a few holes so the pastry won't burst during baking
How to store leftover
Once they have cooled down completely, put them in an air-tight container and keep in the fridge for about 3 days. Simply reheat in a microwave in a 10-second increment until it's warm. You can also reheat it in the oven at 350 F (180 C) by wrapping them in a foil and bake for about 10 minutes and then expose the top part to crisp up the pastry and bake for another 5 minutes
Did you make this pate chaud/banh pate so recipe?
I love it when you guys snap a photo and tag it to show me what you've made. Simply tag me @WhatToCookToday #WhatToCookToday on Instagram and I'll be sure to stop by and take a peek for real!
Pâté Chaud /Bánh Patê Sô / Vietnamese Meat Pies
Ingredients
For pork filling:
520

g

all butter puff pastry sheets

2 sheets

454

g

ground pork

10

g

dried wood ear mushroom

3

Tbsp

liver pate

1

small

onion

finely chopped

2

Tbsp

shallots

finely chopped

50

g

sweet peas

thaw if frozen

1

Tbsp

cooking oil
Seasonings:
1

tsp

salt

1

tsp

chicken or mushroom seasoning

1

tsp

fish sauce

2

tsp

sugar

½

tsp

ground black pepper
For brushing on pastry:
1

egg yolk

beaten

½

tsp

water
Instructions
Thaw the puff pastry sheets on the counter 2-3 hours prior to making pate chaud or overnight in the fridge

Separate egg yolk from the white. We will use them separately later
Prepare the filling:
Preheat a skillet with one tablespoon of oil. Add chopped onion and shallots and saute over medium heat until fragrant, about 2-3 minutes. Remove from the heat and let it cool down when you prepare other things

Soak bean thread noodles and wood ear mushrooms, separately, in warm water until softened. Use a kitchen shears to cut the noodles into shorter pieces. Cut the wood ear mushrooms into strips

Combine ground pork, pate, noodle pieces, mushrooms, sweet peas, sauteed shallots and onions and the seasonings in a large mixing bowl. Using your clean hand to combine is the most effective to make sure all fillings are well combined

Scoop a small amount of the filling and microwave for few seconds until cook through. Have a taste to make sure the seasonings are good to go. If not, adjust by adding more salt, sugar,fish sauce, and/or pepper
Assembling:
Preheat the oven to 350 F (180 C) for a conventional oven. For a convection oven, lower by 20 F or 15 C

Carefully unfold the puff pastry sheets. If it is still too stiff, let it thaw further as you don't want to break the sheets. If certain spot breaks, you can always "patch" it back

Cut each sheet into 3 x 4 rectangles. So you get 12 pieces from each sheet. The pack I got comes with 2 sheets, so a total of 24 pieces

Scoop about 1 1/2 tablespoons of the filling onto the middle of the square. Make sure you don't overstuff it. The filling may burst out during baking

Brush the 4 edges with some egg white. Cover with another piece of puff pastry. Be sure to push some air out as you seal the edge. Use the tines of a fork to crimp the four edges to seal the two pieces of pastries

Place it on a baking sheet lined with parchment paper. Repeat with the rest of the pastry sheets and filling
Chill before baking:
Put the baking sheet inside a freezer for at least 15 minutes. This will ensure the butter is solidified and when we bake it will give you nice flaky layers
Baking:
Combine egg yolk with water. Brush the top of the puff pastry with some egg yolk wash. I use the tines of a fork to prick some holes to avoid bursting during baking

Bake on the middle rack for 10 minutes and then rotate and bake for another 10-15 minutes or until golden brown
Recommended products:
Nutrition
Serving:
1
piece
|
Calories:
389
kcal
|
Carbohydrates:
25
g
|
Protein:
11
g
|
Fat:
27
g
|
Saturated Fat:
8
g
|
Polyunsaturated Fat:
3
g
|
Monounsaturated Fat:
14
g
|
Trans Fat:
0.01
g
|
Cholesterol:
49
mg
|
Sodium:
404
mg
|
Potassium:
186
mg
|
Fiber:
1
g
|
Sugar:
2
g
|
Vitamin A:
1095
IU
|
Vitamin C:
3
mg
|
Calcium:
17
mg
|
Iron:
2
mg