Gobi Ka Omlate (Indian Spicy Cauliflower Omelets) – Cauliflower rice is stir-fried with aromatic Indian spices and folded inside an omelet. Something so simple yet incredibly satisfying. Low-carb friendly.
So I just gobbled up this Gobi Ka Omlate about 2 hours ago and I felt like I need to share this recipe like immediately. I am so backlogged with editing photos and recipes that I've tested and they haven't made it to this blog. We are talking about 1.5 years worth of backlog! I know! Despite all that, I choose to share this one first because I LOVE this Indian spicy cauliflower omelets so much. They are so easy to make that I think it's a sin not to share this with you all busy people!


My husband and I have been hooked with cauliflower rice since last year and when I learned that this omelet is stuffed with spicy cauliflower stir-fry, there's no stopping me! I'm a carnivore, but I love meatless meals from time to time.

This blog post contains affiliate links. I earn a small commission when you made purchase at no extra cost to you. Learn more.
TIPS ON MAKING GOOD CAULIFLOWER RICE FOR GOBI KA OMLATE
1. Make sure you pat dry the cauliflower after washing. This is important so your stir-fry won't be wet
2. You can use the largest holes on the grater to grate the flower part. If you use a food processor, work in small batch. Trying to stuff too much will over-process the cauliflower into a paste. Pulse a few times will do the job for you
3. Salt is the last thing to add
If you season cauliflower with salt during cooking, this will make the mixture "wet" because salt draws out moisture from the cauliflower. Season only right before serving
WHAT MAKES THIS GOBI KA OMLATE SO GOOD?
I love Indian food for its aromatic spices. Perhaps growing up with Indonesian food, I love spices and herbs. Indonesian cooking has some Indian influence too. What I like the most about this recipe is:
1.
Curry Leaves
Boy oh boy…that curry leaves sure elevates the whole dish to a new level. It's not easy to find curry leaves here, not in Minnesota at least, but if you find some at Indian or Asian grocery store…HOARD THEM! They can be froze for longer shelf life. You can read here about
curry leaves
and find out what you can substitute with if you can't find any. It won't be similar, but life is not perfect.
2. The spices
This recipe also uses cumin seeds, brown mustard seeds, and garam masala. The three are pretty commonly seen in Indian cooking. They make this gobi ka omlate extra special.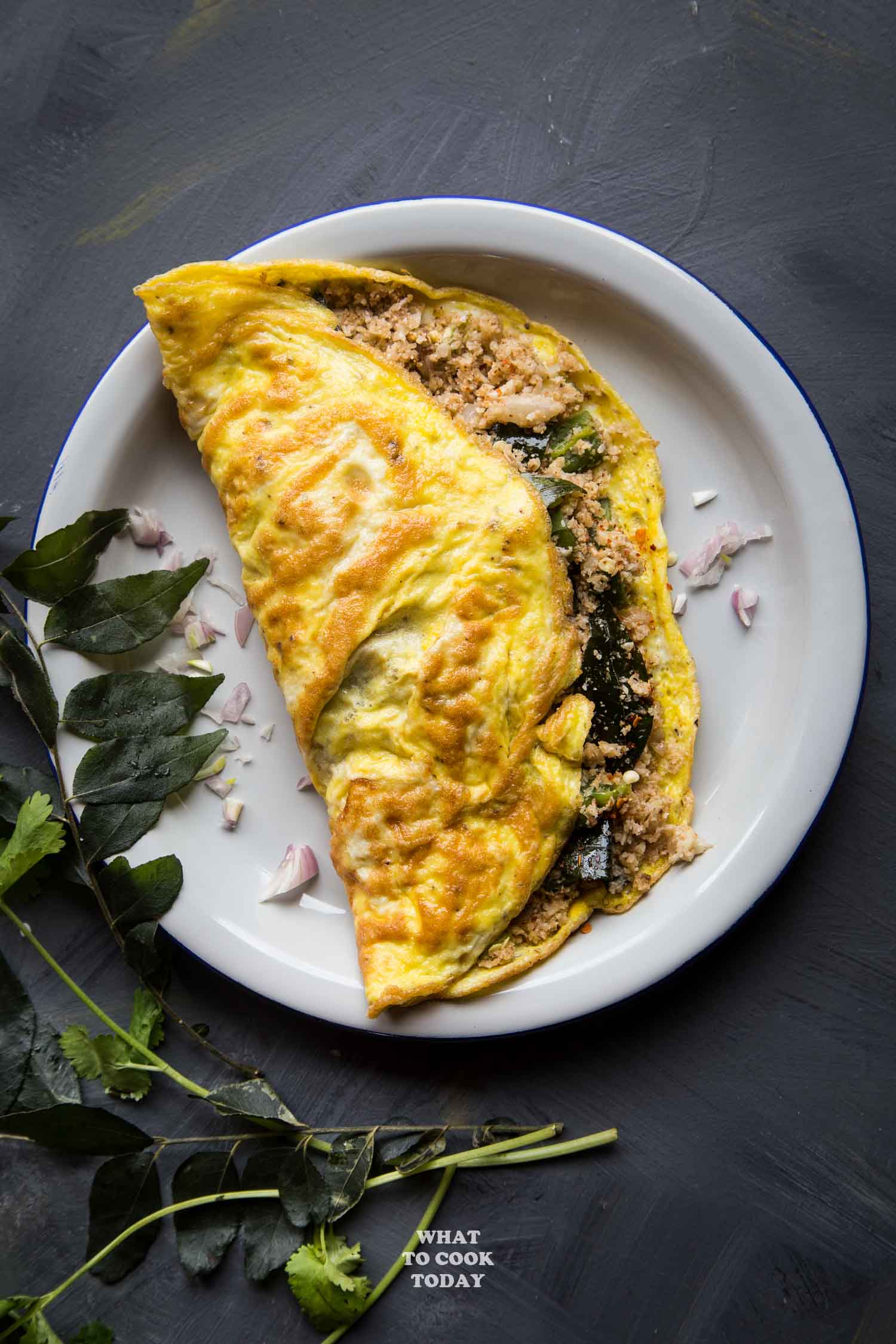 WHAT CAN I SERVE GOBI KA OMLATE WITH?
I eat it as is as a low-carb light lunch. It may be light, but it's pretty filling (without much guilt!). The Indian likes to serve them with Parathas and chutney. I would totally fall for those pairings too!
If you guys end up trying this gobi ka omlate, please let me know so I don't feel like I'm a freak for being obsessed with this spicy cauliflower omeletes 🙂 Maybe I am a freak, but you know…still..it's good to know what you think about it!


This wonderful gobi ka omlate is adapted from Madhur Jaffrey's Vegetarian Indian cookbook with slight modification. I highly recommend that book. Love it!

Gobi Ka Omlate (Indian Spicy Cauliflower Omelets)
Ingredients
1

cup

finely grated cauliflower

3

Tbsp

cooking oil

divided

¼

tsp

salt
Aromatics:
6

fresh curry leaves

finely chopped or leave them whole

1

inch

fresh ginger

peel and finely chopped

1

jalapeno peppers

seeded and chopped

3

Tbsp

shallots

finely chopped

½

tsp

garam masala
Omelets:
4

large

eggs

beaten

¼

tsp

freshly ground black pepper
Garnish:
3

Tbsp

fresh cilantro leaves

chopped

¼

tsp

salt
Instructions
Preparing cauliflower rice stir-fry:
Preheat a medium skillet with 2 Tbsp cooking oil. When it's hot, lower the heat to medium, add mustard seeds, they will start to pop, quickly add cumin seeds and let them fry for few seconds. Add cauliflower and the aromatics. Continue to stir for another minute. Remove from the heat and set aside

Season the cauliflower mixture with 1/4 tsp of salt right before you are adding it to the omelet. This is important so that your cauliflower rice won't be "wet" because salt will draw out moisture from the cauliflower. Stir to mix and add more salt to your taste if needed
Making omelet:
Preheat a non-stick skillet with 1 Tbsp cooking oil or you can use the same one you use to make the cauliflower rice stir-fry. Make sure you wipe clean

Pour in half of the beaten eggs into the middle of the pan and tilt the pan to swirl to let the egg cover the base of the skillet. Push the edge of the omelet with spatula to let the egg flow to the edges. Once the bottom is golden brown and the top started to set, spread half of the cauliflower mixture over half of the omelet and then gently fold the omelet and gently press down on it. Gently let it slide out of the pan onto serving platter with the help of a spatula. Repeat with the other omelet

Serve immediately and garnish with fresh cilantro leaves