Tumis tauge ikan asin / Bean sprouts with salted fish – Crisp fresh bean sprouts are sauteed with umami-rich salted fish is popular side dish in Indonesia.
One of the dishes that mom made so often when we were kids was this tumis tauge ikan asin. It's my brother's favorite. Mung bean sprouts or known as tauge in Indonesia is cheap and nutritious. It is a common side dish serve as part of Asian multicourse meal.
SPECIAL INGREDIENT USED IN TUMIS TAUGE IKAN ASIN
Salted Fish (Ikan Asin)
The variety of salted fish alone in Indonesia is amazing. From big fish to small fish and different kind of fishes. You name it. The fish is usually dried and then cured with salt. Back in the old days, it was done to prolong shelf life because refrigeration is not available. Salted fish is extremely salty and usually used as part of "seasonings" in Indonesian and many Asian cooking. I got this salted fish in oil from Asian grocery store. I didn't know it's available until the owner of the store recommend it to me. This is salted mackerel stored in oil. My mom typically use the dry version, not store in oil, but i couldn't find any near me. This is just as good though. When cooked, salted fish gives that umami flavor to your dish.

TIPS ON MAKING GOOD BEAN SPROUTS STIR-FRY
1. Ample of heat
This always goes without saying. Make sure the wok/skillet is well preheated
2. Fresh is best
ALWAYS use fresh bean sprouts. I've seen canned or pickled bean sprouts available, but you never want to use that for beansprouts stir-fry. EVER! Those aren't meant for stir-fry. I know it can be a struggle trying to keep fresh bean sprouts fresh. Read how to keep bean sprouts fresh longer.
3. Tails off
Pick those bean sprouts tail off if possible. It's going to make your overall dish presentation looks so much better without it. I picked most of them (I think), some I might miss! It's not a big deal, but I like to remove them as much as I can so the dish appear clean and "neat"
4. Starts dry
Make sure the bean sprouts are dry. After rinsing with water, make sure you pat them dry the best you can. Too much liquid will make your stir-fry wet and beansprouts won't be crunchy
5. Not overcooking
They cook FAST. Super fast. If you stir-fry them for too long, they will become limp. The finished dish should be crispy and crunchy
WHAT ELSE CAN I STIR-FRY BEAN SPROUTS WITH?
They go pretty much with everything. If your intention is to prepare it as a side dish like in this tumis tauge ikan asin, you can use extra firm tofu cubes, veggies like bell peppers, tomatoes, green beans, long beans, tempeh, dried shrimp. Just to mention several! No matter which combination you choose, always remember beansprouts usually is added last because they cook super quickly!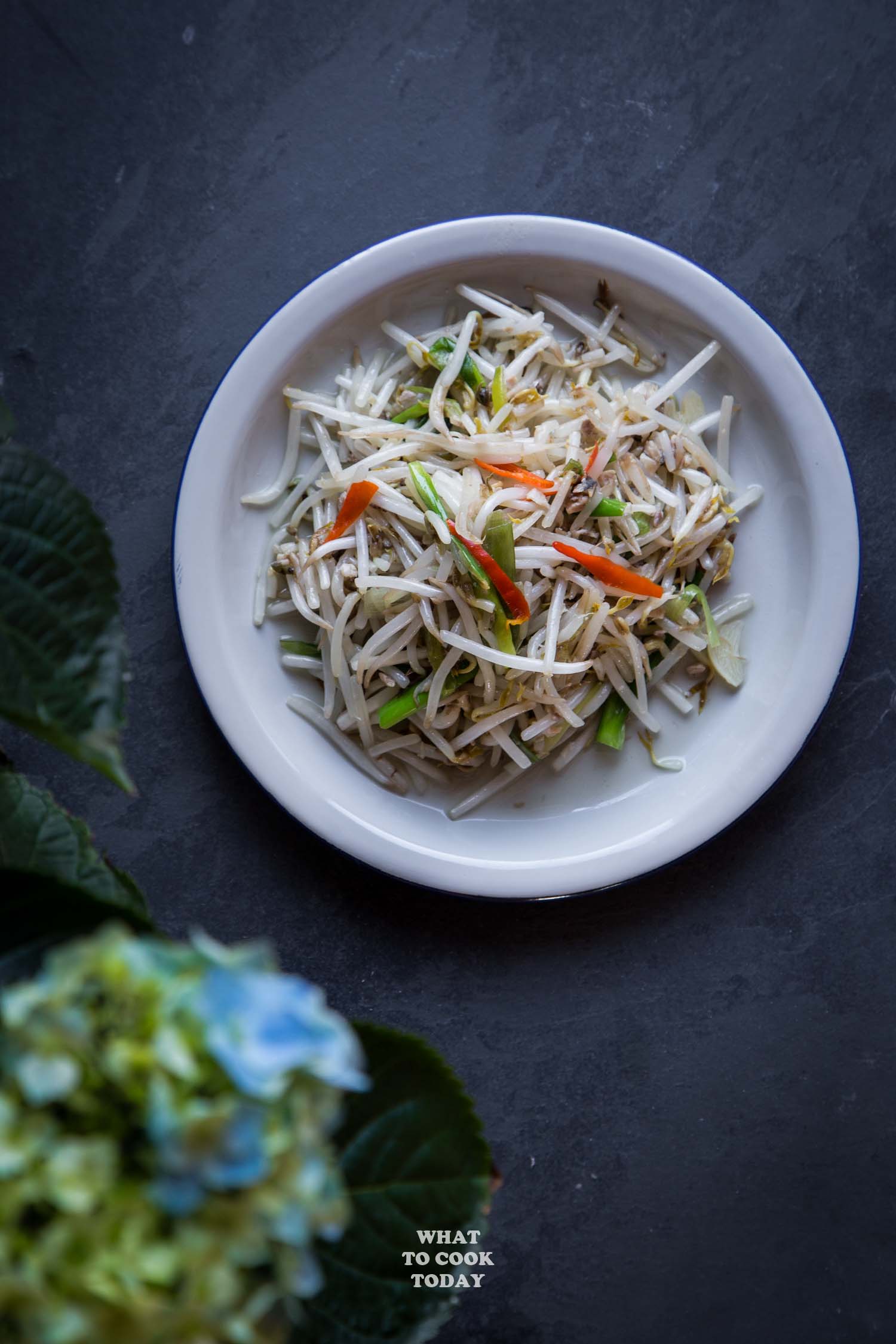 Stir-fried Bean Sprouts with Salted Fish
Ingredients
2 ½

lbs

bean sprouts

mung bean sprouts or soy bean sprouts are fine

3

oz

salted fish

roughly chopped, see notes

2

Tbsp

cooking oil

2

stalks

green onions

2

red chilis

slit open and seeded, cut into thin slices or just cut in half

2

cloves

garlic

peeled and finely minced

Salt and pepper to taste
Instructions
Wash the bean sprouts in fresh running water. Drain off water

Preheat a wok/skillet until hot. Add cooking oil and swirl to coat the wok/skillet. When it is hot, add salted fish and fry until they are crispy and golden brown, about 3 minutes. Dish out and set aside

Separate the green and white part of green onions. Remove the roots if any. Cut into 2-inch large pieces. Halve the white part

In the same wok/skillet, add garlic and stir-fry for about 10 seconds (take care not to burn them) add white part of green onions and stir fry for about 30 seconds. Add red chili if using, stir fry for another 10 seconds. Lastly add the bean sprouts and green part of green onions and stir-fry very briefly, about 20 seconds You want the bean sprouts to be still crunchy. Add the crispy salted fish back. Have a taste and add some salt and pepper to your taste and give last one stir. Remove from the heat and serve immediately as part of a multi-course meal
Notes
You can use dried anchovies (ikan teri) if you can't find salted fish. They aren't exactly the same, but dried anchovies is a suitable substitution.