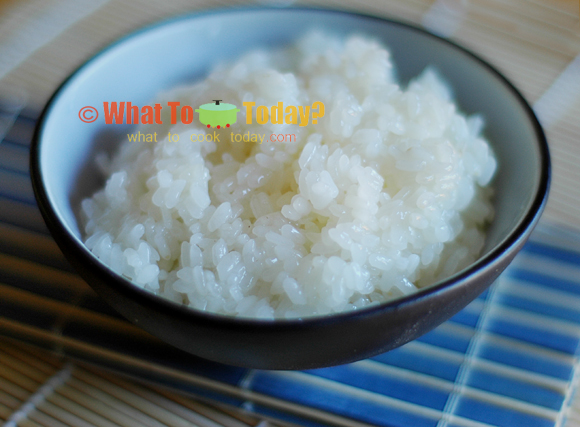 So, I've always been sushi and sashimi fan for a long long long time. It's not until the past 3 years that I had the guts to roll up my own sushi. The first time I made sushi was with my mom and it was quite a success that time. Then I haven't made it for a while now and these two hands were itching for some practice!!!
The presentation of sushi is always very enticing to me. We all eat with our eyes before our mouths, so presentation is definitely important. So, first things first before we can get the sushi rolling, you need the rice, don't you? It is important to cook the sushi rice properly as this is the "heart" of the sushi I would call it. Well, there are few variety that don't use rice, but the majority of them do. Once you get this fool-proof sushi rice recipe down, you are half-way there.
For baking/ kueh making: I highly encourage to weigh ingredients with a digital kitchen scale instead of using measuring cups as they are not very accurate especially when it comes to recipe that requires precision.
GRAMS TO CUPS CONVERSION (UNSIFTED)
INGREDIENTS
1 1/4

cups

of sushi rice or any short-grain rice

1 1/2

cups

of water

About 2 x 4 -inch dried kombu seaweed

-

optional
INSTRUCTIONS
Wash the rice in cold running water 4-5 times or until the water runs pretty clear. Drain off all the water

In a medium saucepan with lid, put in the rice along with the water and kombu seaweed if using. Bring the water to a boil. Once it boils, use a tong to get the kombu seaweed out and discard it. Lower the heat, cover with lid and let it simmer gently for the next 10 minutes. Turn off the heat. DO NOT OPEN THE LID. Let the rice sit for 15 minutes

While waiting for the rice, in another small saucepan, put the rice vinegar, sugar and salt in the pan and bring it to boil until the sugar dissolves. Set aside. After letting the rice sitting for 15 minutes, open the lid and transfer the rice to a wide shallow plate to cool it down. Pour the seasoning over the rice and use spatula to gently mix it (don't break the rice grain and turn it into a mush). Use your other hand to fan the sushi to cool it down quickly. If you have a fan, you can do this in front of the fan (even better!)

Now you should have a glistening-looking sushi rice at room temperature when you are ready to use it
Notes
I suggest to prepare the rice the same day you're going to make the sushi. It doesn't take that long at all and you don't even need a rice cooker to cook the rice