Learn how to make soft and bouncy mung bean flour cake studded with sliced bananas and sweet jackfruit pieces wrapped in banana leaves (or not).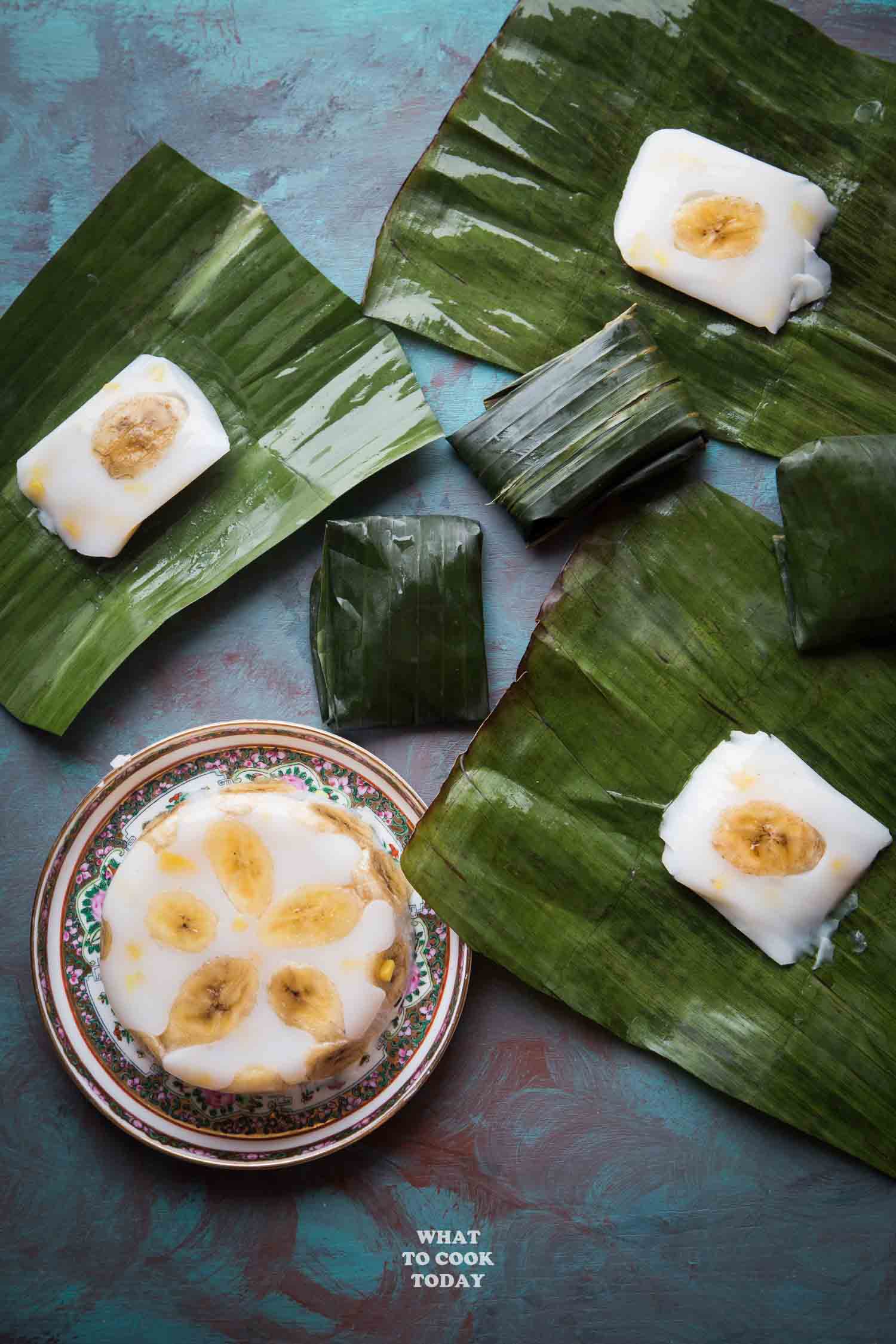 Hunkwe pisang nangka is one of my favorite childhood snacks. Mom made them so often that hun kwe pisang nangka is one of the snacks I look forward to for an after-school snack. It is very similar to kue nagasari in terms of presentation.
WHAT ARE THE DIFFERENCES BETWEEN BANANA HOON KUEH/HUN KWE PISANG AND KUE NAGASARI
Banana hoon kueh is made with mung bean flour (hunkwe flour) and kue nagasari is made with rice and tapioca flour.
Banana hoon kueh is cooked, wrapped and then chilled while nagasari is half-cooked, wrapped and then steamed.

TO WRAP OR NOT TO WRAP
When you wrap the banana hoon kueh with banana leaves, they will have that nice aroma imparted from the banana leaves. I really like this aroma 🙂
If you don't feel like individually wrapping each of the banana hoon kueh or can't find banana leaves where you are, you can just pour the batter into a container and chill them in the refrigerator. Taste-wise they are the same, just without the extra aroma from banana leaves.


I used this brand of hoon kueh flour to make this recipe. You can substitute with mung bean flour because hun kwe flour is basically made of mung bean flour.

WHAT KIND OF JACKFRUIT IS USED IN THIS BANANA HOON KUEH RECIPE?
There are green jackfruit and yellow sweet jackfruit (usually packed in syrup). The green jackfruit is used in cooking and savory dish. This recipe calls for the sweet jackfruit packs in syrup.
HOW TO MAKE GOOD BANANA HOON KUEH
1. Get the banana, jackfruit, and banana leaves (if using) ready before cooking the batter
2. Mix the flour, sugar, and coconut milk until there it is smooth and no lumps visible
3. Cook the batter until it is bubbling, thickened, and slightly translucent. Stir in jackfruit pieces
4. If wrapping each cake with banana leaves, keep the batter warm on very low heat because the batter solidify when it cools down
5. If not wrapping, arrange slices of banana decoratively in a container and pour the batter into the container and then chill
6. Scoop about 2 tbsp of batter on the leaf. Top with one slice of banana and then wrap like a parcel and chill before serving
Did you make this recipe?
I love it when you guys snap a photo and tag to show me what you've made 🙂 Simply tag me @WhatToCookToday #WhatToCookToday on Instagram and I'll be sure to stop by and take a peek for real!

Banana Hoon Kueh (Pisang Hoon Kueh/Hun Kwe)
Instructions
Prepare banana leaves and bananas:
For this recipe, don't use bananas that are too ripen. Don't peel the banana yet and steam them briefly for about 5 minutes over medium heat

Let the bananas cool down completely. Peel the banana and slice the banana into about 1/2-inch pieces. Cover and set aside. Wipe the banana leaves clean on both sides with a damp cloth. Cut into about 15x15 square pieces 

Place hunkwe flour, coconut milk, and sugar in a large mixing bowl. Stir until mixture is smooth and no lumps. Pour this into a large saucepan/pot and cook over medium heat. Continue to stir

Nothing will seem to happen in the first 10 minutes. Then mixture will start to congeal and you will see some lumps. Don't panic. Continue to stir. It will get thicker and the mixture will turn white opaque then will start to bubble and turn slightly translucent. Once it starts to bubble (meletup letup) and slightly translucent. Remove from the heat. Stir in the diced jackfruit. Keep them warm over very low heat for wrapping
Wrapping:
To show the banana slice when unwrapping the cake: Scoop about 2-3 tablespoons of the thick batter in the middle of the leaf. Place one slice of banana. Gather the two opposite sides of the leaves so they overlap in the middle and then fold the sides down to the bottom (like a parcel)

Another way of wrapping: Scoop about 1 tablespoon of the thick batter on the middle of the leaf. Place one slice of banana and then cover with another scoop of thick batter. Gather the two opposite sides of the leaves so they overlap in the middle and then fold the sides down to the bottom (like a parcel)

Store them in the refrigerator to let them harden before serving. They should still be soft with some bouncy texture once they are cold
No-wrapping method:
I use a 8-inch round container. You can use any pan you like. Line the banana slices at the bottom of the container and the sides. Carefully pour in the cooked batter and gently smooth it out with rubber spatula. Don't worry if it's not a perfect smooth surface. What you see now will be the bottom of the cake. Chill in the refrigerator for about 1 hour. Place a serving plate on top of the container and then quickly flip it over to unmould the cake. You should be able to do this without any difficulty as the cake doesn't stick to the container or pan at all. Slice to serve
Storing:
Store leftover in the refrigerator for maximum of 5 days. Do not freeze as they do not do well after freezing
Notes
If using mung bean flour (not specifically hun kwe flour), add 1 tsp of vanilla extract to the batter before cooking