Creamy avocado is blended with mocha flavor or without, and served with drizzles of chocolate syrup and chocolate sprinkles is popular Indonesian dessert beverage.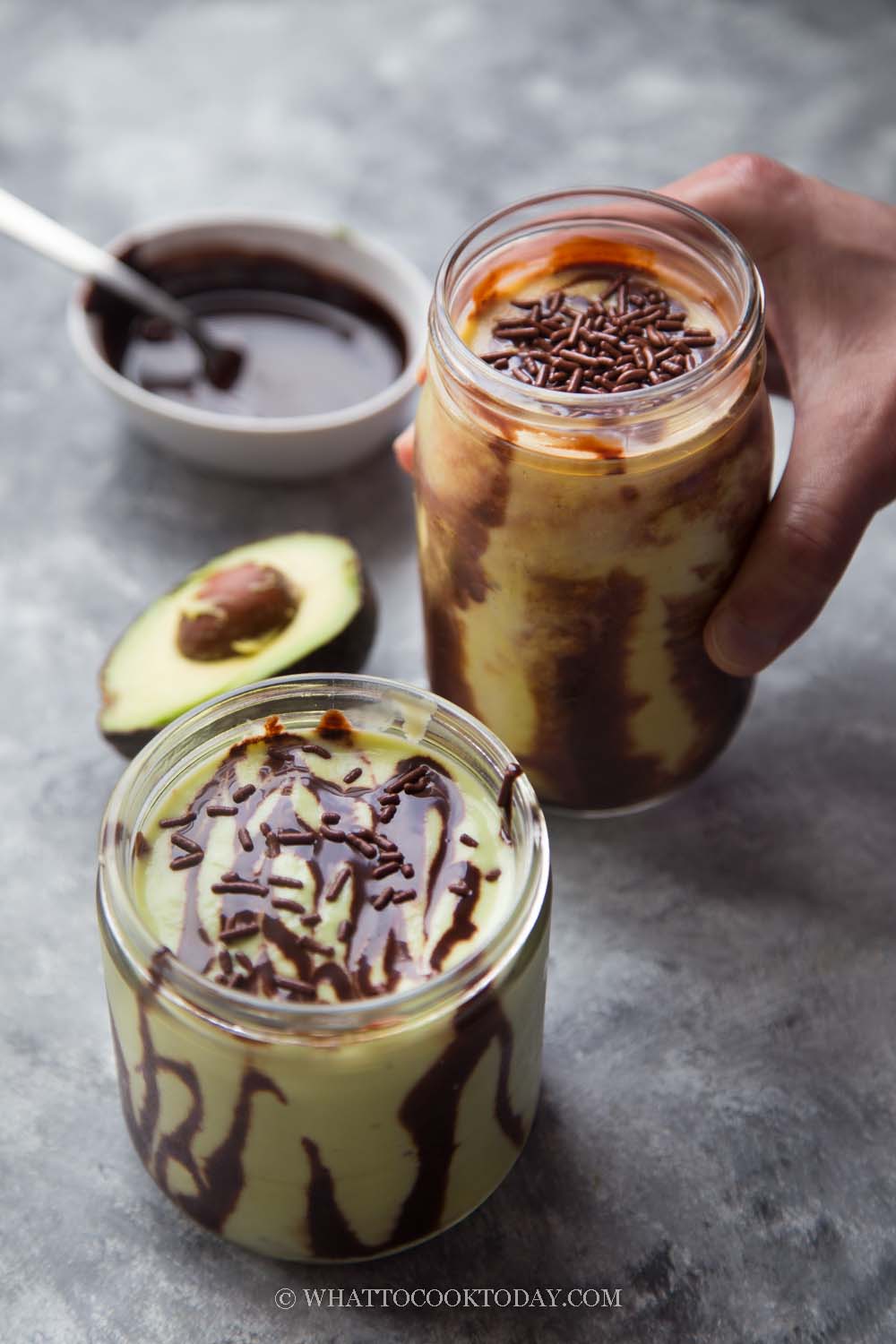 When it comes to an avocado shake, the Indonesian version of this shake is considered a dessert 🙂 This sweet treat is served in many restaurants throughout Indonesia. Though, of course you can make it "healthier" by a little bit of tweaking here and there. If you are going to try this avocado shake for the first time as a treat, I say go for the real thing 😉 It is really quite a treat. As you know avocado itself is so creamy and thick, drizzled some chocolate sauce on, topped with some chocolate sprinkles for that contrast of texture (as my husband said it), so good !!  My kids love this jus alpukat. I haven't had these for at least 10 years I think !! So, I really went all out 🙂

How to choose avocado
1. You want to use a ripe avocado. Any type of avocado will work for this recipe
2. If you press on the avocado gently, it should yield. If it's still very hard, it's not suitable for the shake (or anything really!)
3. The inside should have a nice green color and creamy texture

How to make jus alpukat (Indonesian avocado shake) 2 ways (mocha flavor or regular without mocha)
1. Prepare the chocolate syrup by putting all the ingredients, except for vanilla extract, in a saucepan. Cook over medium heat until slightly thickened, about 3 minutes. Stir in the vanilla extract.


2. The mixture will still be quite thin. Once it cools down, it will thicken but still in the consistency you can drizzle


3. For mocha flavor, add cocoa powder to the brewed coffee. Stir to combine and let it cools down. For regular without mocha flavor, you just need milk


4. Use a knife to remove the stone and scoop the flesh out


5. Place the avocados and the rest of the ingredients into the blender


6. Process into a smooth thick beverage. Add a bit more milk if it's too thick


7. You can drizzle the chocolate sauce on the side of the jars or glasses and then pour the avocado shake in. Drizzle with more chocolate sauce. Topped with some chocolate sprinkle and serve immediately

Variations
1. For non-dairy version: you can use a nut milk such as soymilk, almond milk, or coconut milk (for beverage, not the canned coconut milk). You can substitute condensed milk with coconut milk powder or soymilk powder
2. For refined-sugar free: you can use honey, agave nectar, or another sweetener such as keto-friendly sugar
Did you make this recipe?
I love it when you guys snap a photo and tag to show me what you've made 🙂 Simply tag me @WhatToCookToday #WhatToCookToday on Instagram and I'll be sure to stop by and take a peek for real!

Indonesian creamy Avocado shake (Jus alpukat) - 2 ways
Ingredients
Homemade chocolate syrup (you can use store-bought chocolate syrup too):
Instructions
Prepare the chocolate syrup (if making from scratch):
Put all the ingredients, except for vanilla extract, in a saucepan. Cook over medium heat until slightly thickened, about 3 minutes. Stir in the vanilla extract. The mixture will still be quite thin. Don't cook until it's too thick. Once it cools down, it will thicken further but still in the consistency you can drizzle

Once it has cooled down completely, you can keep them in the fridge for up to a week
Preparing jus alpukat:
For mocha flavor, add cocoa powder to the brewed coffee. Stir to combine and let it cools down. For regular without mocha flavor, you just need milk

Place the avocados and the rest of the ingredients into the blender and process into a smooth thick beverage. Add a bit more milk if it's too thick
To serve:
You can drizzle the chocolate sauce on the side of the jars or glasses and then pour the avocado shake in. Drizzle with more chocolate sauce. Topped with some chocolate sprinkle and serve immediately
Recommended products: