Learn how to make another variation of tang yuan served in sweet rice wine soup. It's a warming, sweet, and aromatic dessert soup.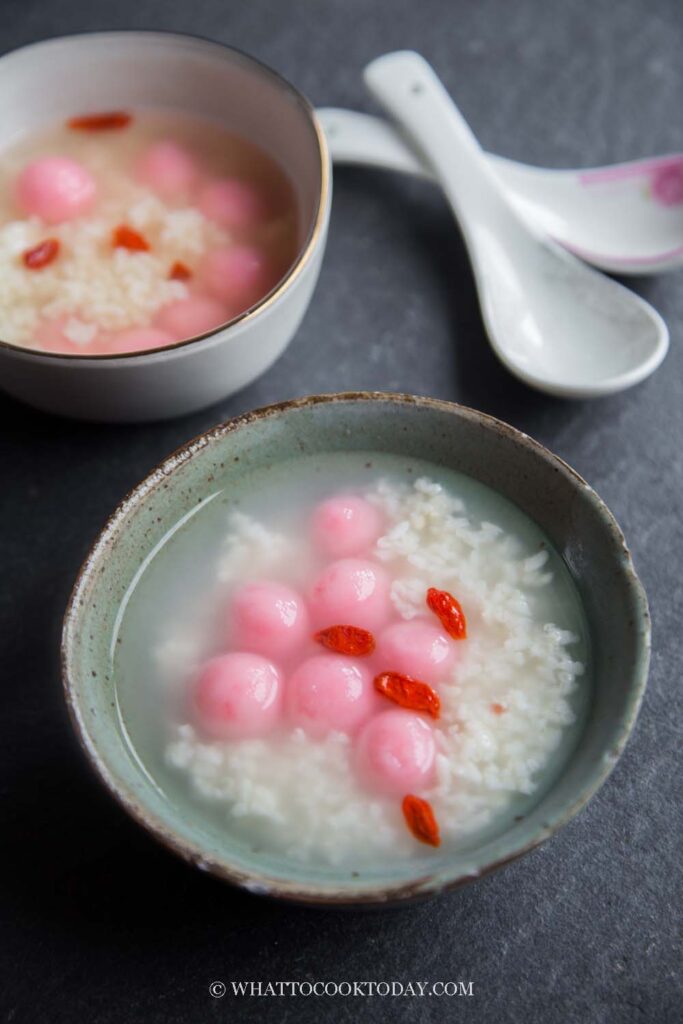 After making jiu niang (fermented rice wine) a while ago, I was looking up ways to use jiu niang in other dishes. My husband and I love eating jiu niang on its own too. It's so yummy and naturally sweet! I saw some videos on youtube of some folks serving tang yuan in sweet rice wine soup and immediately I thought I should give it a try! and I'm so glad I did! It's so yummy!
What goes into the soup
Traditionally the tang yuan is served in the soup with some egg drop flowers, fermented rice wine, dried osmanthus flowers, and goji berries. I didn't use eggs and dried osmanthus flowers in mine.
Variations
Instead of plain mini tang yuan balls, you can also use black sesame tang yuan, peanut tang yuan, crystal tang yuan, red bean tang yuan. These are all with sweet filling inside and will pair well with the sweet rice wine too.
How to store
Tang yuan is best prepared and consumed on the same day. If you have leftovers, you can store them in the fridge. The tang yuan balls will harden and it's normal. Simply reheat on the stove or microwave, in a 10 seconds increment, until softened
Did you make this jiu niang tang yuan recipe?
I love it when you guys snap a photo and tag it to show me what you've made 🙂 Simply tag me @WhatToCookToday #WhatToCookToday on Instagram and I'll be sure to stop by and take a peek for real!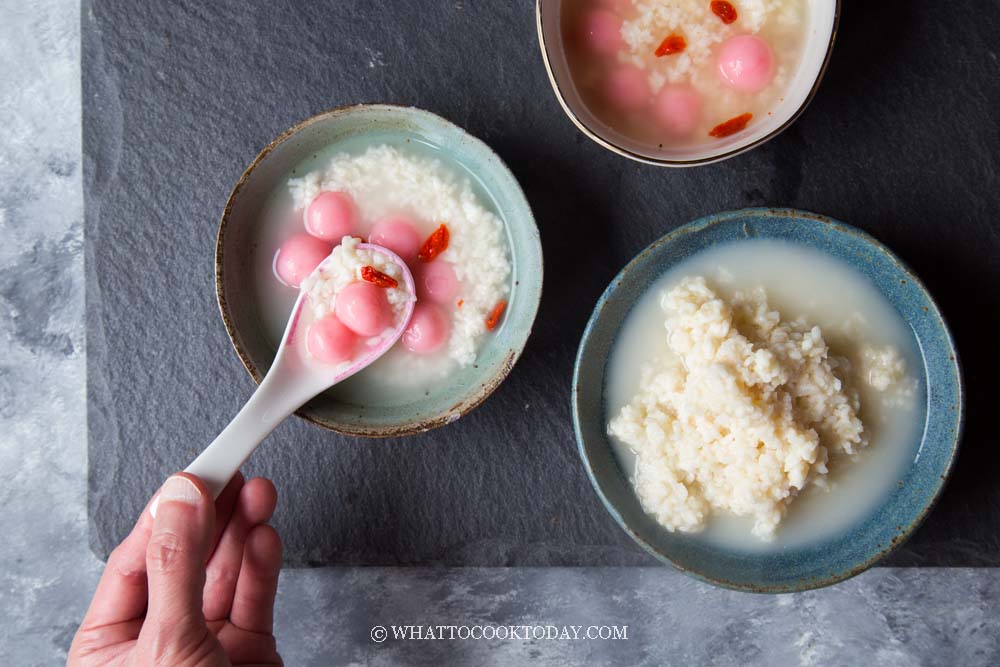 Tang Yuan in Sweet Rice Wine (Jiu Niang Tang Yuan)
Instructions
Prepare the dough:
Mix glutinous rice flour and icing sugar in a mixing bowl. Add the boiling hot water. Stir to mix with a spatula at first and when it's not too hot anymore, use a clean hand to mix and knead into a non-sticky dough. If you want to add some color, you can add it here. Add a bit of water as needed to form a dough. The dough will be soft and pliable because of the hot water. Cover them with plastic wrap to prevent them from drying out

Pinch off a small amount of dough, about 8-10 grams (it's up to you how big or small you want them to be) and then roll into small balls. You should have no problem with the dough breaking because the dough is so soft and pliable. Keep the small balls covered with plastic wrap too. Continue with the rest
Cook the tang yuan:
Bring 6 cups of water to a boil. When they are rolling boil, add the tang yuan balls and cook until they float to the top. Once they float to the top, keep stirring the soup while the other hand gradually pours in the beaten egg. Once the egg is set, turn off the heat. Stir in goji berries. The residual heat will soften the goji berries. Add the sweet rice wine to the soup. Portion the tang yuan with the soup and rice wine into serving bowl.