Soft, buttery and flavorful sweet bread scented with aromatic cardamom is a staple bread in Finland. It is perfect for breakfast, with that cup of coffee or tea, for the holidays, or just because! You can also make sourdough pulla bread using a sweet stiff starter.
What is pulla/nisu/nisua
Cardamom coffee braid or known as pulla or Nisu/Nisua in Finland, is the Finnish staple. Pulla is a more common name heard these days. Pulla is served whenever coffee is served. Most Finnish family bake this at home often. I like the flavor of cardamom and hence I find pulla very tasty. I had fun making it too because I liked to braid things (ha!).
Basic Ingredients for pulla
1. Cardamom
Cardamom is the star in this recipe. The aroma is amazing! It has that warm, spicy, pungent (in a good way I think!) aroma. It is one of my favorite spices to use in baking. I suggest using green cardamom if you can get some as they are more aromatic. The dark brown ones would work too if you can't get the green cardamom. If you can grind your own cardamom, that's the best. I do a coarse grind cardamom, which gives a very nice aroma compared to using store-bought ground cardamom
2. All-purpose flour
The all-purpose flour I use have a gluten content of around 10%. Any medium gluten-content would work. You don't need to use bread flour though it won't hurt either. You will get a "chewier" texture if you use bread flour versus more tender crumbs with all-purpose flour
3. Eggs
I use large eggs, which is about 58-60 grams when you weigh with the shell
4. Milk
I suggest using whole milk. You can also use other nut milk or dairy-free milk if you prefer
5. Yeast
Both instant yeast and active dry yeast can be used in this recipe. Active dry yeast needs to be bloomed first before using
6. Butter
I use unsalted butter. Make sure they are soft
7. Sugar
You can use granulated or caster sugar
8. Pearl sugar
Pearl sugar is used more as a finishing touch. If you can't find any, simply use regular granulated sugar or sugar with a coarser texture like turbinado sugar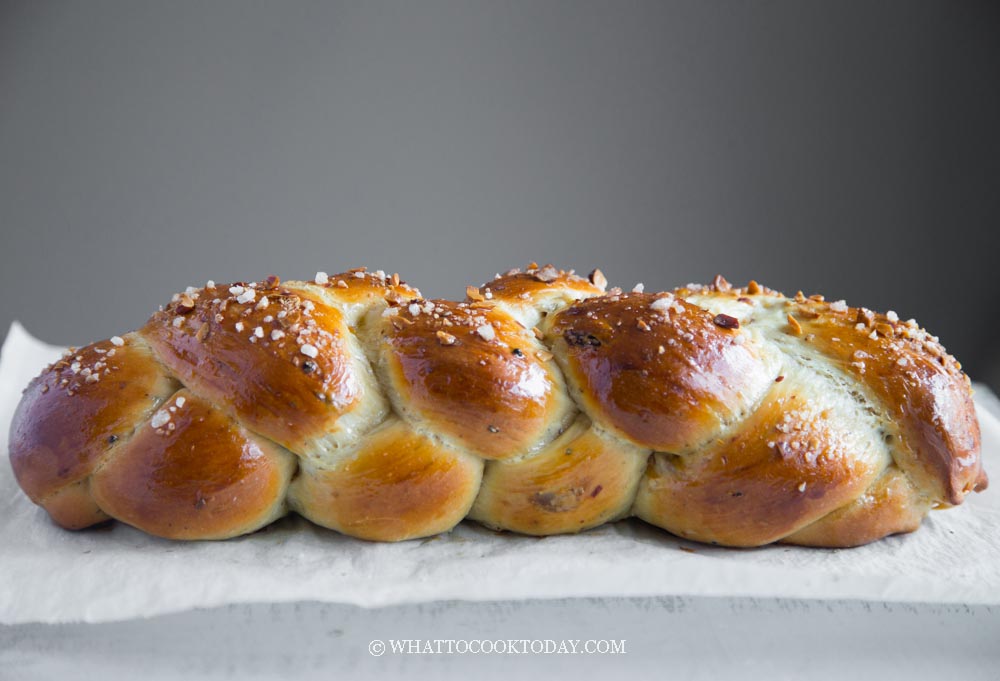 How to make pulla/nisu/nisua at home
1. I use approximately 10 cardamom pods. I use a pestle to crack the shells and then get all the seeds out and coarsely grind them with the pestle. You can use a coffee grinder or spice grinder to do so. The coarsely ground is what most Finnish will use in their pulla recipes. It gives a really good and more intense cardamom aroma. Alternatively, you can always use store-bought ground cardamom too for convenience

2. Dissolve active dry yeast in warm water in a mixing bowl of a stand mixer. Let it sit for 10 minutes until foamy. If you use instant yeast, you can skip this step. If you use sourdough, add the sweet stiff starter into the mixing bowl of a stand mixer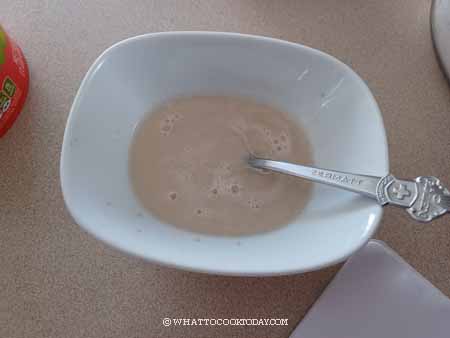 3. Add sugar, salt, ground cardamom, water, and egg. Add the flour. Use the dough hook to stir the mixture a bit so the flour won't fly around when you start the mixer. Knead on the lowest speed for 2-3 minutes and then increase to speed 2 and knead for 3 minutes and then speed 4 for another 3 minutes or until it forms a dough that clears the side of the bowl, but not smooth yet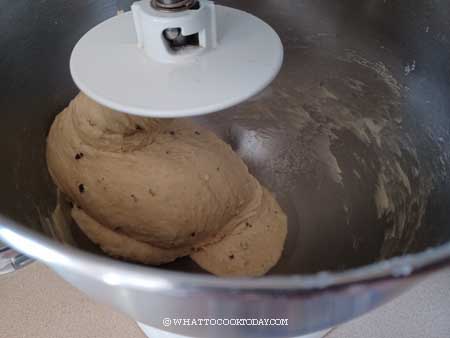 4. Add the softened butter in 3 batches. Once all the butter is in, increase speed to 4 and knead for 5-8 minutes or until the dough is elastic, smooth, and satiny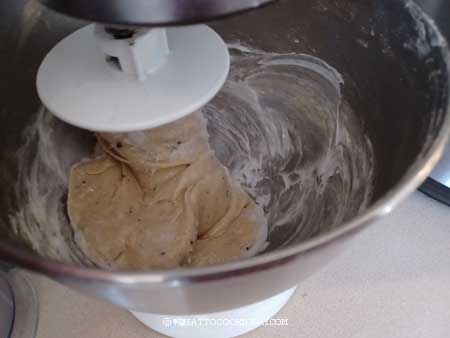 5. Add the raisin and knead at the lowest speed to just distribute the raisins

6. Lightly oil the bowl, cover with a kitchen towel or loosely with plastic wrap, and let rise in a warm place for about 45 minutes to 1 hour, or until double in volume. if it's colder, it may take longer to proof the dough. For the sourdough version, it takes about 2-2 1/2 hours (depending on the strength of your stiff starter) for the dough to double at a warm place. It took mine about 2 1/2 hours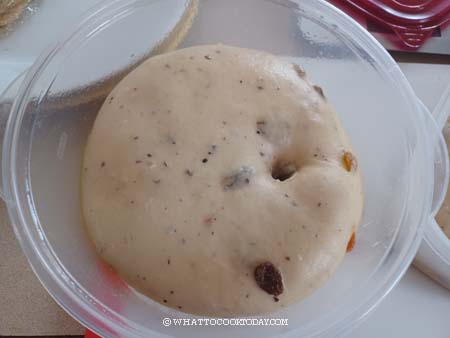 7. Transfer the dough to a lightly floured work surface. Knock out all the gas and divide each dough into 3 or 4 portions (for 3 or 4 strands braid). Shape them into oval-ish shape. Cover with a cling wrap to prevent them from drying. Rest for 15 minutes to relax the gluten

8. Work with one dough at a time and keep the rest covered. Roll one dough into about 18 inches long. Repeat with the rest of the dough. I'm doing a 4-strand braid. If you want to do 3 strand-braid, you can refer to this post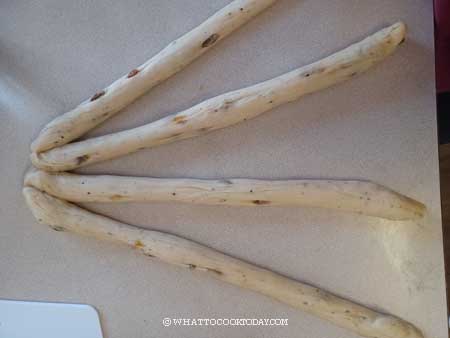 9. Lay the three strands vertically with the farthest ends pinched together. Take the farthest left strand and move it to the right over 2 strands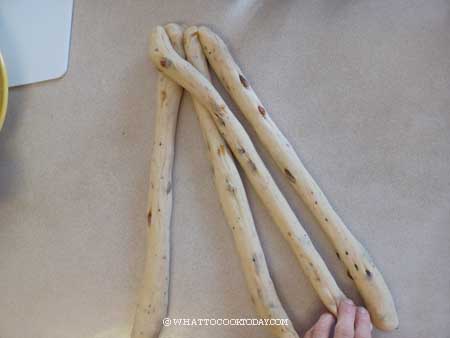 10. Then to the left over 1 strand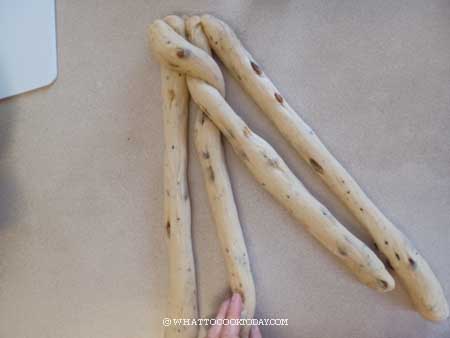 11. Take the farthest right strand and move it to the left over 2 strands

12. Then to the right over 1 strand

13. Keep repeating this motion until you reach the end. Pinch the end together and tuck them underneath a bit so they won't come undone during final proofing. You can refer to the photo above or this visual from King Arthur Baking's 4-braided challah tutorial for better understanding if you need to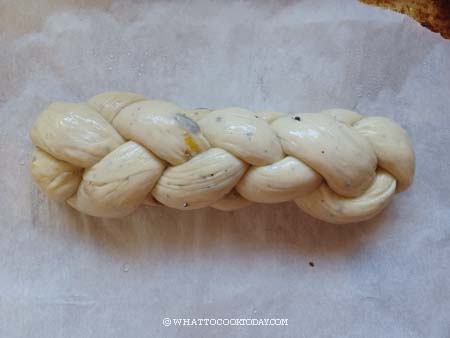 14. Transfer the braided dough to a large baking sheet for final proofing. Cover the doughs and put it in a warm place. This may take 40 minutes to 1 hour or longer for it to be puffy and almost double in size. For the sourdough version, allow about 2-3 hours for the dough to be puffy. Preheat the oven to 350 F (180 C) for a conventional oven, 15 minutes before the end of final proofing. Lower the temperature by 20 F or 15 C if you have a convection oven


15. Mix the egg yolk with the milk and brush the loaves well on all sides. If you plan to put a frosting after baking, you can skip the topping at this stage, otherwise, sprinkle with pearl sugar and chopped almonds along the top.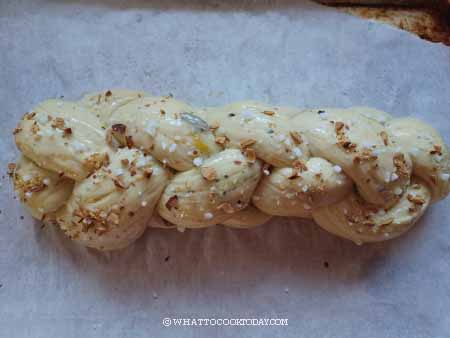 16. Place the baking sheet on the middle rack and bake the loaves for 25 minutes, or until nicely golden brown. You may need to tent with aluminum foil if it gets browned too fast. Cool on a rack, covered with a kitchen towel for a soft crust

17. If you choose to do frosting (I didn't here). Combine icing sugar and butter. Add the vanilla extract and water to get a thick but spreadable consistency. Add more milk if necessary. Let the bread cool down completely. Spread the frosting on top and then sprinkle with some chopped nuts
Pulla is one of my favorite sweet enriched bread! I love the scent of cardamom so much! Even my kids love them! The bread is so soft and buttery. It's so awesome on its own or to serve it for breakfast as a toast with some butter or to accompany your afternoon coffee or tea!
To make ahead (bake the next day)
If you use commercial yeast, after the dough has risen to about 50%, put the dough in the fridge. The yeast will still continue to work but at a slow pace. So the dough will still continue to rise slowly. You can keep it in the fridge for up to 24 hours. If you use a sourdough starter, let the dough double and then keep it in the fridge. The dough shouldn't rise anymore with a sourdough starter. Simply remove it from the fridge and let the dough sit at room temperature for about 30 minutes before proceeding to shape.
How to store
Let the bread cool down completely. Wrap it in a cling wrap and put it inside a bread box or inside a zipper bag, push all the air out and seal. The bread stays soft for a few days if you store it properly. If the bread is too big to fit inside a zipper bag, you can cut it in half, wrap each half with a cling wrap and put inside a zipper bag. They can also be kept frozen for up to one month
Did you make this Finnish pulla/nisu/nisua recipe?
I love it when you guys snap a photo and tag it to show me what you've made 🙂 Simply tag me @WhatToCookToday #WhatToCookToday on Instagram and I'll be sure to stop by and take a peek for real!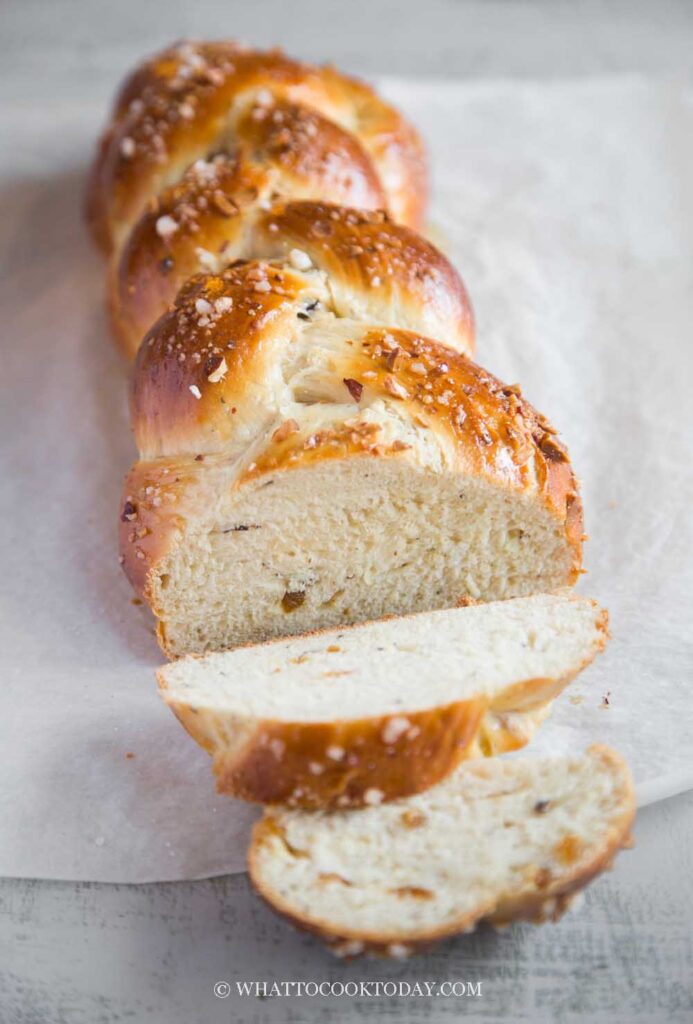 This post was last published in 2012 and has been updated with an improved recipe, photos and to include a sourdough option on December 12, 2022.
Pulla/Nisu/Nisua (Finnish Cardamom Coffee Bread)- with sourdough option
Ingredients
Dough using commercial yeast:
7

gr

active dry yeast

40

gr

warm water

180

gr

whole milk

start with 160 gr

50

gr

egg

75

gr

sugar

380

gr

all-purpose flour

¾

tsp

salt

2

tsp

coarsely ground cardamom

from green cardamom if possible

57

gr

softened butter

40

gr

raisins/currants
Sweet stiff starter: (peak in 7-10 hours)
Dough for sourdough version:
153

gr

all-purpose four

95

gr

whole milk

50

gr

egg

75

gr

sugar

¾

tsp

salt

2

tsp

coarsely ground cardamom

57

gr

softened butter

40

gr

raisins/currants
Frosting (optional) – I didn't use as I'm not a fan
Topping: (optional)
Pearl sugar

or use regular or coarse sugar

Chopped almonds
Instructions
If you use sourdough, prepare the sweet stiff levain the night before. Mix all ingredients for sweet stiff starter. Cover loosely with a plastic wrap or a lid. It takes about 7-10 hours to triple
Prepare the dough:
I use approximately 10 cardamom pods. I use a pestle to crack the shells and then get all the seeds out and coarsely grind them with the pestle. You can use a coffee grinder or spice grinder to do so. The coarsely ground is what most Finnish will use in their pulla recipes. It gives a really good and more intense cardamom aroma. Alternatively, you can always use store-bought ground cardamom too for convenience

Dissolve active dry yeast in warm water in a mixing bowl of a stand mixer. Let it sit for 10 minutes until foamy. If you use instant yeast, you can skip this step

If you use sourdough, add all of the sweet stiff starter into the mixing bowl of a stand mixer

Add sugar, salt, ground cardamom, water, and egg. Add the flour. Use the dough hook to stir the mixture a bit so the flour won't fly around when you start the mixer. Knead on the lowest speed for 2-3 minutes and then increase to speed 2 and knead for 3 minutes and then speed 4 for another 3 minutes or until it forms a dough that clears the side of the bowl, but not smooth yet

Add the softened butter in 3 batches. Once all the butter is in, increase speed to to 4 and knead for 5-8 minutes or until the dough is elastic, smooth, and satiny. Add the raisin and knead at the lowest speed to just distribute the raisins
First proofing:
Lightly oil the bowl, cover with a kitchen towel or loosely with plastic wrap, and let rise in a warm place for about 45 minutes to 1 hour, or until double in volume. if it's colder, it may take longer to proof the dough

For sourdough version, it may take 2 – 2 1/2 hours or longer for the dough to double at a warm place. It took mine about 2 1/2 hours
Shaping:
Transfer the dough to a lightly floured work surface. Knock out all the gas and divide the dough into 3 or 4 portions (for 3 or 4 strands braid). Shape them into oval-ish shape. Cover with a cling wrap to prevent them from drying. Rest for 15 minutes to relax the gluten

Work with one dough at a time and keep the rest covered. Roll one dough into about 18 inches long. Repeat with the rest of the dough on this first set
For 3 strands:
Lay the three strands vertically with the farthest ends pinched together. Move the right strand to the middle, then the left strand to the middle. Repeat this motion, right to the middle, left to the middle. You can refer to the photos in this post for better understanding (hopefully!)

Starting from the middle, braid the strands loosely and work towards either end. Do not stretch the dough while braiding. Pinch the ends together well and tuck under. Place the 2 braids on a large (12 x 16 inches) baking sheet lined with parchment paper or greased well, or use two smaller baking sheets if you want to, one for each braid. Cover with a kitchen towel and let rise again for 45 minutes to an hour
For 4 strands:
Lay the three strands vertically with the farthest ends pinched together. Take the farthest left strand and move it to the right over 2 strands and then to the left over 1 strand

Take the farthest right strand and move it to the left over 2 strands and then to the right over 1 strand

Keep repeating this motion until you reach the end. Pinch the end together and tuck them underneath a bit so they won't come undone during final proofing. You can refer to the photo above or this visual from King Arthur Baking's 4-braided challah tutorial for better understanding if you need to
Final proofing:
Transfer the braided dough to a large baking sheet for final proofing. Cover the doughs and put in a warm place. This may take 40 minutes to 1 hour or longer for it to be puffy and almost double in size. For sourdough version, allow about 2-3 hours for the dough to be puffy. Preheat the oven to 350 F (180 C) for a conventional oven, 15 minutes before the end of final proofing. Lower the temperature by 20 F or 15 C if you have a convection oven
Baking:
Mix the egg yolk with the milk and brush the loaves well on all sides. If you plan to put a frosting after baking, you can skip the topping at this stage, otherwise, sprinkle with pearl sugar and chopped almonds along the top. Place the baking sheet on the middle rack and bake the loaves for 25 minutes, or until nicely golden brown. You may need to tent with aluminum foil if it gets browned too fast. Cool on a rack, covered with a kitchen towel for a soft crust
To frost the bread (optional)
Combine icing sugar and butter. Add the vanilla extract and water to get a thick but spreadable consistency. Add more milk if necessary

Let the bread cool down completely. Spread the frosting on top and then sprinkle with some chopped nuts
Recommended products:
Nutrition
Serving:
1
slice
|
Calories:
221
kcal
|
Carbohydrates:
36
g
|
Protein:
6
g
|
Fat:
6
g
|
Saturated Fat:
3
g
|
Polyunsaturated Fat:
1
g
|
Monounsaturated Fat:
2
g
|
Trans Fat:
0.2
g
|
Cholesterol:
41
mg
|
Sodium:
196
mg
|
Potassium:
116
mg
|
Fiber:
1
g
|
Sugar:
10
g
|
Vitamin A:
186
IU
|
Vitamin C:
0.2
mg
|
Calcium:
37
mg
|
Iron:
2
mg