Kacang phool is a Malaysian twist of the Middle Eastern foul medammas made with fava beans and aromatic spices. This humble dish is easy to make, nutritious, and satisfying.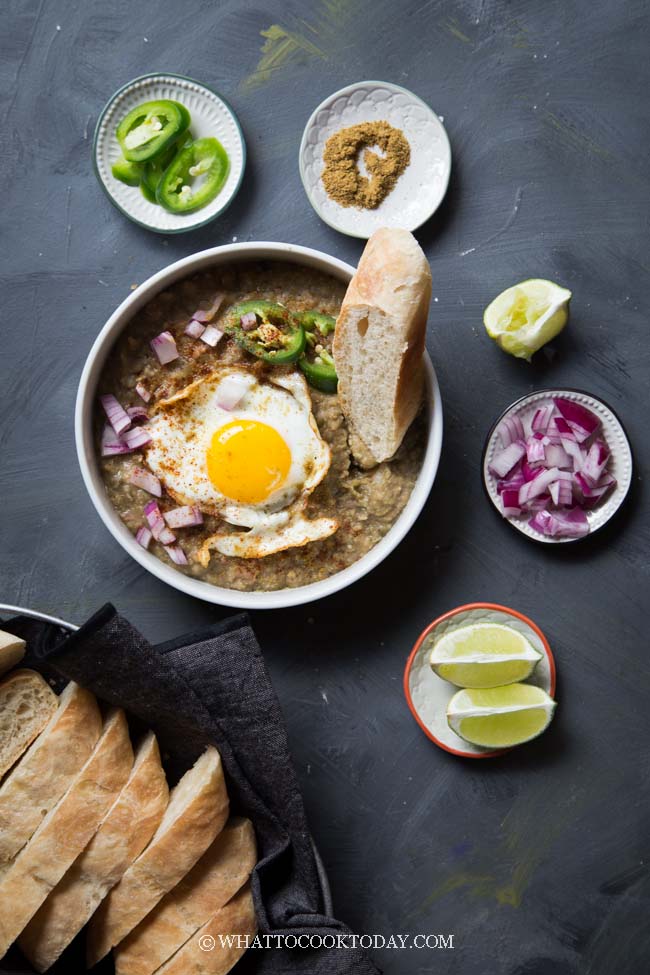 Beans are one of those nature's wonders! They are easy to grow, cheap, easy to prepare, and nutritious. I love beans so much. Pretty much all kinds! I'm an omnivore but I can tell you that I'm okay not having to eat any animal protein for days or weeks, but I can eat beans every day, 3 meals a day if I can 🙂
WE LOVE KACANG PHOOL!
Needless to say, kacang phool has become a staple in our household. I thought my two kiddos may not like it, but they love it so much! I love preparing it too because it's pretty effortless and I can prepare it in a big batch and feed the family for a few meals at least.
Kacang phool is a Malaysian twist of the famous Egyptian foul medammas (ful medames / Ful Mudammas) made with broad beans such as fava beans. It is also very popular in Singapore. Kacang phool is usually served for breakfast in the Middle East, Singapore, and Malaysia, but we ate it for lunch and dinner too LOL! I love the creamy beans with super aromatic spices that go into this dish. My son asked, "What is that good smell mama?" The boy has good taste I must say!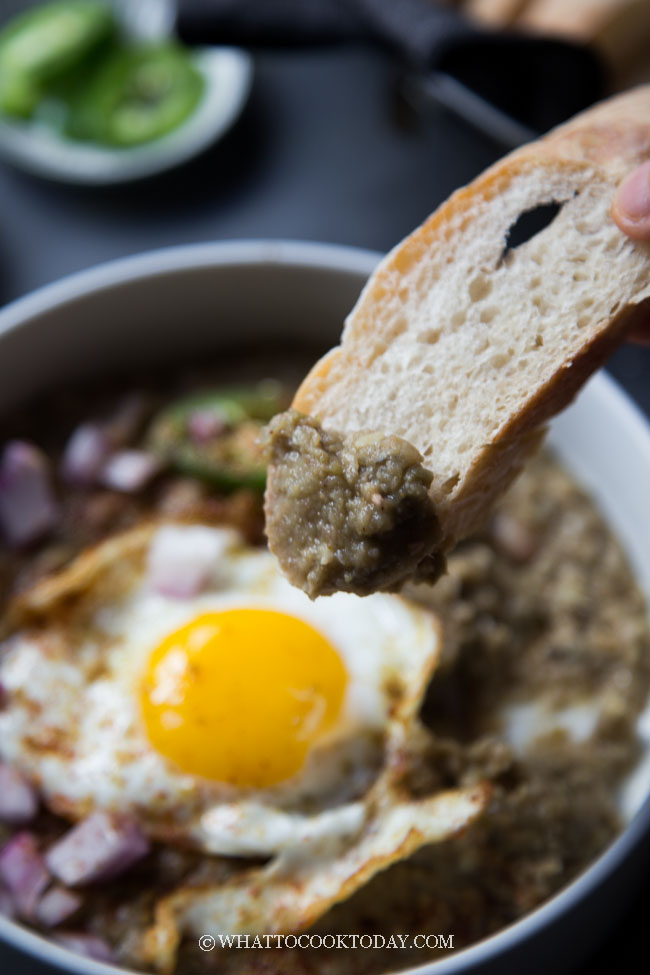 SUBSTITUTE FOR FAVA BEANS
Sadly, I can't find any dried, frozen, or canned fava beans 🙁 Perhaps if I go to the Middle Eastern grocery shop next time, I might find them. I have to use combinations of lima beans and pinto beans. Though they aren't really the same, I have to make do with that and the dish still turns out delicious.
Other canned beans you can use are Lima beans, cannellini beans, chickpeas, navy beans, Great Northern beans. I heard some use edamame, or green peas too.
MEATLESS KACANG PHOOL
This version of kacang phool I made is meatless and served with fried eggs with runny yolks, crusty baguettes, limes, green chili, and purple onion. So good! Perfect to start the day with a hearty breakfast like this.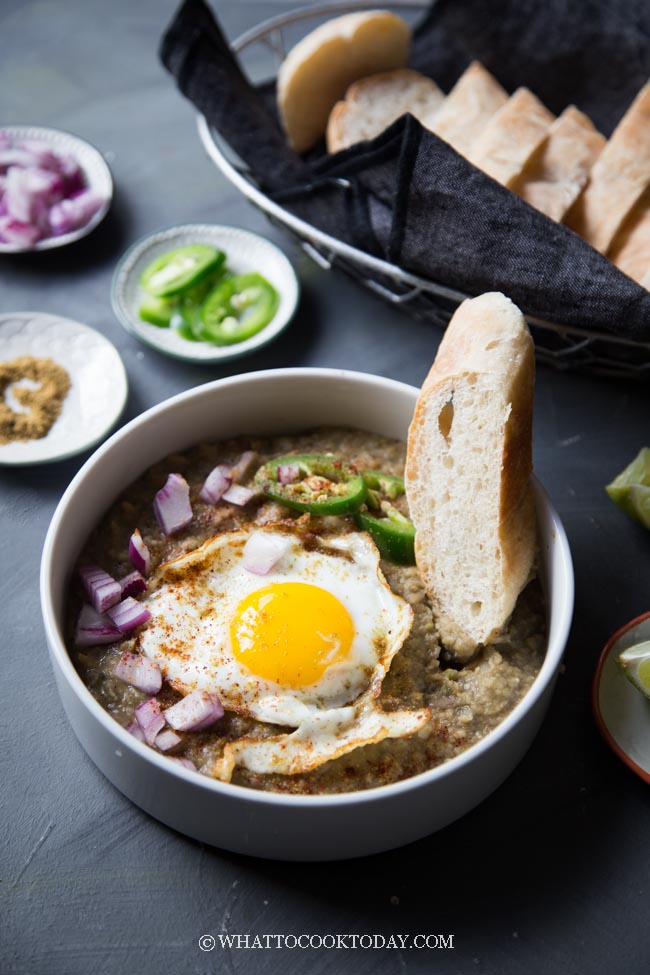 HOW TO MAKE EASY KACANG PHOOL AT HOME
1. Pour the beans along with some of the liquid into the blender and blend until smooth or chunky in texture, it's up to you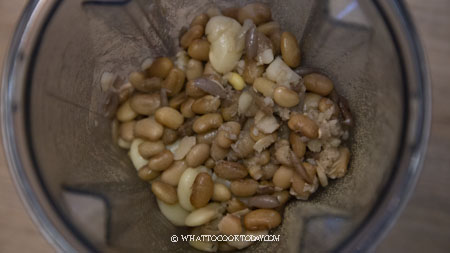 2. If you use a pressure cooker, you don't need to soak them. I use lima beans and pinto beans and I pressure cook on high for 30 minutes
3. Melt the ghee/butter in a large pot. Saute the onion and garlic until fragrant, about 3 minutes or so. Add the spices and continue to stir fry for another minute. Stir in the pureed beans and the reserved liquid from cooking the beans (if you cook your own beans) or liquid from the canned beans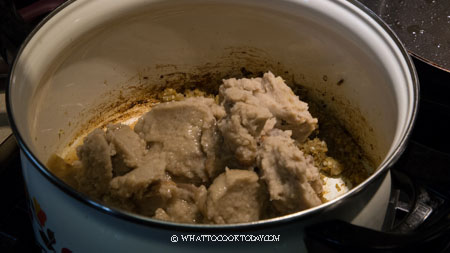 4. Cook it to the consistency you like, thick or medium-thick. The longer it sits, the thicker it gets too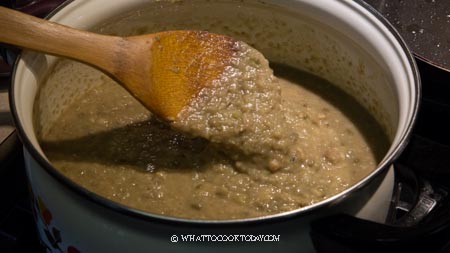 5. Let it simmer on medium heat for about 5 minutes so the spices really flavor up the beans. Canned beans are usually seasoned with salt already, so have a taste before you pour that salt in. Add more salt to your taste or as needed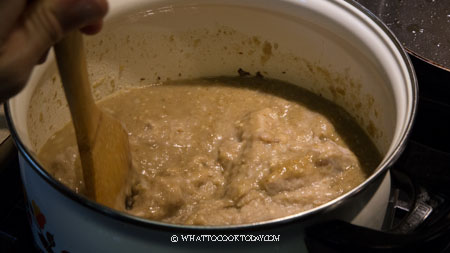 Easy as that!! What not to love about this hearty meal!

HOW TO STORE AND REHEAT LEFTOVER
Leftover can be kept in the fridge for up to 4-5 days. Simply reheat on the stove or in the microwave until heated through.
YOU CAN MAKE AHEAD
Kacang phool is a great one to make in a big batch and you can portion it out into individual serving portion and freeze them for up to 3 months. Simply thaw in the fridge or reheat straight without thawing on the stove or in the microwave until heated through.

VARIATIONS
You can also serve kacang phool like how they eat it in the Middle East:
OIL: drizzle of EVOO (Extra Virgin Olive Oil)
TOPPINGS: diced tomatoes, fresh cilantro or parsley leaves, green onion, olives, sliced cucumbers
ACID: Lemon juice instead of lime juice
SAUCE: Tahini sauce
BREAD: Pita bread
DID YOU MAKE THIS EASY KACANG PHOOL RECIPE?
I love it when you guys snap a photo and tag to show me what you've made 🙂 Simply tag me @WhatToCookToday #WhatToCookToday on Instagram and I'll be sure to stop by and take a peek for real!

Easy Kacang Phool / Kacang Pool (Malaysian Foul Medammas)
Ingredients
Canned beans:
2

cans

fava beans

(420-450 grams each). See notes
If you want to cook your own beans:
200

grams

dried lima beans (buttered beans)

or any dried beans of your choice

3

Tbsp

ghee

or use butter
Aromatics:
1

large

onion

3

cloves

garlic
Serve with:
Fried eggs

Crusty bread

Limes

Green chilies

Purple onion

diced
Instructions
Put the onion and garlic in a food processor and grind into a fine paste
If you use canned beans:
Pour the beans along with some of the liquid into the blender and blend until smooth or chunky in texture, it's up to you.
If you use dried beans:
If you use a pressure cooker, you don't need to soak them. I use lima beans and pinto beans and I pressure cook on high for 30 minutes. If you are going to boil on the stove, soak them for 4-6 hours or overnight and then boil with water until they are soft. Save the cooking liquid to help you blend the beans and for cooking
Cooking:
Melt the ghee/butter in a large pot. Saute the onion and garlic until fragrant, about 3 minutes or so. Add the spices and continue to stir fry for another minute. Scrape the bottom of the pot to prevent the spices from catching and get burnt

Stir in the pureed beans and the reserved liquid from cooking the beans (if you cook your own beans) or liquid from the canned beans to get the thick or medium-thick consistency you like. Let it simmer on medium heat for about 5 minutes so the spices really flavor up the beans. Canned beans are usually seasoned with salt already, so have a taste before you pour that salt in. Add more salt to your taste or as needed
Serve:
Portion out some foul beans and top with fried eggs, slices of green chilies, juice of lime, finely chopped purple onion, some sprinkle of cumin and chili powder if you like. Don't forget to toast the bread or baguette with a bit of butter and serve
Notes
You can also use canned chickpeas, canned northern beans, Cannellini beans, navy beans
Recommended products: