Learn how to make Finnish style sweet buns scented with cardamom and cinnamon filled with buttery cinnamon sugar. It is such a delicious treat you can bake to celebrate the holidays or as a sweet morning buns or to accompany your afternoon tea.
What is korvapuusti/korvapuustit?
Korvapuusti means slapped ears in Finnish. Korvapuusti is a Finnish cinnamon rolls shaped like slapped ears. They are sweet enriched dough scented with cardamom and filled with buttery cinnamon sugar and rolled up like cinnamon rolls and then cut into triangle shape and pressed down in the middle to shape like how it is.
Here in the U.S., we have the beloved cinnamon rolls, in the Scandinavian countries, there are sweet rolls/buns like the Swedish kanelbullar, kanelsnegl in Denmark, kanelbolle in Norway and korvapuusti/korvapuustit in Finland. Korvapuusti is a big deal in Finland and it's well-beloved by the local. They even celebrate Korvapuustipäivä annualy on October 4th! Wow…that will be one happy day for me too! I supposed similar to how Americans love cinnamon rolls. I mean, who doesn't love cinnamon rolls/buns?
How to make korvapuusti?
I use the same dough recipe to make pulla/nisu/nisua (Finnish cardamom coffee bread) to make korvapuusti. In fact the same dough is used to make many sweet buns/bread in Finland. So you are welcome to refer to that post for the step-by-step on how to prepare the dough
How to shape korvapuusti?
1. After the dough has gone through first proofing (bulk fermentation) until double, transfer the dough to a lightly floured work surface. Knock out all the gas and divide the dough into 3 or 4 portions (for 3 or 4 strands braid). Shape them into oval-ish shape. Cover with a cling wrap to prevent them from drying. Rest for 15 minutes to relax the gluten
2. Work with one dough at a time. Roll the dough out into a roughly 14 x 18-inch rectangle with the same thickness throughout if possible. Spread the filling evenly on the surface using an offset spatula.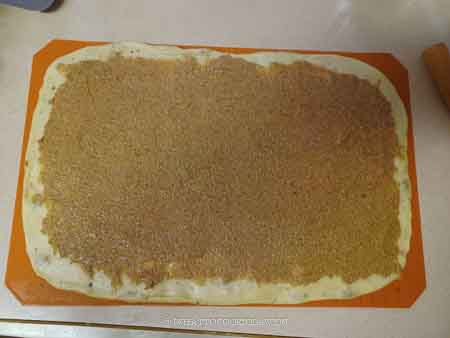 3. Roll the dough up tight starting from the long side near you, into a log. Use a serrated knife to cut into triangle shape, but the point of the triangle is about 1/2 inch wide. You'll get about 7 whole pieces and two end pieces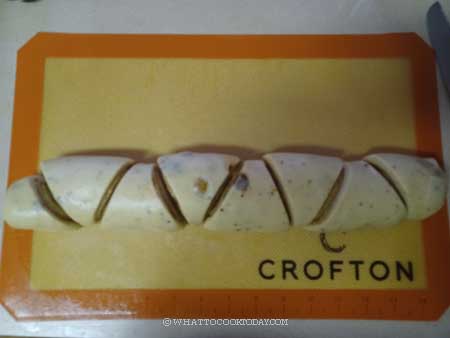 4. Place the dough on its widest part down.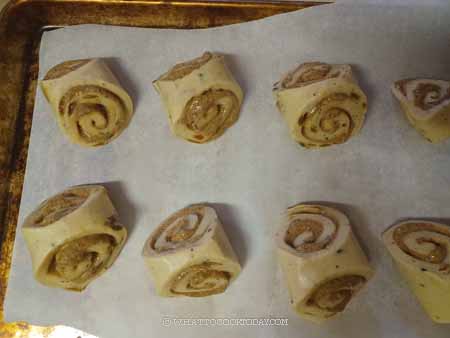 5. Use your finger or a chopstick or a skewer to press down the middle of the dough so the two sides will flip up revealing more of the spiral pattern on both sides. Put them on a baking sheet lined with parchment paper about 2 inches apart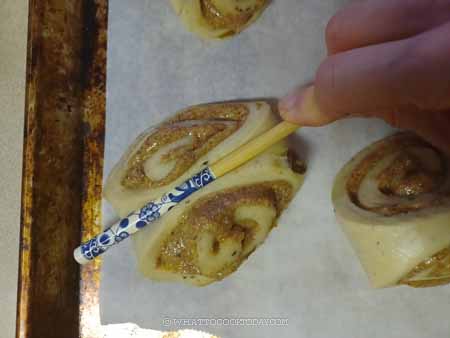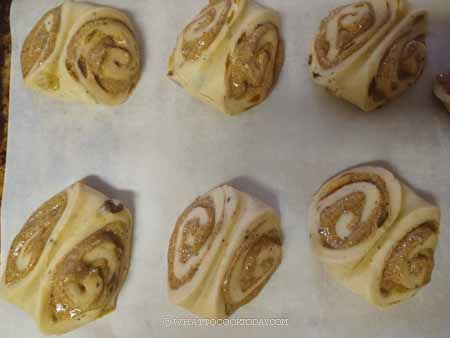 6. Cover the doughs and put in a warm place. This may take 40 minutes to 1 hour or longer for it to be puffy and almost double in size. For sourdough version, allow about 2-3 hours for the dough to be puffy. Preheat the oven to 400 F (204 C) for a conventional oven, 15 minutes before the end of final proofing. Lower the temperature by 20 F or 15 C if you have a convection oven. Mix the egg yolk with the milk and brush on the top. Sprinkle with pearl sugar on the top.

7. Place the baking sheet on the middle rack and bake the loaves for 10-12 minutes, or until nicely golden brown. You may need to tent with aluminum foil if it gets browned too fast. Cool on a rack, covered with a kitchen towel for a soft crust.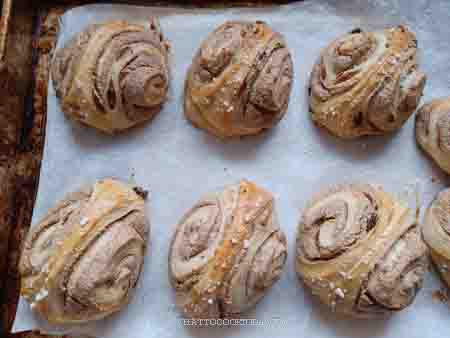 8. They can be served warm or at room temperature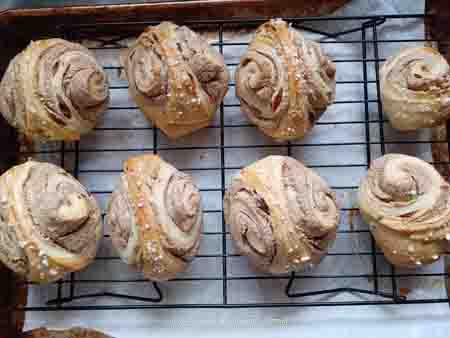 Did you make this korvapuusti/korvpuustit recipe?
I love it when you guys snap a photo and tag it to show me what you've made. Simply tag me @WhatToCookToday #WhatToCookToday on Instagram and I'll be sure to stop by and take a peek for real!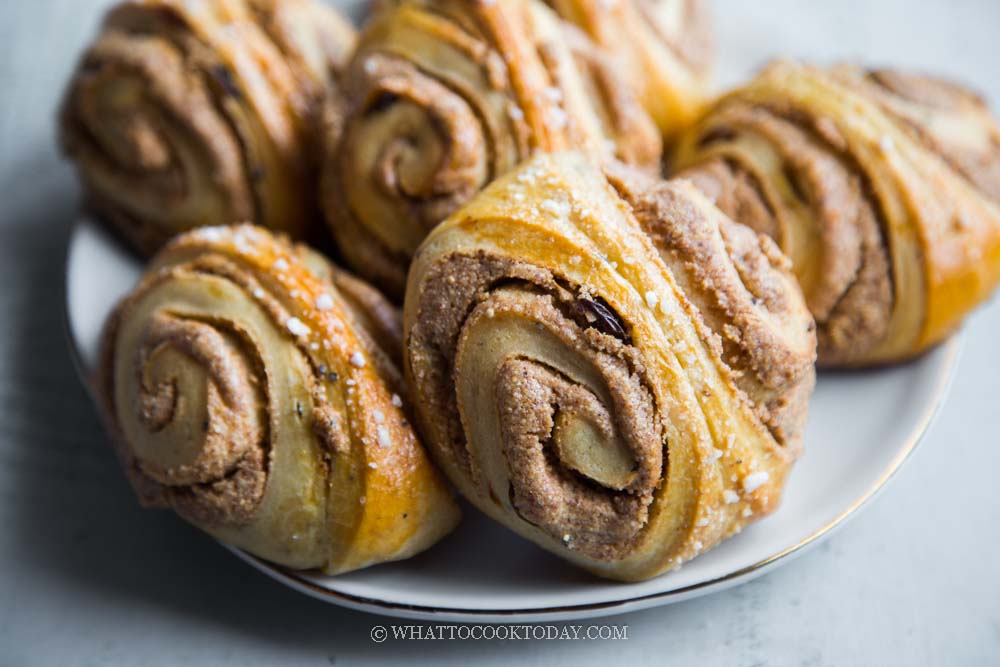 Korvapuusti (Finnish Cardamom Cinnamon Buns) – with sourdough option
Ingredients
Dough using commercial yeast:
7

gr

active dry yeast

40

gr

warm water

180

gr

whole milk

start with 160 gr

25

gr

egg

1/2 large egg

75

gr

sugar

380

gr

all-purpose flour

¾

tsp

salt

1

tsp

coarsely ground cardamom

from green cardamom if possible

57

gr

softened butter
Sweet stiff starter: (peak in 7-10 hours)
Dough for sourdough version:
153

gr

all-purpose four

95

gr

whole milk

50

gr

egg

150

gr

sugar

¾

tsp

salt

2

tsp

coarsely ground cardamom

57

gr

softened butter
Filling:
1

Tbsp

ground cinnamon

75

gr

butter, melted

100

gr

brown sugar
Topping: (optional)
Pearl sugar

or use regular or coarse sugar
Instructions
If you use sourdough, prepare the sweet stiff levain the night before. Mix all ingredients for sweet stiff starter. Cover loosely with a plastic wrap or a lid. It takes about 7-10 hours to triple
Prepare the dough:
I use approximately 10 cardamom pods. I use a pestle to crack the shells and then get all the seeds out and coarsely grind them with the pestle. You can use a coffee grinder or spice grinder to do so. The coarsely ground is what most Finnish will use in their pulla recipes. It gives a really good and more intense cardamom aroma. Alternatively, you can always use store-bought ground cardamom too for convenience

Dissolve active dry yeast in warm water in a mixing bowl of a stand mixer. Let it sit for 10 minutes until foamy. If you use instant yeast, you can skip this step

If you use sourdough, add all of the sweet stiff starter into the mixing bowl of a stand mixer

Add sugar, salt, ground cardamom, water, and egg. Add the flour. Use the dough hook to stir the mixture a bit so the flour won't fly around when you start the mixer. Knead on the lowest speed for 2-3 minutes and then increase to speed 2 and knead for 3 minutes and then speed 4 for another 3 minutes or until it forms a dough that clears the side of the bowl, but not smooth yet

Add the softened butter in 3 batches. Once all the butter is in, increase speed to to 4 and knead for 5-8 minutes or until the dough is elastic, smooth, and satiny. Add the raisin and knead at the lowest speed to just distribute the raisins
First proofing:
Lightly oil the bowl, cover with a kitchen towel or loosely with plastic wrap, and let rise in a warm place for about 45 minutes to 1 hour, or until double in volume. if it's colder, it may take longer to proof the dough

For sourdough version, it may take 2 – 2 1/2 hours or longer for the dough to double at a warm place. It took mine about 2 1/2 hours
Shaping:
Transfer the dough to a lightly floured work surface. Knock out all the gas and divide the dough into 2 equal portions of dough. Cover with a cling wrap to prevent them from drying. Rest for 15 minutes to relax the gluten

Work with one dough at a time. Roll the dough out into a roughly 14 x 18-inch rectangle with the same thickness throughout if possible

Spread the filling evenly on the surface using an offset spatula. Roll the dough up tight starting from the long side near you, into a log. Use a serrated knife to cut into triangle (refer to the photo above), you'll get about 7 whole pieces and two end pieces

Place the dough on its widest part down. Use your finger or a chopstick or a skewer to press down the middle of the dough so the two sides will flip up revealing more of the spiral pattern (refer to photo above if you aren't clear). Put them on a baking sheet lined with parchment paper about 2 inches apart
Final proofing:
Cover the doughs and put in a warm place. This may take 40 minutes to 1 hour or longer for it to be puffy and almost double in size. For sourdough version, allow about 2-3 hours for the dough to be puffy. Preheat the oven to 400 F (204 C) for a conventional oven, 15 minutes before the end of final proofing. Lower the temperature by 20 F or 15 C if you have a convection oven
Baking:
Mix the egg yolk with the milk and brush on the top. Sprinkle with pearl sugar on the top. Place the baking sheet on the middle rack and bake the loaves for 10-12 minutes, or until nicely golden brown. You may need to tent with aluminum foil if it gets browned too fast. Cool on a rack, covered with a kitchen towel for a soft crust

They can be served warm or at room temperature
Recommended products:
Nutrition
Serving:
1
bun
|
Calories:
433
kcal
|
Carbohydrates:
71
g
|
Protein:
8
g
|
Fat:
13
g
|
Saturated Fat:
8
g
|
Polyunsaturated Fat:
1
g
|
Monounsaturated Fat:
3
g
|
Trans Fat:
0.4
g
|
Cholesterol:
63
mg
|
Sodium:
364
mg
|
Potassium:
128
mg
|
Fiber:
2
g
|
Sugar:
27
g
|
Vitamin A:
419
IU
|
Vitamin C:
0.1
mg
|
Calcium:
56
mg
|
Iron:
3
mg