Kue Sus Isi Vla (Choux Pastry Cream Puffs) – Crispy and airy choux pastry shells are filled with smooth and soft custard cream.
Making kue sus isi vla always brings back memory of me as kid. When we moved to another house, my mom acquired a new stove (with an oven). It's a really BIG DEAL back in the 90s in Indonesia. Unlike how the stove comes with the oven here in the U.S., that's not the case in most Asian countries, especially back in those days. My mom took care of that stove like a baby LOL! That's when we started to do more baking in the house too. I remember we made this kue sus isi vla almost every week.
A LITTLE BACKGROUND WITH KUE SUS ISI VLA
Choux pastry is of French origin, but it comes to Indonesia via the Dutch during colonial time. It is known as "Soes" in Dutch and in Indonesian version is written as "Sus". Vla is also the Dutch version of custard cream and hence the name kue sus isi vla.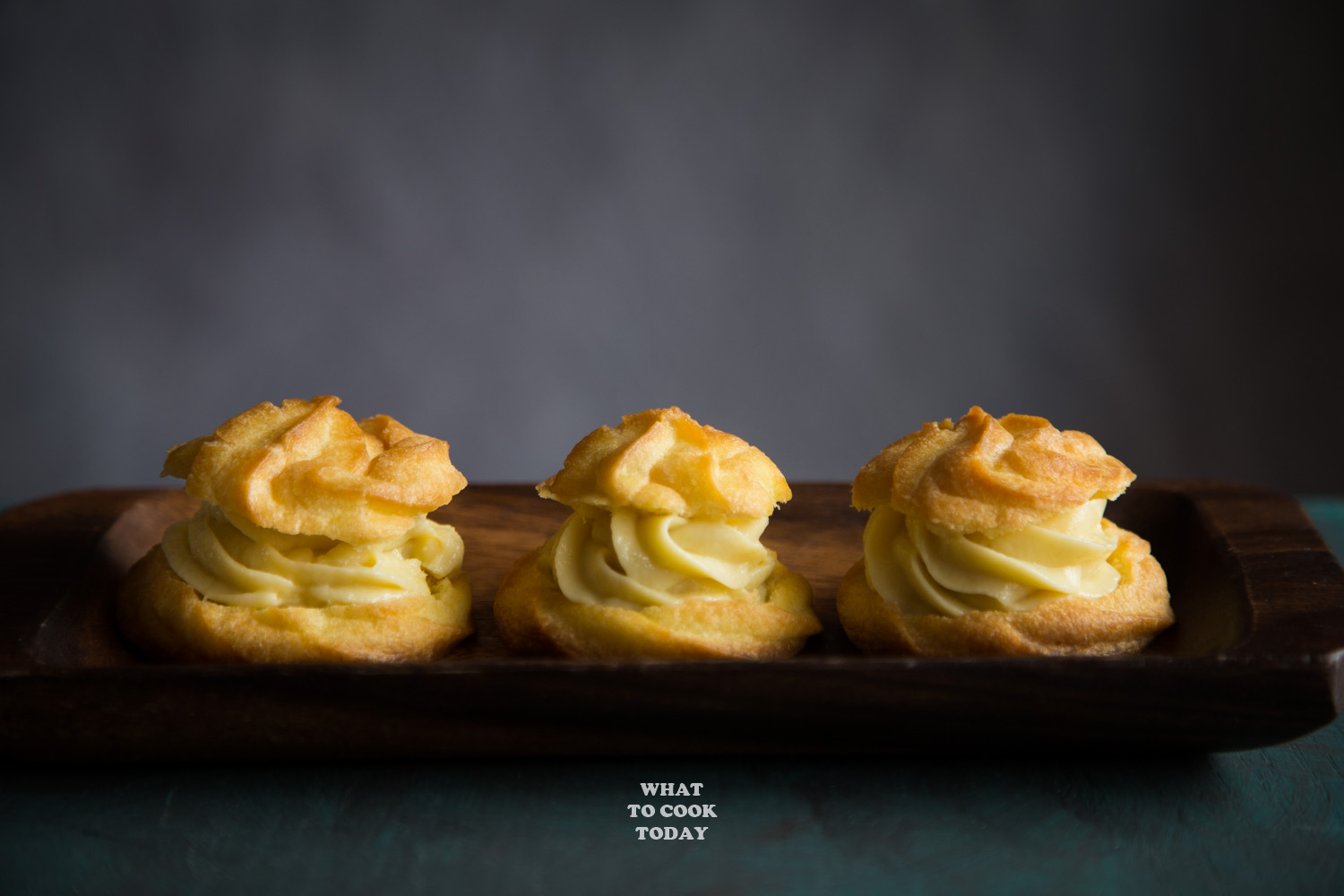 I'm not an expert in baking, especially pastry. But I love choux pastry. I find it hard and easy at the same time.
It may seem intimidating trying to get the dough to the right consistency, but once you figure that out, it's really not as overwhelming as you think.
TIPS ON HOW TO MAKE GOOD CHOUX PASTRY
A good choux pastry has a crispy outer shell and lots of air holes inside it. It's pretty much almost hollow with a soft custard-like shell on the inside.
1. The dough
The dough is cooked to a smooth, sticky, and shiny consistency. Not runny and not too stiff. Too runny and your choux will come out wide and flat. Too stiff and it will be dense and not hollow inside.
2. Shape
Make sure when you pipe or drop the dough on a baking sheet, you pipe/drop it "tall" (by layering to the top), not wide to the side. The choux pastry shape is pretty much determined at this step. This will give you a nice tall choux pastry after baked instead of flat ones.
3. Temperature
They are baked at 375 F (conventional oven) and then oven is turned off the the choux are left inside for 10 minutes to let them dry before removing from the oven to cool completely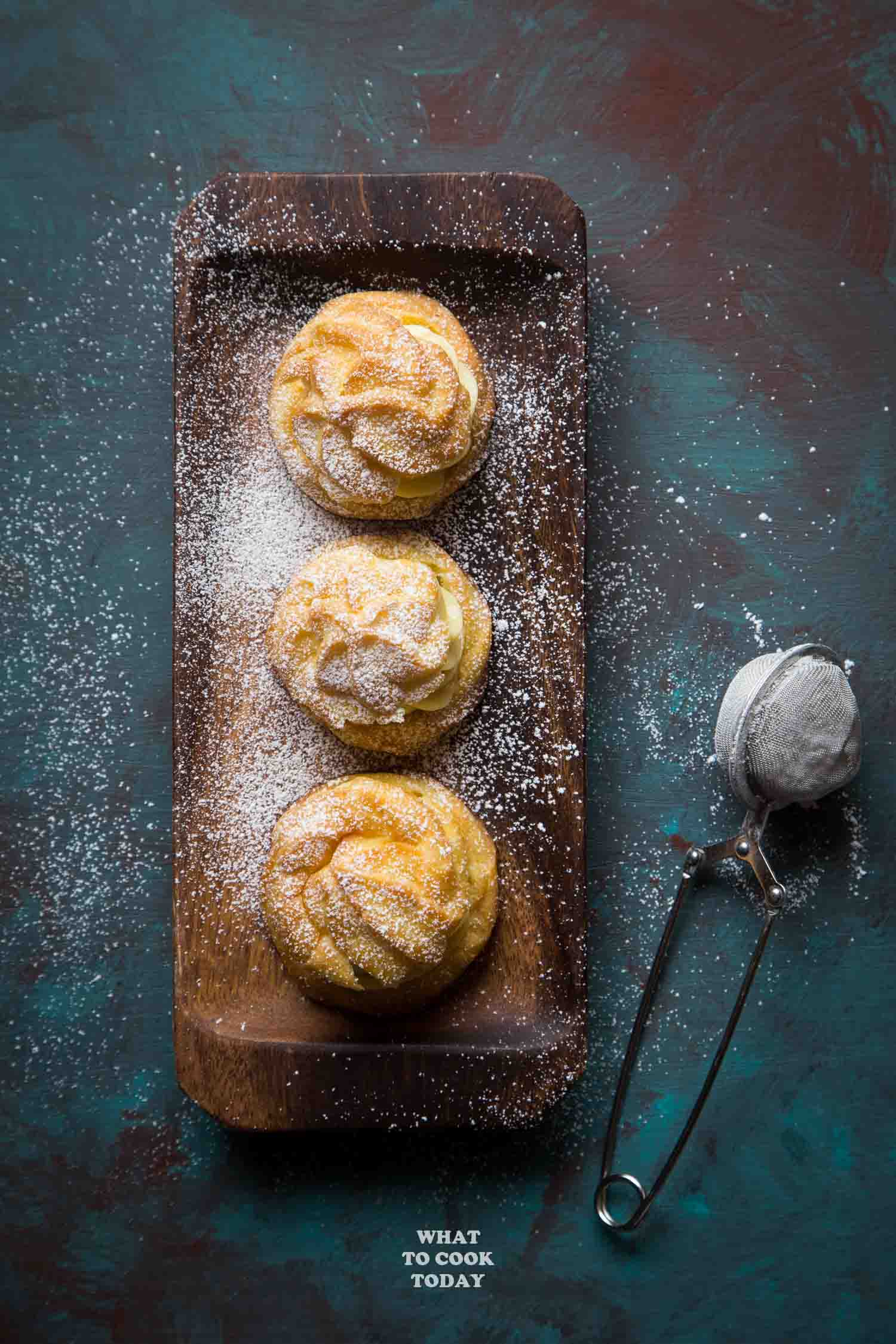 FREQUENTLY ASKED QUESTION ABOUT CHOUX PASTRY CREAM PUFFS
1. How to store choux pastry
– Raw dough (Pâte à choux)
You can store in a sealed pastry bag for 2 days max in the refrigerator.
– Already baked choux pastry
They can be stored in the refrigerator for 2-3 days and crisp in the oven at 350 F for 5 minutes. If you freeze them, they can last for one month. They can be crisped in the oven at 300 F for 10 minutes.
2. How long can I store cream puffs in the refrigerator
They are best served once they are filled for that crispy shell and soft custard. But if you really must make-ahead, Maximum of 1 day. Anything longer and you will have really soggy choux pastry and there's no way to re-crisp filled cream puffs.
3. Can I freeze the custard cream?
They do not freeze well and tend to separate. You can store them in the refrigerator for up to 1 week.

I always tell people, if a lousy baker like me can pull off this choux pastry cream puffs, any of you really can and probably do it better than I am! The kids gobbled this kue sus up so quickly that there's no need to freeze any LOL!
The recipe was last published in 2015 and I have updated the recipe to an improved version on January 2, 2021.
Kue Sus Isi Vla (Choux Pastry Cream Puffs)
Ingredients
Choux pastry:
140

gr

all-purpose flour

½

tsp

salt

115

gr

butter

230

ml

water

225

gr

eggs (room temperature)

about 4 1/2 - 5 eggs

½

tsp

vanilla extract

optional, if you don't like the eggy aroma
Custard cream filling (yield about 2 cups):
Garnish:
Confectioners sugar/Powdered sugar
Instructions
Preparing the custard (can be prepared one day ahead):
Beat the egg yolks with a fork. Add flour and add in 1/2 of the whole milk and continue to whisk until smooth

In a medium-size saucepan, add sugar, vanilla extract and the rest of the milk and heavy cream. Cook on medium to low heat until the sugar started to melt. Slowly add in the egg mixture while the other hand continue to stir. You will know when the mixture started to thicken, it will get heavy and smooth. Continue to stir until the custard is thickened. It took me about 15 minutes to get to the custard consistency. Remove from the heat and let the custard cool down completely. Cover with a plastic wrap touching the custard (to prevent skin from forming) and keep in refrigerator until ready to use
Making choux pastry:
Preheat oven to 375 F. I have a conventional bottom heat oven no fan. If yours are convection , you may want to lower the temperature by about 15-20 degrees.

Beat the eggs in a bowl with a whisk. It is very important that the eggs are not cold from the fridge. They need to be at room temperature

In a medium saucepan, add water and butter. Bring to a boil to melt the butter and then lower the heat to the lowest and add flour and salt all at once and continue to stir vigorously until the mixture is well blended. Keep stirring for another minute or two to dry the dough. The dough should be smooth and shiny and you can see a layer that coat the bottom of the pan. Remove from the heat and let it cool down for about 3 minutes

Add 1/4 of the egg and keep whisking. They will appear separate and look like big blob of mess. Just keep stirring and add another 1/4 and continue to gradually add as you stir until you get a paste consistency. You may not need all of the eggs or you may
The dough consistency you are looking for:
You can use your index finger to draw a line on the dough paste. The side of the line should maintain its shape. If it fall down, your dough is too runny already. You can also do a "V" tests. When you pull the dough up, it should drop down forming a "V" shape trail hanging down from your spatula. If it is, the dough is on the right consistency and you can stop adding egg. If it doesn't drop down at all, it's too thick. Beat another egg and try add half of the beaten egg and mix again and do the same "V" test until you reach that consistency I describe or the finger test
Piping:
At this point, you can choose to use a large tipped nozzle with a piping bag or use two spoons to drop the dough on baking sheet lined with parchment paper. I recommend using a piping bag for better shape.

Transfer the dough to the bag and pipe about 2-inch in size. Hold the bag straight and pipe upward. The tip should stay in touch with the dough paste. Make sure you pipe it "tall", not wide to the side. Make sure you have about 1-inch gap in between as the dough will expand a bit as it bakes. If you use spoons, just gently drop the dough on baking sheet lined with parchment paper.  Drop them "tall". Dip your finger in water and smooth out the top of the dough so the top won't burn during baking

Mist the tray with some water or drop some water droplets on the pan. This will turn into steams and help the choux to expand while baking
Baking:
Pop this inside the oven (middle rack) and bake for the next 25-30 minutes (the time is just a reference, you may need longer if your choux are bigger). DO NOT open the oven door during this baking time. DO NOT open the oven door for the first 25 minutes. Once they are done, I turn off the oven and let them sit in there for about 10 minutes to let the choux dry up. Then remove from the oven, use a sharp paring knife to poke small holes on bottom to allow the steam to escape and cool on a wire rack completely
Assembling:
Slice the choux pastry in half horizontally and top with 1-2 Tbsp of custard cream and then top with the other half. You can also pipe the filling for some aesthetic if you choose to by poking the bottom with the piping tip and squeeze the filling in there. Sprinkle with some confectioners sugar if you going to serve it immediately. I recommend not to sprinkle with the sugar and keep them in the refrigerator as they will become "wet". You can drizzle or dip the choux pastry with melted chocolate if you choose to
Storing:
I only assemble as many as we want to eat and refrigerate the choux pastry and filling separately. Read the "frequently asked questions" in this post up there for more detail
Nutrition
Serving:
1
cream puff with filling
|
Calories:
154
kcal
|
Carbohydrates:
12
g
|
Protein:
3
g
|
Fat:
10
g
|
Saturated Fat:
6
g
|
Polyunsaturated Fat:
1
g
|
Monounsaturated Fat:
3
g
|
Trans Fat:
1
g
|
Cholesterol:
97
mg
|
Sodium:
127
mg
|
Potassium:
53
mg
|
Fiber:
1
g
|
Sugar:
5
g
|
Vitamin A:
392
IU
|
Vitamin C:
1
mg
|
Calcium:
33
mg
|
Iron:
1
mg