Rich, moist, and dense kuih is infused with pandan flavor and bake to perfection. It has a nice crust on the outside and a moist tender inside. It has an amazing flavor and a kuih that you keep going back for more.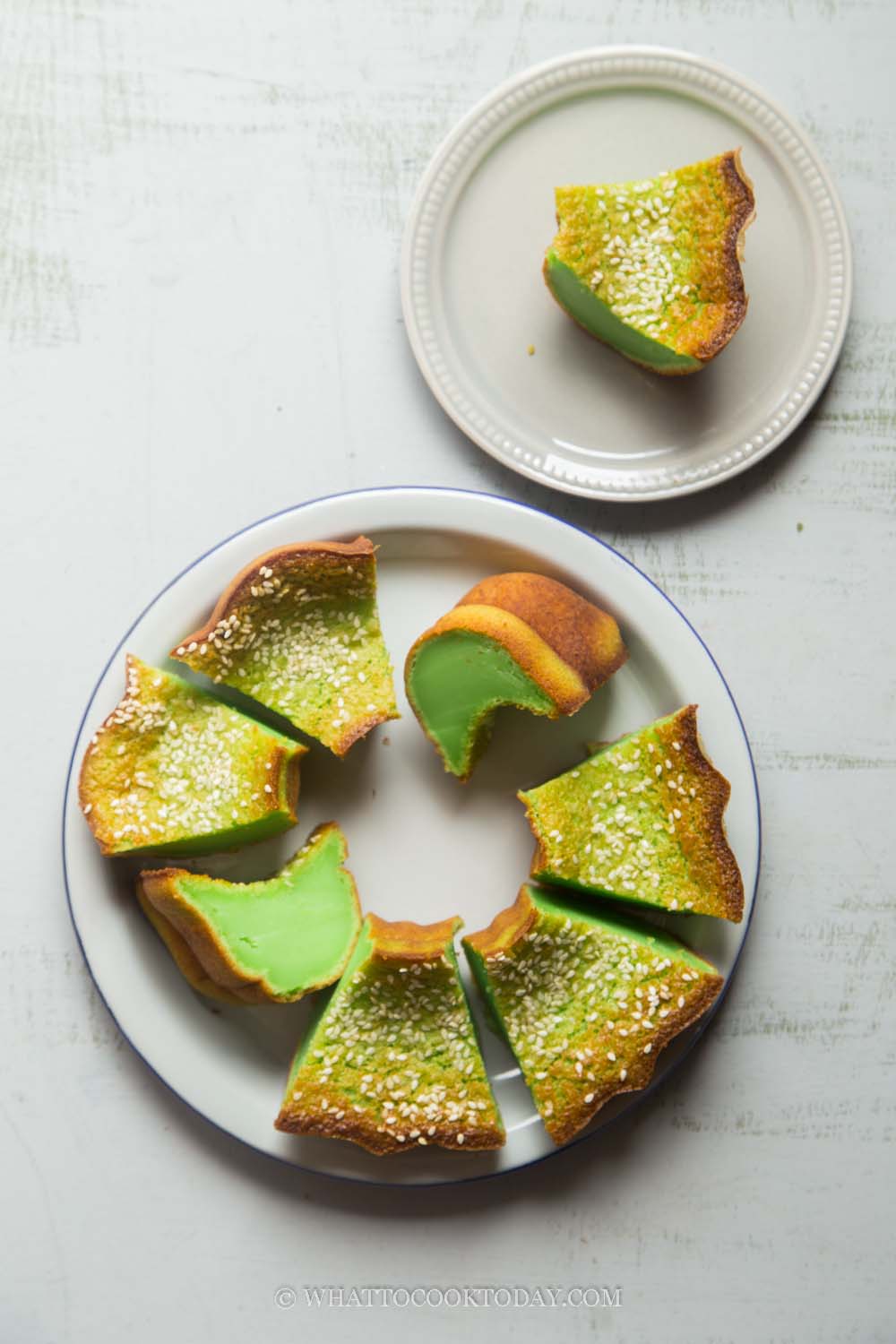 I'm a huge fan of traditional kuih muih or kue basah is what we call in Indonesia. Kuih bakar pandan is very similar to what we call kuih bingka. Most bingka uses gluten-free flour such as rice flour and/or tapioca starch, but there are some that use all-purpose flour too. Kuih bakar uses all-purpose flour and is traditionally baked in a flower-shaped pan that resembles the Kemboja flour, hence the name kuih bakar kemboja. I don't have the special pan and so I just use a regular bundt pan
The recipe rundown
Taste: Rich with the right amount of sweetness and a nice toasty aroma from the sesame seeds. I don't find it eggy at all
Texture: Nice crust on the outside with the moist, slightly bouncy, and nicely dense inside
Difficulty: Easy
How to make easy kuih bakar pandan
1. Grease the bundt pan with some oil and then coat with flour. Shake off any excess. If you use a regular square or round pan, brush with some oil and line the bottom with parchment paper for easier release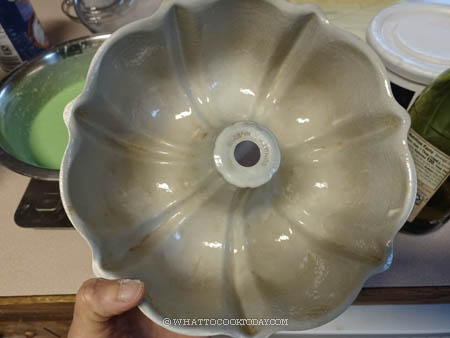 2. Crack the eggs in a large mixing bowl and use a whisk to beat the eggs


3. Add sugar, coconut milk, pandan juice, pandan essence if using, and oil. Whisk well to combine


4. Sift in flour and salt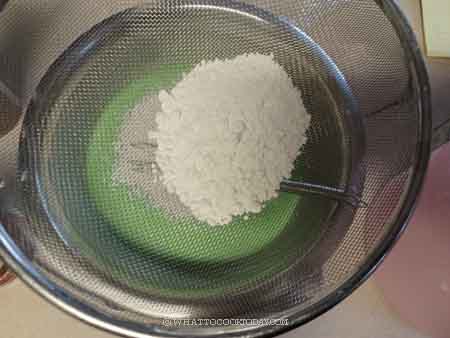 5. The mixture will be lumpy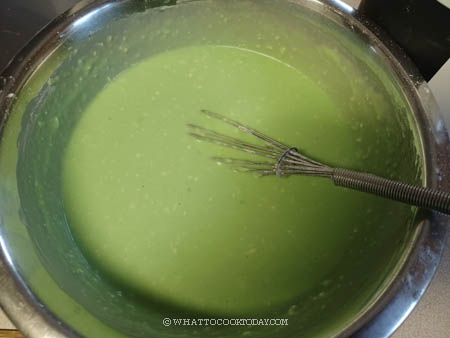 6. Strain mixture to get rid of any lumps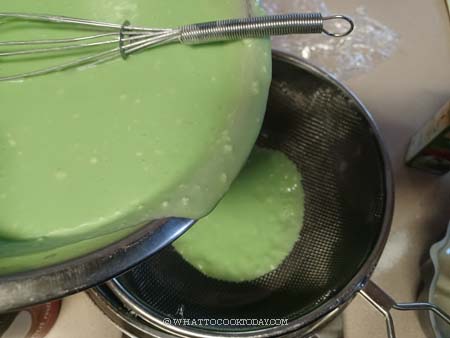 7. Pour in the cake batter into the prepared pan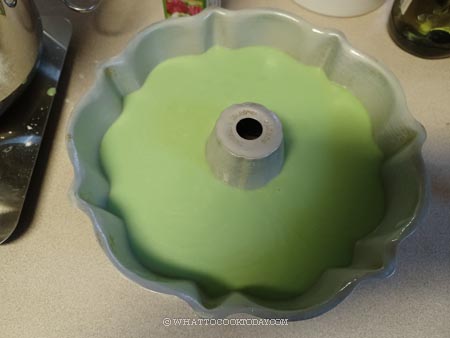 8. Bake in the preheated oven in the middle rack for 10 minutes and then sprinkle with sesame seeds on top and continue to bake for another 40 minutes. Increase the oven temperature to 400 F (190 C) and bake for another 10 minutes until the top are golden brown and crisp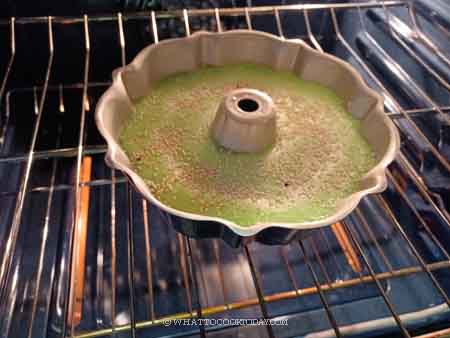 9. Remove from the oven and let it cools down completely in the pan before unmoulding the kuih. The kuih will sink a bit in the middle as it cools down and that's normal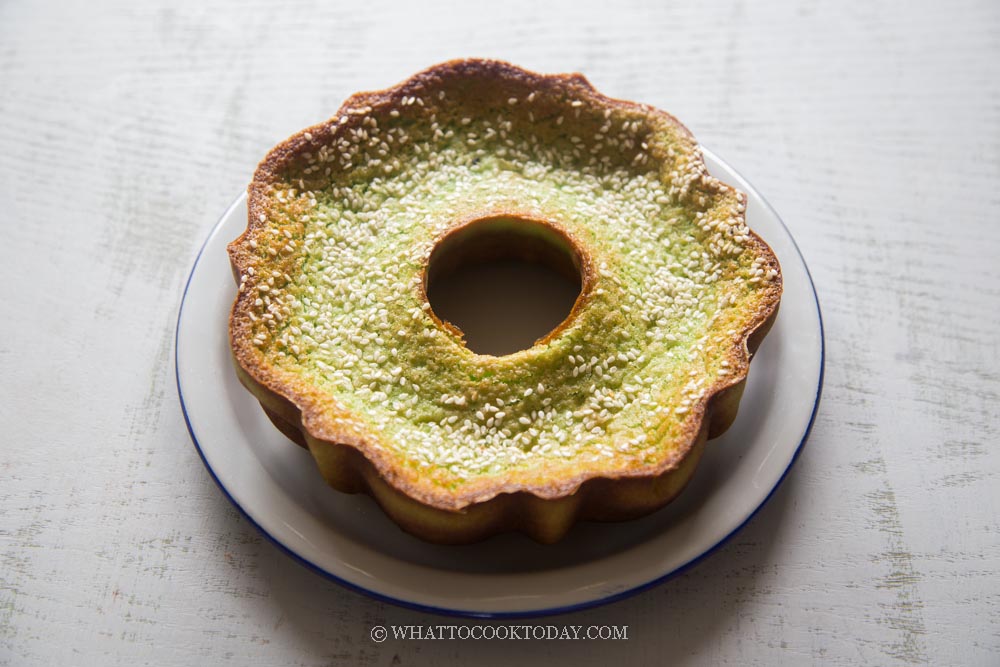 Tips for making good kuih bakar pandan
1. Make sure you preheat the oven 10 minutes before you start working on the recipe
2.  I won't suggest using a blender. I've tried twice using a blender to blend everything and the results weren't good. Too many bubbles and the cake ends up with lots of holes inside
3. Blend pandan juice with water instead of coconut milk as the heat from the blender may separate the coconut milk
4. For a more vibrant green color, you can add pandan essence
5. Use a strainer to strain the batter to catch some lumps from the flour and eggs
6. Let the cake cools down completely before trying to unmould the cake and serve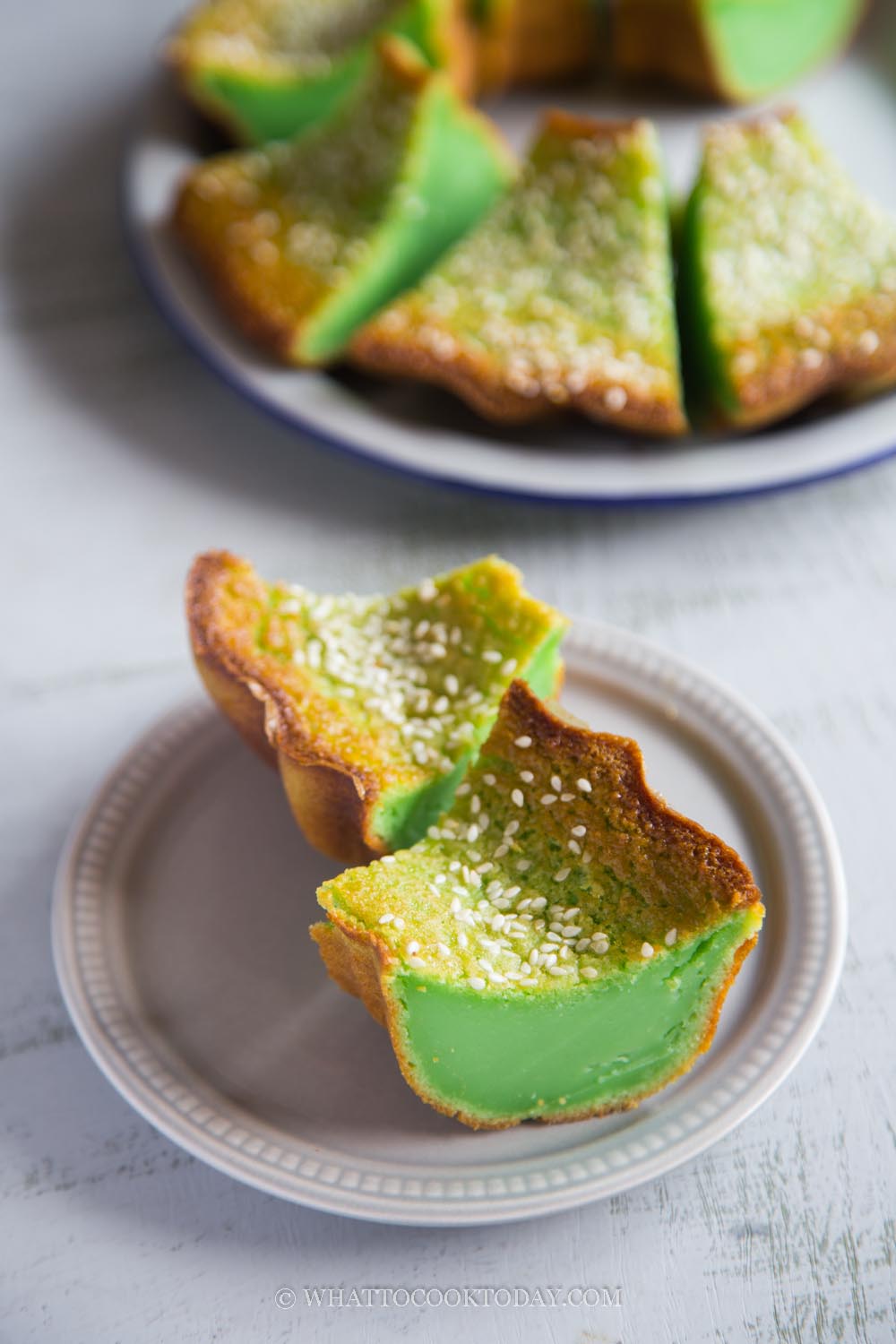 How to store kuih bakar pandan
1. Let the cake cools down completely
2. Wrap the cake with a cling wrap or store it in an air-tight container and it can be kept at room temperature for 2-3 days if it's not too humid where you are
3. For longer storage, cut into individual serving sizes, wrap tightly with a cling wrap and put them inside a freezer bag, push out all the air, and seal. It freezes well for up to one month
4. When ready to serve, you don't need to thaw. Loosely wrap in a foil and preheat in an oven at 350 F for 15-20 minutes or until heated through
Did you make this kuih bakar pandan recipe?
I love it when you guys snap a photo and tag to show me what you've made 🙂 Simply tag me @WhatToCookToday #WhatToCookToday on Instagram and I'll be sure to stop by and take a peek for real!

You may also like these similar traditional kuih muih
Recipe is adapted from Table for 2 or more. Thank you for a great recipe.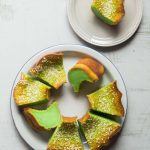 Kuih Bakar Pandan / Kuih Bakar Kemboja
Ingredients
If using homemade pandan juice:
Instructions
Grease the bundt pan with some oil and then coat with flour. I use 6-cup (8 inches) bundt pan. Shake off any excess. If you use regular square or round pan, brush with some oil and line the bottom with a parchment paper for easier release

Preheat oven to 375 F (190 C) for conventional oven (bottom heat only). If you are using a top and bottom heat oven, preheat at 340 F (170 C)

Cut the pandan leaves into small pieces and then blend with the water. Strain and collect 125 ml of pandan juice
Prepare the cake batter:
Crack the eggs in a large mixing bowl and use a whisk to beat the eggs. Add sugar, coconut milk, pandan juice, pandan essence if using, and oil. Whisk well to combine. Sift in flour and salt. Strain mixture to get rid of any lumps
Baking:
Pour in the cake batter. Bake in the preheated oven in the middle rack for 10 minutes and then sprinkle with sesame seeds on top and continue to bake for another 40 minutes and then check with a skewer or cake tester for doneness. It should be clean with a few wet crumbs are fine. Increase the oven temperature to 400 F (190 C) and bake for another 10 minutes until the top are golden brown and crisp
Cool down:
Remove from the oven and let it cools down completely in the pan before unmoulding the kuih. The kuih will sink a bit in the middle as it cools down and that's normal
To serve:
I highly recommend serving this cake the next day if you can wait. It tastes much better IMHO
Recommended products:
Nutrition
Serving:
1
slice
|
Calories:
240
kcal
|
Carbohydrates:
33
g
|
Protein:
5
g
|
Fat:
10
g
|
Saturated Fat:
7
g
|
Polyunsaturated Fat:
1
g
|
Monounsaturated Fat:
2
g
|
Trans Fat:
1
g
|
Cholesterol:
70
mg
|
Sodium:
105
mg
|
Potassium:
114
mg
|
Fiber:
1
g
|
Sugar:
19
g
|
Vitamin A:
101
IU
|
Vitamin C:
1
mg
|
Calcium:
19
mg
|
Iron:
2
mg