Learn how to make this popular and delicious Singapore chow mei fun also known as sing chow mei fun at your very own kitchen. It's a very flavorful noodle dish and perfect for busy weeknights. Step-by-step instruction and a short video tutorial are included.


We are family of noodle heads. I'm probably responsible for the noodle addictions. I made noodle soup and stir-fried noodles so often. The noodle collection in this blog is not complete without the addition of this easy one-pan Singapore chow mei fun or also known as xing zhou mi fen in Singapore. It's a popular food not only for lunch or dinner, but also breakfast.
What is Singapore Mei Fun (Singapore Noodles)?
The origin of Singapore chow mei fun is unclear. Besides being popular in Singapore, this noodle is also a very popular Chinese take-out here in the state. It is basically a stir-fried noodle seasoned with curry powder and other Asian seasonings and usually also cooked with protein like eggs and also meat such as chicken, Chinese barbecued pork, or seafood like shrimp.
Type of noodle to use
Mei fun or rice stick noodles or rice vermicelli noodles or bee hoon means the same thing. It is basically a skinny noodle made of rice flour. Don't be mistaken with rice noodles like the one that is used in pad thai or beef chow fun. This mei fun is a thin one, usually called vermicelli rice noodles.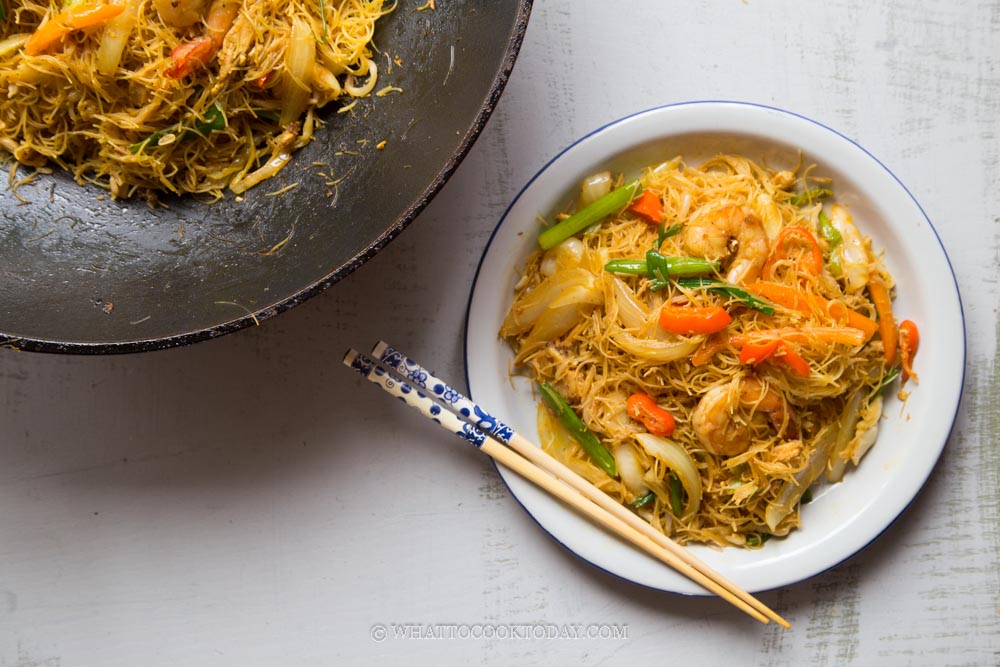 Tips for success
1. Soak noodles
Soaking the noodles in water will help to soften the noodles and will cook faster when you stir fry them
2. Cook in small portion
This is to ensure that we don't lower the heat too much by overloading the wok or skillet. Like I've mentioned million times before, the heat is very important in stir-frying
3. Use good-quality curry powder
The curry powder is what makes Singapore chow mei fun special. I used this Indian curry powder. You can use whatever is your favorite

How to cook Singapore chow mei fun
1. Soak the dry rice noodles in water for 5 minutes. Drain off water and set aside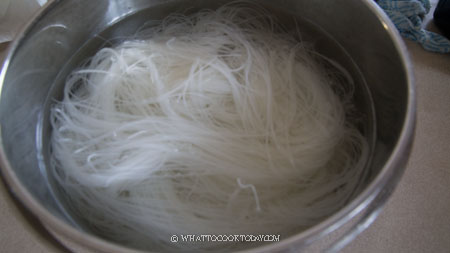 2. Preheat a large wok or skillet until really hot. Add 1 Tbsp of cooking oil. Swirl the oil to cover the base and sides. Crack in the eggs and do not stir for about 5 seconds and then stir to scramble the eggs into pieces. Dish out. Wipe the wok clean if necessary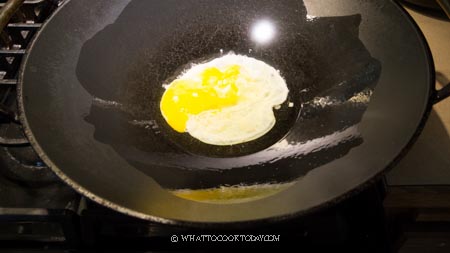 3. Bring it back up to heat. Add another tablespoon of cooking oil. Add the chicken meat and shrimp and stir fry until they turn color. I used leftover shredded chicken meat so I added this in after the shrimp turns pink. Dish out into the same dish with the egg and set aside


4. Bring it back up to heat, add another tablespoon of cooking oil


5. Add onion, white parts of green onion, and garlic and stir fry for about 1 minute. Add the shredded cabbage and bell pepper strips and stir fry for about 2 minutes. Dish out the veggies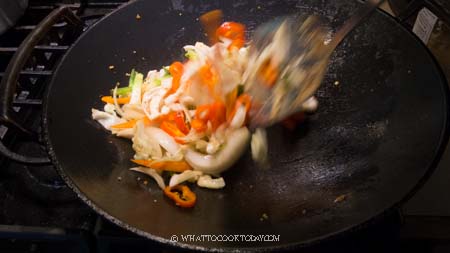 6. Add the last tablespoon of oil. Add the curry powder and stir fry over low heat. When you stir fry the curry powder, it adds extra flavor to the spices. Remember to stir fry over low heat so it won't get burnt.


7. Add the soaked rice noodle and toss the noodles to let the curry powder coats the noodles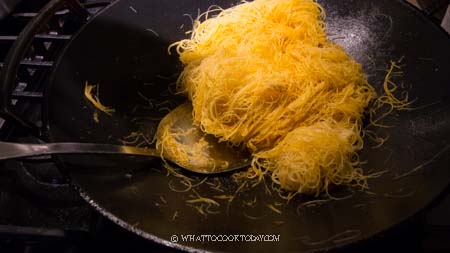 8. Add all the veggies, shrimp, chicken, and egg pieces back in followed by the rest of the seasonings. Toss the noodles to make sure the seasonings are evenly distributed


9. Add the bean sprouts and stir fry for another minute. Have a taste and adjust taste as needed. Turn off the heat and add the green parts of green onion. Continue to toss evenly. The residual heat will soften the green onion.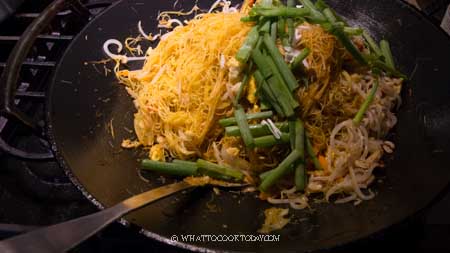 10. Serve Singapore mei fun immediately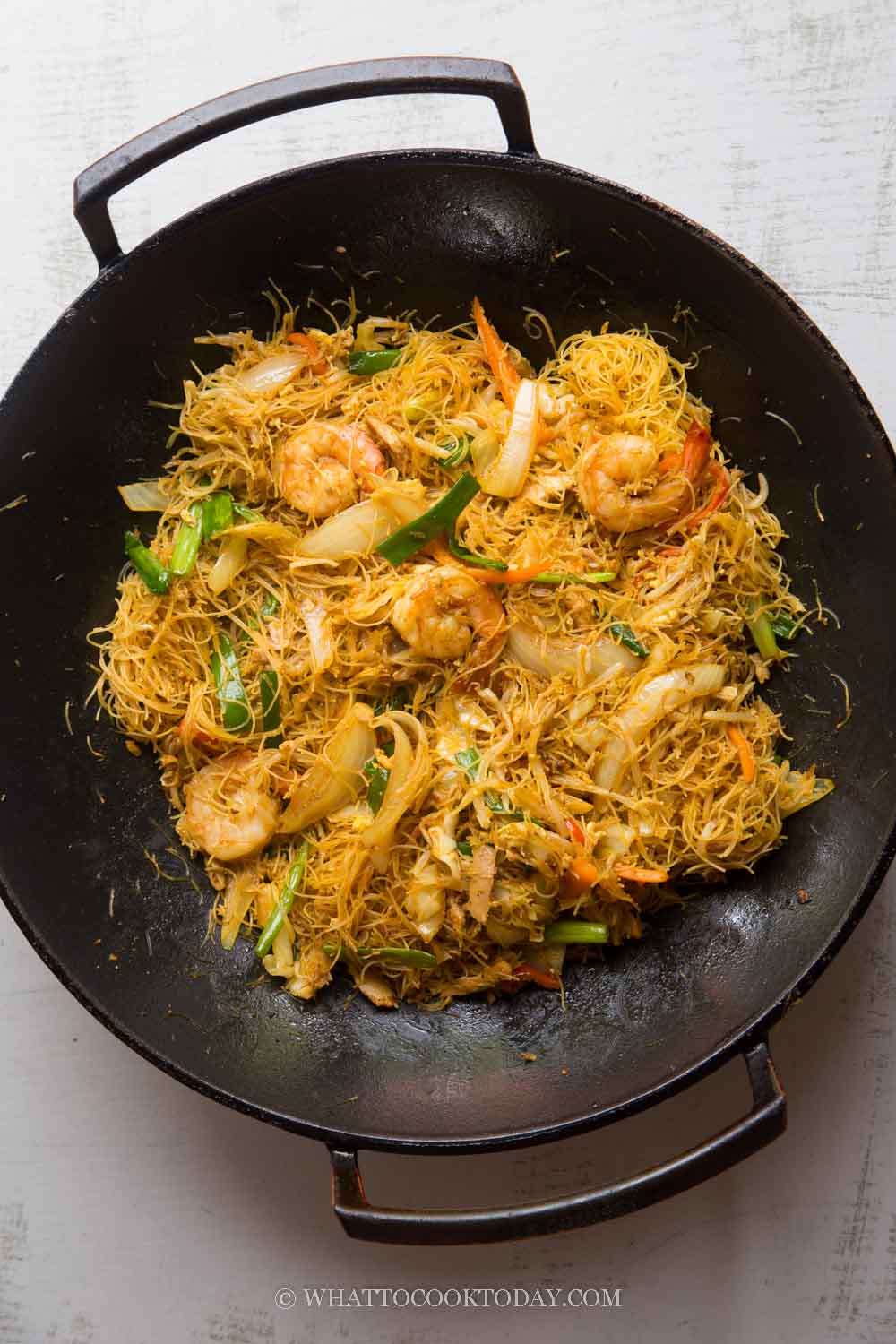 Variations
The recipe is very flexible! Like many stir-fried noodles, you can use fresh meat of your choice or even leftover meat. The meatless option with just egg is also one of the versions I often make. Seafood like shrimp is very commonly used in Singapore chow mei fun.
Vegetable choices can include strips of bell peppers, slices of celery, shredded carrots, snow peas. Just to name a few.
Did you make this Singapore chow mei fun recipe?
I love it when you guys snap a photo and tag to show me what you've made 🙂 Simply tag me @WhatToCookToday #WhatToCookToday on Instagram and I'll be sure to stop by and take a peek for real!

You may also like these bee hoon dishes
Singapore Chow Mei Fun/ Singapore Bee Hoon (Sing Chow Mei Fun)
Ingredients
200

gr

dry rice noodles

thin version

2

large

eggs

10

large

shrimp

deveined and peeled

100

gr

boneless skinless chicken meat

dark or white meats, cut into strips

4

Tbsp

cooking oil

divided
Vegetables:
2

cups

mung bean sprouts

100

gr

cabbage

cut into thin strips

½

large

red bell pepper

cut into strips

½

large

green bell pepper (or any color)

cut into strips
Aromatics:
1

small

onion

cut into wedges

3

cloves

garlic

finely minced

2

stalks

green onion

separate whites from greens
Instructions
Soak the dry rice noodles in water for 5 minutes. I use room temperature water. Drain off water and set aside. Cut the white and green parts of green onion into 2-inch pieces

Preheat a large wok or skillet until really hot. Add 1 Tbsp of cooking oil. Swirl the oil to cover the base and sides. Crack in the eggs and do not stir for about 5 seconds and then stir to scramble the eggs into pieces. Dish out. Wipe the wok clean if necessary

Bring it back up to heat. Add another tablespoon of cooking oil. Add the chicken meat and shrimp and stir fry until they turn color. I used leftover shredded chicken meat so I added this in after the shrimp turns pink. Dish out into the same dish with the egg and set aside

Bring it back up to heat, add another tablespoon of cooking oil. Add onion, white parts of green onion, and garlic and stir fry for about 1 minute. Add the shredded cabbage and bell pepper strips and stir fry for about 2 minutes. Dish out the veggies

Add the last tablespoon of oil. Add the curry powder and stir fry over low heat. When you stir fry the curry powder, it adds extra flavor to the spices. Remember to stir fry over low heat so it won't get burnt. Add the soaked rice noodle and toss the noodles to let the curry powder coats the noodles. Add all the veggies, shrimp, chicken, and egg pieces back in followed by the rest of the seasonings. Toss the noodles to make sure the seasonings are evenly distributed

Add the bean sprouts and stir fry for another minute. Have a taste and adjust taste as needed. Turn off the heat and add the green parts of green onion. Continue to toss evenly. The residual heat will soften the green onion. Serve Singapore mei fun immediately
Recommended products:
Nutrition
Serving:
1
serving
|
Calories:
447
kcal
|
Carbohydrates:
58
g
|
Protein:
14
g
|
Fat:
18
g
|
Saturated Fat:
2
g
|
Polyunsaturated Fat:
5
g
|
Monounsaturated Fat:
10
g
|
Trans Fat:
1
g
|
Cholesterol:
109
mg
|
Sodium:
629
mg
|
Potassium:
429
mg
|
Fiber:
4
g
|
Sugar:
9
g
|
Vitamin A:
971
IU
|
Vitamin C:
62
mg
|
Calcium:
67
mg
|
Iron:
2
mg