Simple yet aromatic and delicious egg fried rice topped with perfectly seasoned pork chop cutlet that is flavorful and tender. Inspired by Taiwan Din Tai Fung restaurant. A short video tutorial is included.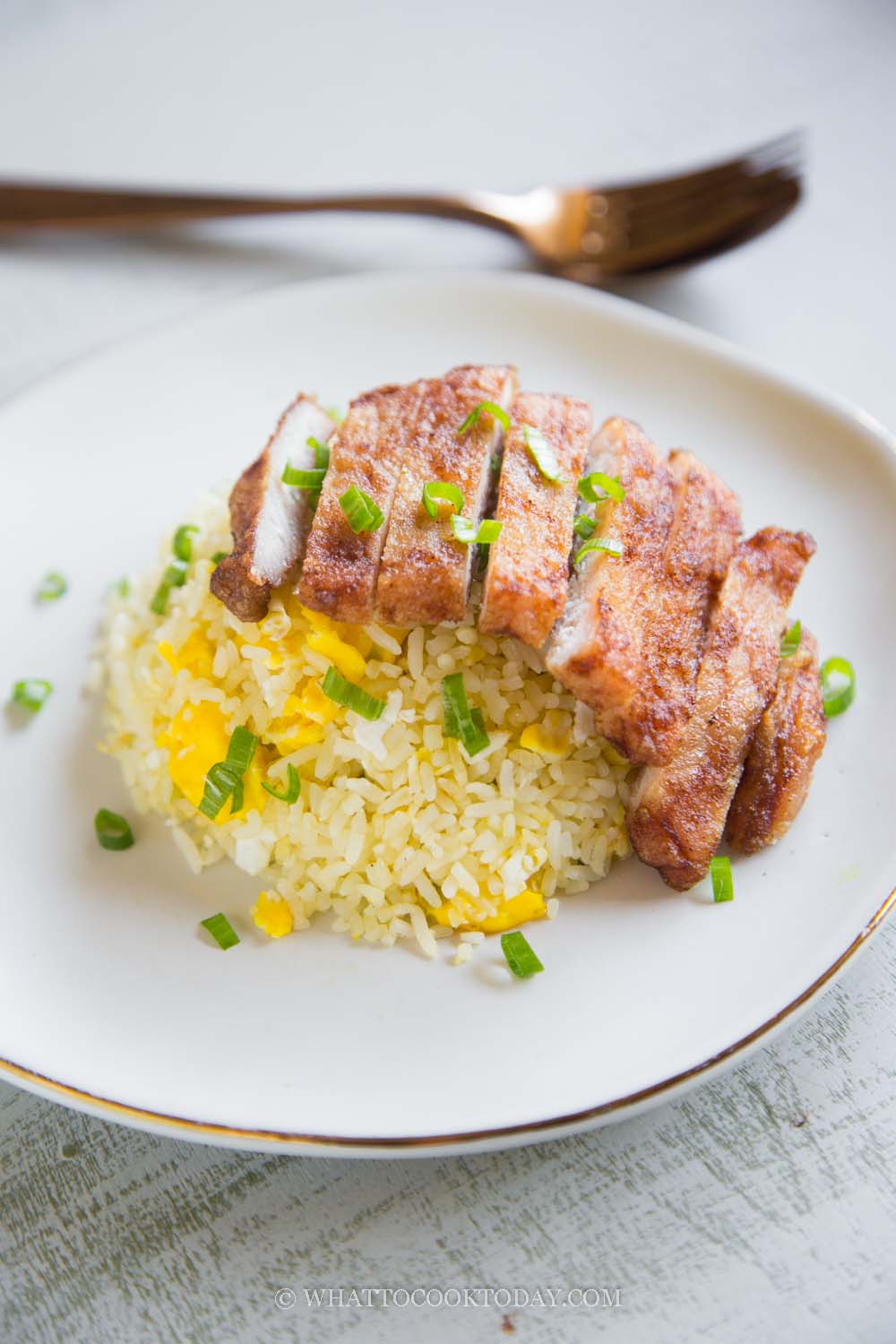 When you don't have Din Tai Fung near you (sad..sad!!) and you miss eating there so much? well, DIY it is then 🙂 I can't say it's 100% the same with the one from Din Tai Fung, but I can say that it's pretty close enough to satisfy the cravings for the moment. I love Din Tai Fung for its simplicity in presentation, but robust in flavor. My sister and I frequented Din Tai Fung almost on a weekly basis or at least every two weeks for their famous xiao long bao (I really need to learn how to do that!). The pork chop fried rice is one of the items we ordered often.
What cut of pork to use?
1. Boneless loin chop
The recipe uses boneless loin chop, which in reality, actually the least desirable cut when it comes to pork chop because it's the leanest and very easy to overcook. Bone-in chops cook evenly and much more tender and moist, but not bone-in is not typically used for Din Tai Fung pork chops. But fret not, we can still make boneless loin chops tender and juicy
2. Kurobuta pork
Din Tai Fung uses Kurobuta pork for their pork chops, which is known for their flavorful meat and fat. This cut is expensive but if you can get it and willing to splurge on it, I would say go for it 🙂 Kurobuta is also known as the "black hog" or "Berkshire pig".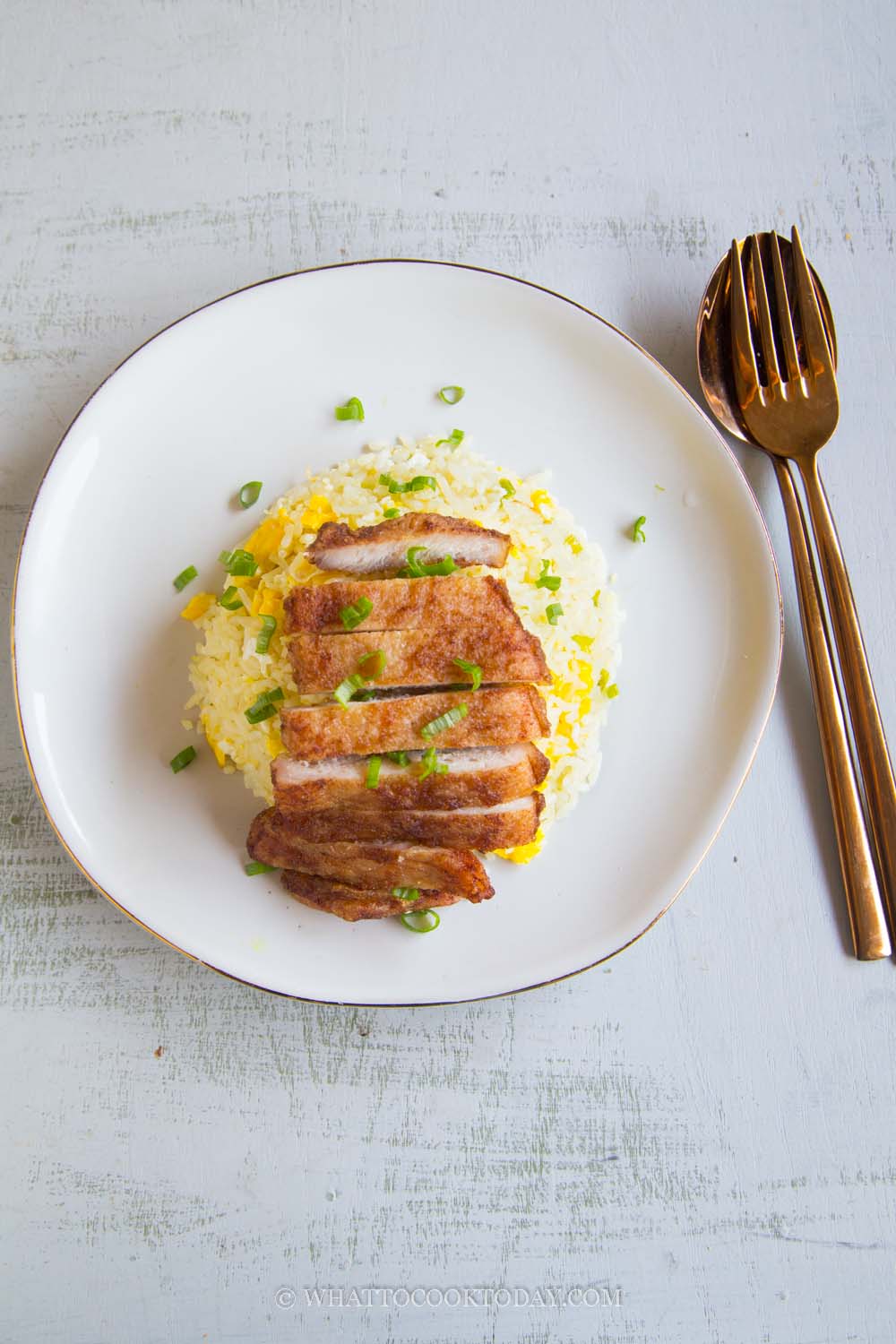 How to make tender juicy loin pork chops
1. Soak in brine
Yes, the brine solution will draw in moisture and adding lots of flavor to a lean meat like loin chops
2. Baking soda
Baking soda keeps the meat tender. A little goes a long way and since we will wash this away after brining, there's no worry that your food will have an after-taste
3. Tenderize the meat
It is important to tenderize the pork chops before brining. This parts also helps to tenderize the meat but you need to take care not to over pounding the meat too thin that it turns into mush during brining
4. Do not overcook
Boneless loin chops cook very quickly and so it is important not to overcook the meat
How to cook Din Tai Fung pork chops fried rice
1. Put the water, salt, sugar, and baking soda in a saucepan. You don't need to bring to a rolling boil and just cook until the salt and sugar dissolves. Make sure the salt really dissolves. Set aside to let it cools down completely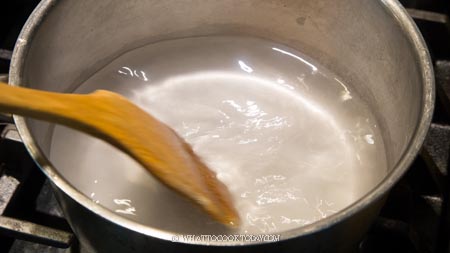 2. Cut some slits on the fat side of the pork chops. This prevents the meat from curling up during cooking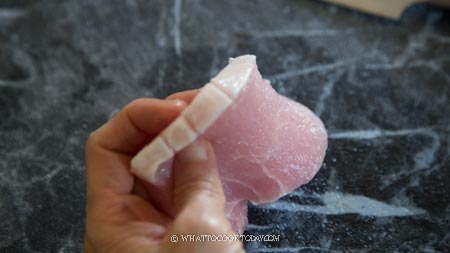 3. Use a meat tenderizer to tenderize the pork chop to about 1.5x its original size and about 1/2-inch thick. I use a pestle to do this since I don't have a meat tenderizer. Don't over do it or the meat will be too thin and turn into a mush after marinated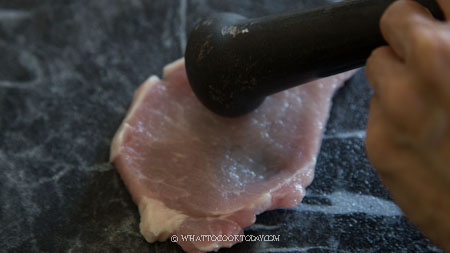 4. Once the brine has cooled down, put the pork in the brine solution and let them soak in the brine for 1 hour max. Don't over do it or the pork chops will have mushy texture from over brining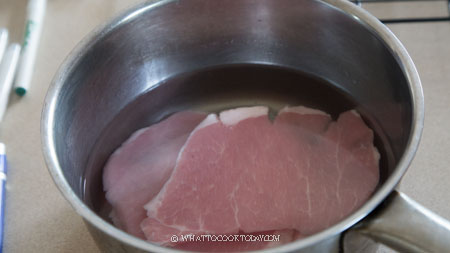 5. After brining, rinse the pork chops to get rid of the salt and baking soda with clean water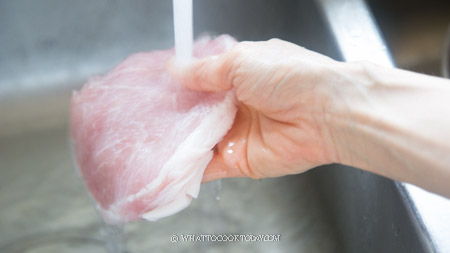 6. You don't need to pat the pork chops dry. This helps keep the pork chops moist and tender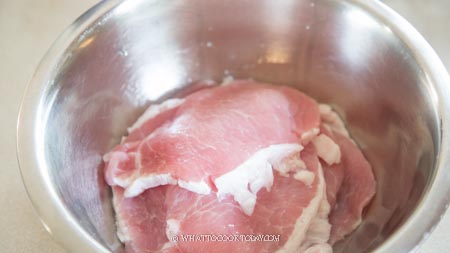 7. Pour the marinade over the pork chops and rub all over, cover and let them marinade overnight in the fridge for the best result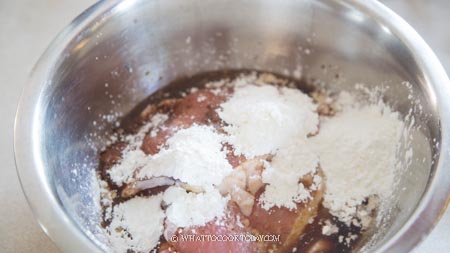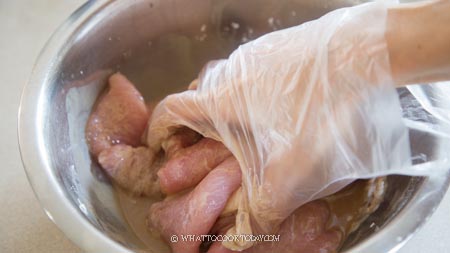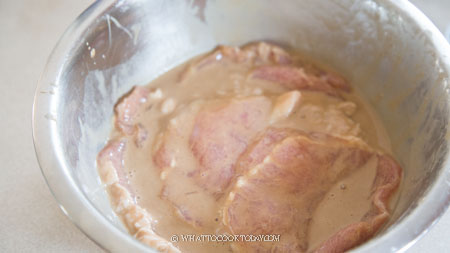 8. Use your clean hands to separate any clumps from the rice. Leftover refrigerated rice is perfect because they are drier and easy to separate the clumps. This helps a lot when you stir fry they won't stick to each other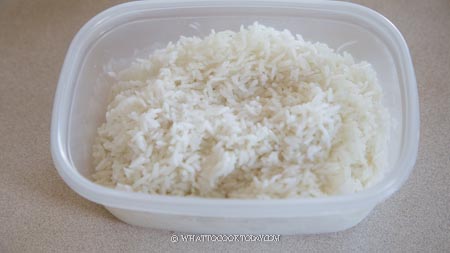 9. Preheat your wok over high heat. Add 1 Tbsp of oil. Crack in eggs and scramble for about 10 seconds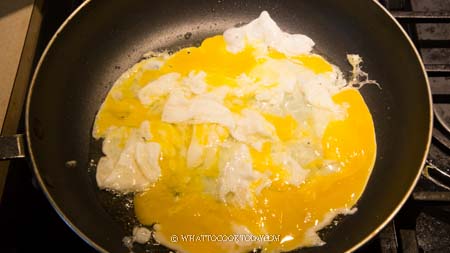 10. The eggs should be only about 50% cooked at this point. Add rice and stir to break up any lumps and make sure the rice grains are coated with the eggs. Add seasonings and continue to stir fry until the rice grains are really dry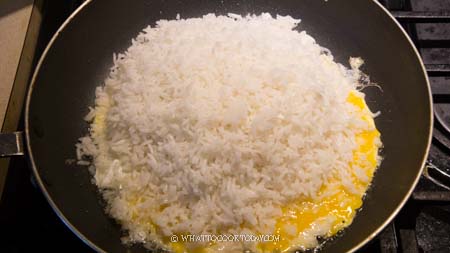 11. Have a taste and add more salt and/or sugar as needed to suit your taste. Sprinkle with chopped green onion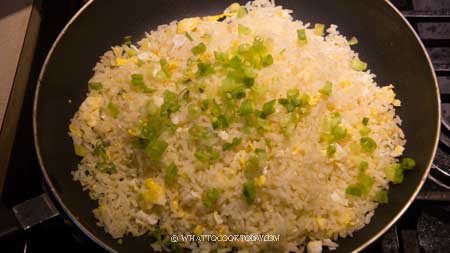 12. Bring the pork chops out from the fridge about 1 hour before you plan to cook. Preheat about 1 inch of oil over medium heat. When you dip a skewer into the oil, you'll see bubbles around it. The oil is ready
Fry the pork chops in batches, ideally about 2 at a time. Fry for about 2 minutes or until golden brown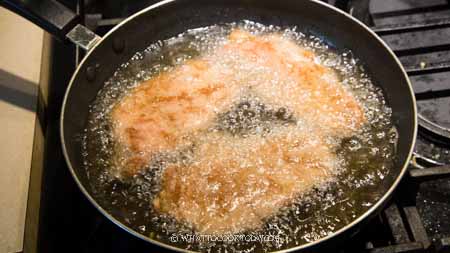 13. Remove from the oil to an absorbent paper towel. Repeat with the rest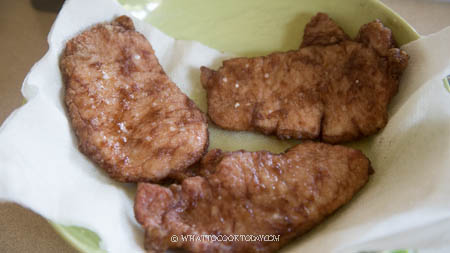 14. Rest the pork chops for 5 minutes. Don't cut the pork chops right away after frying or you will lose all the juice and the pork chops end up dry and tough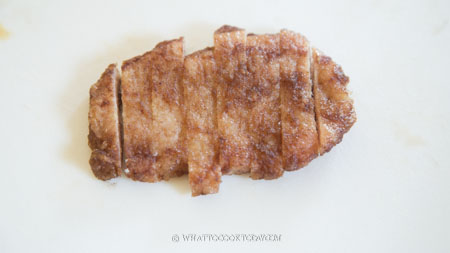 15. Portion out the fried rice on a serving plate and top with the pork chop slices. Sprinkle with some chopped green onion and serve immediately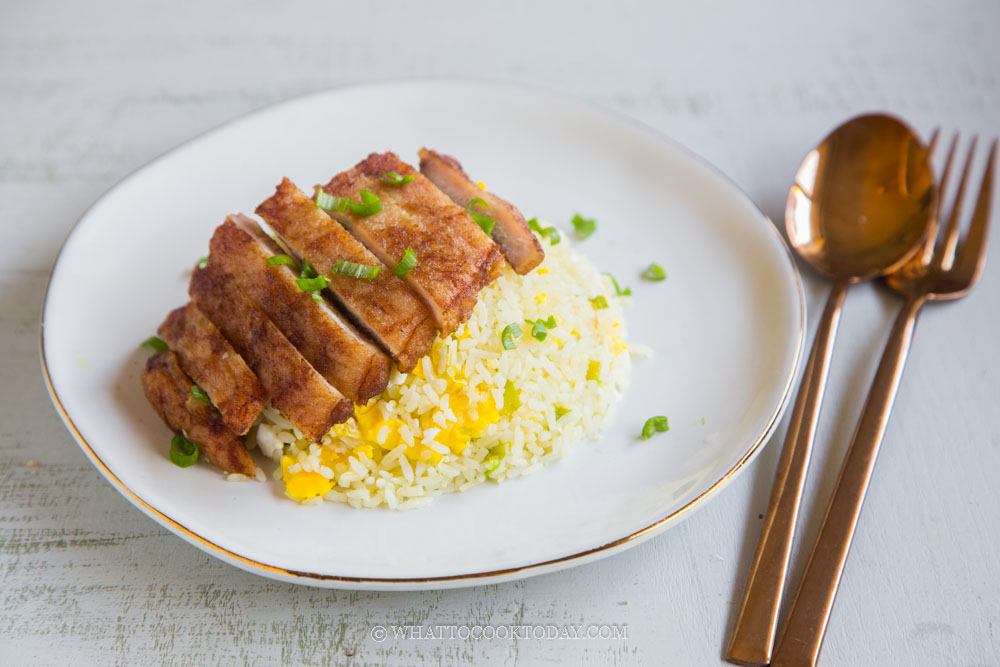 Did you make this Din Tai Fung pork chop fried rice recipe?
I love it when you guys snap a photo and tag to show me what you've made 🙂 Simply tag me @WhatToCookToday #WhatToCookToday on Instagram and I'll be sure to stop by and take a peek for real!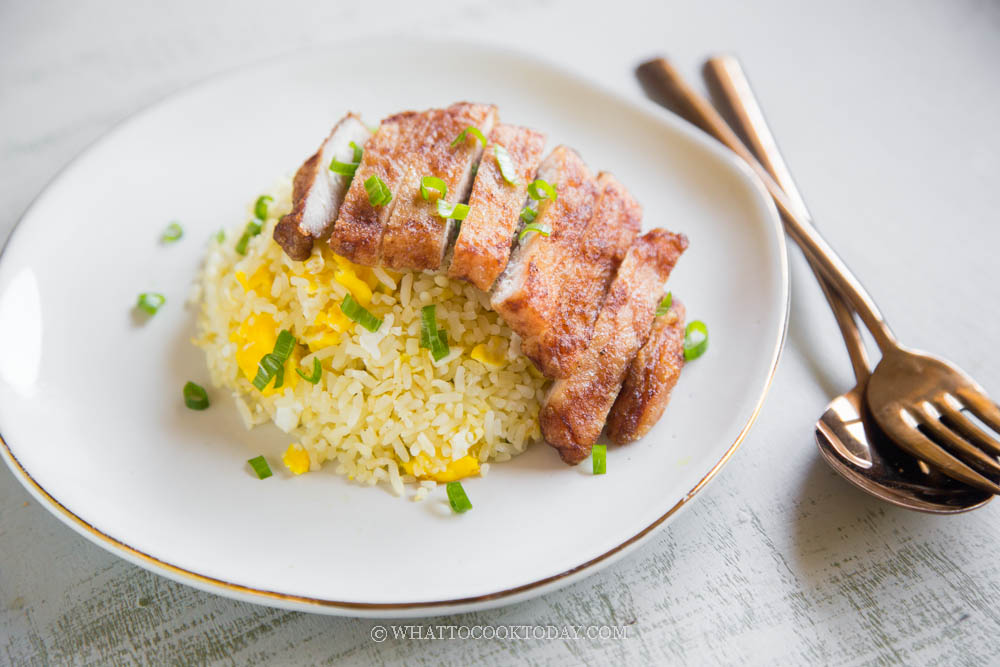 You may also like these pork chops recipes
Techniques for brining and marinating the pork chops are adapted from ieatishootipost.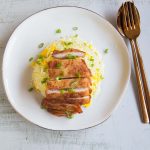 Din Tai Fung Pork Chop Fried Rice
Ingredients
Fried rice:
4

cups

cooked rice

preferably leftover and chilled in the fridge

2

Tbsp

cooking oil

plus more for frying pork chops

4

large

eggs

1

tsp

salt

1

tsp

chicken powder

¼

tsp

ground white pepper

2

stalks

green onions

finely chopped
Pork chop brine solution:
Instructions
Prepare the brine solution:
Put the water, salt, sugar, and baking soda in a saucepan. You don't need to bring to a rolling boil and just cook until the salt and sugar dissolves. Make sure the salt really dissolves. Set aside to let it cools down completely
Prepare the pork chops:
Cut some slits on the fat side of the pork chops. This prevents the meat from curling up during cooking.

Use a meat tenderizer to tenderize the pork chop to about 1.5x its original size and about 1/2-inch thick. I use a pestle to do this since I don't have a meat tenderizer. Don't over do it or the meat will be too thin and turn into a mush after marinated
Brine the pork chops:
Once the brine has cooled down, put the pork in the brine solution and let them soak in the brine for 1 hour max. Don't over do it or the pork chops will have mushy texture from over brining
Marinated the pork chops:
Prepare the marinade by combining all the ingredients and set aside

After brining, rinse the pork chops to get rid of the salt and baking soda with clean water. You don't need to pat the pork chops dry. This helps keep the pork chops moist and tender

Pour the marinade over the pork chops and rub all over, cover and let them marinade overnight in the fridge for the best result
On the day of serving, cook the fried rice first:
Use your clean hands to separate any clumps from the rice. Leftover refrigerated rice is perfect because they are drier and easy to separate the clumps. This helps a lot when you stir fry they won't stick to each other

Preheat your wok over high heat. Add 1 Tbsp of oil. Crack in eggs and scramble for about 10 seconds. The eggs should be only about 50% cooked at this point. Add rice and stir to break up any lumps and make sure the rice grains are coated with the eggs. Add seasonings and continue to stir fry until the rice grains are really dry

Have a taste and add more salt and/or sugar as needed to suit your taste. Sprinkle with chopped green onion
Frying the pork chop:
Bring the pork chops out from the fridge about 1 hour before you plan to cook. Preheat about 1 inch of oil over medium heat. When you dip a skewer into the oil, you'll see bubbles around it. The oil is ready

Fry the pork chops in batches, ideally about 2 at a time. Fry for about 2 minutes or until golden brown. Remove from the oil to an absorbent paper towel. Repeat with the rest
Serving:
Rest the pork chops for 5 minutes. Don't cut the pork chops right away after frying or you will lose all the juice and the pork chops end up dry and tough

Portion out the fried rice on a serving plate and top with the pork chop slices. Sprinkle with some chopped green onion and serve immediately
Recommended products:
Nutrition
Serving:
1
serving
|
Calories:
403
kcal
|
Carbohydrates:
59
g
|
Protein:
12
g
|
Fat:
13
g
|
Saturated Fat:
2
g
|
Polyunsaturated Fat:
3
g
|
Monounsaturated Fat:
7
g
|
Trans Fat:
1
g
|
Cholesterol:
187
mg
|
Sodium:
2416
mg
|
Potassium:
172
mg
|
Fiber:
1
g
|
Sugar:
7
g
|
Vitamin A:
333
IU
|
Vitamin C:
1
mg
|
Calcium:
62
mg
|
Iron:
2
mg