These mochi sponge cupcakes are different from the classic dense and chewy mochi we know. This is a hybrid of a sponge cake and mochi in texture. It is soft and fluffy yet has that slightly chewy texture you will enjoy. The cake is naturally gluten-free and dairy-free.


Anything sponge cake and mochi have my vote 🙂 So, why not have the best of both world. This is where this pandan mochi cupcakes come in. The cupcakes are prepared using a technique similar to preparing a genoise sponge cake where the eggs and sugar are creamed to ribbon stage and then flour and fat/milk are folded in.
The recipe rundown
Taste: Just lightly sweetened
Texture: Soft fluffy like a sponge cake with some chewiness if you eat it the same day you bake. The next day the cupcakes will have more of the chewiness texture (in a good way!)
Difficulty: Medium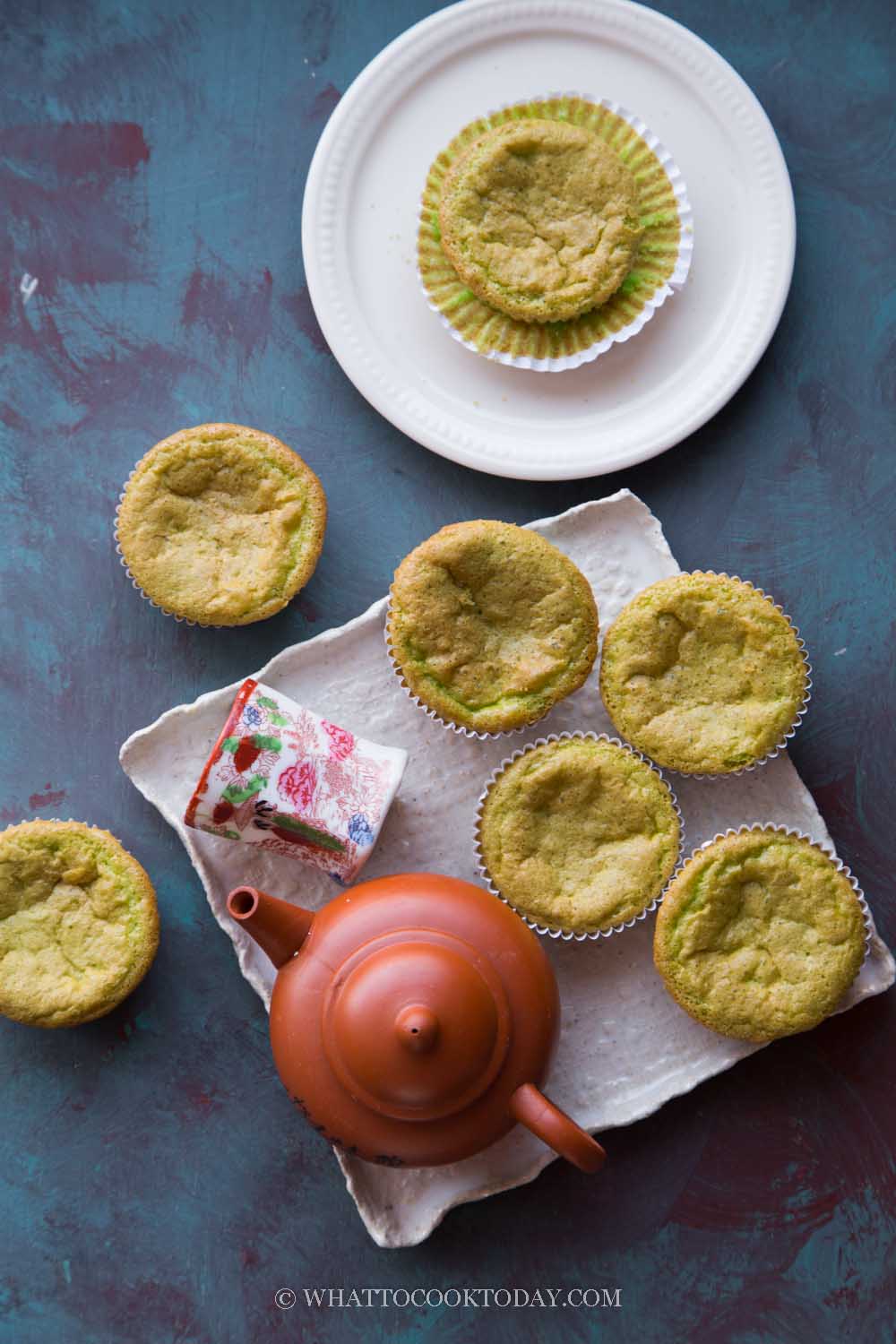 Let's talk ingredients
1. Glutinous rice flour
Glutinous rice flour is also known as mochiko flour/sweet rice flour. Please do not substitute with rice flour or any other gluten-free flour. The result will not be the same. I usually use Thai glutinous rice flour
2. Eggs
I usually use large eggs, about 58-62 grams with the shell
3. Sugar
You can use granulated or caster sugar
4. Coconut milk
I use canned coconut milk. I don't recommend using coconut milk used for beverage
5. Coconut oil
You can use melted coconut oil or any neutral-tasting cooking oil such as grapeseed oil, canola oil, vegetable oil, etc
5. Baking powder
Baking powder helps to leaven the cake
6. Pandan essence
It's difficult to use homemade pandan juice in this recipe as very little liquid is used and the pandan juice won't be enough to flavor the cupcakes and that's why a pandan essence is used instead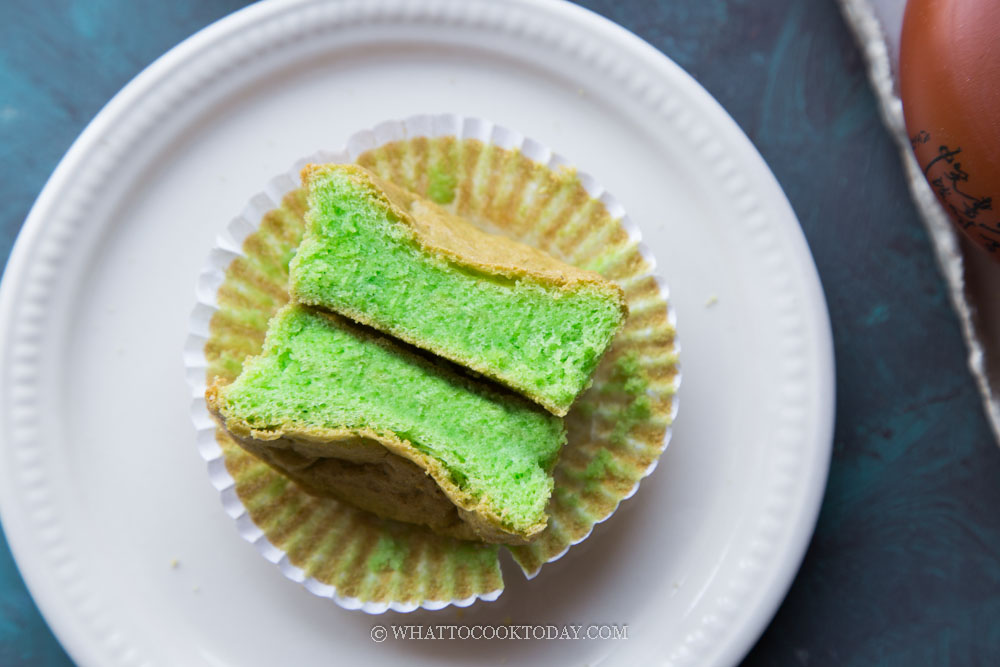 Tips for success
1. Please make sure the eggs are at room temperature
Room temperature whipped better and will rise much better in the oven, giving you that fluffy and airy cake
2. Do not reduce the amount of sugar
This recipe doesn't produce overly sweet cupcakes. Sugar does more than just to sweeten the cupcakes. It also keeps cake moist. When beaten with the eggs, it actually helps to stabilize the whipped batter
3. Use a stand mixer or an hand electric mixer
We need to whip the eggs and sugar until the size doubles or even triples its original size. That is A LOT of elbow grease if you were to beat it manually with a whisk. Perhaps a super long time too
4. Work gently but quickly
We don't want to overwork the batter that is holding so much air, but we want to make sure the flour, oil/milk are fully incorporated. If ingredients aren't fully incorporated, your cake may not rise properly and you may even have some dense layer or different layers showing up in your cupcakes
Did you make this pandan mochi sponge cupcakes recipe?
I love it when you guys snap a photo and tag to show me what you've made 🙂 Simply tag me @WhatToCookToday #WhatToCookToday on Instagram and I'll be sure to stop by and take a peek for real!

You may also like these
Pandan Mochi Sponge Cupcakes (Gluten-Free, Dairy-Free)
Ingredients
4

large

eggs (room temperature)

58-62 grams with shell

100

gr

granulated sugar

30

gr

coconut milk

30

gr

melted coconut oil

you can also use neutral-tasting cooking oil

½

tsp

pandan essence
Instructions
Prepare the cake batter:
Preheat oven to 350 F (180 C). My oven is conventional (bottom heat). Mix the dry ingredients and whisk to combine. Set aside. Mix the oil with coconut milk and whisk to combine and set aside. Line the standard muffin pan (2 x 1 1/4 inch) with paper

It is important to use room temperature eggs. Crack the eggs in a mixing bowl. Add the sugar. I use stand mixer with a whip attachment. Whip on a high speed until it has double or triple in size. The batter will be silky smooth and thick. We call this a ribbon stage, meaning when you lift the whisk up the batter will drip down and the trail should remains visible for a while before dissolving into the batter. You can also do a toothpick test. If you put a toothpick in the egg batter, the toothpick stands up still. The batter is thick enough

Carefully fold in 1/3 of the flour mixture and use a whisk or spatula to swipe down and fold over. The batter may deflate a bit, but don't worry, just keep folding gently until you don't see any more streak of flour, continue with the next 1/3 until you run out of the flour mixture

Give the oil and milk a stir again and then pour in 1/3 into the batter and fold again. Do this in batches so you don't deflate the batter too much. Continue with the next 1/3. In the end you shouldn't see any more streak of oil/liquid
Bake the cupcakes:
Use a ice cream scoop or a spoon to fill the muffin cups, about 3/4 full. You can also transfer to a piping bag and fill up the cups (it's actually easier this way). Bake in a preheated oven for about 25-30 minutes or until the tops are golden brown

Let the cupcakes cool down for 5 minutes and then transfer to cooling rack. The middle will sink down a bit after cooling down and that's normal
Serve:
The cupcakes can be eaten on the same day. The texture will be like eating sponge/chiffon cake with some slight chewiness. The next day, the cake will be chewier compared to when they are freshly baked
How to store:
They can be stored at room temperature in an air-tight container for about 3 days
Recommended products: