Buttery cookies with a hint of matcha studded with delicious roasted macadamia nuts and toasted coconut flakes. Perfect for tea time or for your holiday cookie box or celebration such as Chinese New Year and Lebaran.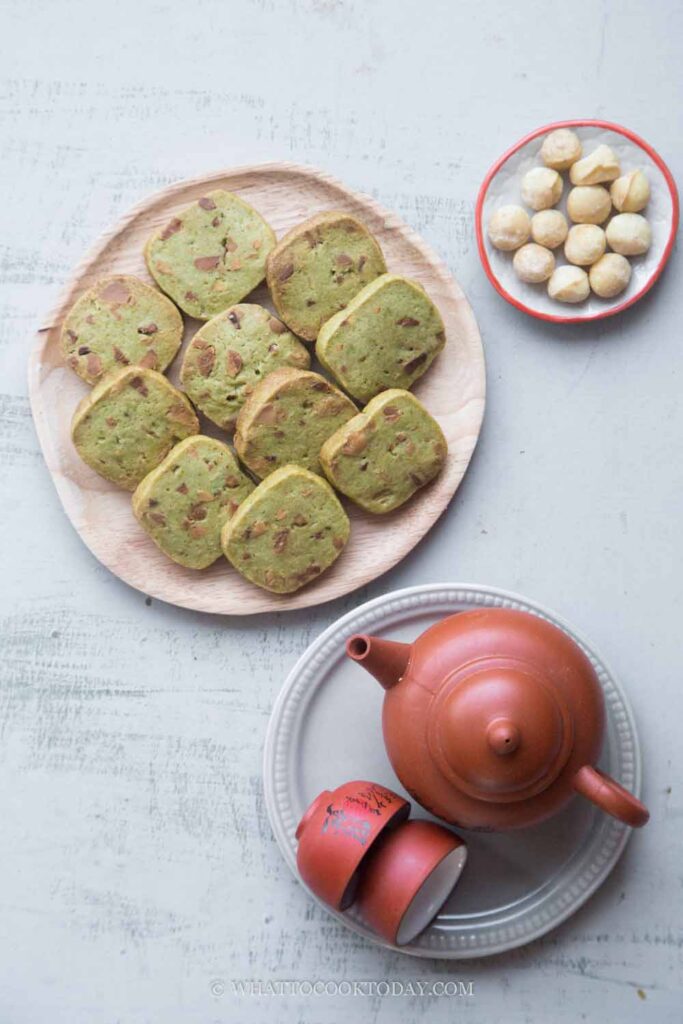 If you like butter cookies that snap when you break them into half, then you will enjoy these matcha macadamia coconut cookies. They are buttery with crispy edges and crumbly texture on the inside. The addition of rich macadamia nuts and toasty coconuts makes them even better! They are perfect to fill your Christmas cookie box or for Chinese New Year and other celebrations.
Ingredients
1. Butter
Use good-quality butter as it does make a difference. European butter is perfect for this cookie
2. Powdered sugar
Do not substitute powdered sugar/icing sugar with regular sugar, the result won't be the same
3. Egg
A room-temperature egg is important so the egg and the butter won't separate
4. Cake flour
Cake flour is low in gluten and it's suitable for this recipe. It gives the cookie that lighter, airier texture
5. Matcha powder
Use high-quality culinary-grade matcha powder. It makes a huge difference
6. Macadamia nuts
Use unsalted macadamia nuts if possible. If you can't find any, omit the salt in the recipe. You can also substitute macadamia nuts with other nuts of your choice
7. Unsweetened coconut flakes
I don't recommend substituting with desiccated coconut as it gives a slightly different texture to the cookies
8. Salt
A pinch of salt brings out the overall flavor of the cookies. I usually use fine sea salt.
How to make matcha macadamia coconut cookies
1. Roast the macadamia nuts on a dry pan for about 5 minutes over medium heat until they are lightly golden brown. I kinda over toasted them a bit as they get a bit too browned. Let them cool down completely before using. In the same pan, toast the coconut flakes over medium heat until they are lightly golden brown. Let them cool down completely
2. Make sure the butter and eggs are at room temperature. The butter needs to be soft but not melting. The eggs need to be at room temperature so it won't separate when you mix with the butter later. Measure out 20 grams of beaten egg in a bowl
3. The butter needs to be soft but not melting.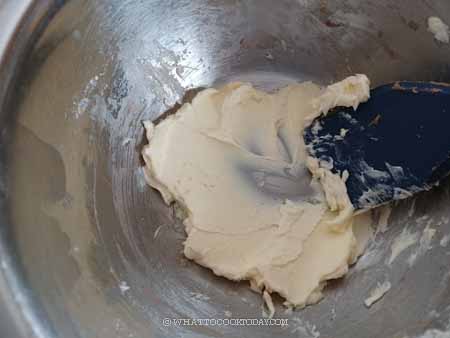 4. Cream the butter until creamy in a mixing bowl using a hand mixer or stand mixer with a whisk attachment. Add the powdered sugar and cream over a low speed at first to prevent the sugar from flying all over and then increase to medium speed and cream until pale and fluffy.

5. Add room-temperature eggs and cream again until combined.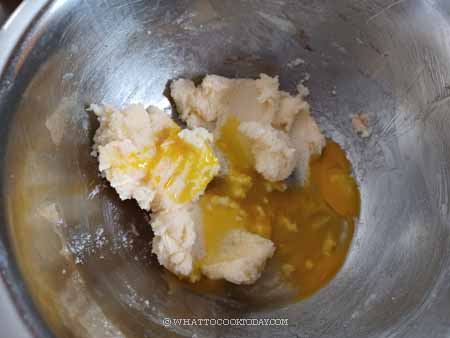 6. Sift in flour, salt, and matcha powder.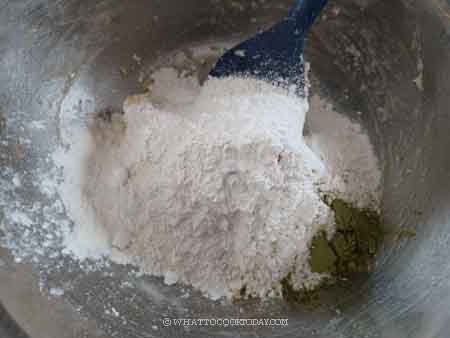 7. Use a sturdy spatula to fold in the flour mixture until they are combined. Fold in the macadamia nuts and toasted coconut

8. Transfer the cookie dough to a cling wrap and divide into two equal size and shape them into a log, about 4 cm (1.5 inch) in diameter. Make sure you pack the dough in so there won't be any gaps inside the dough. Wrap with plastic wrap.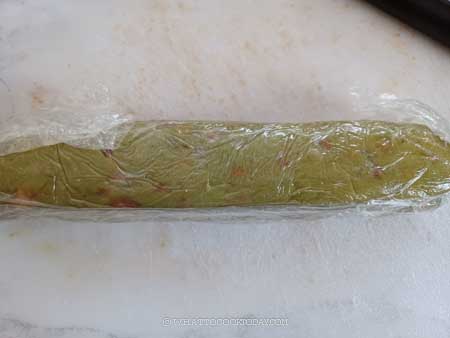 9. I use a bench scraper to help me shape the log into a square shape, roughly! Chill the dough in the refrigerator for at least 2 hours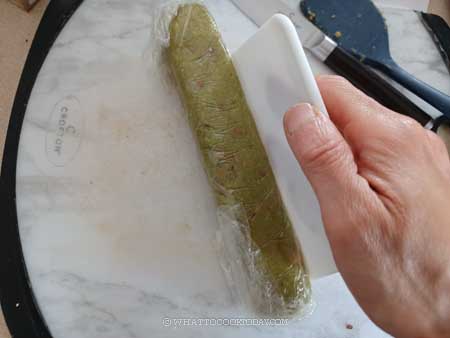 10. Preheat the oven to 350 F (180 C) for a conventional oven and 330 F (165 C) for a convection oven. Get the chilled dough out from the refrigerator and cut into about 6 mm in thickness. Try to cut as evenly as possible so the cookies bake evenly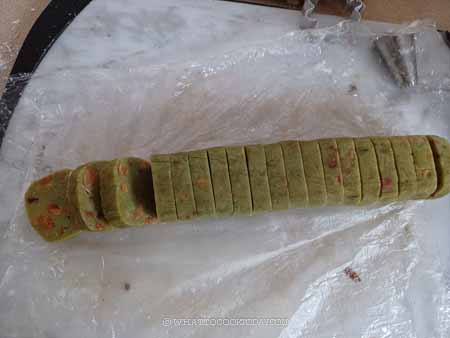 11. Arrange the cookies on a baking sheet lined with parchment paper, about 1 inch apart. Bake on the middle rack for 20-23 minutes or until the edges just turn slightly golden brown

12. Let the cookies cool down on the pan for 5 minutes. They are soft when they first come out of the oven. Then transfer them to a cooling rack to let them cool down completely. Let the cookies cool down completely and then store them in an air-tight container for about 2 weeks
Did you make this matcha macadamia coconut cookies recipe?
I love it when you guys snap a photo and tag it to show me what you've made. Simply tag me @WhatToCookToday #WhatToCookToday on Instagram and I'll be sure to stop by and take a peek for real!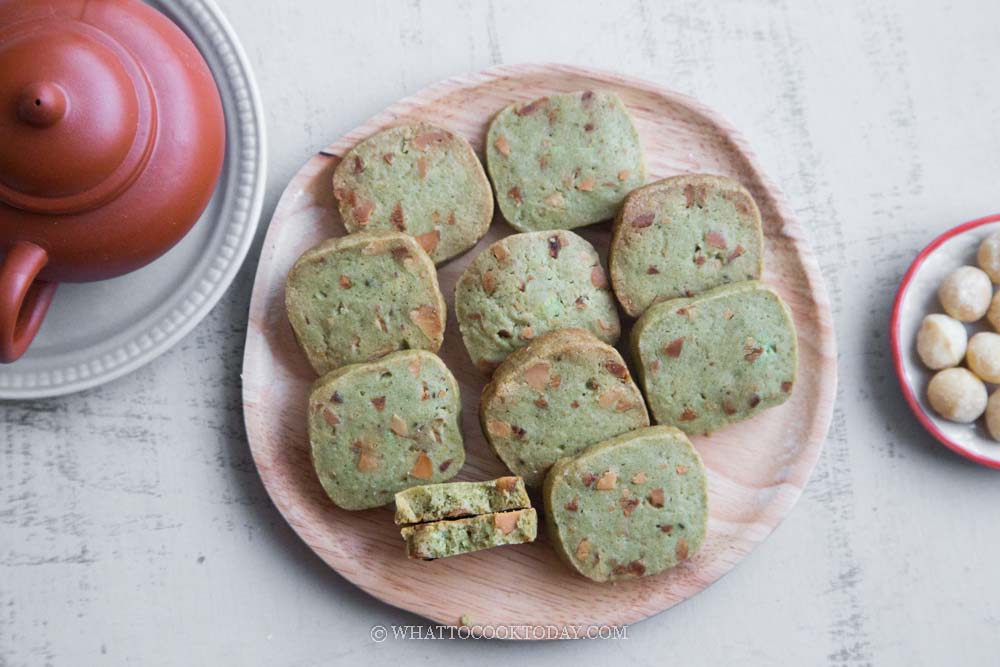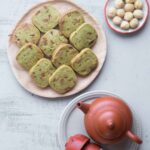 Matcha Macadamia Coconut Cookies
Ingredients
100

g

unsalted butter softened

45

g

powdered sugar

1

g

salt

20

g

beaten egg

170

g

cake Flour

5

g

matcha powder

60

g

macadamia nuts

chop into small chunks

30

g

unsweetened coconut flakes
Instructions
Roast the macadamia nuts on a dry pan for about 5 minutes over medium heat until they are lightly golden brown. I kinda over toasted them a bit as they get a bit too browned. Let them cool down completely before using

On the same pan, toast the coconut flakes over medium heat until they are lightly golden brown. Let them cool down completely

Make sure the butter and eggs are at room temperature. The butter needs to be soft but not melting. The eggs need to be at room temperature so it won't separate when you mix with the butter later. Measure out 20 grams of beaten egg in a bowl
Prepare cookie dough:
The butter needs to be soft but not melting. Cream the butter until creamy in a mixing bowl using a handmixer or standmixer with a whisk attachment. Add the powdered sugar and cream over low speed at first to prevent the sugar from flying all over and then increase to medium speed and cream until pale and fluffy.

Add room temperature eggs and cream again until combined. Sift in flour, salt, and matcha powder. Use a sturdy spatula to fold in the flour mixture until they are combined. Fold in the macadamia nuts and toasted coconut

Transfer the cookie dough to a cling wrap and shape into a log, about 4 cm (1.5 inch) in diameter. Make sure you pack the dough in so there won't be any gap inside the dough. Wrap with a plastic wrap. I use a bench scraper to help me shape the log into a square shape, roughly!

Chill the dough in the refrigerator for at least 2 hours
Baking:
Preheat the oven to 350 F (180 C) for a conventional oven and 330 F (165 C) for a convection oven

Get the chilled dough out from the refrigerator and cut into about 6 mm in thickness. Try to cut as evenly as possible so the cookies bake evenly

Arrange the cookies on a baking sheet lined with parchment paper, about 1 inch apart

Bake in the middle rack for 20-23 minutes or until the edges just turn slightly golden brown

Let the cookies cool down on the pan for 5 minutes. They are soft when they first come out from the oven. Then transfer to a cooling rack to let them cool down completely
Storage:
Let the cookies cool down completely and then store them in an air-tight container for about 2 weeks
Recommended products:
Nutrition
Serving:
1
cookie
|
Calories:
87
kcal
|
Carbohydrates:
7
g
|
Protein:
1
g
|
Fat:
6
g
|
Saturated Fat:
3
g
|
Polyunsaturated Fat:
0.2
g
|
Monounsaturated Fat:
2
g
|
Trans Fat:
0.1
g
|
Cholesterol:
12
mg
|
Sodium:
43
mg
|
Potassium:
24
mg
|
Fiber:
1
g
|
Sugar:
2
g
|
Vitamin A:
114
IU
|
Vitamin C:
0.05
mg
|
Calcium:
5
mg
|
Iron:
0.2
mg