Super soft and fluffy bread infused with fresh Mandarin orange puree and sweet red bean paste and decorated with Mandarin orange segments. This a good fortune bread perfect to ring in the Chinese New Year. The recipe can be made using commercial yeast or sourdough sweet stiff starter.
Mandarin orange is a symbol of fortune/abundance and good luck in Chinese culture. My mom will stock up on Mandarin oranges or clementine or oranges in general during this time of the year. I love using oranges in baking too. I call this bread a good fortune bread 🙂 The citrusy taste and the lightly sweet red bean paste is one of my favorite combination in this recipe. The inspiration for this recipe came from Autumn Kitchen, whom I learned how to bake sourdough bread from.
Why you'll like this recipe
1. The bread is really soft and fluffy
2. Besides the orange puree, there are actually fresh orange segments nestled inside the bread. Speaking of maximum amount of orange
Ingredients
1. Bread flour
I use bread flour with 12.7% protein content. I don't recommend substituting with all-purpose flour. If you must, cut down on the amount of milk as all-purpose flour doesn't absorb as much liquid compared to strong bread flour
2. Instant yeast or active dry yeast
You can use either one
3. Mandarin oranges
Choose Mandarin that has a sweet strong smell and is heavy for its size. That means it is sweet and juicy
4. Milk
I use 2% milk. You can use non-dairy milk too
5. Heavy cream
I would not substitute heavy cream. This is one of the ingredients that contributes to that softness
6. Butter
I usually used unsalted butter unless I specified differently in the recipe card
7. Sugar
You can use granulated or caster sugar
8. Salt
I use fine sea salt
9. Sweet red bean paste
You can use store-bought red bean paste or make red bean paste/dou sha from scratch
How to make Mandarin orange red bean paste bread
1. I recommend using a starter that is at least two months old and consistently doubles or triples in 4-6 hours when you feed it at 1:1:1 ratio. Young starter will not give the best result. Mix all ingredients for sweet stiff starter. Cover loosely with a plastic wrap or a lid. It takes about 7-10 hours to triple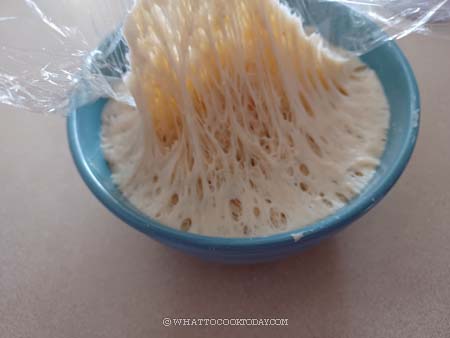 2. If you use active dry yeast, dissolve active dry yeast in the milk in a mixing bowl of a stand mixer. Let it sit for 10 minutes until foamy. If you use instant yeast, you can skip this step. Add all of the sweet stiff levain (for sourdough version), heavy cream, and orange puree. Add the flour, salt, and sugar. Use the dough hook to stir the mixture a bit so the flour won't fly around when you start the mixer.

3. Knead on the lowest speed for 2-3 minutes and then increase to speed 2 and knead for 3 minutes and then speed 4 for another 3 minutes or until it forms a dough that clears the side of the bowl, but not smooth yet. Add the softened butter and knead on speed 2 for about 2-3 minutes and then increase speed to 4 and knead for 5-8 minutes or until the dough is elastic, smooth, and reaches a window pane stage, meaning when you gently and gradually stretch the dough thin, it won't break easily. You can stop kneading when it has reached this point

4. Lightly oil the bowl, cover with a kitchen towel or loosely with plastic wrap, and let rise in a warm place for about 45 minutes to 1 hour, or until double in volume. if it's colder, it may take longer to proof the dough. Place the cocoa dough in a different small bowl and let it proof together with the main dough at a warm place. For sourdough version, it may take 2 – 2 1/2 hours or longer for the dough to double at a warm place. It took mine about 2 1/2 hours

5. If you poke the dough with a floured finger, the indentation stays and the dough doesn't collapse

6. Line the bottom of the baking pan with a parchment paper and lightly oil the sides of the pan. Transfer the dough to a lightly floured work surface. Knock out all the gas by giving it some kneading.

7. Divide the dough into one 50-gram dough and the rest into 4 equal-weight doughs. Round them up into balls. Cover and let them rest for 10 minutes to relax the gluten

8. Use a rolling pin to roll the dough out into about 30 cm in length and about 10 cm wide. Spread 1/4 of the red bean paste, leaving about 1/2 inch along the 4 edges

9. Arrange the orange segments on one of the long sides. Roll it up to form a rope. Repeat with the rest of the 3 large doughs

10. So you have 4 ropes and one small dough.

11. The small dough is used to prop the bread up. Put it in the center and then arrange the 4 ropes around it

12. Bring the two closest ropes together by crossing each other. 

13. Then bring the two closest ropes together again by crossing them. Pinch the tip of each two ropes to seal and tuck underneath the dough

14. Transfer the braided dough to the prepared pan. Cover and let it proof at a warm place until about 80% full. This may take about 45 minutes to 1 hour. If it is colder where you are, it may take longer. For sourdough version, it may take 3-31/2 hours or longer for the dough to double at a warm place. It took mine about 3 hours

15. 10 minutes before the end of proofing, preheat your oven to 375 F (190 C) for a conventional oven. For a convection oven, lower the temperature by 20 F or 15 C. Apply some egg wash on the surface of the dough.

16. This is optional, but you can use a sharp razor or bread lame to score the top of the dough. Arrange few slices of Mandarin orange segments on top

17. Place the pan in the middle of the oven and bake for 30 minutes or until the bread is nicely golden brown on top and a thermometer should register around 190-200 F at the center of the bread

18. Remove the bread from the pan onto a cooling rack. Let the bread cool down completely before slicing. Dust with some powdered sugar on top for decoration purpose if you like. Once they have cooled down, you can put them in an air-tight container and can be kept at room temperature for 2-3 days
The recipe can be adjusted to make it vegan-friendly.
1. Use non-dairy milk instead of cow's milk
2. Use full-fat coconut milk (the canned type) instead of heavy cream
Did you make this Mandarin orange red bean paste braided bread recipe?
I love it when you guys snap a photo and tag it to show me what you've made. Simply tag me @WhatToCookToday #WhatToCookToday on Instagram and I'll be sure to stop by and take a peek for real!
You may also like this Mandarin orange steamed buns
Mandarin Orange Red Bean Paste Bread (with sourdough option)
Ingredients
If using yeast:
20

g

sugar

5

g

salt

5

g

active dry yeast

130

g

milk

50

g

Mandarin orange puree

110

g

heavy cream

20

g

unsalted butter
If using sourdough starter:
Prepare sweet stiff starter: (7-10 hours to peak)
80

g

2% milk

you can use water, skim or 1% milk too

20

g

sugar
For the dough:
5

g

salt

20

g

sugar

110

g

heavy cream

1

Tbsp

milk

or more as needed

50

gr

Mandarin orange puree

20

g

unsalted butter
Filling:
2

Mandarin oranges

or more as needed

200

g

sweet red bean paste
Instructions
Prepare sweet stiff starter for sourdough version:
This recipe will give you sourdough bread that doesn't taste sour. Why? Because we use a Sweet Stiff Levain, which is built from regular 100% hydration sourdough starter. I don't maintain stiff starter. I build it whenever I need it. I love baking enriched bread/buns and steamed buns using sweet stiff starter.

I recommend using a starter that is at least two months old and consistently doubles or triples in 4-6 hours when you feed it at 1:1:1 ratio. Young starter will not give the best result

Mix all ingredients for sweet stiff starter. Cover loosely with a plastic wrap or a lid. It takes about 7-10 hours to triple
Prepare the dough:
If you use active dry yeast, dissolve active dry yeast in the milk in a mixing bowl of a stand mixer. Let it sit for 10 minutes until foamy. If you use instant yeast, you can skip this step. Add all of the sweet stiff levain (for sourdough version), heavy cream, and orange puree. Add the flour, salt, and sugar. Use the dough hook to stir the mixture a bit so the flour won't fly around when you start the mixer. Knead on the lowest speed for 2-3 minutes and then increase to speed 2 and knead for 3 minutes and then speed 4 for another 3 minutes or until it forms a dough that clears the side of the bowl, but not smooth yet

Add the softened butter and knead on speed 2 for about 2-3 minutes and then increase speed to 4 and knead for 5-8 minutes or until the dough is elastic, smooth, and reaches a window pane stage, meaning when you gently and gradually stretch the dough thin, it won't break easily. You can stop kneading when it has reached this point
First proofing:
Lightly oil the bowl, cover with a kitchen towel or loosely with plastic wrap, and let rise in a warm place for about 45 minutes to 1 hour, or until double in volume. if it's colder, it may take longer to proof the dough. Place the cocoa dough in a different small bowl and let it proof together with the main dough at a warm place

For sourdough version, it may take 2 – 2 1/2 hours or longer for the dough to double at a warm place. It took mine about 2 1/2 hours
Shaping:
Line the bottom of the baking pan with a parchment paper and lightly oil the sides of the pan

Transfer the dough to a lightly floured work surface. Knock out all the gas by giving it some kneading. Divide the dough into one 50-gram dough and the rest into 4 equal-weight doughs. Round them up into balls. Cover and let them rest for 10 minutes to relax the gluten

Use a rolling pin to roll the dough out into about 30 cm in length and about 10 cm wide. Spread 1/4 of the red bean paste, leaving about 1/2 inch along the 4 edges

Arrange the orange segments on one of the long sides. Roll it up to form a rope. Repeat with the rest of the 3 large doughs

So you have 4 ropes and one small dough. The small dough is used to prop the bread up. Put it in the center and then arrange the 4 ropes around it (please refer to the photos above).

Bring the two closest ropes together by crossing each other. Then bring the two closest ropes together again by crossing them. Pinch the tip of each two ropes to seal and tuck underneath the dough
Final proofing:
Transfer the braided dough to the prepared pan. Cover and let it proof at a warm place until about 80% full. This may take about 45 minutes to 1 hour. If it is colder where you are, it may take longer

For sourdough version, it may take 3-31/2 hours or longer for the dough to double at a warm place. It took mine about 3 hours
Baking:
10 minutes before the end of proofing, preheat your oven to 375 F (190 C) for a conventional oven. For a convection oven, lower the temperature by 20 F or 15 C

Apply some egg wash on the surface of the dough. This is optional, but you can use a sharp razor or bread lame to score the top of the dough. Arrange few slices of Mandarin orange segments on top

Place the pan in the middle of the oven and bake for 30 minutes or until the bread is nicely golden brown on top and a thermometer should register around 190-200 F at the center of the bread
Cooling:
Remove the bread from the pan onto a cooling rack. Let the bread cool down completely before slicing. Dust with some powdered sugar on top for decoration purpose if you like

Once they have cooled down, you can put them in an air-tight container and can be kept at room temperature for 2-3 days
Recommended products:
Nutrition
Serving:
1
serving
|
Calories:
327
kcal
|
Carbohydrates:
55
g
|
Protein:
8
g
|
Fat:
8
g
|
Saturated Fat:
5
g
|
Polyunsaturated Fat:
1
g
|
Monounsaturated Fat:
2
g
|
Trans Fat:
0.1
g
|
Cholesterol:
23
mg
|
Sodium:
254
mg
|
Potassium:
135
mg
|
Fiber:
2
g
|
Sugar:
19
g
|
Vitamin A:
484
IU
|
Vitamin C:
8
mg
|
Calcium:
52
mg
|
Iron:
1
mg