Soft and spongy steamed sweet rice cake infused with fragrant osmanthus flower and with a layer of sugar and black sesame in the middle. It is naturally gluten-free and dairy-free.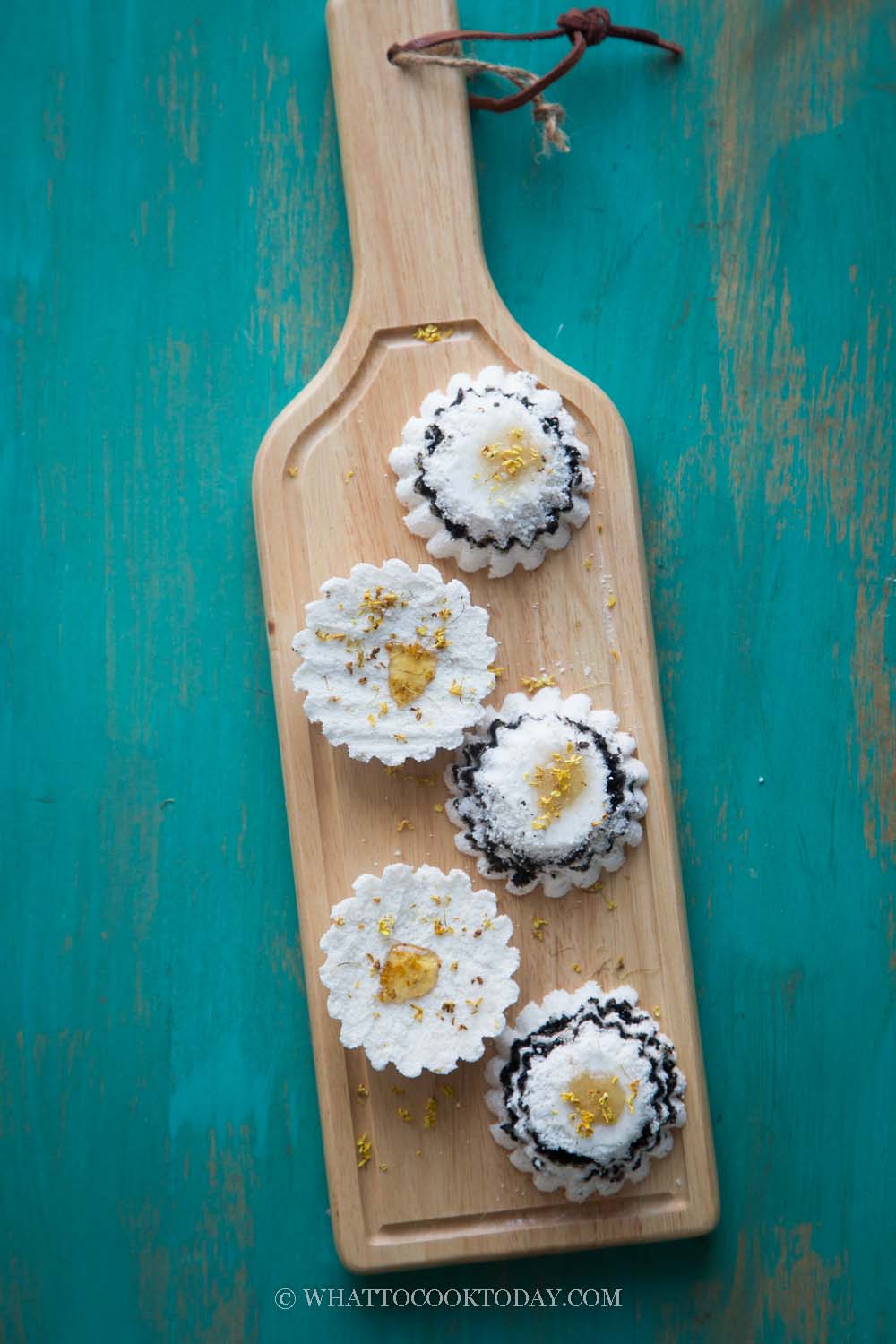 What is steamed osmanthus rice cake (Gui Hua Gao)?
The rice cake has this snow-white appearance and more often than not, is infused with dried osmanthus flower (gui hua) and also served with osmanthus syrup. The rice cake is made with a combination of rice flour and glutinous rice flour. You can also add some filling in the middle, such as in this recipe I filled the cake with black sesame and sugar combination. Some may put brown sugar in the middle, some may also include some finely chopped/ground nuts. Some may color the cake with natural or artificial food coloring or extract.
This Chinese steamed osmanthus rice reminds me of Singapore and Malaysia's kuih tutu/kuih piring, or putu bambu in Indonesia. There is also a very similar steamed rice cake like this known as baekseolgi in Korea. The steamed rice cake is just lightly sweetened and more often than not, infused with dried osmanthus flower and also served with osmanthus syrup.
Ingredients
1. Rice flour
Make sure you use pure rice flour and not a mixture of rice flour with something else
2. Glutinous rice flour
Glutinous rice flour is also known as sweet rice flour/mochiko flour. This is used to give the cake a slightly pleasant chewy texture
3. Sugar
I use granulated sugar, but you can also use caster sugar
4. Dried osmanthus flower
I get the dried osmanthus flower from here
5. Black sesame seeds
6. Osmanthus syrup
You can also use osmanthus honey jam or make your own osmanthus syrup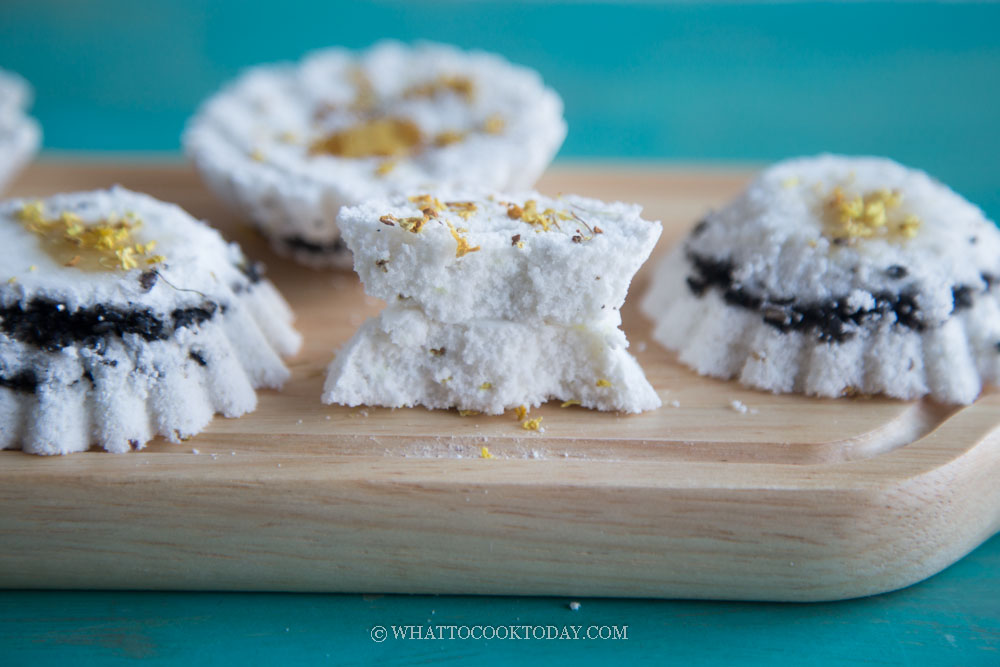 How to make steamed osmanthus rice cake
1. If you use one large pan, brush the pan with a bit of oil or use a cooking spray and then line a 6-inch round pan or 5-inch square pan with parchment paper or about 2 layers of gauze or cheesecloth. Set aside. If you use cupcake size mold, lightly grease with some non-stick spray or with some oil and wipe off any excess grease. I didn't grease mine and did not have problem unmolding the cake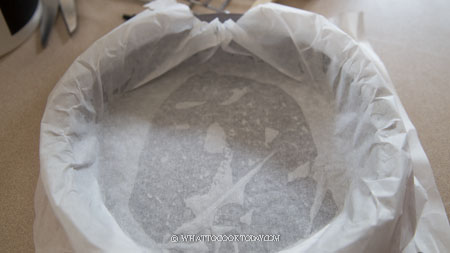 2. Toast the black sesame seeds on a dry pan over medium-low heat for about 5 minutes and then remove from the heat and let them cool down. Put the toasted seeds and sugar in a food processor and process into a powder consistency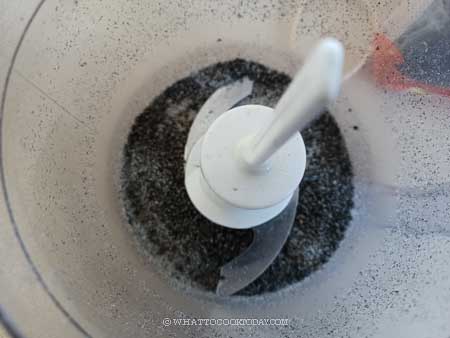 3. Put rice flour, glutinous rice flour, salt and sugar in a mixing bowl. Whisk to combine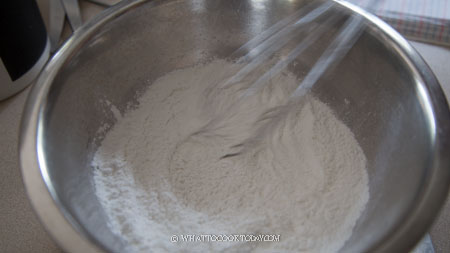 4. Add 1/4 of the water and use your clean hand to rub the flour mixture with the water and gradually add a bit more of the water. You want to keep adding the water until you get a texture of a coarse powder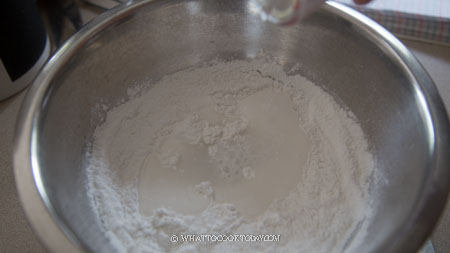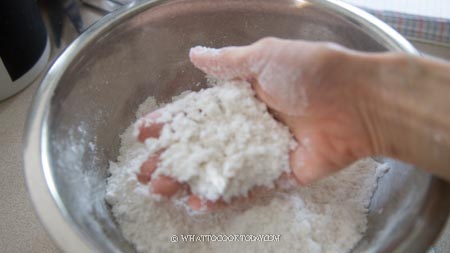 5. When you press and squeeze the cake mixture with your hand and release, it holds the shape and when you shake it around a bit (not vigorous shaking), it will still hold the shape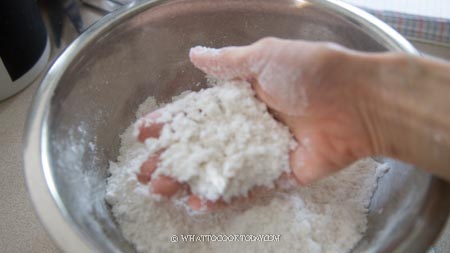 6. When you push it with your fingers, it crumbles. This is the right consistency we want


7. Bring the water in the steamer to a boil. Use a fine sieve and sift the cake mixture to get a fine powder consistency.This is important so that your cake will be light and fluffy. Sieve the mixture twice if necessary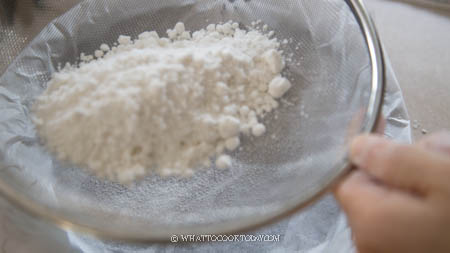 8. Then add the dried osmanthus flour and VERY lightly mix it. Do not put any pressure while mixing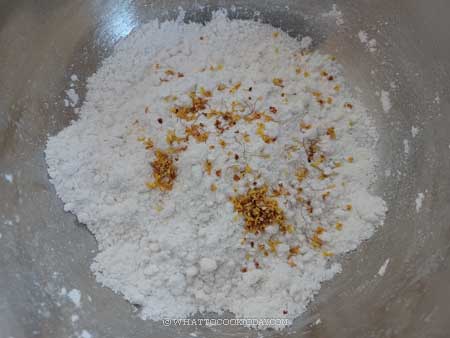 9. If using cupcake mold: Spoon about 2-3 teaspoons of the cake mixture into the cup (you may need a bit more if your cup is bigger). Shake it a bit to level the surface. DO NOT use a spoon to press on the cake mixture to level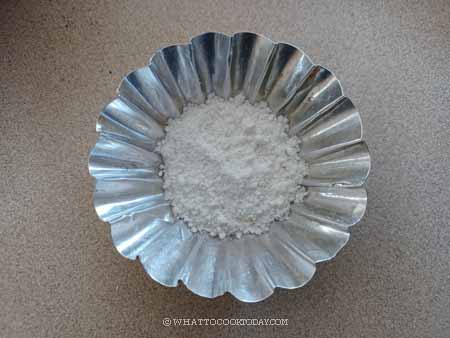 Spoon about 2-3 teaspoons of the black sesame mixture on top


Then top with another layer of cake mixture. You can repeat with another layer of black sesame and finish off with the cake mixture. You can also just do 1 layer of black sesame in the middle. It's up to you. Use the back of the knife or scraper to level off. Remember, DO NOT press on the cake at all. If you press on it, the cake will come out very dense after steaming.


Top with some dried osmanthus flower on top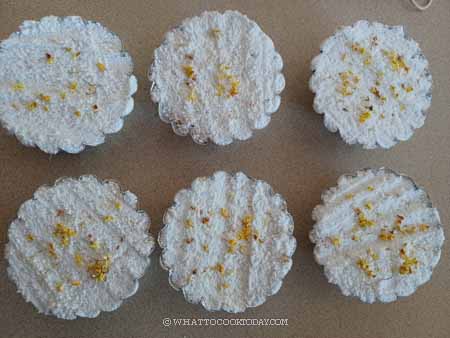 If using a large pan: Sprinkle about half of the cake mixture onto the prepared pan Sprinkle with some osmanthus flower on each slice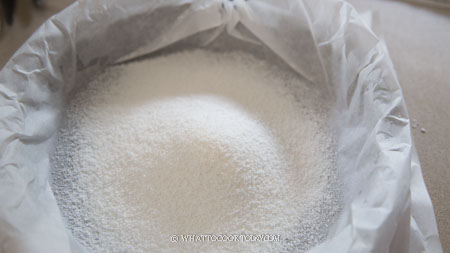 Use a brush or a bench scraper to very gently level the surface so it's even. DO NOT press on the cake mixture at all.

Then sprinkle the black sesame mixture on top (I didn't use any sesame seeds filling in this photo). Level with a brush again and finish up with the rest of the cake mixture and level the surface again so it's flat and even. Use a bench scraper to cut into 8-10 slices.


Sprinkle with some osmanthus flower on each slice

Wrap the lid of the steamer with a cloth so water condensation won't fall on the cake surface as this will ruin the look and the wet spots will be dense. Once the water in the steamer is rolling boil, put the pan or cupcake cups in. Cover with a lid and lower the heat to medium and steam for about 20 minutes for large cake and about 10 minutes for cupcake size


The cake will detach from the side of the pan when they are cooked through. If you prepare cupcake size, gently unmold the cake onto a serving plate. Put some osmanthus syrup on top of the cake just right before serving

It is best served warmed
These steamed osmanthus rice cakes are best served while they are still warm. The texture will be soft and spongy. They will toughen up a bit once they have cooled down completely and this is normal. A simple reheating in the steamer will bring them back to life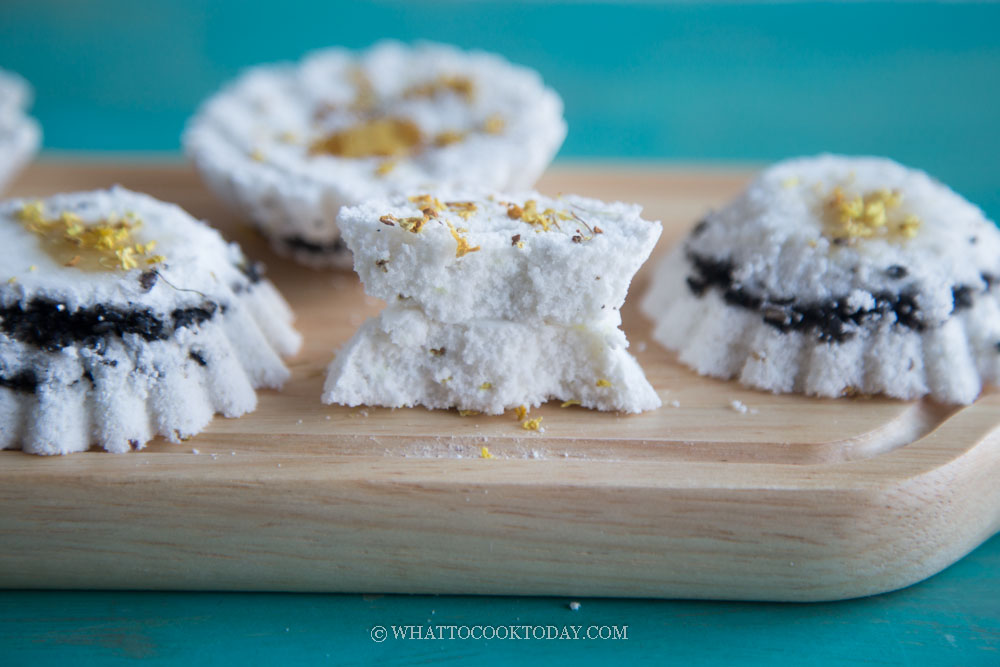 Important tips
1. It is important that the cake mixture is the right consistency I described in my post above. It holds its shape after you squeeze it and crumbles when you push on it
2. You have to sift the cake mixture to make sure it is a consistency of fine powder. Sifting also makes it light and airy
3. You shouldn't apply any pressure at all the whole time you are shaping the cake. The cake mixture should be light, fluffy, and loose
4. The cake will come together in one piece after steaming. It should be moist, fluffy, and spongy
5. If there are many cracks on the surface of the cake, it's a sign that you have overcooked the cake, which will result in very dry texture
Did you make this recipe?
I love it when you guys snap a photo and tag to show me what you've made 🙂 Simply tag me @WhatToCookToday #WhatToCookToday on Instagram and I'll be sure to stop by and take a peek for real!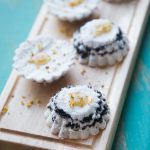 Chinese Steamed Osmanthus Rice Cake
Ingredients
Instructions
If you use one large pan, line a 6-inch round pan or 5-inch square pan with a crumpled up parchment paper or about 2 layers of gauze or cheese cloth. Set aside

If you use cupcake size mold, lightly grease with some non-stick spray or with some oil and wipe off any excess grease. I didn't grease mine and did not have problem unmolding the cake
Prepare the black sesame filling:
Toast the black sesame seeds on a dry pan over medium-low heat for about 5 minutes and then remove from the heat and let them cool down

Put the toasted seeds and sugar in a food processor and process into a powder consistency
Prepare the cake mixture:
Put rice flour, glutinous rice flour, salt and sugar in a mixing bowl. Whisk to combine. Add 1/4 of the water and use your clean hand to rub the flour mixture with the water and gradually add a bit more of the water. You want to keep adding the water until you get a texture of a coarse powder
How to test for the correct consistency:
When you press and squeeze the cake mixture with your hand and release, it holds the shape and when you shake it around a bit (not vigorous shaking), it will still hold the shape. When you push it with your fingers, it crumbles. This is the right consistency we want
Shaping:
Bring the water in the steamer to a boil. Use a fine sieve and sift the cake mixture to get a fine powder consistency.This is important so that your cake will be light and fluffy. Sieve the mixture twice if necessary. Then add the dried osmanthus flour and VERY lightly mix it. Do not put any pressure while mixing
If using cupcake mold:
Spoon about 2-3 teaspoons of the cake mixture into the cup (you may need a bit more if your cup is bigger). Shake it a bit to level the surface. DO NOT use a spoon to press on the cake mixture to level. It should be a loose mixture. Spoon about 2-3 teaspoons of the black sesame mixture on top. Then top with another layer of cake mixture. You can repeat with another layer of black sesame and finish off with the cake mixture. You can also just do 1 layer of black sesame in the middle. It's up to you. Use the back of the knife or scraper to level off. Remember, DO NOT press on the cake at all. If you press on it, the cake will come out very dense after steaming.

Sprinkle with some osmanthus flower on top
If using a large pan:
Sprinkle about half of the cake mixture onto the prepare pan and use a brush or a bench scraper to very gently leveling the surface so it's even. DO NOT press on the cake mixture at all. It should be a loose mixture. Then sprinkle the black sesame mixture on top. Level with a brush again and finish up with the rest of the cake mixture and level the surface again so it's flat and even. Use a bench scraper to cut into 8-10 slices. Sprinkle with some osmanthus flower on each slice
Steaming:
Wrap the lid of the steamer with a cloth so water condensation won't fall on the cake surface as this will ruin the look and the wet spots will be densed

Once the water in the steamer is rolling boil, put the pan or cupcake cups in. Cover with a lid and lower the heat to medium and steam for about 20 minutes for large cake and about 10 minutes for cupcake size. Do not overcook the cake or they will dry up and crack on top

The cake will detach from the side of the pan when they are cooked through
Serving:
If you prepare cupcake size, gently unmold the cake onto a serving plate. Put some osmanthus syrup on top of the cake just right before serving

These steamed osmanthus rice cakes are best served while they are still warm. The texture will be soft and spongy. They will toughen up a bit once they have cooled down completely and this is normal. A simple reheating in the steamer will bring them back to life
Nutrition
Serving:
1
cake
Calories:
84
kcal
Carbohydrates:
17
g
Protein:
1
g
Fat:
1
g
Saturated Fat:
1
g
Polyunsaturated Fat:
1
g
Monounsaturated Fat:
1
g
Sodium:
25
mg
Potassium:
19
mg
Fiber:
1
g
Sugar:
5
g
Vitamin A:
1
IU
Calcium:
18
mg
Iron:
1
mg