I'm sharing with you this easy yet healthier version of banana cake recipe (bolu pisang panggang) that is soft and fluffy and uses only 1 egg and cooking oil instead of butter. I highly recommend this banana cake as it tastes light and not dense and heavy but still very moist and satisfies that craving for moist banana cake. The recipe uses common ingredients found in most pantries.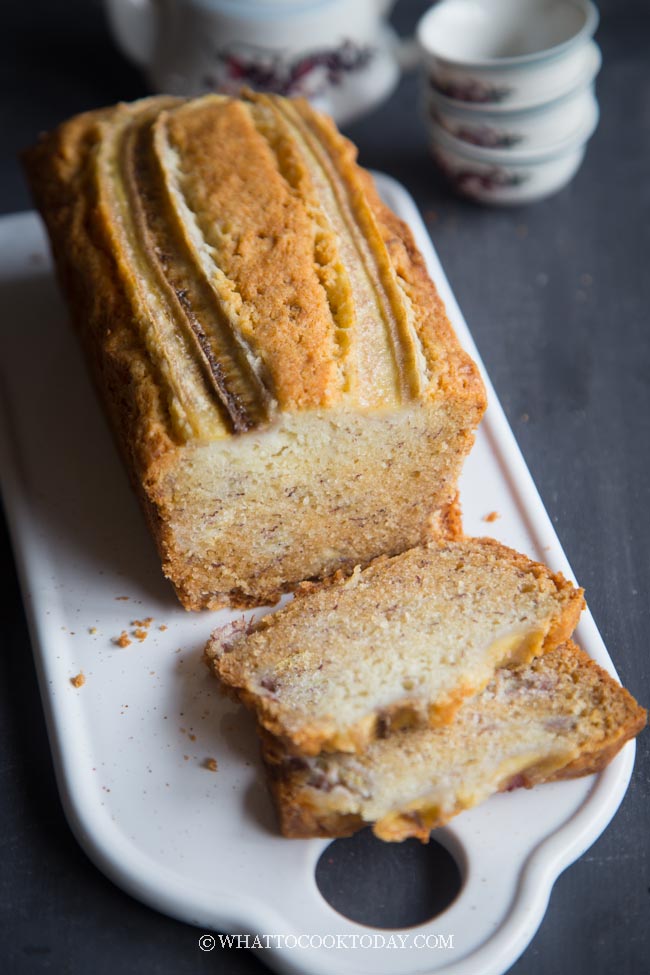 A baked banana cake like this is not really considered an Asian type of cake, however, it is highly popular in Southeast Asia such as Singapore and Malaysia. In Indonesia, we call this Bolu Pisang Panggang. Bakery shops in Asia sell baked banana cakes with different textures, some are chiffon type, some are denser and richer in texture, some are more buttery type. This banana cake recipe I'm sharing here is moist, but not dense, instead, it is pretty light and fluffy for a banana cake.
OUR NEW FAVORITE IN THE HOUSE
If you are looking for a moist banana cake that is soft and fluffy and not dense, this is it!! There are always overripened bananas around in our house 🙂 and besides using them to make this no yeast, no eggs steamed banana huat kueh, or Indonesian pisang goreng, I like to make this new-favorite of ours, healthier version of soft, fluffy and moist banana cake. Is this possible? Well, I think it is. Most banana cakes I've had are moist yes!! but also cloyingly sweet and eggy. I was looking for something a bit lighter. I decided to experiment on it one morning and I'm happy to say that the family loves this.
WHAT MAKES THIS BANANA CAKE SOFT, FLUFFY, AND MOIST
1. USE CAKE FLOUR
Cake flour is lower in gluten compared to all-purpose flour. I highly recommend using cake flour or you can make your own cake flour (details below)
1. BEATING THE EGG WITH SUGAR
You can just whisk the eggs with sugar by hands, but if you really want the eggs to be fluffy, and not dense, whipping them with a hand mixer or a stand mixer really does it! It worths that extra little effort.
2. LEAVENING AGENTS
Both baking powder and baking soda are used as leavening here
3. THE OIL
Besides the moisture from the bananas that contributes to the moistness, the oil also helps to keep the cake moist. The amount calls for in the cake is just perfect I think.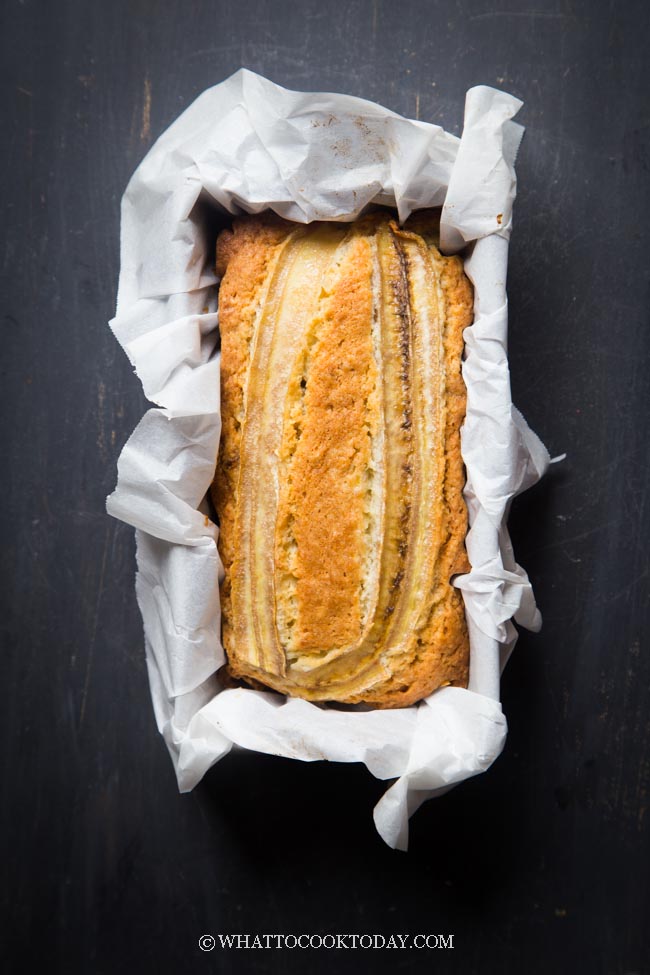 TYPES OF BANANAS TO USE
You can pretty much use any kind of bananas you like as long as they are ripe or even better, overripen as they will be sweeter and with a better aroma too.
IF YOU DON'T HAVE CAKE FLOUR
Most people have all-purpose flour in stock instead of cake flour, me too. You can make your own cake flour for this recipe:
1. Measure 1 1/2 cups (180 gr) all-purpose flour
2. Remove 3 tablespoons (24 grams) of the all-purpose flour
3. Add 3 tablespoons (24 grams) of cornstarch to all-purpose flour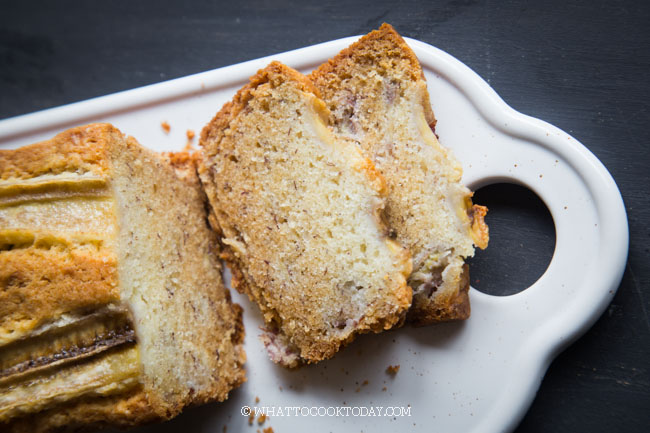 Let's get baking shall we?
HOW TO MAKE NO-FUSS HEALTHIER SOFT, FLUFFY, AND MOIST BANANA CAKE
1. MASH THE BANANAS
Mash the banana with a fork (which is what I did). You don't need to blender it until it's smooth unless you want too. You can even cut them in small pieces. I like to bite into small pieces of bananas in the cake too. It's up to you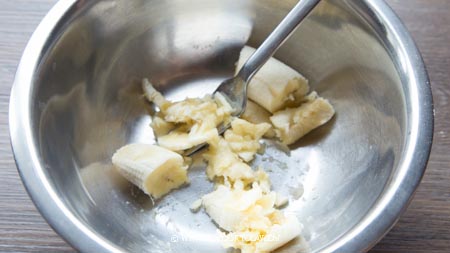 2. MIX DRY INGREDIENTS
Place the flour, baking powder, and baking soda in a bowl and whisk to mix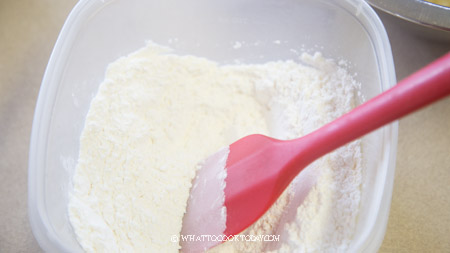 3. BEAT EGG WITH SUGAR
Place the egg and sugar in a mixing bowl and beat until they are pale and creamy and rich a "ribbon stage" meaning when you scoop the batter up, it will slowly fall down and leave some trails for few seconds before merging into the batter again. This takes about 2-3 minutes on a high speed using a hand mixer or stand mixer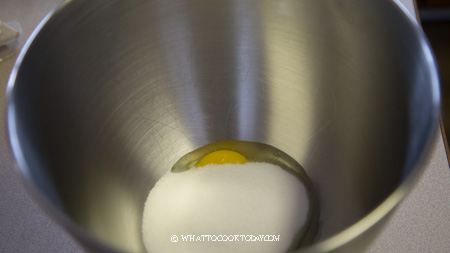 4. FOLD IN MASHED BANANA
Fold in all the mashed bananas into the beaten egg and sugar mixture and stir 2-3 times to combine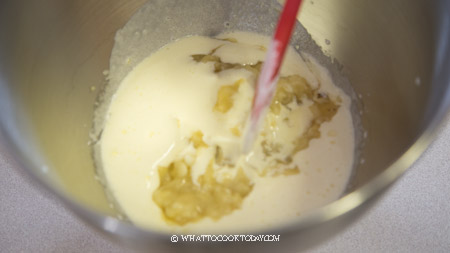 5. FOLD IN FLOUR AND OIL
Then add 1/3 of the flour mixture and stir few times to combine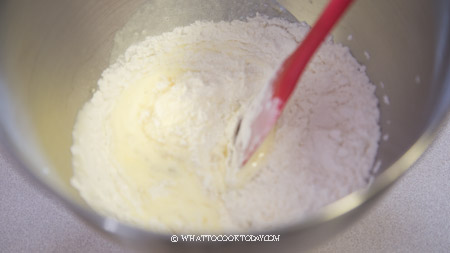 Add 1/3 of the oil and stir again to combine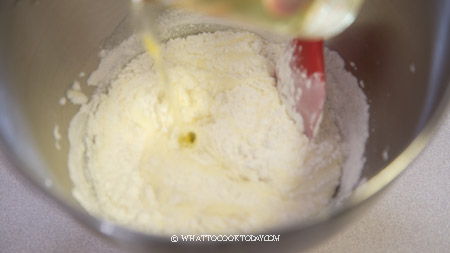 Continue to alternate between the flour and oil this way until they run out. The batter will not be smooth, but as long as you no longer see any loose flour, it's good. Don't overmix it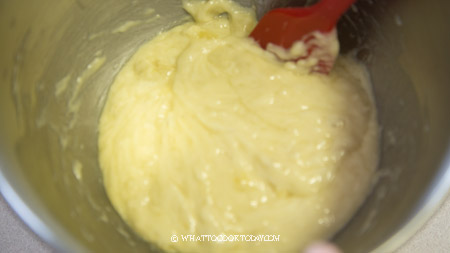 6. BAKE
Pour into the prepared pan and gently smooth the surface with a rubber spatula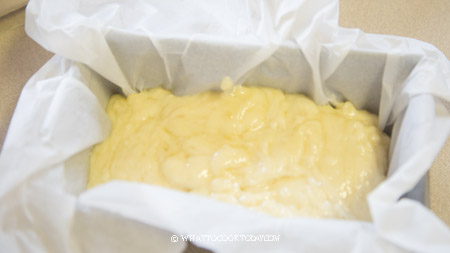 Place two thinly sliced banana on top if you like, or round slices of banana on top to decorate if you like. Place the pan 3rd rack from the top and bake for 50 minutes or until a toothpick inserted into the middle of the cake comes out clean.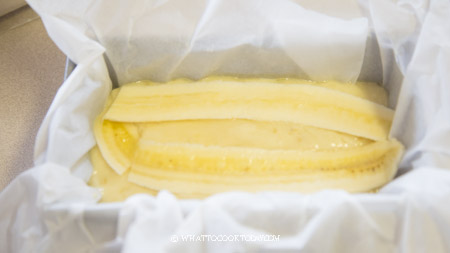 Remove the cake from the oven and let it cools down in the pan for 5 minutes and then transfer to a cooling rack to let it cools down completely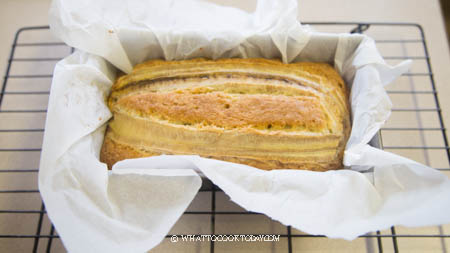 WHAT TO SERVE WITH BANANA CAKE
In Southeast Asia, we eat banana cake as is most of the time, without any icing or frosting. I'm not a fan of those. But you can certainly dress it up with cream cheese frosting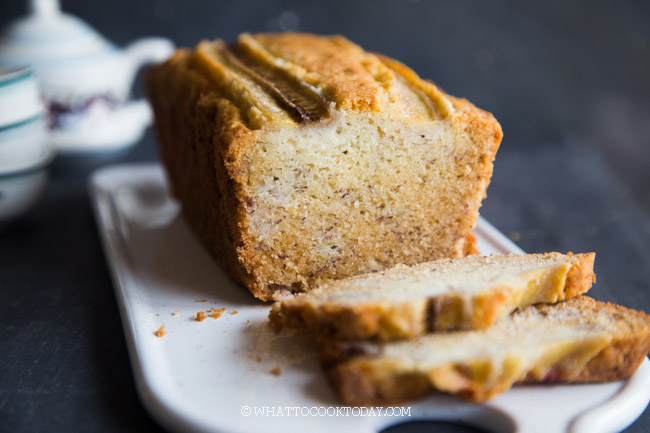 HOW TO STORE BANANA CAKE
1. ROOM TEMPERATURE
The banana cake can be kept at room temperature for 3-4 days. Simply place them in an air-tight container or wrap them in a plastic wrap. I recommend only to keep it in a loaf form and only slice as many you want to serve to prevent the cake from drying out due to exposing more of the cake surface if you slice all the cake
2. IN THE FRIDGE
After 4 days, if you still have the leftover (never last that long in our house), put them in the fridge
3. IN THE FREEZER
For longer storage, wrap the loaf in aluminum foil and then place inside a freezer bag. They can be kept in the freezer for maximum of 3 months for the best result without getting freezer burn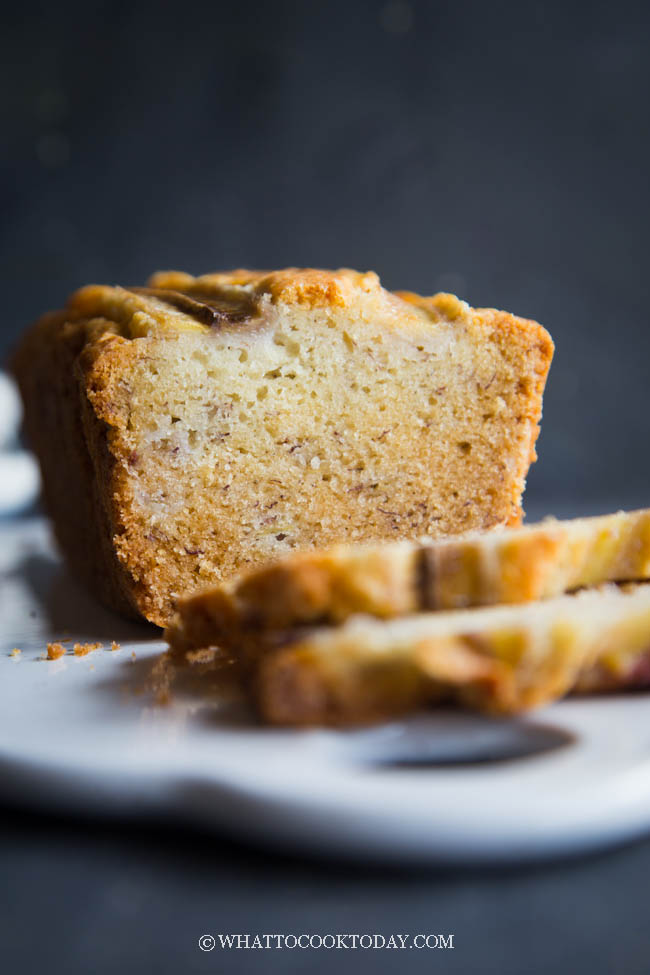 HOW TO THAW FROZEN BANANA CAKE
1. OVERNIGHT IN THE FRIDGE
Take them out from the freezer and remove from the freezer bag, but keep the aluminum foil and you can let it thaw overnight in the fridge.
2. ROOM TEMPERATURE
Take them out from the freezer bag but still in aluminum foil and let them sit on the counter for 2-3 hours before you plan to serve.
DID YOU MAKE THIS HEALTHIER SOFT, FLUFFY, AND MOIST BANANA CAKE RECIPE?
I love it when you guys snap a photo and tag to show me what you've made 🙂 Simply tag me @WhatToCookToday #WhatToCookToday on Instagram and I'll be sure to stop by and take a peek for real!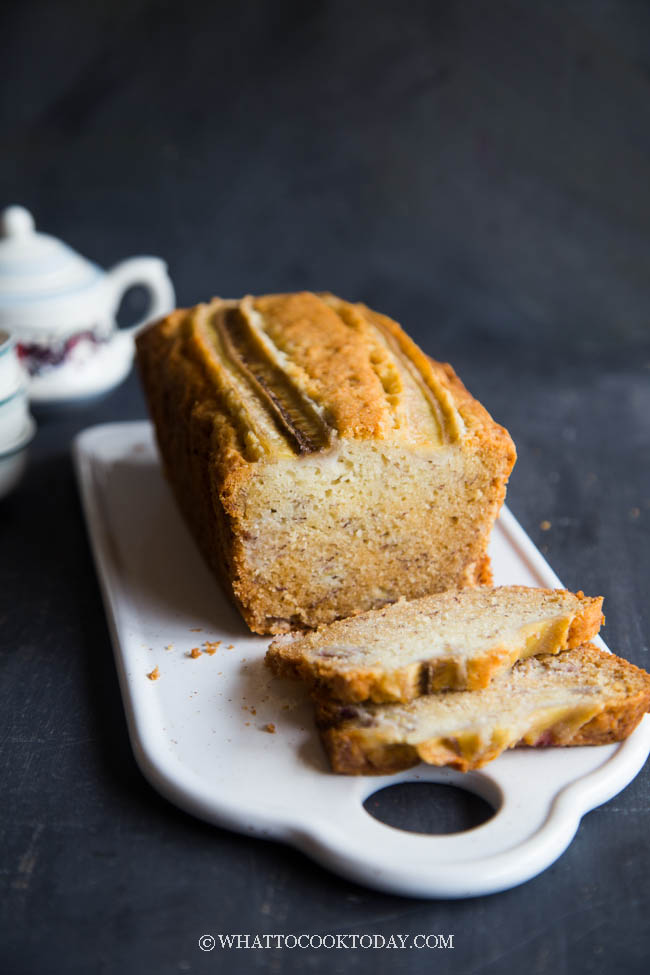 No-Fuss Healthier Soft, Fluffy, and Moist Banana Cake (Using Oil) - Bolu Pisang Panggang
Ingredients
Wet ingredients:
1

large

egg

room temperature egg is best

90

gr

sugar

or up to 125 gr (10 Tbsp)

200

gr

overripen mashed banana

plus extra if you want to decorate with slices of banana on top of the cake

125

gr

cooking oil
Optional topping:
Slices of bananas

Chocolate sprinkle

Chopped walnuts
Instructions
Preheat oven to 350 F (180 C). My oven is conventional with bottom heat only. If yours are convection, you may want to lower the temperature by 15-20 degrees OR keep the same temperature with shorter cooking time

Line a loaf pan with parchment paper. You can also use 7 inches round or square pan (cake will be shorter). If your pan has non-stick coating already, you don't need to line with a parchment paper

Mash the banana with a fork (which is what I did). You don't need to blender it until it's smooth unless you want too. You can even cut them in small pieces. I like to bite into small pieces of bananas in the cake too. It's up to you
Mix the dry ingredients:
Place the flour, baking powder, and baking soda in a bowl and whisk to mix
If using mixer method to beat egg with sugar (soft, moist and fluffy cake):
If you can leave the egg out about 15 minutes at room temperature, that's even better. They just whip better. Place the egg and sugar in a mixing bowl and beat until they are pale and creamy and rich a "ribbon stage" meaning when you scoop the batter up, it will slowly fall down and leave some trails for few seconds before merging into the batter again. This takes about 5 minutes on a high speed using a stand mixer and a bit longer with a hand mixer

Fold in all the mashed bananas into the beaten egg and sugar mixture and swipe down and fold over until just combine. Then add 1/3 of the flour mixture and stir few times to combine, add 1/3 of the oil and stir again to combine. Continue to alternate between the flour and oil this way until they run out. The batter will not be smooth, but as long as you no longer see any loose flour, it's good. Don't overmix it

Pour into the prepared pan and gently smooth the surface with a rubber spatula. Place two thinly sliced bananas on top if you like, or round slices of banana on top to decorate if you like
If using a hand whisk and no mixer method (moist and pleasantly dense cake):
Use a balloon whisk to mix the sugar and eggs until frothy and sugar has dissolved. Add oil, and mashed bananas and continue to whisk until the oil is combined with the eggs and sugar. Sift in the flour mixture and continue to whisk in a "Z" motion until no more loose flour. Don't overmix.

Pour into the prepared pan and gently smooth the surface with a rubber spatula. Place two thinly sliced bananas on top if you like, or round slices of banana on top to decorate if you like
Bake:
Place the pan 3rd rack from the top and bake for 50 minutes or until a cake tester or a skewer inserted into the middle of the cake comes out clean. It may only take about 30-40 minutes for convection oven if you bake at 350 F (180 C)

Remove the cake from the oven and let it cools down in the pan for 5 minutes and then transfer to a cooling rack to let it cools down completely
How to store banana cake:
The banana cake can be kept at room temperature for 3-4 days. Simply place them in an air-tight container or wrap them in a plastic wrap. I recommend only to keep it in a loaf form and only slice as many you want to serve to prevent the cake from drying out due to exposing more of the cake surface if you slice all the cake

After 4 days, if you still have the leftover (never last that long in our house), put them in the fridge

For longer storage, wrap the loaf in aluminum foil and then place inside a freezer bag. They can be kept in the freezer for maximum of 3 months for best result without getting freezer burn
Recommended products:
OTHER RECIPES WITH BANANAS YOU MAY LIKE:
Steamed Banana Huat Kueh / Kuih (No Yeast, No Eggs)


How To Make Pisang Goreng Ketan Kelapa (Indonesian Banana Fritters)


Hun Kwe Pisang Nangka (Mung Bean Flour Banana Jackfruit Cake)