Watercress has gained lots of popularity lately for its antioxidants properties. We grew up eating lots of watercress. My mom often made soup with watercress, tomatoes, garlic, and some pork bones.
The soup was slowly cooked so the pork bones, tomatoes, and garlic release wonderful flavor to the soup. Everything pretty much melt in your mouth when you have the soup!! love it!
I tried to incorporate watercress in stir-frying as well. This spaghetti with shrimp and watercress is one of the example.
You will love how easy this dish is to prepare, how healthy it is, and how good it tastes at the same time. It's a win-win all around 🙂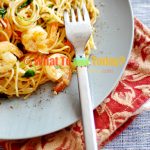 SPAGHETTI WITH SHRIMP AND WATERCRESS
Ingredients
8

oz

spaghetti

(use whole-wheat spaghetti if you prefer)

5

shallots

, thinly sliced

1

lb

large shrimp

(deveined, shelled, leave the tails on for presentation)

2

Tbsp

grape seeds oil

8

oz

of watercress

(washed)

Dash of pepper and salt to taste

Pinch of paprika powder
Instructions
Cook the pasta to the firmness you prefer, since we will be stir-frying it, under cook it a little bit. Drain off the water (reserve about 1/4 cup of the cooking water), but do not rinse with cold water. Set aside

Preheat a large wok or skillet, add in the grape seeds oil. Add in the shallots and fry until soft and fragrant. Add in the shrimp and continue to saute until they turn color, about 3-4 minutes. Add in the watercress and pasta along with the reserve water. Stir to mix everything and saute for another minute. Season with salt, pepper, and paprika powder. Have a taste and adjust to your liking