Delicious Taiwanese-style chicken dish with its famous savory sweet three-cup sauce can be easily made with Instant Pot or on the stove.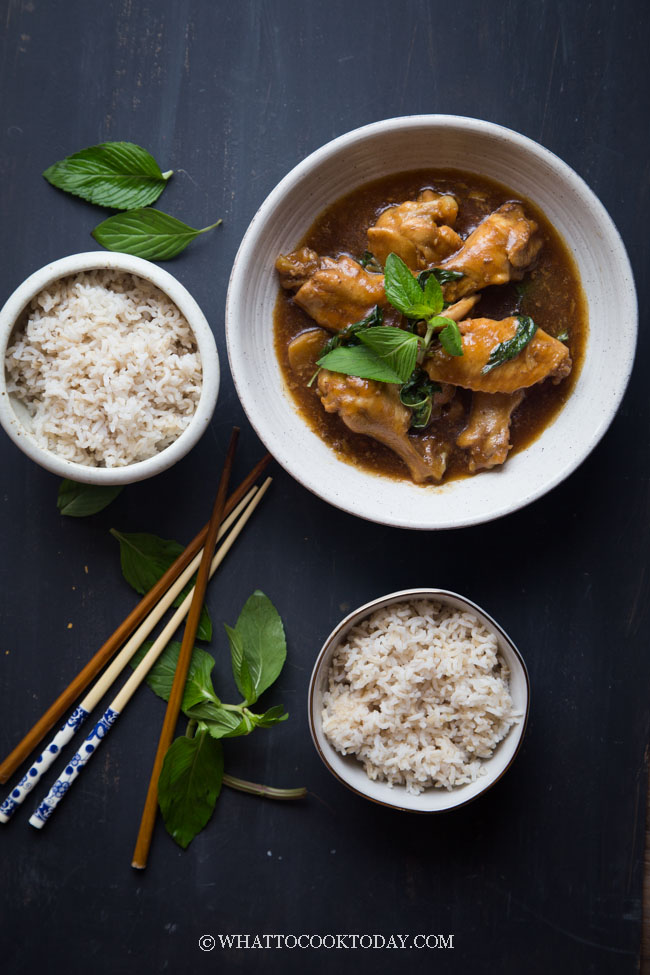 TAIWANESE THREE CUP CHICKEN
Despite its origin from China, three cup chicken or san bei ji (三杯鸡) is even more popular in Taiwan. Why is it called three cup chicken? The chicken is cooked in so-called "three cup sauce" made with one cup of each sesame oil, dark soy sauce, and rice wine. The sauce made the chicken tastes amazingly fragrant and rich.
TRADITIONAL THREE CUP SAUCE VS MY TONED-DOWN VERSION
Like I mentioned above, traditionally, the sauce is made with one cup of each sesame oil, dark soy sauce, and rice wine. I feel like one cup of sesame oil is wayyyy too much and make the dish quite greasy. I have cut down on the oil but I can tell you it is still a very tasty san bei ji. The family can attest to that 😉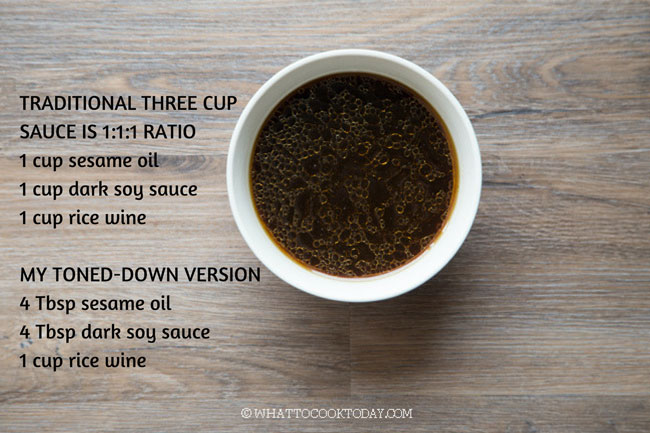 OTHER USAGE OF THREE CUP SAUCE
The three cup sauce is suitable for use in other stir-frying meat dishes like pork, beef, and seafood too. You can mix ahead and store them in the jar and keep it in the fridge (no more than 2 weeks) and use it whenever you need it.
MY VERSION HAS MORE SAUCE
Traditional san bei ji is cooked until the sauce is fairly dry and not thickened with corn starch solution. My version has more sauce because my kids love the sauce to go with the rice, but you can cook it more at the dry side and don't add any water at all, which I didn't with instant pot version, but because very minimal liquid evaporates when you pressure cook in instant pot, it still has more liquid. You can simply boil off the liquid before adding the corn starch solution if you really want it drier.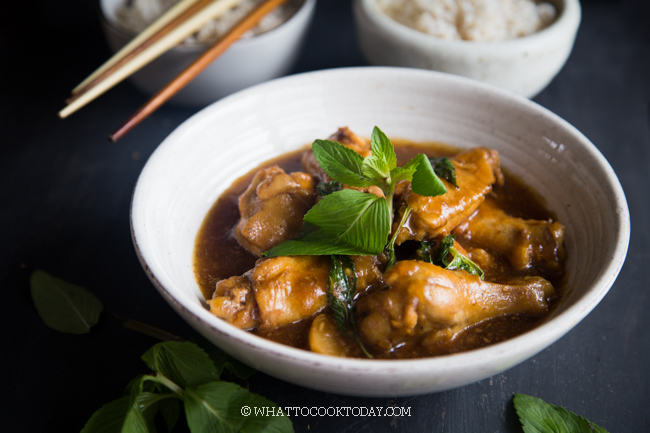 PRO TIPS YOU NEED TO KNOW
– Make sure to use the same cut of chicken and roughly about the same size so they cooked through at the same time
– I suggest using dark meat, bone-in and skin on meat, they are more flavorful, but feel free to use white meat and boneless if that's what you prefer, just don't blame me later 😉
– Only thicken the sauce when you are ready to serve. You can cook ahead and thicken it later
– Turn off the heat once you add basil leaves to the dish as overcooked basil leaves will lose their fragrant
HOW TO MAKE SAN BEI JI WITH INSTANT POT
Let's get cooking shall we? If you don't own a pressure cooker or Instant Pot, you can still make san be ji on a stove. Both recipes are included in the recipe card below when you scroll down.
1. Press SAUTE on Instant Pot to preheat the inner pot. Then saute garlic and ginger until aromatic


2. Add chicken pieces and saute for another minute


3. Pour in the three cup sauce you prepared earlier


4. Bring to a boil to cook off the alcohol, about 5 minutes


5. Turn off SAUTE mode and close the lid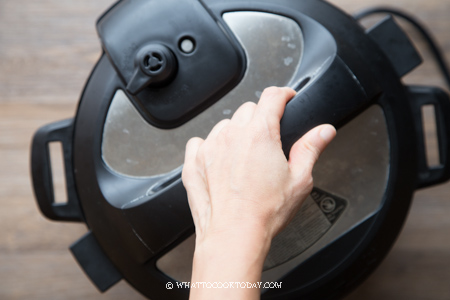 6. Pressure cook for 12 minutes on high pressure. The safety button will fully rise up when it has fully pressurized


7. Carefully release pressure immediately after 12 minutes and wait for safety button to collapse before opening


8. This is how it looks like


9. Press SAUTE again to bring the sauce back to a boil


10. Stir in the corn starch solution and cook until the sauce is bubbly and thickened


11. Turn off SAUTE mode and scatter in the basil leaves. Have a final taste by adding more salt and/or sugar if necessary. The sauce should be savory and slightly sweet


12. Garnish with more basil leaves if you want and ready to be served

Easy peasy lemon squeezy right ? (that's what my kiddos say every day. It drives me nuts!)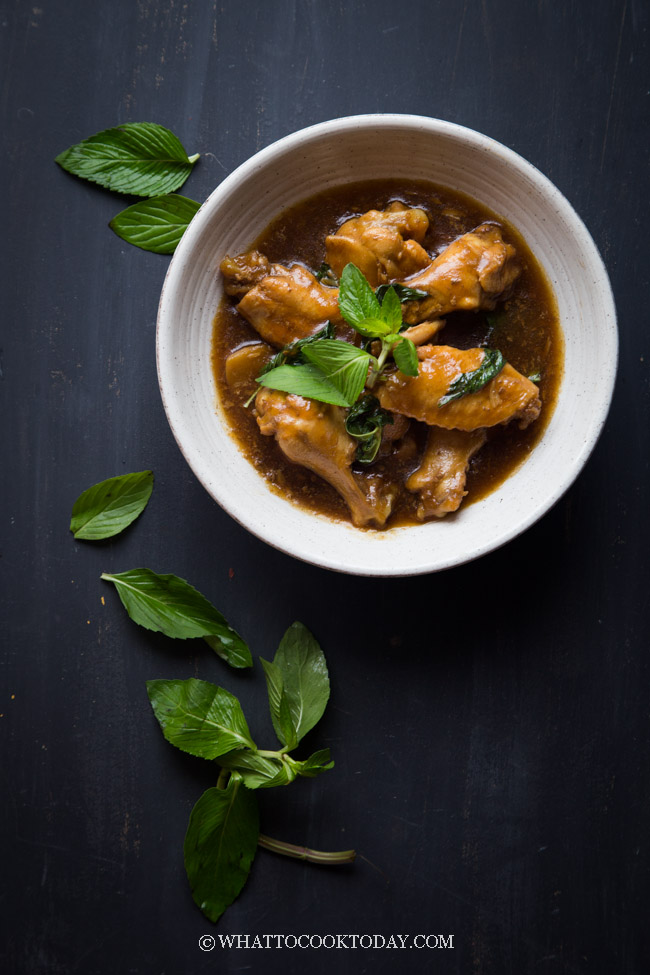 Now we just need to get the table set up and serve with some plain rice.

I would imagine if you have crusty bread, ooohh…I would mop the sauce with the bread!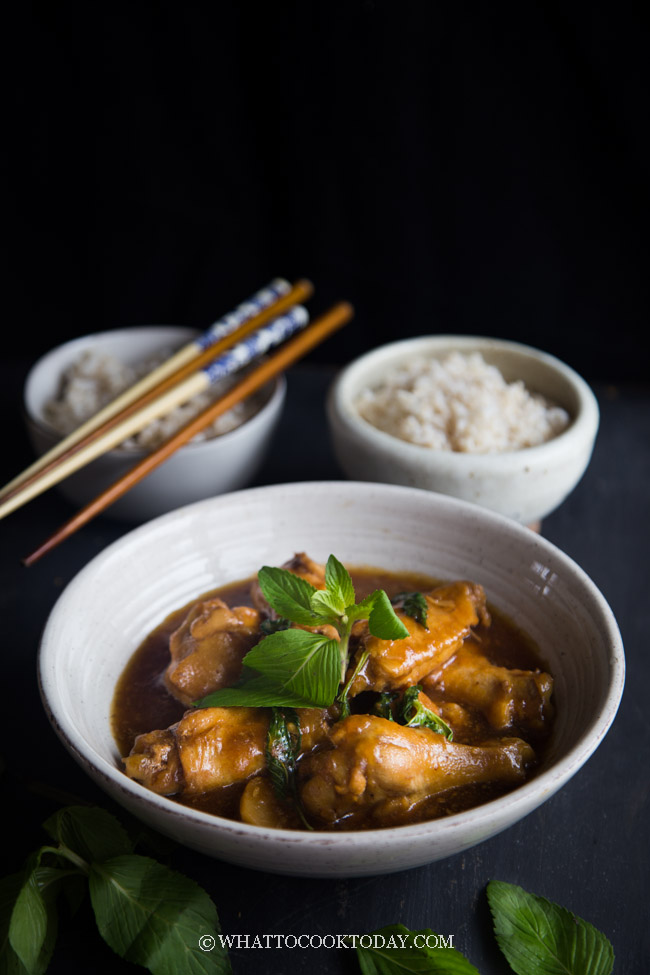 How To Make Instant Pot Three Cup Chicken (San Bei Ji)
Ingredients
1.5

lbs

bone-in chicken with skin

I used wings drummettes

1

Tbsp

oil

1

thumb size fresh ginger

peeled and thinly sliced

8

cloves

garlic

peeled and mash with heavy object

3

fresh red chilis

optional, cut into slices and seeded if you like

1

cup

fresh basil leaves
Three-cup sauce:
4

Tbsp

sesame oil

4

Tbsp

dark soy sauce

1

cup

rice wine

1

Tbsp

sugar

¼

cup

water

only if you cook on the stove, don't add water if cook with instant pot
Instructions
Cut chicken into small pieces if you choose to or leave them whole. I suggest not using to big cut of chicken like thighs. I use wings drummettes

Mix all the ingredients for the three cup sauce in a bowl and set aside

Mix corn starch with water and set aside. Remember to give it a stir before pouring it in later. The starch tends to settle at the bottom
Cooking with Instant Pot:
Press saute on instant pot and when it says "hot", add 1 Tbsp cooking oil. Add garlic and ginger. Stir fry until really fragrant, about 1 minute. Add the chicken pieces in and stir fry for another minute

Add the three cup sauce and chili (if using) into the pot. Bring it back to a boil and let it boil for about 5 minutes to cook off the alcohol. Turn off the saute mode. Close the lid. Turn steam release valve to "sealing". Press "pressure cooker" and make sure it's on "high pressure". Set timer to 12 minutes (see notes).Release pressure immediately once it's done cooking

Bring the sauce back to a boil and then give the corn starch solution a stir and pour it in and stir until the sauce is bubbly and thickened

Turn off saute mode and scatter the basil leaves and stir to mix. Transfer to serving platter and serve immediately
Cooking on the stove:
Preheat a large wok or skillet over high heat. Add cooking oil. Add garlic and ginger and stir fry for about 1 minute. Add the chicken pieces and cook until they turn opaque, about 3 minutes. They won't be cooked through yet

Add the three cup sauce you prepared earlier and red chili (if using). Bring to a boil and let it boil for about 5 minutes to cook off the alcohol. Cover with a lid and lower the heat and simmer until chicken pieces are cooked through

Uncover the lid and stir in the corn starch mixture and cook until the sauce is bubbly and thickened. Turn off the heat and scatter the basil leaves on top and stir to mix
Notes
If using:
- Large drumsticks, set the timer to 15 minutes and release pressure immediately
- boneless skinless chicken thighs cut into bite-size pieces, you don't even need to pressure cook. Just cook until the chicken pieces are cooked through using SAUTE mode