This shop has been compensated by Collective Bias, Inc. and its advertiser. All opinions are mine alone. #SnackPackNaturals #CollectiveBias
With the summer heading this way (I can proudly say that out loud this year!), it's time to get that popsicle-making going. I remember my grandma made popsicles often and it's one of my favorite thing in hot summery days. Weather can get incredibly hot and humid in Indonesia and so it's not unusual to find stash of popsicles sticks in the freezer all year long.
Not too long ago I saw popsicle molds at the store and my daughter couldn't be happier when I told her we were going to make some popsicles at home. The nice thing about making your own popsicles is that you know what ingredients you put in there. As popsicles will be snacks that my family often have during the warmer weather, I prefer to make my own and use ingredients that are natural and not excessively sweetened. I enjoy pudding popsicles because they add more body to the popsicles. I'm thrilled to find Snack pack Naturals pudding at Walmart. This is apparently a new product that is natural without any high-fructose corn syrup and no artificial ingredients. My family loves to snack on pudding and so, this is perfect. It's even better now that I can use the pudding to make this strawberry kiwi chocolate pudding popsicles.
Don't you just love the gorgeous bright color with the delicious chocolate pudding in between those layers and colorful fruits ? My kids told me next time I should make the whole popsicles just with the chocolate pudding !! ha..ha..! but she said she loved her popsicles colorful too!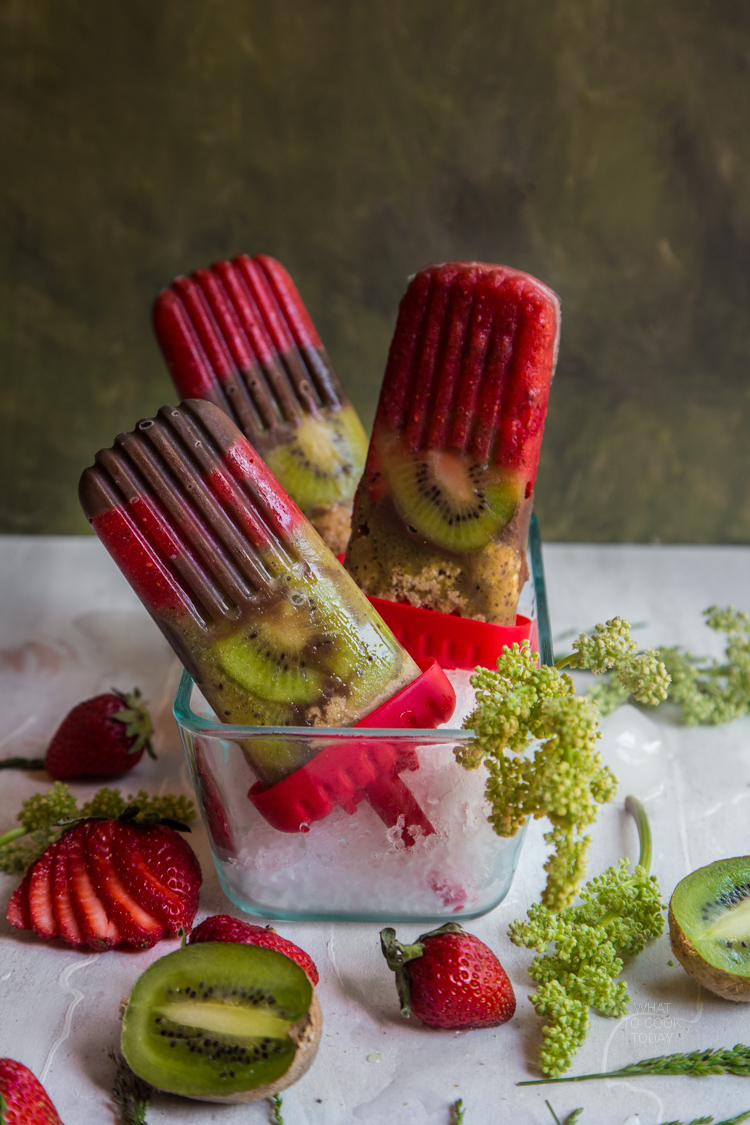 Strawberry kiwi chocolate pudding popsicles ( 6 popsicles)
Ingredients
3

of 3.75 oz Snack Pack Naturals chocolate pudding

10

pieces

of graham crackers + 1 Tbsp of cooking oil

2

cups

fresh strawberries + 2 for decoration

remove the stem and leaves

2

large kiwis + 1 for decoration

peeled

Raw honey

the amount depends on the sweetness of the strawberries and kiwis

3

Tbsp

of chia seeds
Instructions
Slice the 2 strawberries into thinly slice. Do the same with the kiwis. We are going to slide these slices into the popsicle molds later

Crush the graham crackers into fine crumbs. You can do so in the blender. Add in the cooking oil and use your clean hand to mix them into a wet-sand like texture

Place the rest of the strawberries in a blender and add in about 2-3 Tbsp of raw honey and puree until smooth. You can try and see if it is sweet enough for you. I didn't make mine very sweet. Add in the chia seeds and stir to mix. You can gently slide in few slices of kiwis from both inner side of the mold. Fill the strawberries mixture into 6 molds equally. Scoop about 3-4 Tbsp of Snack Pack Naturals chocolate pudding as the next layer. Slide in few slices of strawberries from both inner side of the mold. Rinse the blender briefly and add in kiwi and -4 Tbsp of raw honey and processed until smooth. Have a taste if it's sweet enough for you, if not, you can always add more honey. Pour the kiwi mixture equally as the next layer. Make sure to save about 1-inch from the top to put the graham cracker layers in. Gently pack in the graham cracker layers
If using regular popsicle sticks:
Freeze your popsicles for about 1 hour and then very gently insert the popsicle sticks in and continue to freeze for the next 4-5 hours
If your molds come with reusable popsicle sticks:
Gently insert the stick into the popsicle mixture to close each one of them and freeze them for the next 4 hours. I froze them for about 6 hours
When ready to serve:
Briefly run the popsicle mold under warm tap water. Shouldn't be too long. And gently pull the popsicle out and serve immediately
Don't stress yourself out if the layers are not in straight lines or some of the colors get mixed up…relax…it's popsicles.. I don't think there's any hard and fast rules when it comes to design 😉
I definitely feel good about my family snacking on these strawberry kiwi chocolate pudding popsicles. All made with natural ingredients.
It didn't take me too long to finish up this baby !!
The next time you are at Walmart, check out Snack Pack Naturals at the Chips aisle. They come in Vanilla and Chocolate.
Click here for more Snack Pack Naturals ideas