Making flaky, buttery and soft croissants at home is no longer just a dream. You will be so addicted to make them again and again with this simple method.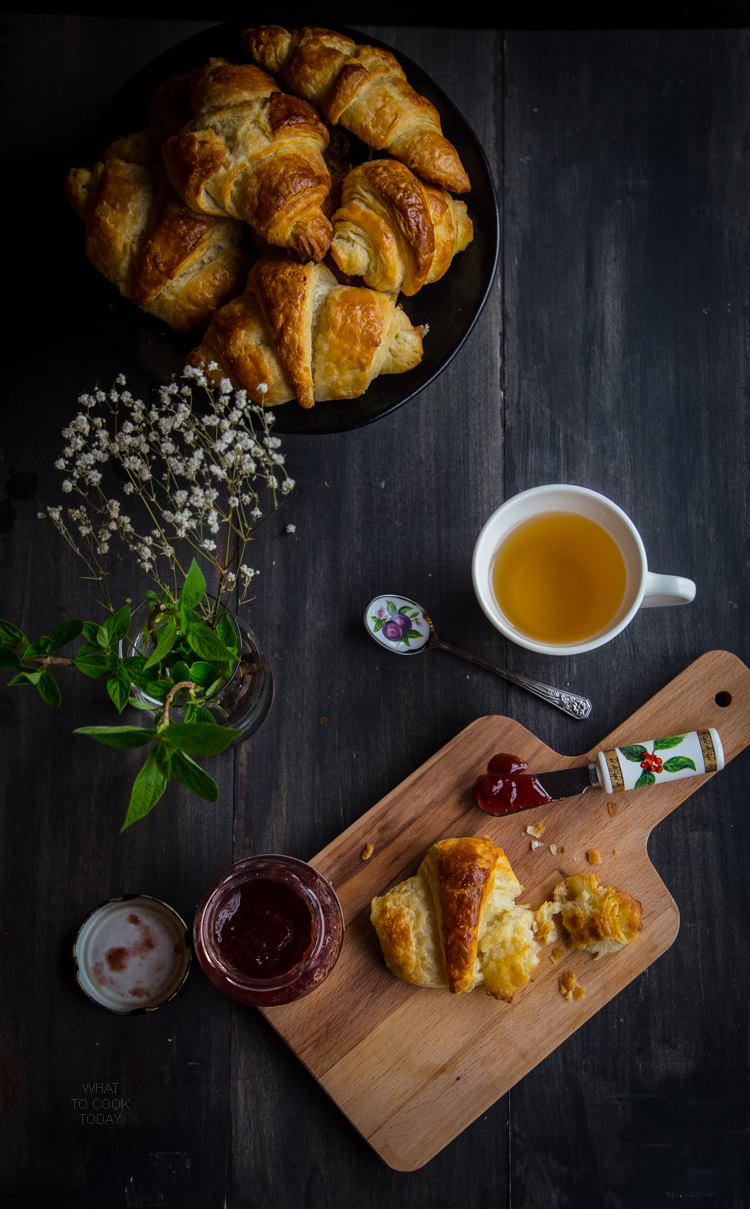 The memories of me and my sister travelling to Central Europe 7 years ago are still so fresh that it feels like it just happened not too long ago. It happened a few months before I got married to Mr. G. I'm glad that we did that trip together, sisters' trip. France was one of the countries we visited. The Eiffel Tower, Champ Elysee, Arc De Triomph, Louvre (the place that I've wanted to see with my own eyes since I was a kid). We only visited Paris but I don't think I can ever forget the whole experience. The atmosphere, the food, the pastries…oh my!! You get the picture! I wish one day I can be back to Paris again and hopefully other parts of Europe to explore.
Needless to say, when the topic of croissants comes into the picture, it brought me back to France 🙂 I mean…how can it not? It's one of the most well-known French pastries. I loved croissants but I never thought of making them until I saw the recipe in Edd Kimber's Patisserie Made Simple book. I love that book and I've made French macarons using that book too.
I've heard stories about how intimidating it could be to make croissants. I'm not sure if I was mentally prepared to screw up this task considering the non-baker in me but to my surprise this very first time I made the croissants turned out extremely well. The flakiness, the buttery texture, the softness…everything one would look for in good croissants is pretty much there!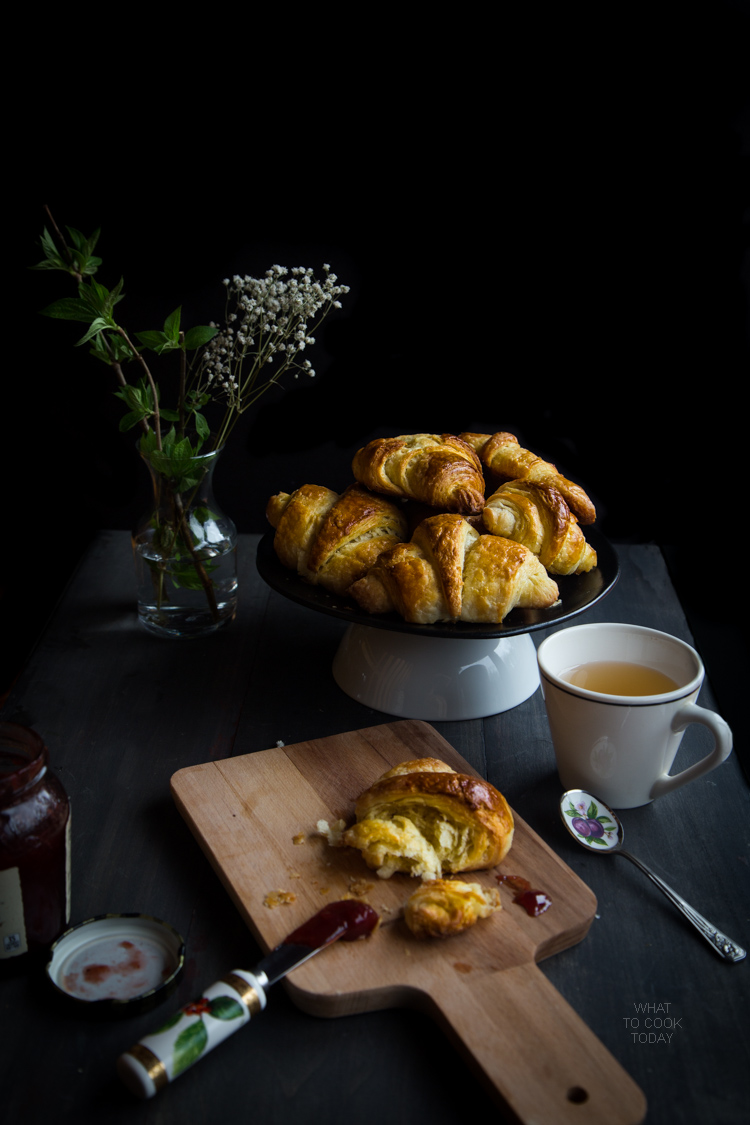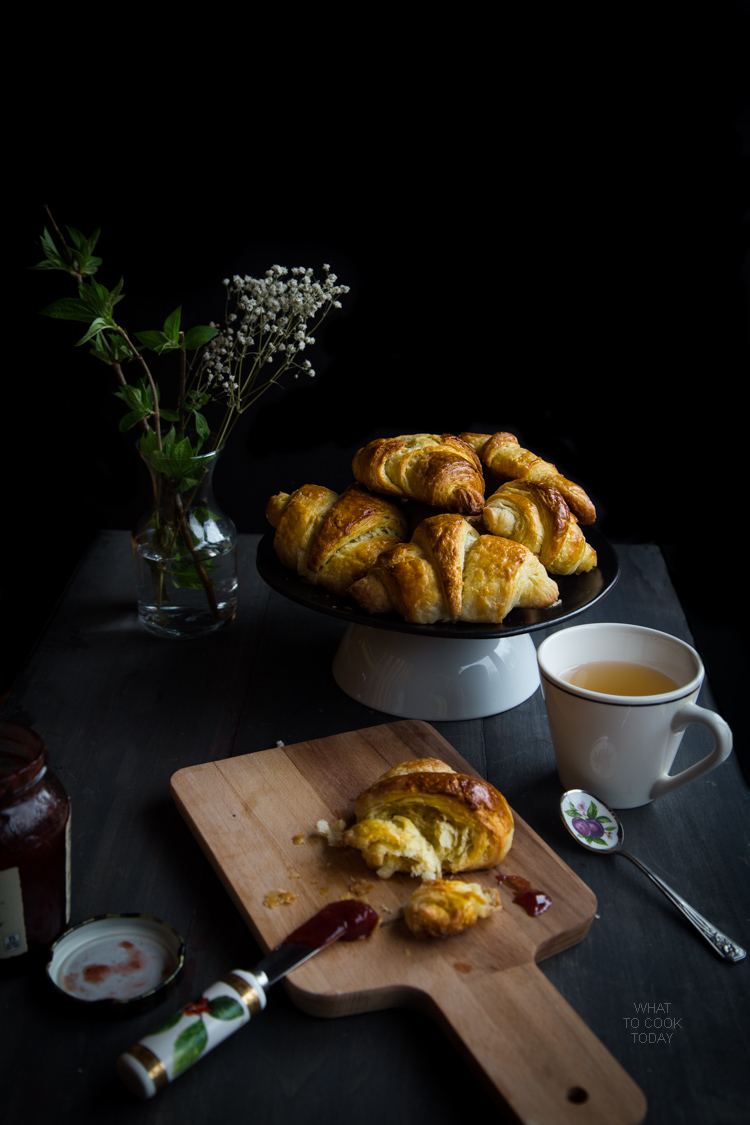 I'm beyond thrilled! Too bad the recipe only makes 8 (or probably it's a good thing!). But I'll certainly be making them again using this very recipe! and yes…you can certainly make good croissants at your very own home
Recipe is adapted from Patisserie Made Simple by Edd Kimber
How to make good croissant at home
Ingredients
¼

cup

lukewarm milk

¼

cup

lukewarm water

1

scant cup all-purpose flour + more for dusting

¾

cup

bread flour

2 ¼

tsp

active dry yeast

2 ½

Tbsp

fine sugar

½

tsp

salt

8

oz

cold unsalted butter - divided

2 sticks

1

large egg
Instructions
Dice 1 stick of cold butter into 3/8 inch pieces and then chill in the refrigerator again while you are preparing other stuff
Prepare the dough:
Put the milk, water in a large mixing bowl and stir to combine. Place flour, yeast, sugar, and salt in another mixing bowl and stir to combine. Add in the pieces of chilled butter and use your hand to rub the butter into the flour, or use a pastry cutter. You should still be able to see chunks of butter. Place the other 1 stick of butter in the freezer

Use a spatula to fold in the dry ingredients into the milk mixture. Use your hands to mix until you get a rough dough. Make sure you can still see chunks of butter. Transfer the rough dough into a countertop lightly dust with flour. Work the dough into a ball of dough and then shape it into a flat rectangle. Wrap it in a plastic wrap and let it chill in the refrigerator for 45 minutes

Lightly flour your countertop and roll the dough out away from you into a long rectangle, about 6x18 inches (doesn't have to be exact really!). Take the butter out from the freezer and then coarsely grate it over the bottom 2/3 of the dough. Fold the top third of the dough over the middle third, then fold the bottom third over the other two thirds, as if you are folding a business letter. This is known as the first turn. Wrap the dough in plastic wrap again and chill in the refrigerator for another 20 minutes
Chill overnight in the fridge:
Take the dough out from the refrigerator and turn the dough 90 degrees so that the open ends are facing you. Repeat the rolling and folding process two more times. So, a total of three turns. Wrap it back in plastic wrap and this time you are going to leave it overnight before using. After this stage, you can use the dough for whatever Danish pastry recipes you like if you are not making croissant
Making croissant:
Line a baking sheet with parchment paper. Roll the dough out into 8x24 inch rectangle and try to make the edge "neat". Cut out eight 12-cm-wide triangles. Gently stretch the triangles out a little bit to extend its length. Then roll the triangles from the wide end all the way to the top like how the classic croissant would look like. Place the rolled croissant on the baking sheet and cover with plastic wrap and let it rise at room temperature for another 3 hours. It will doubled in size

Preheat oven to 400 F. Lightly beaten 1 egg with 1 tsp of water and brush this egg wash over the croissants. Bake for about 20 to 25 minutes or until they are deep golden brown. Remove from the baking sheets and allow them to cool on the sheet for 5 minutes and then transfer to wire rack to cool down completely

They are best eaten on the same day, but can be frozen up to one month. To reheat, simply thaw them and then reheat in the oven at 400 F for 5-10 minutes
Now allow me to enjoy my labor of love 😉

Did you make this really good croissant recipe?
I love it when you guys snap a photo and tag to show me what you've made 🙂 Simply tag me @WhatToCookToday #WhatToCookToday on Instagram and I'll be sure to stop by and take a peek for real!