Sweet savory mung bean paste and savory minced meat filling are wrapped in ultra-flaky Taiwanese style mooncake pastry.

Sweet and savory pastry like this Taiwan mung bean pastry is truly my favorite. This is almost similar to the Suzhou pork mooncake I made a while ago. I love the combination of the sweet savory mung bean paste and the aromatic pork filling wrapped in it. So..so good! Don't let its pale appearance fool you. These guys are anything but pale in taste! I highly recommend them!
How to make Taiwan mung bean minced meat mooncake
1. Instructions on how to prepare the mung bean paste is here
2. Preheat a skillet or pan. Add oil and then saute ginger until fragrant. Add the ground pork and break it up with the spatula as you stir fry. Cook until they turn opaque and liquid is dry. Add the rest of the ingredients except for the fried shallots. Keep stir frying until the meat picks up the color and cooked through. Have a taste and adjust by adding more salt and/or sugar if needed. Stir in the fried shallots. Give it a stir and then set aside to let it cools down completely


3. Put all ingredients for water dough in a mixing bowl. Stir to combine and then knead to form a soft, non-sticky dough. Cover and let it rest for 15 minutes


4. Put all ingredients for the oil dough in a mixing bowl. Use your fingers to rub the shortening or lard into the flour and eventually work your way to form a smooth dough. Cover and let it rest for 15 minutes


5. Portion the mung bean paste into 12 equal portions, about 30 grams each. Flatten into a disc and then scoop about 1 Tbsp of the meat filling on it and wrap the mung bean paste around the meat. Repeat with the rest


6. Divide the water and oil dough into 10 equal portion each. So you will have 20 doughs in total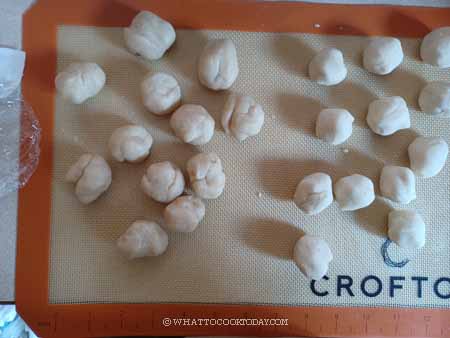 7. Flatten the water dough and put the oil dough on top and wrap the water dough around it. Repeat with the rest. Keep them covered to prevent the dough from drying out


8. Preheat the oven to 375 F (190 C). Line a large baking sheet with parchment paper. Work with one dough at a time. Roll the dough out into an oval. I use a cling wrap on top to prevent the dough from sticking to the rolling pin, though actually the dough didn't really stick. But if you do this, you don't have to keep dusting flour on the dough


9. Swiss roll the dough up


10. Cover with a cling wrap again and roll the dough out into an oval again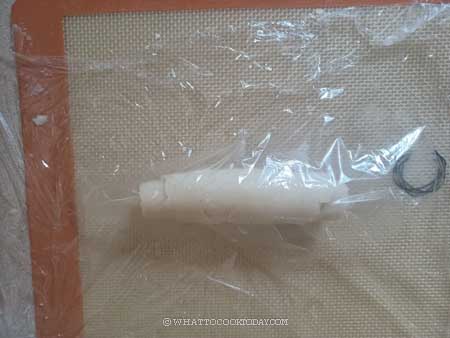 11. Swiss roll it up again from the side . Put it aside and keep it covered. Repeat this with the rest of the dough. Starting from the first dough you work with earlier, lay the Swiss roll dough horizontally and press it down in the middle

12. Gather the two sides up

13. Flatten it slightly with your palm and then use a rolling pin to roll it out into a circle, about 4 inches in diameter

14. Pick up one filling and put in the middle and gather the side up to wrap the filling. Pinch to seal the seams tightly so there won't be any leaks later. Place the seam side down and flatten slightly with your palm into a disc. Put it on a prepared baking sheet covered with a damp towel. Repeat with the rest


15. Optional: Dot the top of the pastry with some red food coloring diluted with a bit of water or use a stamp if you have one


16. Bake in a preheated oven in the middle rack for about 10 minutes and then lower the heat to 325 F. The pastry is intended to be pale in color or just very slightly golden brown. Remove from the oven and let them cool down on the pan for 5 minutes and then let them cool down completely on cooling rack

How to store Taiwan mung bean mooncake pastry
1. Let them cool down completely on a cooling rack
2. It is best to store flaky pastry inside a paper bag. Push all the air out and fold over. The paper bag can help to retain the crisp and flakiness at least for a day or two
3. For longer storage, put the whole paper bag inside a freezer bag. Push all the air out and seal the bag. They can be kept for up to 3 months in the freezer
4. Thaw them at room temperature and then reheat briefly in the oven or an air-fryer at 350 F for 8-10 minutes or until crisp and flaky on the outside again
Did you make this Taiwan mung bean minced meat mooncake recipe?
I love it when you guys snap a photo and tag to show me what you've made 🙂 Simply tag me @WhatToCookToday #WhatToCookToday on Instagram and I'll be sure to stop by and take a peek for real!
Taiwan Mung Bean Minced Meat Mooncake
Ingredients
Savory mung bean paste filling:
Decoration (optional):
Few drops of red food coloring

Few drops of water
Instructions
Prepare the savory mung bean paste if you haven't already. Recipe is here
Prepare the pork filling:
Preheat a skillet or pan. Add oil and then saute ginger until fragrant. Add the ground pork and break it up with the spatula as you stir fry. Cook until they turn opaque and liquid is dry. Add the rest of the ingredients except for the fried shallots. Keep stir frying until the meat picks up the color and cooked through. Have a taste and adjust by adding more salt and/or sugar if needed. Stir in the fried shallots. Give it a stir and then set aside to let it cools down completely
Prepare the water dough:
Put all ingredients for water dough in a mixing bowl. Stir to combine and then knead to form a soft, non-sticky dough. Cover and let it rest for 15 minutes
Prepare the oil dough:
Put all ingredients for the oil dough in a mixing bowl. Use your fingers to rub the shortening or lard into the flour and eventually work your way to form a smooth dough. Cover and let it rest for 15 minutes
Assemble the filling:
Portion the mung bean paste into 12 equal portions, about 30 grams each. Flatten into a disc and then scoop about 1 Tbsp of the meat filling on it and wrap the mung bean paste around the meat. Repeat with the rest
Combine water and oil dough:
Divide the water and oil dough into 10 equal portion each. So you will have 20 doughs in total

Flatten the water dough and put the oil dough on top and wrap the water dough around it. Repeat with the rest. Keep them covered to prevent the dough from drying out
Fill and shape:
Preheat the oven to 375 F (190 C). Line a large baking sheet with parchment paper

Work with one dough at a time. Roll the dough out into an oval. I use a cling wrap on top to prevent the dough from sticking to the rolling pin, though actually the dough didn't really stick. But if you do this, you don't have to keep dusting flour on the dough

Swiss roll the dough up. Cover with a cling wrap again and roll the dough out into an oval again and Swiss roll it up again from the side. Put it aside and keep it covered. Repeat this with the rest of the dough

Starting from the first dough you work with earlier, lay the Swiss roll dough horizontally and then press it down in the middle and gather the two sides up (refer to photos above ). Flatten it slightly with your palm and then use a rolling pin to roll it out into a circle, about 4 inches in diameter

Pick up one filling and put in the middle and gather the side up to wrap the filling. Pinch to seal the seams tightly so there won't be any leaks later. Place the seam side down and flatten slightly with your palm into a disc. Put it on a prepared baking sheet covered with a damp towel. Repeat with the rest

Optional: Dot the top of the pastry with some red food coloring or use a stamp if you have one
Baking:
Bake in a preheated oven in the middle rack for about 10 minutes and then lower the heat to 325 F. The pastry is intended to be pale in color or just very slightly golden brown
Cooling down:
Remove from the oven and let them cool down on the pan for 5 minutes and then let them cool down completely on cooling rack
Recommended products: