Japanese-style (Wafu) spaghetti smothered in creamy umami mushroom and bacon sauce is really easy to put together and perfect for any day of the week.

If you haven't tried wafu spaghetti before, this is a good recipe to start! It's really easy and very flexible. The sauce with some hint of umami is so awesome! My kids absolutely love this easy wafu creamy mushroom and bacon spaghetti.
What is a wafu ?
Wafu spaghetti is one of my favorites spaghetti. I first had it when I was in Singapore and really enjoyed it. Wafu means "Japanese style". So wafu spaghetti simply means Japanese-style spaghetti. Yes, spaghetti is definitely not Japanese, but this is an East meets West fusion.
There are some umami-boosting ingredients added to the dish that makes it a wafu spaghetti. The addition of soy sauce and mirin to the sauce really boosts the taste of the sauce to the next level good!!!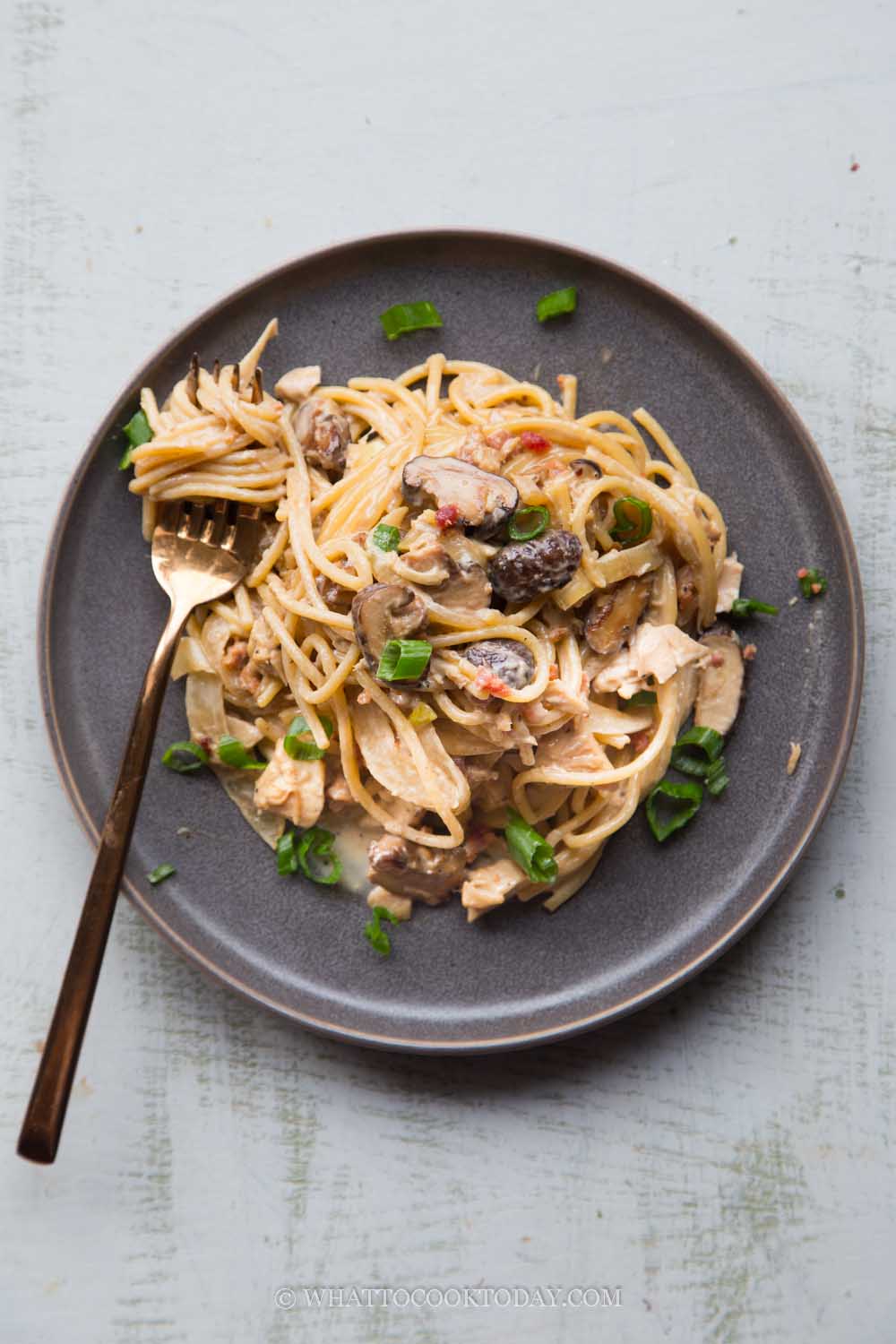 Ingredients
Some of the ingredients can be substituted. It is a very flexible recipe.
1. Spaghetti
You can also use a different types of pasta
2. Bacon
I use regular bacon. You can also use turkey bacon for a healthier option
3. Protein
I like to make it a complete meal by adding some protein like chicken. You can also use meatless protein like tofu, fried egg, etc
4. Mushroom
Most Japanese cooks will use fresh mushrooms like shimeji and enoki. I don't have any of those and so I just use dried shiitake mushrooms that I soak. You can use any type of fresh mushrooms
5. Butter
I usually use unsalted butter. If you use salted butter, just make sure to keep that in mind when you add your seasonings
6. Heavy cream
Heavy cream is what makes this dish creamy. You can also use half and half, which is a thinner version of heavy cream
7. Soy sauce
I use regular soy sauce (or most Asians call it light soy sauce). You can also use tamari
8. Mirin
Mirin adds some sweetness that balance well with the savoriness of this dish. You can also use dry sherry or other cooking wine, but you may need to add some sugar as mirin is sweeter and less alcohol
9. Ground black pepper
Freshly ground black pepper is best
10. Salt
11. Green onion
If you don't like green onion, you can use other fresh herbs like parsley or herb of your choice or just omit altogether
How to make wafu creamy mushroom and bacon spaghetti
1. Bring a large pot of water to a boil. Add salt. Cook the spaghetti according to the instruction on the package. I like to undercook it by two minutes because we will finish cooking them in the sauce. That way the spaghetti will still have a nice bite to it (al dente)


2. While the spaghetti is cooking, melt butter on a large pan


3. Add bacon and cook until they are aromatic, about 2 minutes. Remove the bacon and put on an absorbent paper towel


4. If you want to add chicken, add it here and cook until they turn are cooked through. Remove from the pan and put them on a plate. Add the onion slices and mushroom. Cook for about 3-4 minutes or until the onion is soft


5. Add chicken broth, heavy cream, and seasonings. Bring it back to a simmer


6. If you use a leftover cooked chicken, add it here


7. The spaghetti may have done cooking by now. Save about 1 cup of the cooking liquid and drain off the rest. You may not need all of the liquid. This can be used to thin out the sauce if it's too thick


8. Add the cooked al-dente spaghetti to the sauce, if the sauce is too thick, add about 1/4 cup cooking liquid into the sauce and let it comes to a simmer. When it comes to a simmer, add the chicken you cook earlier (if using). Adjust the consistency of the sauce, thin or thick, by adding more heavy cream or more reserved pasta water


9. Have a taste and adjust the seasoning to your taste. The sauce should be creamy and slightly thick. Please note that it thickens further as it cools down


10. Sprinkle with some cooked bacon and chopped green onion and serve immediately

I just love how the sauce clings to the pasta nicely.
Did you make this easy wafu creamy mushroom bacon spaghetti recipe?
I love it when you guys snap a photo and tag to show me what you've made 🙂 Simply tag me @WhatToCookToday #WhatToCookToday on Instagram and I'll be sure to stop by and take a peek for real!
Wafu Creamy Mushroom and Bacon Spaghetti
Ingredients
20

gr

dried shiitake mushroom

1

large

onion

thinly sliced

45

gr

uncooked bacon

diced
Protein: (optional)
200

gr

boneless skinless chicken

I used 100 gr leftover cooked chicken (shredded)
Seasonings: (the amount is just for reference. Adjust the amount to your taste)
To cook spaghetti:
100

gr

spaghetti

1

tsp

salt
For garnish:
1

stalk

green onion

green part, finely chopped
Instructions
Soak the mushroom in warm water until soft and then cut into strips or diced, it's up to you

If you want to use chicken, cut the chicken pieces into bite-size pieces
Cook the spaghetti:
Bring a large pot of water to a boil. Add salt. Cook the spaghetti according to the instruction on the package. I like to undercook it by two minutes because we will finish cooking them in the sauce. That way the spaghetti will still have a nice bite to it (al dente)
Prepare the sauce:
While the spaghetti is cooking, melt butter on a large pan. Add bacon and cook until they are aromatic, about 2 minutes. Remove the bacon and put on an absorbent paper towel

If you want to add chicken, add it here and cook until they turn are cooked through. Remove from the pan and put them on a plate. Add the onion slices and mushroom. Cook for about 3-4 minutes or until the onion is soft

Add chicken broth, heavy cream, and seasonings. Bring it back to a simmer. Add If you use a leftover cooked chicken, add it here

The spaghetti may have done cooking by now. Save about 1 cup of the cooking liquid and drain off the rest. You may not need all of the liquid. This can be used to thin out the sauce if it's too thick

Add the cooked al-dente spaghetti to the sauce, if the sauce is too thick, add about 1/4 cup cooking liquid into the sauce and let it comes to a simmer. When it comes to a simmer, add the chicken you cook earlier (if using). I used a leftover cooked chicken. Adjust the consistency of the sauce, thin or thick, by adding more heavy cream or more reserved pasta water

Have a taste and adjust the seasoning to your taste. The sauce should be creamy and slightly thick. Please note that it thickens further as it cools down
Serving:
Sprinkle with some cooked bacon and chopped green onion and serve immediately
Recommended products:
Nutrition
Serving:
1
serving
|
Calories:
578
kcal
|
Carbohydrates:
57
g
|
Protein:
34
g
|
Fat:
24
g
|
Saturated Fat:
11
g
|
Polyunsaturated Fat:
3
g
|
Monounsaturated Fat:
8
g
|
Trans Fat:
1
g
|
Cholesterol:
114
mg
|
Sodium:
2051
mg
|
Potassium:
852
mg
|
Fiber:
4
g
|
Sugar:
8
g
|
Vitamin A:
534
IU
|
Vitamin C:
8
mg
|
Calcium:
60
mg
|
Iron:
2
mg