Crispy lightly battered fried shrimp are smothered in delicious sweet mayonnaise sauce along with caramelized roasted walnuts. This classic Chinese restaurant banquet dish is one of the popular ones you will see often in Chinese celebrations such as weddings, birthdays, and Chinese New Year.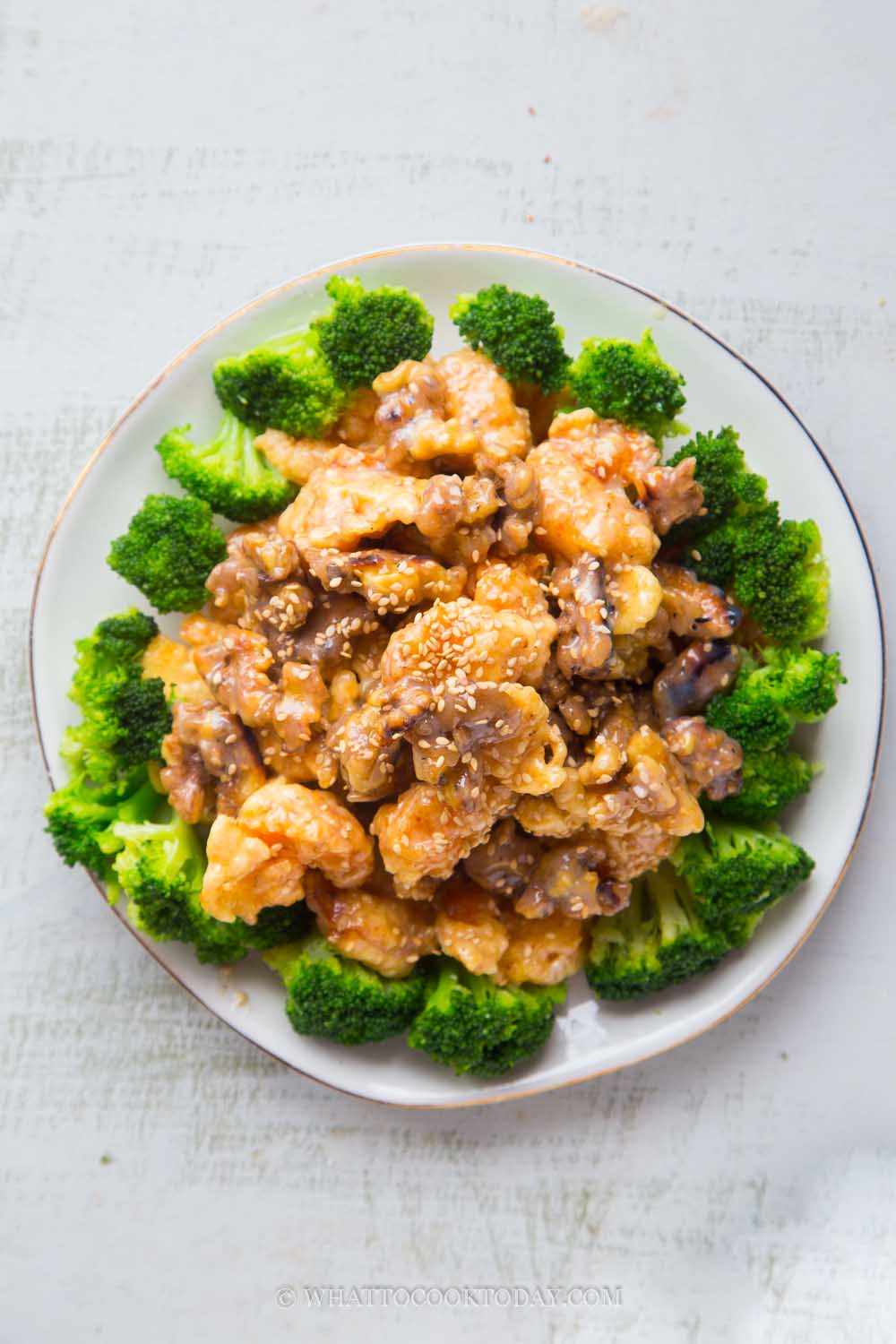 One of the dishes I looked forward to the most when I had a chance to attend a wedding banquet as a kid was this honey walnut shrimp. Actually, in my hometown where I grew up, there is a variation that we call leng hong kien (mayonnaise udang), which is a very popular cold appetizer serve in banquet and also at dim sum places. Honey walnut shrimp is very similar to that but more "posh" with the addition of the caramelized roasted walnuts and also beautiful veggies surrounding it for presentation.
This is not a fast-food chain walnut shrimp
If you are in the U.S., you will see honey walnut shrimp often at Chinese fast-food chain places such as Panda Exprress, which is well-known for its honey walnut shrimp. But if you compare it to this banquet-style walnut shrimp, you will see differences in quality and presentation 😉

How to make Chinese Banquet Walnut Shrimp
1. Remove the shells from the body and leave the tail for presentation. Use a sharp knife to cut the back to devein the shrimp. Add salt and baking soda to the shrimp and let it marinate for 15 minutes. The baking soda will give the shrimp that "crunchy" texture


2. Traditionally, walnuts are deep-fried in oil. I found that just toasting the nuts on a dry pan until fragrant is really good too (and less oil to the already-indulgent dish don't you think ?). But if you want to deep fry the walnuts, don't let me stop you though. Toast the nuts for 4-5 minutes over medium-low heat until fragrant. Set aside to let them cool down a bit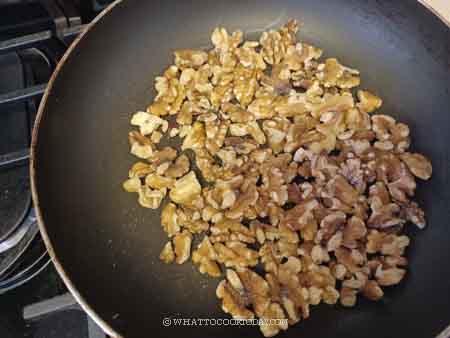 3. Put the sugar, butter and toasted walnuts in the pan over medium-low heat. Keep stirring until the sugar starts to melt and keep stirring to let that mixture coats the walnuts, this will take about 5 minutes or so. The nuts will clump together because the sugar is sticky.


4. Transfer immediately to the plate lined with parchment paper and use a spatula to separate the nuts right away so you won't have just one large clump of nuts. Let them cool down completely and they will harden and frosted nicely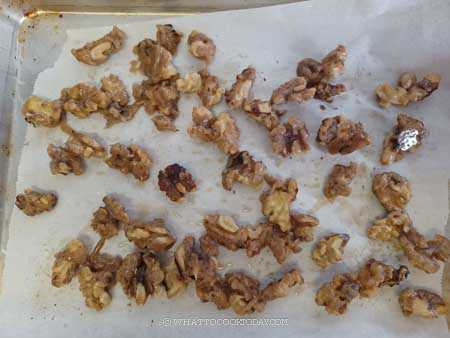 5. Bring a large pot of water to a boil. Add 1/2 tsp of salt. Prepare a bowl of ice-cold water. Add the broccoli florets and boil for about 30 seconds or so. Remove with a slotted spoon to the ice-cold water to stop the cooking process and to preserve the bright green color
6. Rinse the shrimp off thoroughly with water. You don't want any trace of baking soda on your shrimp. Pat the shrimp dry with absorbent paper towel


7. Lightly beat the egg whites until foamy and add this to the shrimp


8. Mix all ingredients for the sauce in a bowl. Adjust the taste to your preference. It should be sweet and tangy. Set aside


10. Preheat about 2 inches height of oil in a small deep pot. When you put a skewer into the oil, you will see bubbles around it. The oil is ready. Coat the shrimp with some cornstarch and gently lower the shrimp pieces into the oil and fry until they are lightly golden brown, about 2-3 minutes. Fry them in batches so you won't lower the oil temperature too much. This is the first round of frying. Put the fried shrimp on an absorbent paper towel


11. Let the oil come back to hot again. Test with a skewer again. Get the shrimp you fry from the first batch and fry again for the second time, this round is to crisp it up and it goes much faster, about 1-2 minutes. Remove from the oil to absorbent paper towel again. Repeat with the rest


12. Put the shrimp in a large mixing bowl. Pour the sauce over and toss to combine. Add some toasted white sesame seeds if you want

13. Arrange the blanched broccoli on the perimeter of the serving plate. Put the shrimp on the plate and scatter the candied walnut pieces all over the shrimp and serve immediately

Our family loves this banquet-style walnut shrimp. The shrimp is crispy coated in an absolutely delicious mayonnaise sauce and those candied walnuts, oh my! This dish takes a bit of work to prepare, but it definitely worthy of your effort!
Did you make this Chinese Banquet Walnut Shrimp recipe?
I love it when you guys snap a photo and tag to show me what you've made 🙂 Simply tag me @WhatToCookToday #WhatToCookToday on Instagram and I'll be sure to stop by and take a peek for real!

Chinese Restaurant Banquet Walnut Shrimp
Ingredients
Shrimp:
450

gr

jumbo shrimp (16/25 count)

½

tsp

salt

½

tsp

baking soda

oil

for deep-frying the shrimp
Light batter for the shrimp:
20

gr

cornstarch

or more as needed

60

gr

egg whites

about 2 egg whites
Candied walnuts:
100

gr

walnuts

50

gr

sugar

1

Tbsp

butter

¼

tsp

salt
Decoration:
200

gr

Broccoli

cut into florets pieces

½

tsp

salt

2

tsp

White sesame seeds

optional
Instructions
Prepare the shrimp:
Remove the shells from the body and leave the tail for presentation if you prefer. Use a sharp knife to cut the back to devein the shrimp. Add salt and baking soda to the shrimp and let it marinate for 15 minutes. The baking soda will give the shrimp that "crunchy" texture
Prepare the candied walnuts:
Traditionally, walnuts are deep-fried in oil. I found that just toasting the nuts on a dry pan until fragrant is really good too (and less oil to the already-indulgent dish don't you think ?). But if you want to deep fry the walnuts, don't let me stop you though. Toast the nuts for 4-5 minutes over medium-low heat until fragrant. Set aside to let them cool down a bit

Most Chinese will coat the walnut with simple syrup like sugar and water in 1:1 ratio. I really like this version of candied walnut. Line a plate with parchment paper. Put the sugar,butter and toasted walnuts in the pan over medium-low heat. Keep stirring until the sugar starts to melt and keep stirring to let those mixture coats the walnuts, this will take about 5 minutes or so. The nuts will clump together because the sugar is sticky. Transfer immediately to the plate lined with parchment paper and use a spatula to separate the nuts right away so you won't have just one large clump of nuts. Let them cool down completely and they will harden and frosted nicely
Blanch the broccoli:
Bring a large pot of water to a boil. Add 1/2 tsp of salt. Prepare a bowl of ice-cold water. Add the broccoli florets and boil for about 30 seconds or so. Remove with a slotted spoon to the ice-cold water to stop the cooking process and to preserve the bright green color
Back to the shrimp:
Rinse the shrimp off thoroughly with water. You don't want any trace of baking soda on your shrimp. Pat the shrimp dry with absorbent paper towel

Lightly beat the egg whites until foamy. Add the egg whites to the shrimp and coat them with the egg white
Frying the shrimp (first frying):
Mix all ingredients for the sauce in a bowl. Have a taste and adjust to your preference. It should be sweet and tangy

Preheat about 2 inches height of oil in a small deep pot. When you put a skewer into the oil, you will see bubbles around it. The oil is ready.

Take one shrimp and coat it with some cornstarch and gently lower the shrimp pieces into the oil and fry until they are lightly golden brown, about 2-3 minutes. Fry them in batches so you won't lower the oil temperature too much. This is the first round of frying. Put the fried shrimp on an absorbent paper towel
Second frying:
Let the oil come back to hot again. Test with a skewer again. Get the shrimp you fry from the first batch and fry again for the second time, this round is to crisp it up and it goes much faster, about 1-2 minutes. Remove from the oil to absorbent paper towel again. Repeat with the rest
Plating:
Put the shrimp in a large mixing bowl. Pour the sauce over and toss to combine. Add some toasted white sesame seeds if you want

Arrange the blanched broccoli on the perimeter of the serving plate. Put the shrimp on the plate and scatter the candied walnut pieces all over the shrimp and serve immediately
Recommended products:
Nutrition
Serving:
1
serving
|
Calories:
545
kcal
|
Carbohydrates:
35
g
|
Protein:
23
g
|
Fat:
36
g
|
Saturated Fat:
6
g
|
Polyunsaturated Fat:
21
g
|
Monounsaturated Fat:
7
g
|
Trans Fat:
1
g
|
Cholesterol:
161
mg
|
Sodium:
1714
mg
|
Potassium:
471
mg
|
Fiber:
3
g
|
Sugar:
24
g
|
Vitamin A:
647
IU
|
Vitamin C:
46
mg
|
Calcium:
152
mg
|
Iron:
2
mg