Leng Hong Kien (Mayonaise Udang / Sweet Mayonnaise Shrimp) – Succulent tiger shrimp are fried in crispy batter and then coated with finger-licking good sweet mayonnaise sauce.
Leng hong kien is one of my most favorite appetizers when I was a kid. We usually only got to eat this at the wedding banquet or when we went for a dim sum back at home. They are usually served chilled too. Shrimps are fried in crispy batter and what makes it irresistible (at least to me), is the sweet mayonnaise sauce. I SERIOUSLY have hard time staying away from this.
Ahh…the beautiful succulent tiger shrimp! I was happy to see them at the grocery store this time of the year (probably because of holiday season) and coudln't grab few bags of these quick enough!
It's just a mayonnaise sauce that you sweetened for god sake!! Yes it is! But they are addicting! It's fried. It's sweet, it's savory at the same time! You get it?

Leng hong kien is how we call it in Hokkian language. I'm not really sure where this dish is originated, but at my hometown where I grew up, this is one of the popular banquet dishes that people serve only on special occasion and when they go for dim sum.

I hate to deep fry anything, but when I do, I need to make sure it's worthy of it! and these are! My husband loves it and couldn't have enough of it. It's not the healthiest thing though. I made this probably once or twice a year!!! Even my son loves leng hong kien.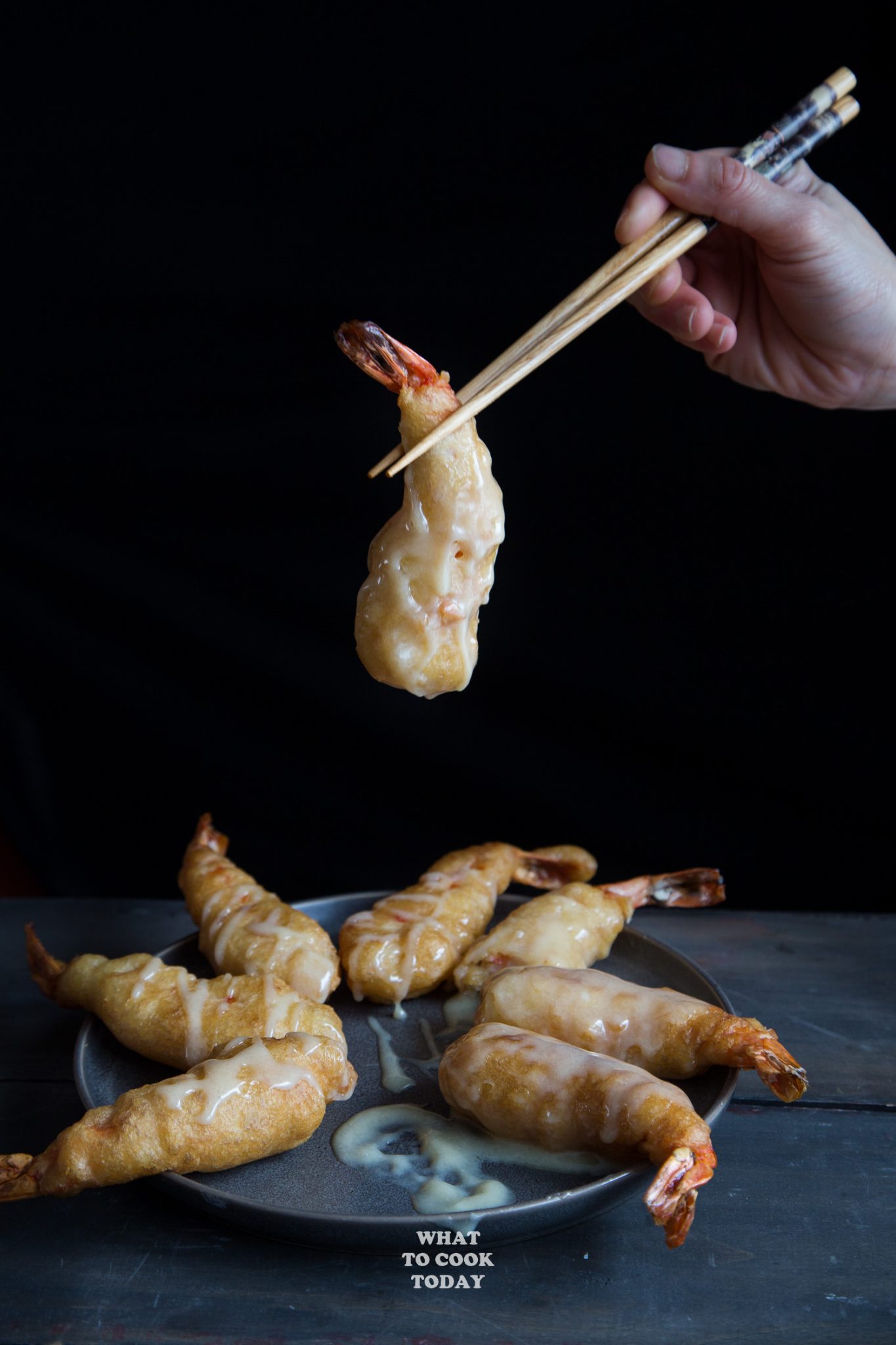 This version I made is very simple and doesn't use other ground meat and shrimp. It's just a whole shrimp being battered and fried. Some people like to wrap the shrimp in ground meat too. I love to just taste the shrimp in this case.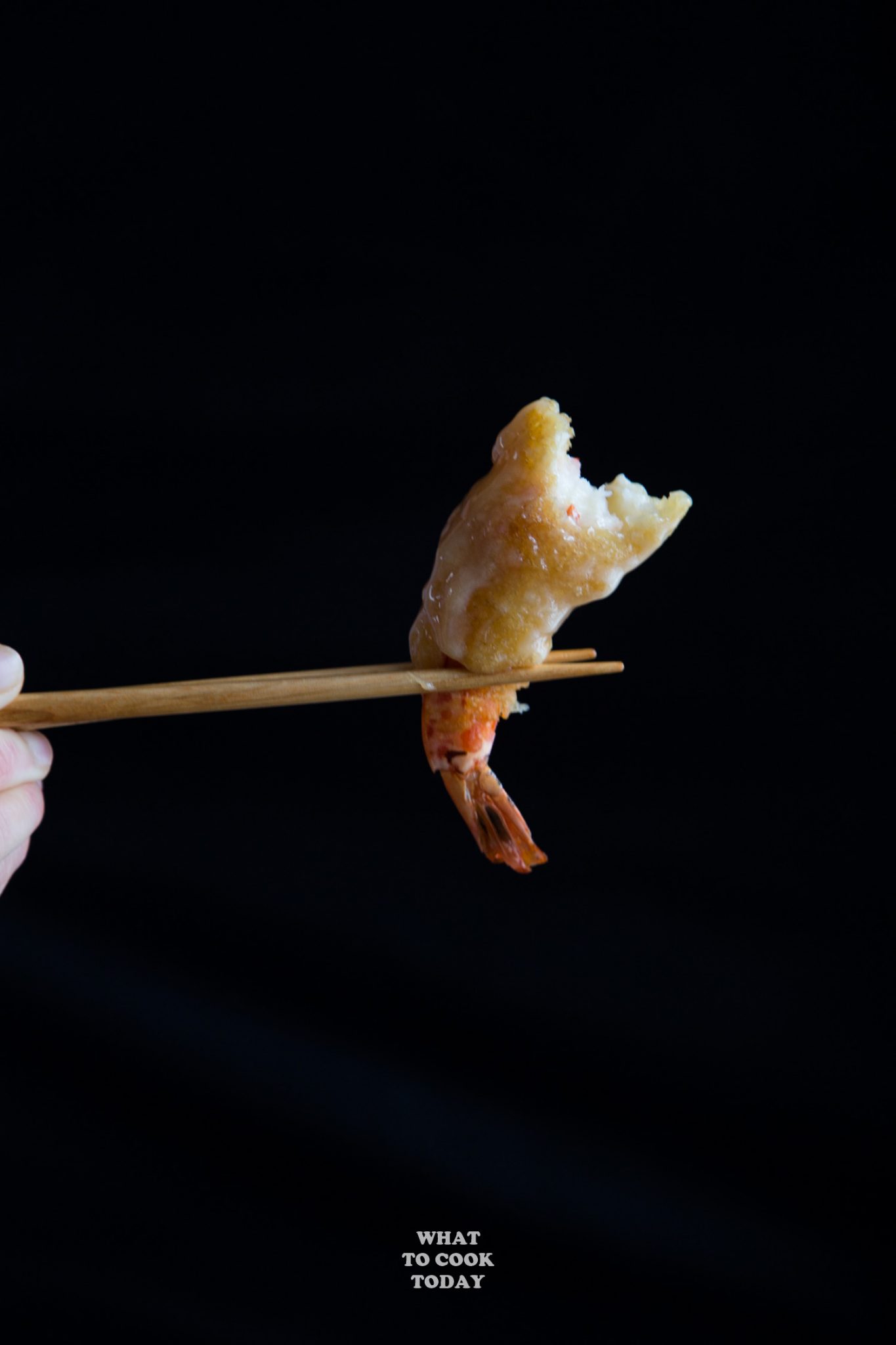 *This post contains affiliate links, which support this site at no extra cost to you
Leng Hong Kien (Mayonaise Udang / Sweet Mayonnaise Shrimp)
Ingredients
10

-15 pieces tiger shrimp

(shelled and deveined- keep the tail on the prawns if you want as part of presentation)

1

recipe

of crispy batter
Cooking oil

for deep-frying

White sesame seeds

for sprinkling - optional
Sweet mayonnaise sauce:
½

cup

Mayonnaise

2

Tbsp

butter

melted

2

Tbsp

sugar

1

cooked egg yolk

from a hard-boiled egg
Instructions
Preparing the sauce:
Place all ingredients in food processor and process into smooth sauce. Chill in the refrigerator and can be made one day ahead
Preparing the shrimp:
Rinse the shrimp briefly with cold water and then pat them dry with paper towel. Flip the shrimp over to the other side and then use a small paring knife to cut five shallow slits throughout the length of the body

Gently press on the shrimp to bend it straight
Cooking:
Preheat the oil in a medium or large deep pot for deep-frying

Place all ingredients for the batter in a large mixing bowl and only prepare when you are ready to fry them

When the oil is ready, dip each shrimp into the batter and fry until they are golden brown and then turn to the other side and fry for another minute or so. The whole process shouldn't take more than 5 minutes, as prawns get cooked pretty quickly

Remove the fried shrimp from the pot and place on paper towel briefly. Pour the mayonnaise sauce over the prawns and lightly toss to coat each piece. Transfer to a serving platter and serve immediately or you may chill them for a while and serve them cold
Nutrition
Nutrition Facts
Leng Hong Kien (Mayonaise Udang / Sweet Mayonnaise Shrimp)
Amount per Serving
% Daily Value*
* Percent Daily Values are based on a 2000 calorie diet.
CHECK OUT THESE SHRIMP RECIPES:
HOMEMADE SQUID INK RAMEN AND BUTTERED RAMEN WITH SHRIMP STIR-FRY
EASY SHRIMP LO MEIN
SAMBAL UDANG SERAI / SHRIMP WITH LEMONGRASS
SPICY KUNG PAO NOODLES WITH SHRIMP