Super moist, buttery, and nutty banana and carrot cake that you will absolutely enjoy eating.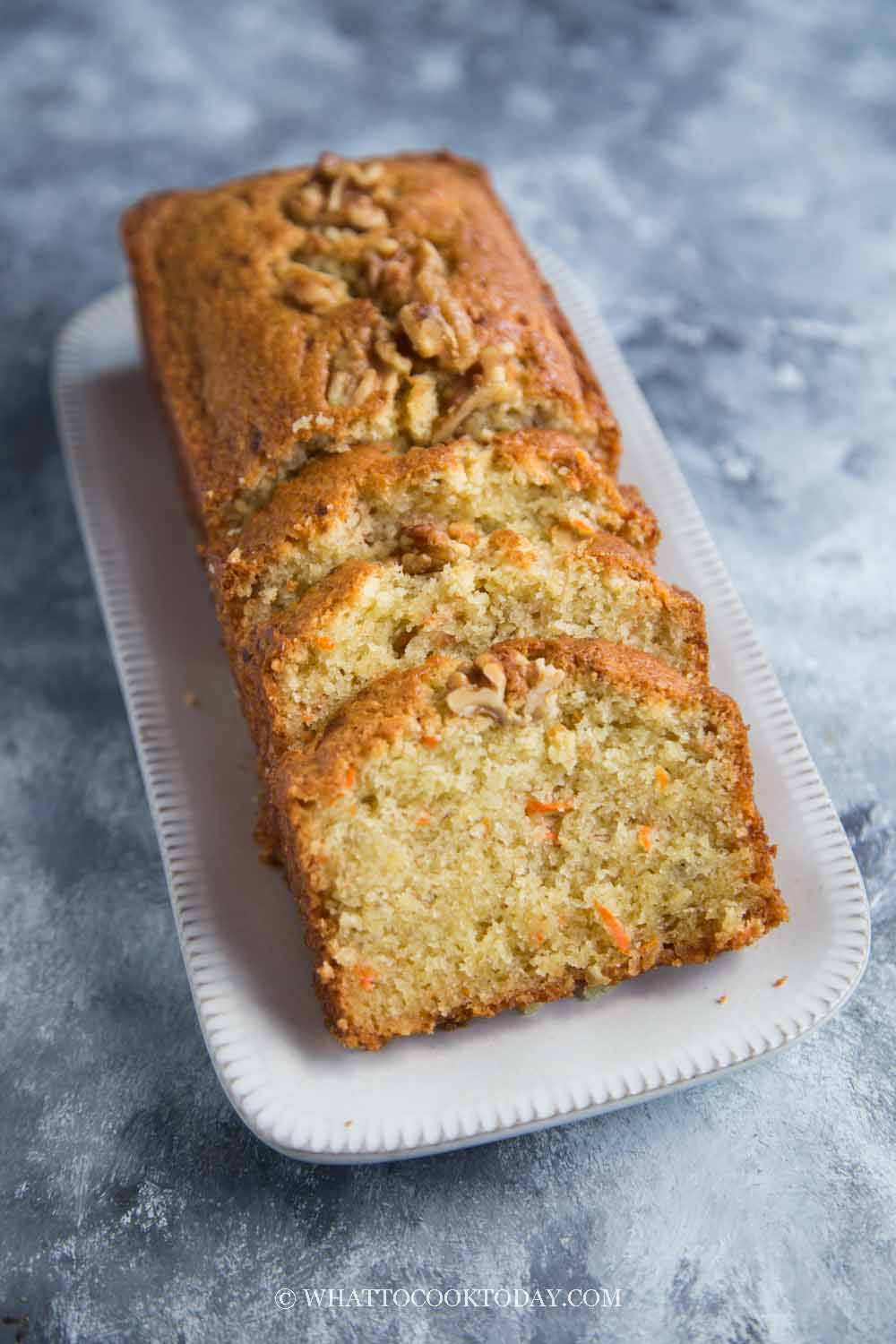 I think banana cake/bread is one of the most popular recipes in the world. Seriously, everyone at some point in his/her life has made or eaten banana cake/bread. There are probably billions of banana cake recipes out there 🙂 So, let me add this to the billions out there.
I call this banana butter cake because it has a good amount of butter in the cake. I added carrot to the cake because, to be honest, I was trying to use up leftovers in the fridge and it turned out just perfect. No, it doesn't taste like carrot cake. The banana aroma and taste is still pretty dominant in this cake. The carrot gives nice orange specks to the cake though.
Tips for success
This is not a difficult recipe but few things you want to take note of to make sure things go smoothly:
1. Oil the loaf pan and line with parchment paper for easier release
2. Please make sure the butter, eggs, banana puree, and carrots are at room temperature before you start working on the recipe. I usually take them out an hour before I plan to start. If it's warmer where you are, you may not even need that long. The cold temperature of other ingredients when mixed with butter will cause your batter to curdle and separate
3. I can tell you that the cake won't taste as good on the same day you make it. It won't be as moist because the cake hasn't had time to "mature". If you can wait for 24 hours before you slice the cake, you will be rewarded with a moist cake with a nice aroma of banana and butter (it's the hardest thing to do! I'm very impatient too LOL)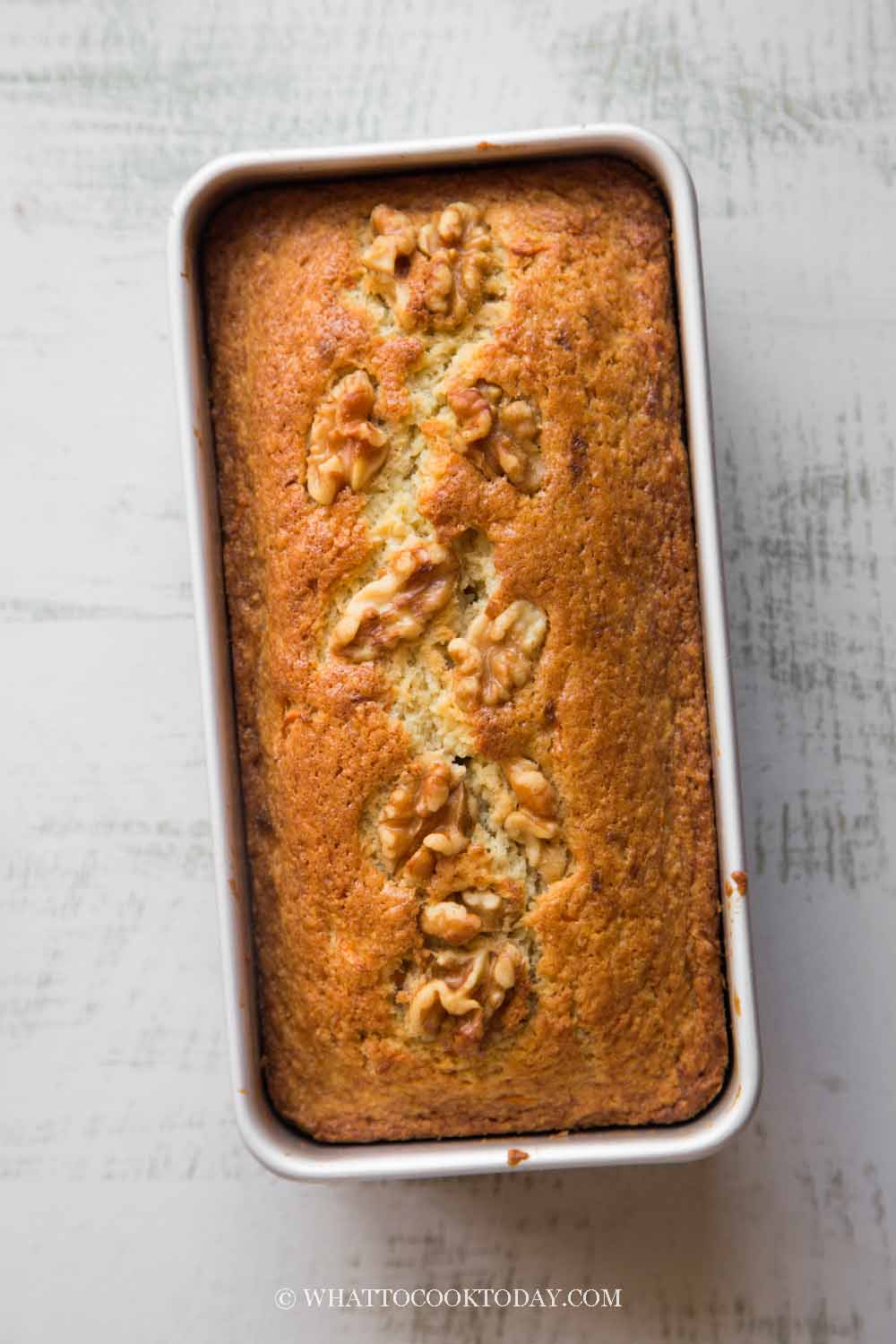 How to make this easy banana carrot butter cake.
1. Preheat oven to 350 F (180 C) for a convection oven. If you have a top and bottom heat oven, lower the temperature by 20 degrees.
2. Combine all the dry ingredients in a bowl with a whisk. Use a hand mixer or a stand mixer to cream the butter and sugar until the mixture is pale, creamy, and fluffy. Then add egg, one at a time and continue to beat until it's creamy before adding another egg.


3. Then add the banana puree and the grated carrot and mix until combined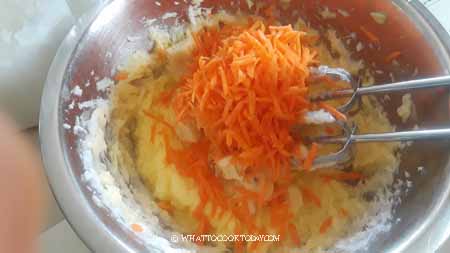 4. Add the dry ingredients. Use the whisk to combine the mixture first so that the dry ingredients won't "fly" when you start the mixer. Start the mixer at the lowest speed just to combine. It won't be thoroughly combined, that's fine. We don't want to overmix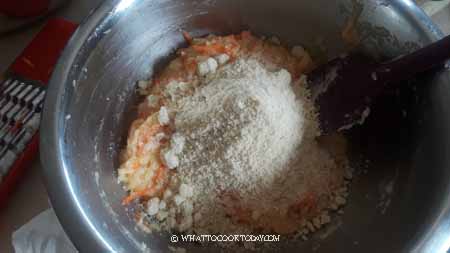 5. Use a rubber spatula to clear the side of the bowl and fold the dry ingredients until you don't see any more pockets of flour. This is a very thick batter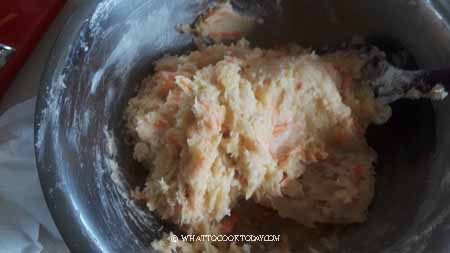 6. Scoop the batter into the prepared loaf pan and use flexible spatula to smooth the surface


7. Arrange about 10 large pieces of walnuts on top. Chopped walnuts are fine too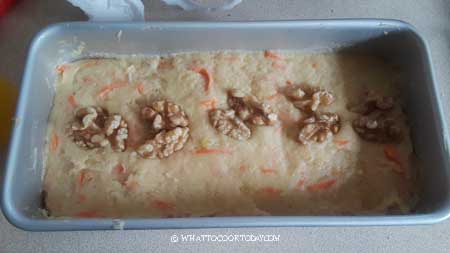 8. Place the pan on the middle rack and bake for 45-50 minutes or until a cake tester inserted comes out clean. The time is just for reference, you will know your oven better. Start checking at around 45 minutes. Let the cake cool down in the pan for 10 minutes and then remove from the pan to a cooling rack and let it cool down completely

You may also like these recipes with bananas
Did you make this recipe?
I love it when you guys snap a photo and tag to show me what you've made 🙂 Simply tag me @WhatToCookToday #WhatToCookToday on Instagram and I'll be sure to stop by and take a peek for real!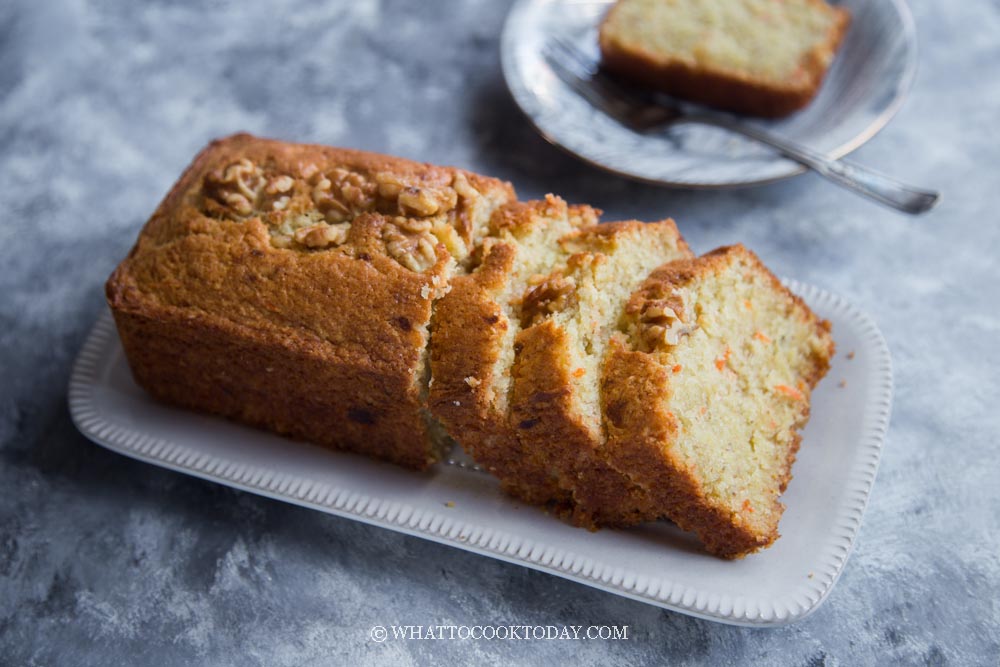 Easy Banana Carrot Butter Cake
Ingredients
150

gr

unsalted butter (softened)

100

gr

granulated sugar

2

large

eggs (room temperature)

about 65-68 gram each with the shell

125

gr

banana puree (from very ripe bananas is the best)

50

gr

finely grated carrot
Instructions
Prepare the cake batter:
Preheat oven to 350 F (180 C) for a convection oven. If you have a top and bottom heat oven, lower the temperature by 20 degrees. You can use 8 1 /2 x 4 1/2 inches loaf pan or 9 x 5 inches loaf pan. Oil the loaf pan and line with parchment paper for easier release

Please make sure the butter, eggs, banana puree, and carrots are at room temperature before you start working on the recipe. I usually take them out an hour before I plan to start. If it's warmer where you are, you may not even need that long

Combine all the dry ingredients in a bowl with a whisk

Use a hand mixer or a stand mixer to cream the butter and sugar until the mixture is pale, creamy, and fluffy. Then add egg, one at a time and continue to beat until it's creamy before adding another egg. Then add the banana puree and the grated carrot and mix until combined

Add the dry ingredients. Use the whisk to combine the mixture first so that the dry ingredients won't "fly" when you start the mixer. Start the mixer at the lowest speed just to combine. It won't be thoroughly combined, that's fine. We don't want to overmix. Use a rubber spatula to clear the side of the bowl and fold the dry ingredients until you don't see any more pockets of flour. This is a very thick batter

Scoop the batter into the prepared loaf pan and use flexible spatula to smooth the surface. Arrange about 10 large pieces of walnuts on top. Chopped walnuts are fine too
Baking:
Place the pan on the middle rack and bake for 45-50 minutes or until a cake tester inserted comes out clean. The time is just for reference, you will know your oven better. Start checking at around 45 minutes

Let the cake cool down in the pan for 10 minutes and then remove from the pan to a cooling rack and let it cool down completely
Serving:
I can tell you that the cake won't taste as good on the same day you make it. It won't be as moist because the cake hasn't had time to "mature". If you can wait for 24 hours before you slice the cake, you will be rewarded with a moist cake with a nice aroma of banana and butter (it's the hardest thing to do! I'm very impatient too LOL)
Storing:
Let the cake cool down completely and then store at room temperature in an air-tight container for about 4-5 days

For longer storage, wrap the cake in cling wrap tightly and then in a foil and it can be kept frozen for up to one month for the best result. Simply thaw at room temperature for 30 minutes or so before serving
Nutrition
Serving:
1
serving
|
Calories:
194
kcal
|
Carbohydrates:
20
g
|
Protein:
3
g
|
Fat:
12
g
|
Saturated Fat:
6
g
|
Polyunsaturated Fat:
1
g
|
Monounsaturated Fat:
3
g
|
Trans Fat:
1
g
|
Cholesterol:
50
mg
|
Sodium:
200
mg
|
Potassium:
72
mg
|
Fiber:
1
g
|
Sugar:
9
g
|
Vitamin A:
910
IU
|
Vitamin C:
1
mg
|
Calcium:
62
mg
|
Iron:
1
mg