There is always first time to everything. Last weekend was my first time cooking lobster tails at home (certainly less intimidating than having to handle the whole crustacean). Both my husband and are seafood lovers. The original plan was to get some fresh jumbo scallops and then seared them, but they weren't available. Then I saw some lobster tails and thought…what the heck….let's make it a lobster night!! I usually don't cook on Saturday and Sunday (my days off from kitchen, except for breakfast). If I do cook, usually it's fairly simple stuff. I love cooking with seafood because they usually cook fairly quick and if you get yourself fresh seafood, they usually don't require much seasoning. The flesh itself is just so sweet and delicious.
The broiled lobster tails are easy to prepare. A little bit of work in cutting the top shells, but it's not too complicated. I did it and I believe many people will too. The minute we sunk our teeth on the lobster tails…. I couldn't even say a word!! My almost 4-year old girl said "Mommy, should we get more lobster again next time ?" Well baby….you betcha!!!! They were quite a treat !!!! LOVE THEM !!!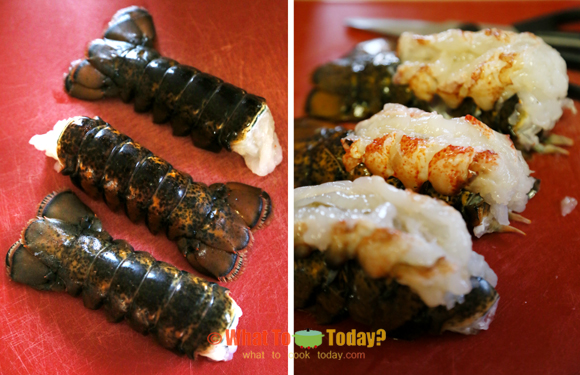 For baking/ kueh making: I highly encourage to weigh ingredients with a digital kitchen scale instead of using measuring cups as they are not very accurate especially when it comes to recipe that requires precision.
GRAMS TO CUPS CONVERSION (UNSIFTED)
INGREDIENTS
3

lobster tails

-

fresh or frozen - if frozen let it thaw in the refrigerator

1/2

cup

of melted butter

Freshly ground black pepper

Pinch of salt

1

lemon

-

cut into wedges
INSTRUCTIONS
Preheat your broiler on high. Meanwhile prepare the lobster tails. Place them on a cutting board, top side up. Use your finger to lift up the shell a little bit and use a kitchen shears and cut through the middle of the shells. Gently pull apart the shell but leave them on. So the shells will be cut in half leaving the flesh intact. Pull out any black veins if you see one. Run your finger underneath the bottom shells, this will loosen up the flesh from the shells. Now leave the flesh up to rest on the shells (as shown in photos). Brush them generously with butter

Place them in the broiler and broil for about 10 minutes. I will not walk out from the oven if I were you. Keep a very close eye on it as you don't want to overcook the lobster tail. The shells will turn red and flesh will turn opaque and that's the sign that the lobster is done. Pull them out from the oven and transfer to serving plate and serve with some lemon wedges and consume at once