I got this chicken and kale risotto with pine nuts and bacon recipe from Start Fresh cookbook by Tyler Florence. A friend asked me to share recipes that Fiorina likes. It can be challenging cooking for toddlers (at least mine). Overall, she has gotten better. She eats pretty much most of the food I fixed her. There are days that she just doesn't want to have anything to do with food (except for her yogurt). She has "kinda" started to accept chicken, still not too big on meat. I hope with more teeth in the future, that will change her mind.
This chicken and kale risotto with pine nuts and bacon is really delicious. It may sounds complicated to you, but it's not. Fiorina ate this dish. I didn't give her the pine nuts yet because I plan to introduce peanuts to her after she is 2 years old (just to be at the safe side). This is definitely a dish that the whole family can dig in together 🙂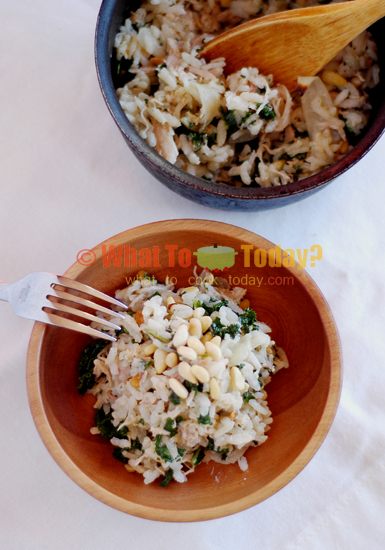 For baking/ kueh making: I highly encourage to weigh ingredients with a digital kitchen scale instead of using measuring cups as they are not very accurate especially when it comes to recipe that requires precision.
GRAMS TO CUPS CONVERSION (UNSIFTED)
INGREDIENTS
2

boneless

-

skinless chicken thighs (about 6 oz each)

Extra-virgin olive oil

Salt and freshly ground pepper

2

or 3 large kale leaves

-

ribs removed, torn into 1-inch pieces

1

small yellow onion

-

cut into wedges, layers separated

1

slice

thick-cut bacon

-

cut into 1-inch pieces

3

Tbsp

pine nuts

3

cups

organic chicken stock

2

Tbsp

unsalted butter

1

cup

Arborio rice
INSTRUCTIONS
Preheat the oven to 350 F. Line a rimmed baking sheet with parchment paper

Arrange the chicken on the baking sheet, drizzle with olive oil, and season with salt and pepper. Bake for 20 minutes, then add the kale, onion, bacon, and pine nuts to the same baking sheet, return to the oven, and bake until the bacon is crisp and the chicken has reached an internal temperature of 155 F when tested with an instant-read thermometer, 10 to 15 minutes. Keep warm

Meanwhile, bring the stock to a simmer in a large pot over medium heat; keep warm

In a large saucepan, melt the butter over medium heat. Add the rice and stir to coat with the butter. Cook, stirring occasionally, until opaque, 2 to 3 minutes

Add 1/2 cup of the hot stock to the rice and cook, stirring constantly until all the stock is absorbed. Continue adding stock 1/2 cup at a time and stirring constantly until the rice is creamy and tender. Keep warm

Transfer the chicken, kale, onion, bacon, and pine nuts to a food processor and pulse on and off just until coarsely chopped. Fold into the rice and serve warm