Easy pandan snow skin mooncake with custard filling is no-bake mooncake made with regular mochi recipe that stays so soft and chewy even after refrigeration. Other flavor variations and all the tips you need to know.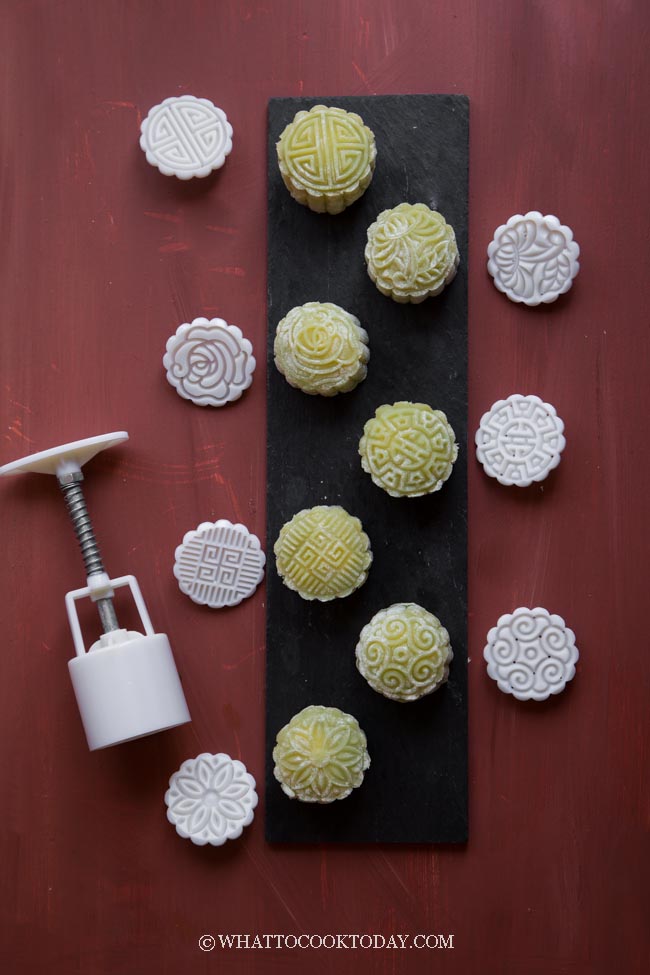 Our family is a huge fan of Japanese mochi. My kids nagged me to make mochi all the time. So imagine when I made these pandan mochi mooncakes, they were so excited! I love to make them too because they are easy to make. These Pandan mochi mooncakes are way easier than making the other type of snow skin mooncakes that requires you stir fry a large batch of glutinous rice flour before able to make the mooncakes.
WHAT ARE SNOW SKIN MOONCAKES (冰皮月饼) AND MOCHI MOONCAKES
They are called snow skin because the mooncakes aren't baked like traditional baked mooncakes. They are also usually served chilled and have that snowy appearance. Some people called mochi mooncakes like the ones I made here snow skin mooncakes too. Other names they are known for are: Ice skin mooncakes, crystal mooncakes, snowy mooncakes All are made with very similar basic ingredients for mochi: glutinous rice flour (mochiko flour), sugar, milk, and a few more other ingredients for the fillings.
WHY YOU'LL LIKE THIS SNOW SKIN MOONCAKES RECIPE
1. Foolproof
The recipe is pretty foolproof and the dough is very forgiving
2. You don't need to stir fry a large amount of glutinous rice flour to make gao fen
The flour mixture is actually steamed and then knead into a dough, so much easier than having to stir fry a large amount of glutinous flour, which if you don't do it right, your snow skin mooncakes will taste awful!
3. No mooncakes mould needed if you don't want to
If you have mooncakes mould, hey..go for it. If you don't have them, you can still just make them into delicious soft and chewy mochi. I promise you they will go fast. They were gone in 1 day at our house!
4. The snow skin stays soft in the refrigerator
So for my own testing, I actually put the mochi in the refrigerator for 5 days and they stay soft with no change of texture whatsoever for that 5 days
5. Creamy and lightly sweetened custard filling
My daughter loves custard filling and she said this wasn't too sweet for her. We don't have much of sweet tooth here, but you are welcomed to sweeten the recipe to your taste
SPECIAL INGREDIENT AND TOOL USED IN MOCHI MOONCAKES RECIPE:
1. Glutinous rice flour/sweet rice flour/ mochiko flour
2. Mooncakes mould
I like the hand-pressed mooncakes mould. I used the 50 gr mould. You can get bigger one and just need to adjust the weight of the dough and filling
WHY I STIR-FRY THE GLUTINOUS RICE FLOUR USED FOR DUSTING THE MOONCAKES
Like I've mentioned above that some of the traditional snow skin mooncakes are made with cooked glutinous flour and there will be no other cooking involved after that. So, it is important to make sure the flour is cooked through or the mooncakes will taste starchy and raw. In our case though, I use the flour for dusting the cakes, so I don't want the cakes to taste starchy and raw and that's why I stir-fry small amount of glutinous rice flour on the dry pan until they are slightly nutty/toasted.
HOW TO MAKE CUSTARD FILLING FOR PANDAN MOCHI MOONCAKE
I recommend preparing the filling the day before.
1. Whisk eggs, milk, sugar, and salt together in a saucepan. Sift in flour and milk powder. Stir to combine everything. Put on the stove over low heat. Add butter. Keep stirring until the mixture gradually get thicken to a custard consistency


2. Cook: Put the saucepan over medium-low heat and continue to stir until the mixture thickens and pull away from the sides of the pan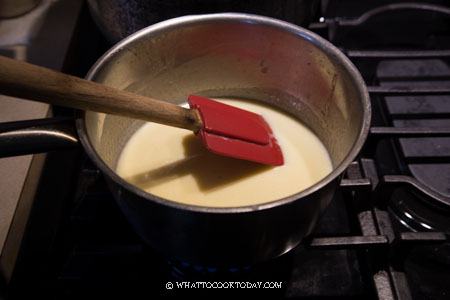 3. Roll into balls: Once they cool down completely, weigh to portion out and roll into balls for easier wrapping. Cover and chill in the refrigerator until the next day.

HOW TO MAKE PANDAN SNOW SKIN MOONCAKE
1. HOW TO MAKE GAO FEN  (TOASTED GLUTINOUS RICE FLOUR)
Stir fry about 20-30 grams of glutinous rice flour on a dry pan over medium heat until the flour turns slightly brown and smells nutty.


2. PREPARE MOCHI BATTER: Combine all the ingredients in a heat-proof mixing bowl. Strain to get a smooth mixture


3. STEAM THE BATTER: Place this batter in the steamer and steam over high heat for 15 minutes. The batter solidifies.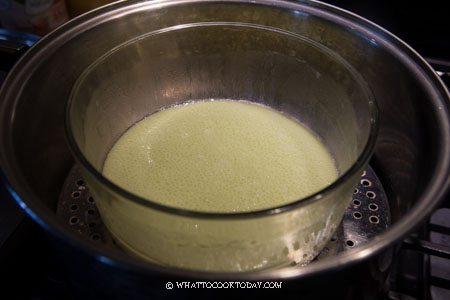 4. STIR: Use a spoon to stir the steamed mochi while it's still hot to form a large mass of dough


5. KNEAD: Oil your palms and knead the dough a few times to form a smooth non-sticky dough


6. DIVIDE: Divide the dough into 10 smaller doughs (or less if you use larger mould-refer to the "how to adjust the mould size below)


7. WRAP:Flatten the mochi dough and roll out into about 4 inches round. Place the filling in the middle and wrap around it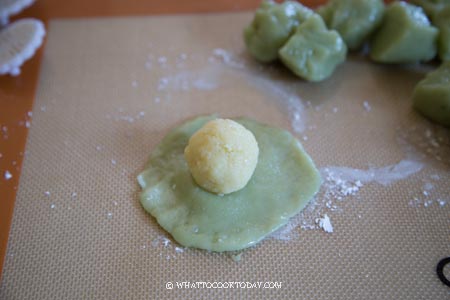 8. MOULDING: Dust the dough with cooked glutinous flour you prepared earlier. Dust off excess flour. Place this into the mould and press to imprint the pattern on the dough.

HOW TO ADJUST THE SIZE OF THE MOONCAKES WITH THE MOULD
You should be able to see the maximum weight limit on the mould. Mine is a 50 grams mould. This means the weight of the mochi dough and the filling needs to equal to 50 grams. Usually, the mochi dough (or the skin) is slightly heavier than the filling. Below are just examples of how you can scale the weight for the dough and filling to fit into the mould.
50 grams mould = 25 grams skin(mochi dough) + 25 grams filling
75 grams mould = 40 grams skin(mochi dough) + 35 grams filling
100 grams mould = 50 grams skin (mochi dough) + 50 grams filling
125 grams mould = 65 grams skin (mochi dough) + 60 grams filling
DO NOT FILL MORE THAN THE MOULD CAN ACCOMMODATE. It's not going to be a pretty picture I can tell you that (because I did that before).

VARIATIONS FOR SNOW SKIN MOONCAKES
Using natural powder flavoring: matcha powder, beet root powder, cocoa powder, milo, culinary charcoal powder, cinnamon powder. Simply add 1 tsp to the dry ingredients before mixing into the wet ingredients
Using liquid natural flavoring: pandan juice, blue pea flower (bunga telang)
HOW TO STORE SNOW SKIN MOONCAKES
REFRIGERATOR: Mochi mooncakes can be kept in the refrigerator for 3-4 days. This recipe yields mochi mooncakes that stay soft even after refrigeration. Try to consume within 3-4 days as they are the best. The longer you keep, the drier the skin will get
FREEZER: For longer storage, place them on a baking sheet lined with parchment paper, not touching each other and let them freeze for 1 hour and then transfer to a freezer bag or container and they won't stick to each other anymore. They can be kept frozen for up to 2 months. When ready to eat, simply thaw at room temperature.
DID YOU MAKE THIS EASY SNOW SKIN MOONCAKE RECIPE?
I love it when you guys snap a photo and tag to show me what you've made 🙂 Simply tag me @WhatToCookToday #WhatToCookToday on Instagram and I'll be sure to stop by and take a peek for real!

Mochi mooncake dough is adapted from My Kitchen 101.
*Recipe amount for the snowskin dough is updated to show full recipe (yield 10 pieces instead of only 5)*
Easy Pandan Snow Skin Mooncake (冰皮月饼) - Mochi Mooncake
Ingredients
Snowskin dough: (yield about 346 grams dough)
Instructions
Stir-fry the glutinous rice flour you will use for dusting (can be done several days/weeks before):
Place 30 gr of glutinous rice flour on a dry non-stick pan over medium heat. Stir fry for about 15 minutes or until the flour started to smell slightly nutty/toasted. Let it cool down completely. Store in an air-tight container at room temperature and they can be kept for weeks or even months
Prepare custard filling (can be done the day before):
Whisk eggs, milk, sugar, and salt together in a saucepan. Sift in flour and milk powder. Stir to combine everything

Put on the stove over low heat. Add butter. Keep stirring until the mixture gradually get thicken to a custard consistency

Let it cools down completely and cover and chill in the refrigerator for 30 minutes or overnight if not using on the same day

When ready to use, portion out into 25-gram pieces and roll into a ball. Keep them covered in the refrigerator while you prepare the dough
Prepare snow skin dough:
Combine all the ingredients in a heat-proof mixing bowl

Place this batter in the steamer and steam over high heat for 15 minutes. Wrap the lid of the steamer with a cloth to prevent condensation drips onto the dough. The top of the dough may appear a bit watery at first. Use a spoon to stir the steamed mochi while it's still hot to form a large mass of dough

Cover with a cloth for about 10-15 minutes so it's not too hot for your hands to knead. Don't use a plastic wrap as condensation will form and drip into the dough, making it wet

When it's cool enough to handle, oil your palm lightly and knead the dough a few times to form a smooth non-sticky dough. The dough is very elastic and stretchy

You can also use your standmixer with a dough hook attachment to knead the dough until it's smooth and elastic
Shaping and moulding:
Since I used 50-gram mould, I portioned the dough into a 25-gram piece (or less if you use larger mould (refer to the "how to adjust the mould size in the post above)

Flatten the dough and roll out into about 4 inches round. Place the filling in the middle and wrap around it

Dust the dough with cooked glutinous flour you prepared earlier. Dust off excess flour. Place this into the mould and press to imprint the pattern on the dough. Repeat with the rest of the dough and filling
How to store:
Transfer to an air-tight container and keep chill in the refrigerator for 3-4 days

For longer storage, freeze them. Snow skin mooncake freezes well. I put them on a baking tray lined with wax of parchment paper, not touching each other and then put it in the freezer for about one hour. They won't harden completely, but won't stick to each other. Transfer to a freezer bag or container. They can be kept this way for up to 2 months. When ready to serve, thaw at room temperature and they are ready to be served