Try this delicious Indonesian snack made with shredded taro fried to perfection and served with chili sauce.

Uyen is my most favorite snack ever since childhood. I'm not exactly sure where the word Uyen came about, but my mom said, this snack belongs to the Hakka community. The Indonesian language is called Talas goreng. Talas is basically a taro root. I called it fried taro fritters because the grated taro strips that is mixed with corn starch and other ingredients are then formed into ball-like clusters before being deep-fried. It is usually served with chili sauce.
I missed it so much lately and reminiscing our trip back to my hometown 2 years ago. My father-in-law brought us to this little shop that sold Uyen and other stuff like Pecel, Gado-gado, etc. Uyen is normally eaten together with Pecel. Almost like a salad with croutons. The Uyen gives that crunch. The contrast of texture between the Pecel and Uyen is just awesome. As a matter of fact, the Uyen at this shop is well-known in our hometown. The Uyen was hot from the wok when we arrived and boy did they taste sooooo good. Such a simple food can deliver so much ecstasy. Simplicity at its best!
HOW TO MAKE TALAS GORENG UYEN FROM SCRATCH
1. Mix taro strips with salt and let sit for 10 minutes then squeeze out as much water as possible


2. Mix the taro strips with the ground soy bean paste (tau cheo), and grated fresh ginger


3. Gradually add in cornstarch as you mix. The mixture should be somewhat lumpy and you need to see if they hold up pretty nicely when you spoon it up to form a ball. It won't be a perfect ball and don't sweat it. Add more corn starch if you feel that the mixture is too dry and falling apart when you try to shape it


Kinda squeeze it together to form a ball with your palm. Form about 10-12 balls. I recommend not too big so the inside will get cook faster


4. Heat generous amount of oil for deep-frying, about 3-inch tall. Test the oil by dipping a chopstick or a skewer into the oil. If there are lots of bubbles around it, the oil is hot enough for frying, lower the heat to medium


Fry in small batches until golden brown. If your heat is too high, it will brown quickly outside and uncooked inside. Have a taste of the one you just fried when it's cool enough and adjust seasoning if needed. Then continue to fry the rest of the mixture


5. Serve with the chili sauce on the side as snack or serve it with pecel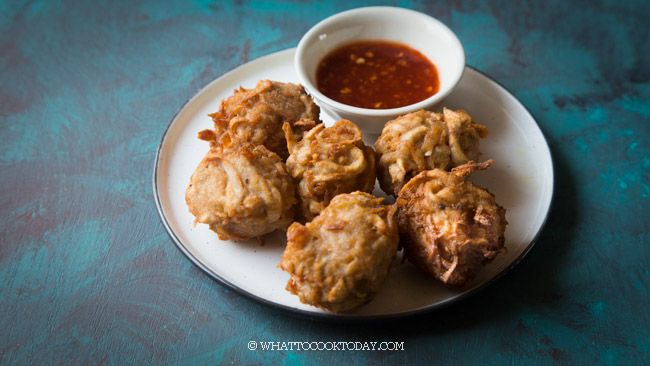 IMPORTANT TIPS
1. Wear a glove when you work with taro, especially if you know you have sensitive skin. It may cause itchiness
2. Salt will draw out excess liquid in taro root. This helps to make the fried taro fritters crispy when you fry them
3. Control the heat. You want the oil to be hot and then lower it to medium when you fry so the inside will get cooked evenly and the outer layer won't get too dark or burnt
DID YOU MAKE THIS EASIEST CRISPY ROAST PORK BELLY RECIPE?
I love it when you guys snap a photo and tag to show me what you've made 🙂 Simply tag me @WhatToCookToday #WhatToCookToday on Instagram and I'll be sure to stop by and take a peek for real!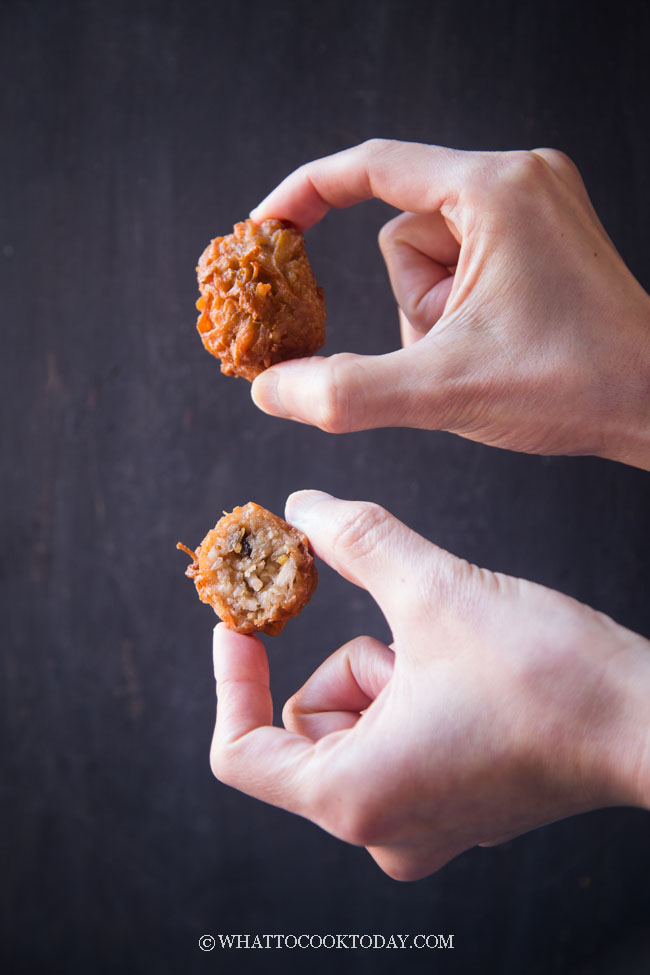 Talas Goreng Uyen (Fried Taro Fritters)
Ingredients
300

gr

peeled taro

(grated/shredded) about 12 oz

1

tsp

salt

1

Tbsp

ground soy bean paste

(tau cheo)

1

tsp

grated fresh ginger

3

Tbsp

corn starch

(this may vary depending on the water content of the taro itself)

Salt to taste

Cooking oil

for deep-frying
Chili Sauce:
3

Tbsp

sambal oelek or use 1 Tbsp chili boh

1

clove

garlic

finely minced

1

Tbsp

sugar

or more to taste

2

Tbsp

water

1

tsp

vinegar
Instructions
Prepare chili sauce:
Place all ingredients in a small saucepan and bring to a boil and cook until sugar dissolves until they are fine. Pour to a sauce pan and bring it to boil and then lower the heat and simmer until all the sugar has dissolved (It won't be grainy anymore when you stir it). The chili sauce will taste spicy, sweet, and slightly tangy. Adjust the taste to your preference
Prepare the taro root:
WORKING WITH TARO ROOT: Direct contact with Taro may cause itchiness to the skin especially if your hands are wet and you have sensitive skin. I wear gloves while peeling the skin off the Taro. Another trick you can do is by applying vinegar to your hands if you choose not to wear gloves. Use a box grater to grate the taro or shred it into strips

Mix the taro strips with 1 Tbsp of salt and let it sit for about 10 minutes. The salt will draw out excess water. Squeeze out the excess water from the Taro (Taro naturally contains water) as much as you can and discard the excess liquid. Set aside.

Mix the taro strips with the ground soy bean paste (tau cheo), and grated fresh ginger. Gradually add in cornstarch as you mix. The mixture should be somewhat lumpy and you need to see if they hold up pretty nicely when you spoon it up to form a ball. It won't be a perfect ball and don't sweat it. Add more corn starch if you feel that the mixture is too dry and falling apart when you try to shape it. Kinda squeeze it together to form a ball with your palm. Form about 10-12 balls. I recommend not too big so the inside will get cook faster
Frying:
Heat generous amount of oil for deep-frying, about 3-inch tall. Test the oil by dipping a chopstick or a skewer into the oil. If there are lots of bubbles around it, the oil is hot enough for frying, lower the heat to medium and drop one spoonful of the mixture in and fry until golden brown. If your heat is too high, it will brown quickly outside and uncooked inside. Have a taste of the one you just fried when it's cool enough and adjust seasoning if needed. Then continue to fry the rest of the mixture
Serving:
Serve with the chili sauce on the side as snack or serve it with pecel
OTHER RECIPES USING TARO ROOTS YOU MAY LIKE
OH KUEH (SAVORY STEAMED TARO CAKE)


FRIED TARO PUFF (WOO KOK)


EASY TARO RICE (RICE COOKER OR PRESSURE COOKER)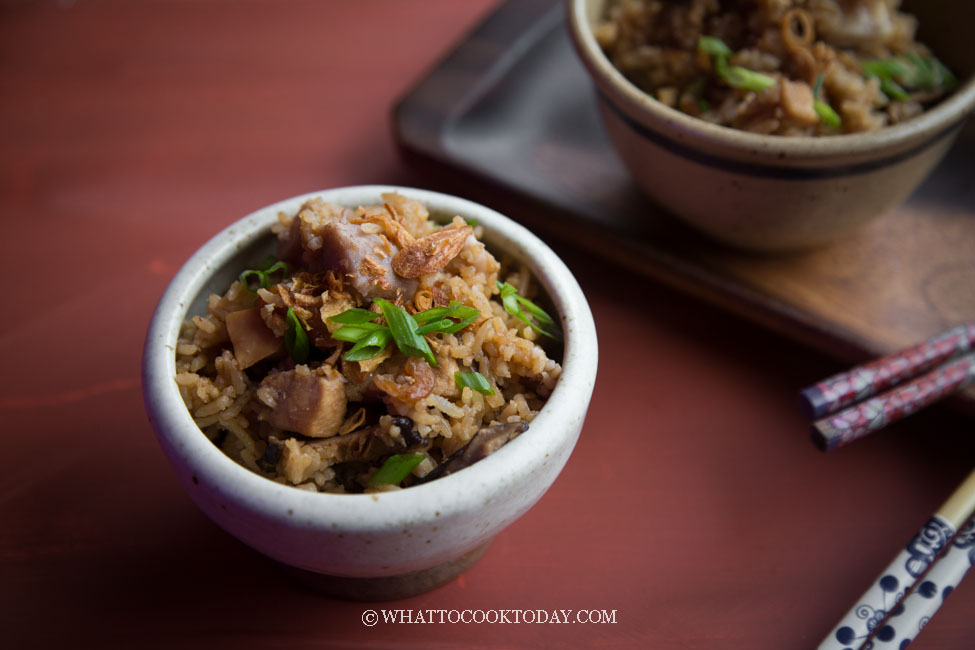 HAKKA KAU YUK (PORK BELLY AND TARO)