This super easy and delicious Chinese-style savory yam (taro) rice is packed with amazing umami flavor and can be made in a rice cooker or pressure cooker.
There are no words how much I love taro. I do have a serious weakness when it comes to tubers. This yam/taro rice I'm sharing here is one of my ultimate comfort foods. It is easy to make and a hearty meal on its own. I love a one-pot dish like this. It's yummy and feed the whole family 🙂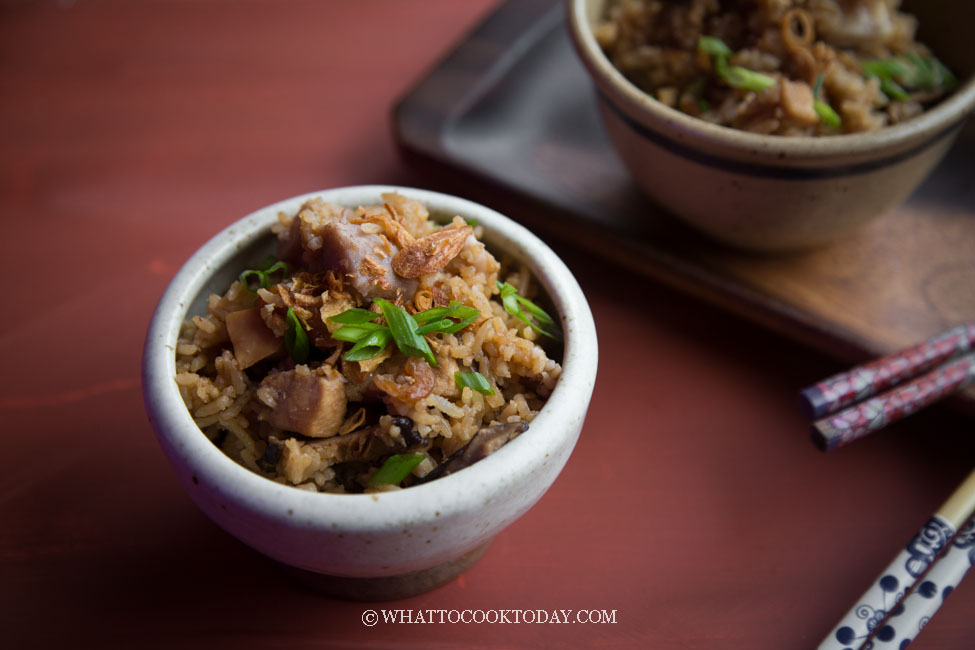 WHAT IS TARO?
Taro is often called as yam in Asia. They are being used interchangeably in Asia and means the same please. BUT please take note that it is not the same as the one labeled as yam here in the U.S. Though the yam here in the U.S. probably shouldn't be labeled as yam. They are more like sweet potatoes. Why they are labeled as yam I'm not so sure, but just don't get the wrong kind. Taro is usually available in Asian grocery store as it is not very common here in the U.S, though I've had some luck finding some in this one non-Asian grocery store that carries many ethnic specialty ingredients.
HOW TO HANDLE TARO
Uncooked taro roots can cause itchiness to the skin and toxic in its raw form. The calcium oxalate content in its root it what's causing the toxicity, but once cooked, it can be safely consumed. I usually like to use the already-peeled taro because it's convenient and I don't have to deal with cutting the thick skin off the taro.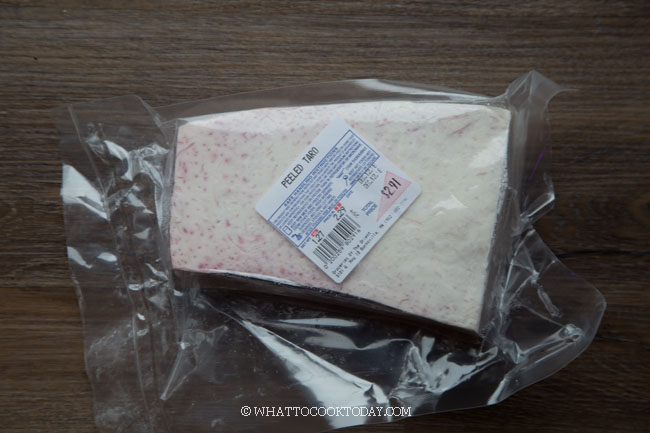 If you need to peel the taro yourself, make sure you wear gloves. Please don't be alarmed by the word toxic I mentioned before. It is safe to eat taro roots, just have to make sure it's cooked! Cooking destroyed the calcium oxalate. Eating the raw taro roots is what you want to avoid, which don't think anybody would do such thing anyway! I don't imagine it being very tasty, if at all! So, just make sure you wear gloves (I didn't in the photo I know, but I somehow wasn't itchy!) and never consume taro roots or its leaves raw!
SPECIAL INGREDIENTS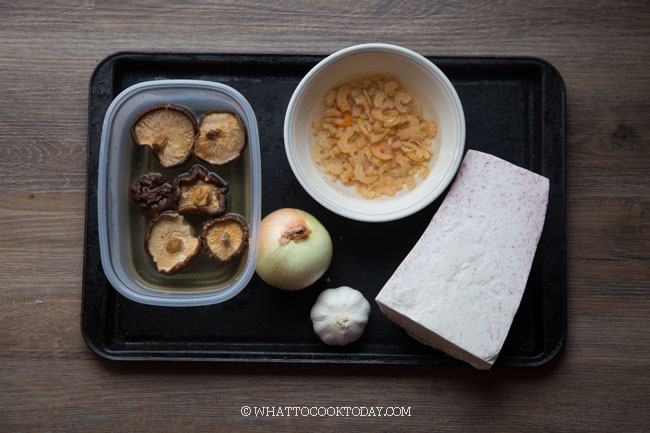 Shiitake mushrooms, dried shrimp and peeled taro can be found in Asian grocery store. The latter two are usually at the refrigerated section. There's also frozen peeled taro in the freezer section, BUT, I do not recommend using the frozen one for this recipe as the texture of taro is too soft and they are more watery after you thaw it. The frozen one is more suitable if you are going to use a recipe that calls for mashed taro.
HOW TO MAKE YAM RICE USING RICE COOKER OR PRESSURE COOKER
1. Wear gloves and peel off the skin off the taro and cut into 1-inch cube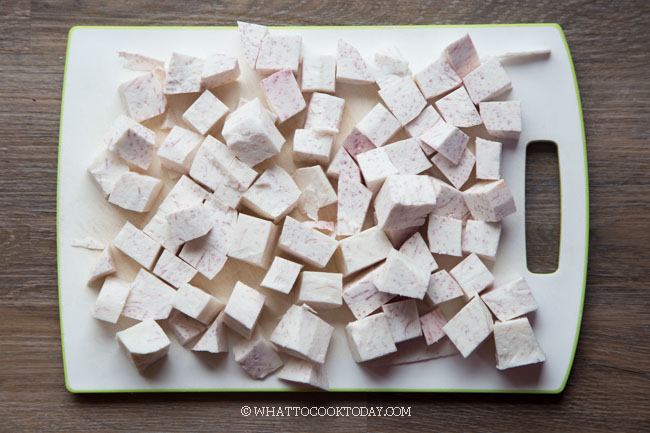 2. Soak the dried shrimp and shiitake mushrooms in warm water until soft
3. IF USING RICE COOKER: Preheat a large skillet or wok. Add cooking oil. Add onion and garlic and saute for about 3 minutes.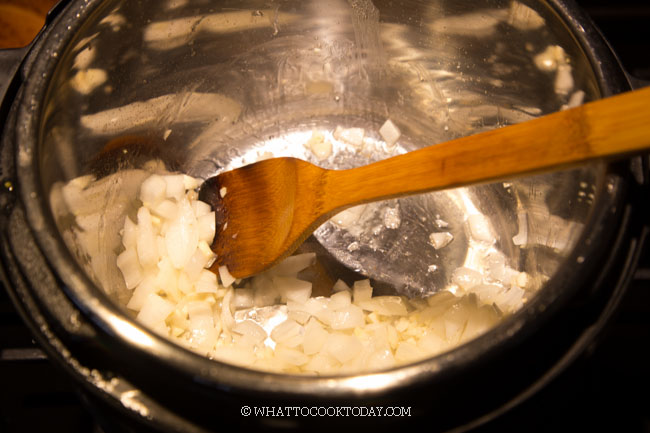 4. Add dried shrimp and saute for another minute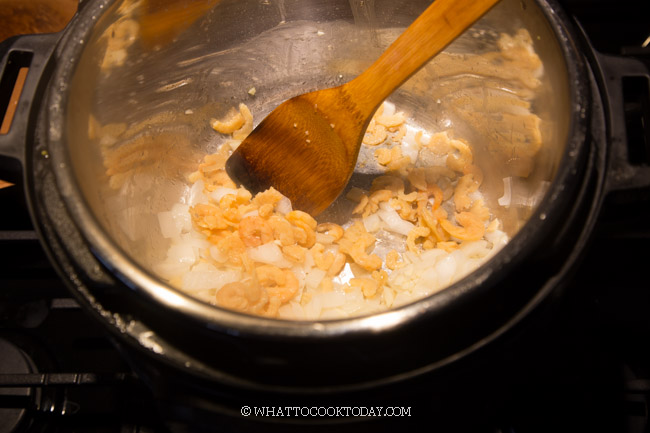 5. Add shiitake mushrooms and stir fry for another 1 minute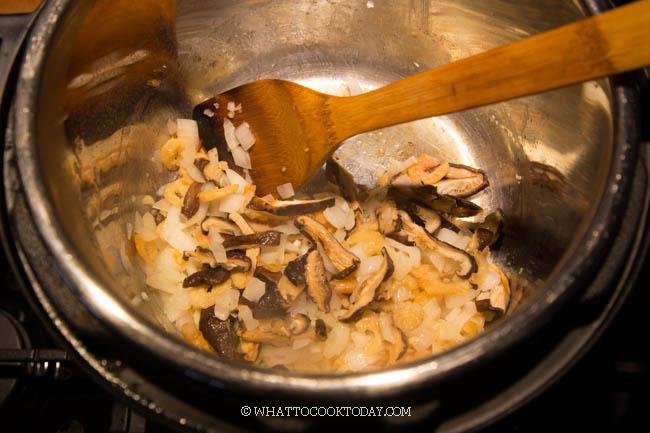 6. Add the chicken or pork and taro pieces and saute until meat turns opaque in color (but not cooked through yet)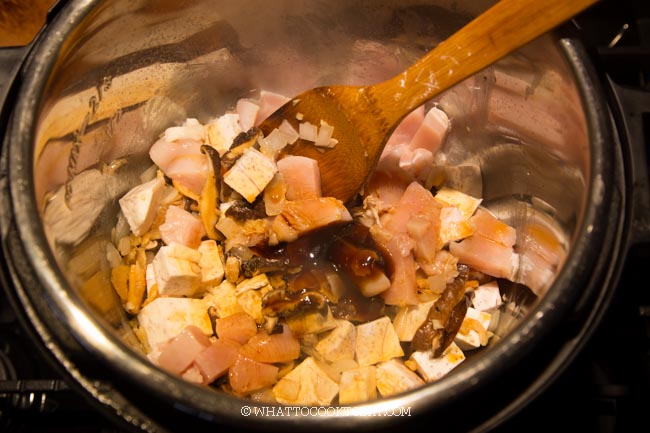 7. Add the rice and seasonings followed by the liquid from soaking mushrooms and dried shrimp (total of 2 cups of liquid- the same cups you use to measure your rice). Stir to mix everything and transfer to rice cooker and let it cook on white rice setting (about 20 minutes). Wait for 10 minutes after it's done cooking and then fluff the rice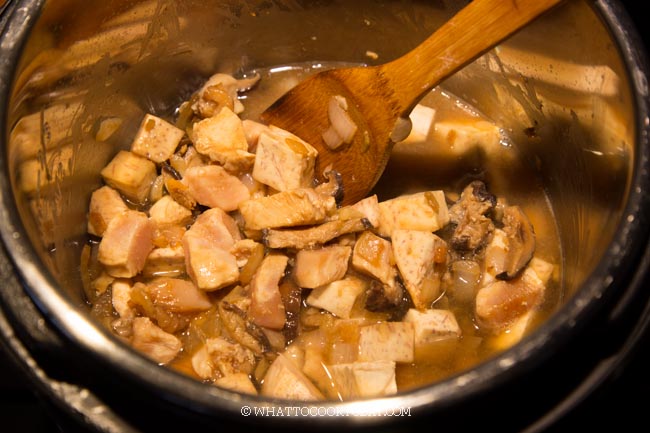 8. IF USING INSTANT POT PRESSURE COOKER: Step 3-6 are the same and can be done in Instant pot. Press "saute" on instant pot. When it's "hot", add cooking oil and proceed with step 3.
9. Add seasonings. Pour in 2 cups of liquid from soaking mushrooms and dried shrimp. Give it a stir


10. Sprinkle in the rice and gently push the rice in to let it submerge in the liquid


11. Close the lid and turn the steam release valve to "seal". Press "pressure cooker" and then "high pressure". Set timer to 5 minutes. After 5 minutes, wait for 10 minutes before release pressure completely. Fluff the rice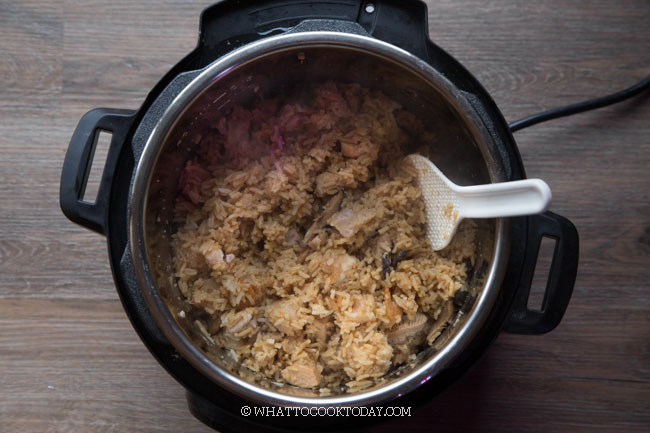 If you use pressure cooker, which is my favorite method, it is basically become a one-pot dish because everything cooks in one pot.

TOP TIPS YOU NEED TO KNOW
1. Always wear gloves when handling raw taro.
2. Use rice to liquid ratio of 1:1. Not much liquid is lost if you cook the yam rice in rice cooker or pressure cooker, therefore 1:1 ratio is perfect so that your rice won't be too wet and mushy. If you make this on the stove, you may need to add 1/4-1/2 cup additional liquid.
3. If using Instant Pot pressure cooker, make sure you pour in the liquid first and then sprinkle in the rice. This is a "trick" I've learned to prevent your Instant Pot from showing you the "burn" message.
CUSTOMIZE THE RECIPE
The recipe I'm sharing you is how a yam rice is usually prepared using the ingredients on the recipe. However, it's not written in stone as you can substitute or opt our on certain ingredients for whatever reasons that suit you.
1. Omit dried shrimp
If you can't find dried shrimp, you can omit it. I must admit dried shrimp lend a lot of flavor to the finished dish, but it won't break the deal if you omit it
2. Protein
I use pork in this recipe, but feel free to use chicken or Chinese sausage in this recipe. You can even leave out meat altogether to make it vegetarian-friendly
3. Use brown rice
You can definitely use brown rice and follow the recommendation for the amount of liquid you need to cook the brown rice. Our rice cooker has a brown rice setting and usually takes about 45-50 minutes to cook. For Instant pot pressure cooker, set the timer to 15 minutes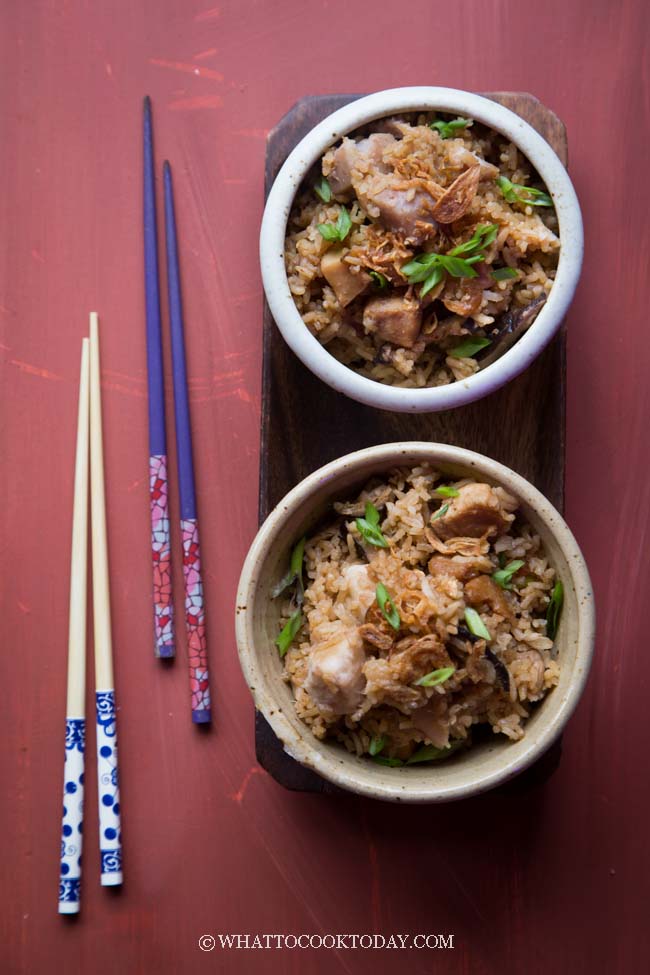 SWEET OR SAVORY DISHES USING TARO
Taro is very commonly used in sweet dishes like Hakka sweet yam paste (Or Nee), Bubur Cha Cha. I have yet to post recipes for these both (still stuck in my memory card LOL!)
My favorite savory dishes using taro are: Oh kue, Hakka pork belly and taro, Woo kok, Fried taro, Pressure cooker braised pork and yam, Yam/taro congee
Have you ever cooked with taro before? If so, what's your favorite dish made with taro?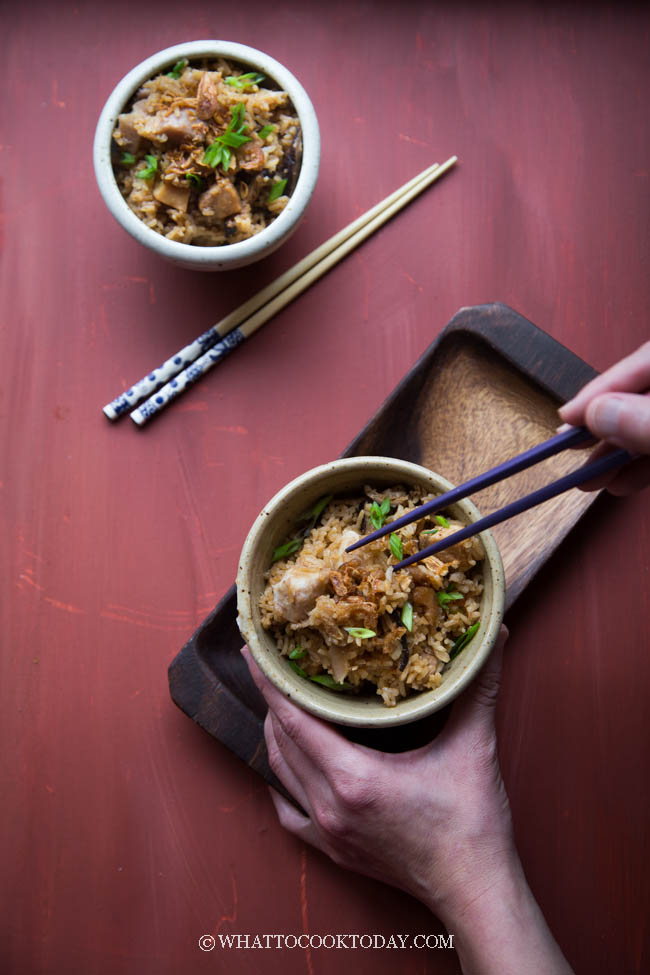 Easy Yam / Taro Rice (with rice cooker or pressure cooker)
Ingredients
2

cups

jasmine rice

300

gr

Asian yam/taro

peeled and cut into 1-inch cube

60

gr

dried shrimps

3

Tbsp

Cooking oil

300

gr

boneless chicken or pork loin

cut into 1-inch cube
Aromatics:
1

large

onion

finely chopped

6

cloves

garlic

finely chopped

2

cups

liquid from soaking mushrooms and dried shrimp
Garnish:
1

stalk

green onion

finely chopped

Fresh coriander leaves

Crispy fried shallots
Instructions
Peel and cut the yam into small cubes (about 1-inch cube). Marinade the meat with wine and soy sauce while preparing other things. Mix and stir all ingredients for seasonings together and set aside

Wash the rice in several changes of water until it runs clear. Drain off the water completely

Wash the dried shrimp and soak the dried shrimp in water for 10 minutes. Soak the shiitake mushrooms in warm water for 15-20 minutes or until they are soft and plump. Cut into thin strips
Cooking with rice cooker:
Preheat a large skillet or wok. Add cooking oil. Add onion and garlic and saute for about 3 minutes. Add dried shrimp and saute for another minute. Add shiitake mushrooms and stir fry for another 1 minute

Add the chicken or pork, and taro pieces and saute until the chicken/pork turn opaque in color (but not cooked through yet). Add the rice and seasonings followed by the liquid from soaking mushrooms and dried shrimp (total of 2 cups of liquid- the same cups you use to measure your rice). Stir to mix everything. Transfer to rice cooker and let it cook on white rice setting (about 20 minutes). Wait for 10 minutes after it's done cooking and then fluff the rice
Cooking with pressure cooker:
I use Instant pot pressure cooker. Press "saute" on instant pot. When it's "hot", add cooking oil. Add onion and garlic and saute for about 3 minutes. Add dried shrimp and saute for another minute. Add shiitake mushrooms and stir fry for another 1 minute

Add the chicken or pork, and taro pieces and saute until the chicken/pork turn opaque. Add seasonings. Pour in 2 cups of liquid from soaking mushrooms and dried shrimp. Give it a stir. Sprinkle in the rice and gently push the rice in to let it submerge in the liquid

Close the lid and turn the steam release valve to "seal". Press "pressure cooker" and then "high pressure". Set timer to 5 minutes. After 5 minutes, wait for 10 minutes before release pressure completely. Fluff the rice
Serving:
Garnish the yam rice with fried shallots, chopped green onion and cilantro leaves. Serve warm
Recommended products:
Nutrition
Serving:
1
serving
|
Calories:
719
kcal
|
Carbohydrates:
108
g
|
Protein:
37
g
|
Fat:
14
g
|
Saturated Fat:
1
g
|
Polyunsaturated Fat:
4
g
|
Monounsaturated Fat:
8
g
|
Trans Fat:
1
g
|
Cholesterol:
219
mg
|
Sodium:
1938
mg
|
Potassium:
971
mg
|
Fiber:
5
g
|
Sugar:
7
g
|
Vitamin A:
111
IU
|
Vitamin C:
9
mg
|
Calcium:
145
mg
|
Iron:
3
mg