A hearty Hong Kong cafe breakfast macaroni soup served with spam and creamy scrambled eggs. It can be made on the stove or with an Instant Pot.

What is Hong Kong Macaroni Soup?
A comforting bowl of macaroni soup for breakfast is not unusual in Asia. My mom didn't prepare it exactly this way. She made her like how I made this Asian chicken macaroni soup. Macaroni soup is one of Hong Kong cha chaan teng (Hong Kong-style cafe) popular breakfast on the menu. They are typically served with scrambled eggs and ham. I used luncheon meat instead of ham. In case you are wondering what is cha chaan teng, is basically a Hong Kong style cafe serving Asian Fusion, usually Chinese and Western, dishes.
How to make Hong Kong style macaroni soup
There are many ways you can make this and I don't think there's right and wrong here. Here's how I make mine with an Instant Pot for convenience. The way I made the scrambled eggs is inspired by how Gordon Ramsey made his, but I cooked mine a bit shorter in time compared to his method to get that moist creamy texture without the cream.
1. Slice the luncheon meat into about 1/2 inch thick and pan fry on the hot pan until lightly charred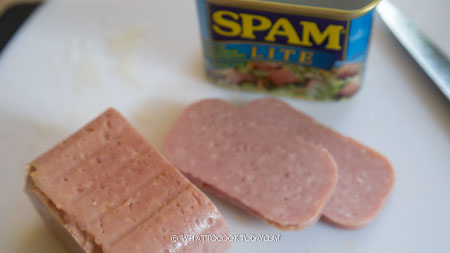 2. Crack 6 eggs into a deep skillet or saucepan without tuning on the stove yet. Add butter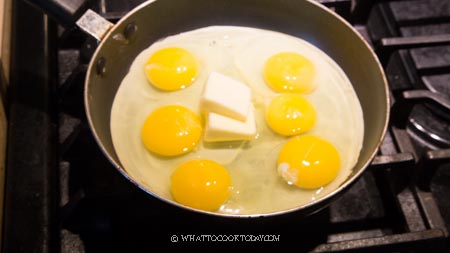 3. Turn on the heat to medium-high. Keep stirring for 30 seconds. Scrape the side and bottom of the pan as you stir. Don't whisk, just stir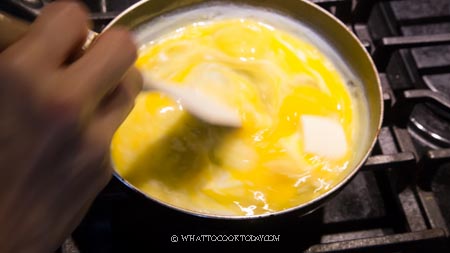 4. Remove from the heat for 10 seconds and keep stirring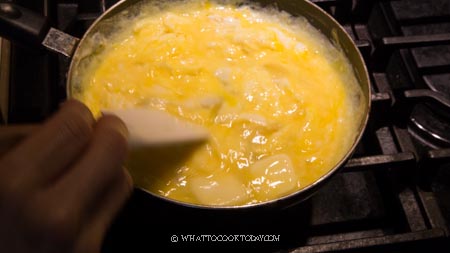 5. Then put it back on the heat and stir again for another 10 seconds. The eggs should be moist and creamy, if it's too wet to your liking, stir for another 10-20 seconds and then turn off the heat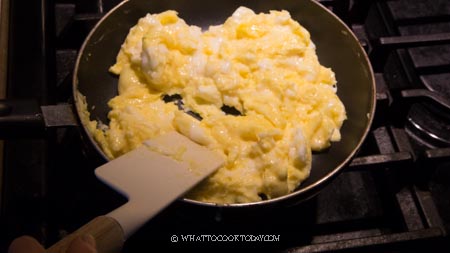 6. Season with salt and pepper to your taste. Add cream fraiche or sour cream for extra creaminess if you like. Set aside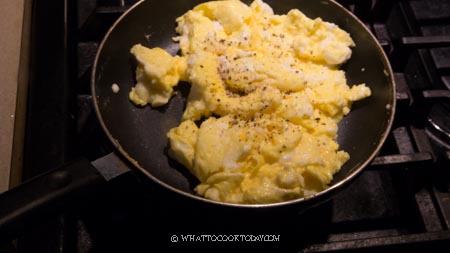 7. Turn on saute mode. When it says "HOT", add cooking oil and onion. Saute for about 2-3 minutes. Add corn kernels and carrots and saute for another minute. Add the chicken broth follow by pasta and seasonings. Give it a stir.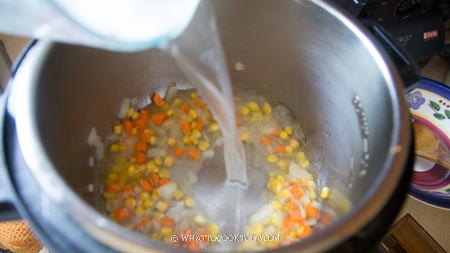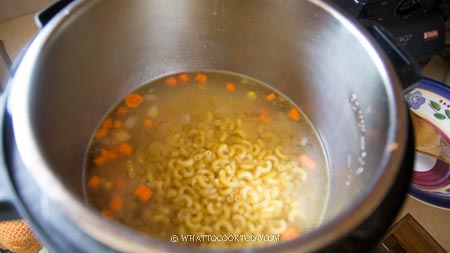 8. Close the lid and turn the steam release valve to "sealing". Press "pressure cooker" and make sure it's on "high heat". Set the timer to 2 minutes. When it beeps, carefully release pressure. Carefully unlock the lid and give the soup a stir. Have a taste and adjust to your preference. The edamame beans I bought are precooked, so I added them here. The residual heat will warm them up


9. Portion out macaroni soup into a serving bowl. Served with luncheon meat and scrambled eggs. Garnish with fresh cilantro leaves. You can add chopped green onion too if you like. Serve immediately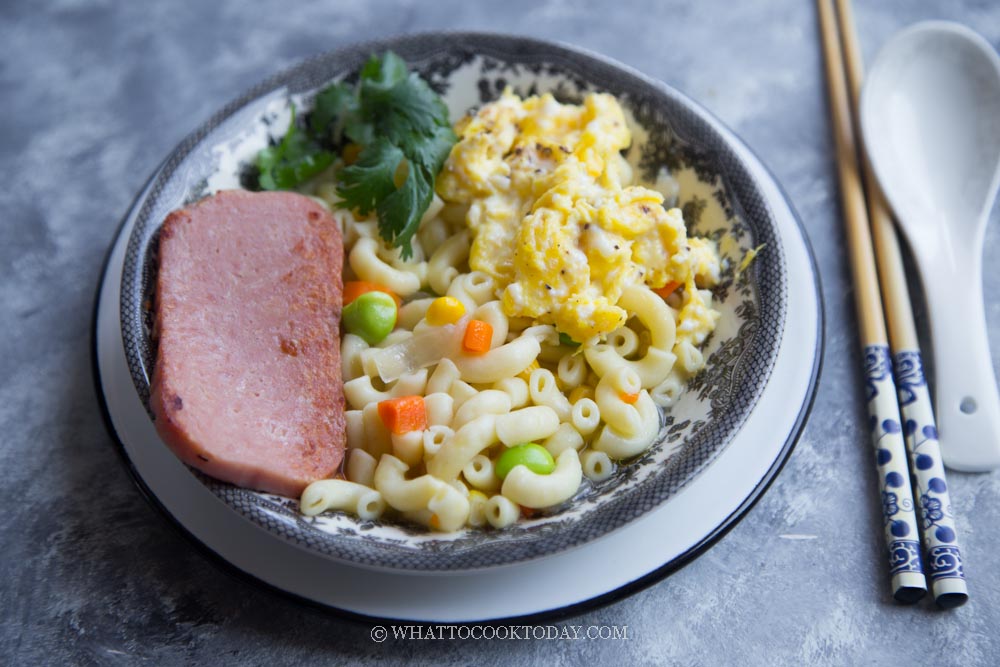 How to store leftover
Leftover can be kept in the fridge for up to 5 days. Simply reheat in the microwave or on the stove until heated through
Did you make this Hong Kong macaroni soup recipe?
I love it when you guys snap a photo and tag to show me what you've made 🙂 Simply tag me @WhatToCookToday #WhatToCookToday on Instagram and I'll be sure to stop by and take a peek for real!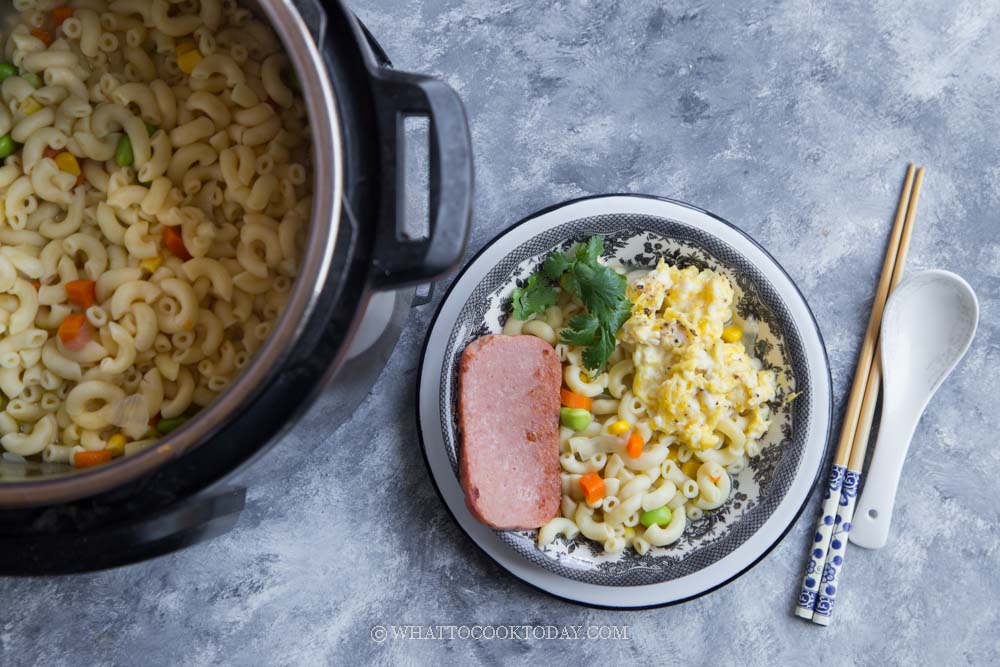 You may also like this Hong Kong cha chaan teng recipe
Hong Kong-Style Macaroni Soup (with Spam and Scrambled Eggs)
Ingredients
Meat:
340

gr

SPAM luncheon meat

or ham of your choice
Creamy scrambled eggs:
6

large

eggs

15

gr

unsalted butter

1

Tbsp

Cream fraiche

or use sour cream, optional

Salt and pepper to taste
Vegetables:
1

large

onion

diced

100

gr

sweet corn kernels

1

large

carrot

diced

100

gr

edamame beans

or you can use green peas
Seasonings:
¼

tsp

sugar

1

tsp

chicken or mushroom powder

Salt

to taste
Instructions
Pan fry the SPAM luncheon meat:
Slice the luncheon meat into about 1/2 inch thick and pan fry on the hot pan until lightly charred
Prepare scrambled eggs:
Crack 6 eggs into a deep skillet or saucepan without tuning on the stove yet. Add butter. Turn on the heat to medium-high. Keep stirring for 30 seconds. Scrape the side and bottom of the pan as you stir. Don't whisk, just stir

Remove from the heat for 10 seconds and keep stirring then put it back on the heat and stir again for another 10 seconds. The eggs should be moist and creamy, if it's too wet to your liking, stir for another 10-20 seconds and then turn off the heat. Season with salt and pepper to your taste. Add cream fraiche or sour cream for extra creaminess if you like. Set aside
Cooking macaroni soup with Instant Pot:
Turn on saute mode. When it says "HOT", add cooking oil and onion. Saute for about 2-3 minutes. Add corn kernels and carrots and saute for another minute. Add the chicken broth follow by pasta and seasonings. Give it a stir. Close the lid and turn the steam release valve to "sealing". Press "pressure cooker" and make sure it's on "high heat". Set the timer to 2 minutes. When it beeps, carefully release pressure

Carefully unlock the lid and give the soup a stir. Have a taste and adjust to your preference. The edamame beans I bought are precooked, so I added them here. The residual heat will warm them up
Cooking macaroni soup on the stove:
Preheat a heavy-bottom pot. Add cooking oil and onion. Saute for about 2-3 minutes. Add corn kernels and carrots and saute for another minute. Add the chicken broth followed by seasonings. Bring it to a boil and then cover with a lid and lower the heat to let the sit simmer for 10 minutes

In another pot, bring water to a boil to cook the macaroni. Add 1/2 tsp of salt. Add the macaroni and cook to al dente. I will go two minute less than what recommended in the package in this recipe because we will add this to the soup later. Drain off cooking water and add the macaroni to the soup you prepared above and let it simmer for about 2 minutes or so. Turn off the heat. Have a taste and adjust to your liking
Serving:
Portion out macaroni soup into a serving bowl. Served with luncheon meat and scrambled eggs. Garnish with fresh cilantro leaves. You can add chopped green onion too if you like. Serve immediately
Recommended products:
Nutrition
Serving:
1
serving
|
Calories:
585
kcal
|
Carbohydrates:
49
g
|
Protein:
26
g
|
Fat:
31
g
|
Saturated Fat:
12
g
|
Polyunsaturated Fat:
4
g
|
Monounsaturated Fat:
13
g
|
Trans Fat:
1
g
|
Cholesterol:
286
mg
|
Sodium:
1160
mg
|
Potassium:
656
mg
|
Fiber:
4
g
|
Sugar:
4
g
|
Vitamin A:
2947
IU
|
Vitamin C:
3
mg
|
Calcium:
67
mg
|
Iron:
3
mg